Before you get too excited, this BMW Titan Concept streamliner is just the imagining of freelance industrial designer Mehmet Doruk Edem of Turkey.
Mehmet seems fixated on BMWs and streamliners and has designed several other amazing concept motorcycles.
His previous concept designs seem to be powered by the Boxer engine.
However, this one may have the 1600cc engine from the big K 1600 tourers. Apparently it would be supercharged or turbocharged.
The BMW Titan Concept is inspired by the streamlined shape of a shark that allows them to swim through the water with a minimum amount of effort.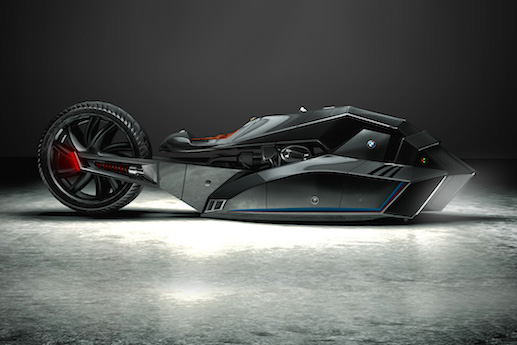 Similarly, the aerodynamic lines of the Titan should help it move quickly through the air.
The closed front reduces wind resistance and funnels air towards the air intakes to cool the engine.
The rear wheel has a side-locked extension of the air intakes and is attached by an enclosed swingarm.
These design traits increase the aerodynamics and Memet says it would be a good vehicle to set a land speed record on the Bonneville Salt Flats.
But the Titan is only a design at the moment and there is no word from BMW about whether they will take up the young Turk's suggestion.
However, BMW is believed to be considering other models powered by the 1600cc inline six engine, including a bagger and a naked bike.