Police have withdrawn a fine against a Victorian rider for having a tinted visor, prompting a call for all riders who have been fined for tinted visors or cameras on their helmets to immediately ask for their fine to be withdrawn.
Rider Luke Johnson was fined on November 29, 2014, for having a non-compliant helmet because his visor was tinted.
Rider advocates have insisted that the police interpretation of the compliance laws are wrong and now the police also seem to agree.
On June 16, 2015, the police wrote to Luke and told him that they would withdraw the infringement and "no further action" would be taken.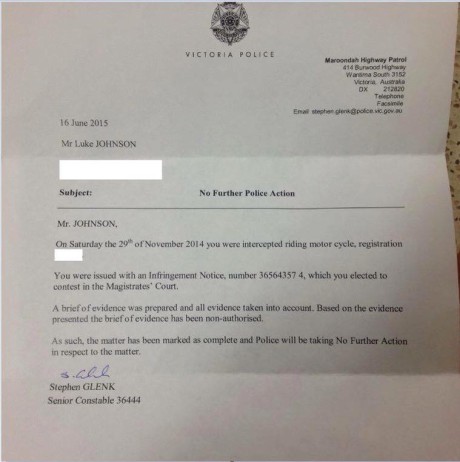 That should be a lesson to all police that interpreting complex and arcane laws should be the matter of barristers, not police.
Rider advocate Wayne Carruthers, who started an online petition for sensible helmet standards, says the laws should be reviewed.
He also urges that anyone fined for an illegal visor or wearing a camera on their helmet should fight the fine.
"The simple fact is there are no provisions in any of the state regulations which empower police to determine that a helmet with a valid approval label/sticker is no longer compliant," he says.
"VicPol are being liberal with the truth in the document where they claim a Brief of Evidence was prepared."
He points out that the case had been held over for mention twice as a brief of evidence had been unable to be presented to the court.
"No infringement notice for either a visor or camera should be paid in any state as they are improperly issued," he suggests.
He also calls on the Motorcycle Riders Associations in each state to demand a review of all helmet offence infringement notices and seek refunds for any rider who has paid any infringement notice for these offences.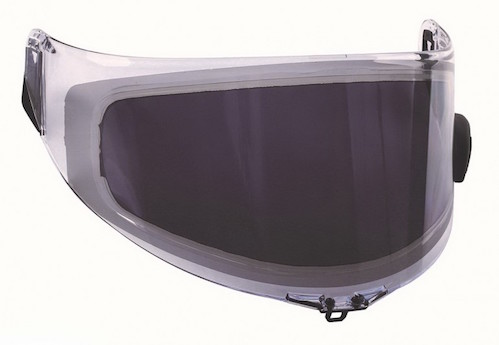 This comes as Australian Standard helmet compliance laws are under review by the Federal Government and a national forum on the issue was held in Sydney in February 2015.
Victorian Motorcycle Council deputy chairman Peter Baulch has said police should hold off fining riders over helmets until after the results of the forum are finalised.
Meanwhile, riders are being ripped off up to a million dollars in helmet non-compliance offences that may also be bogus.