The Breakdown
Like the original K1, the new INNOVV K2 is a dual-channel (front/rear or ??) video recording system, specifically designed for powersports but physically and functionally optimized for motorcycle use.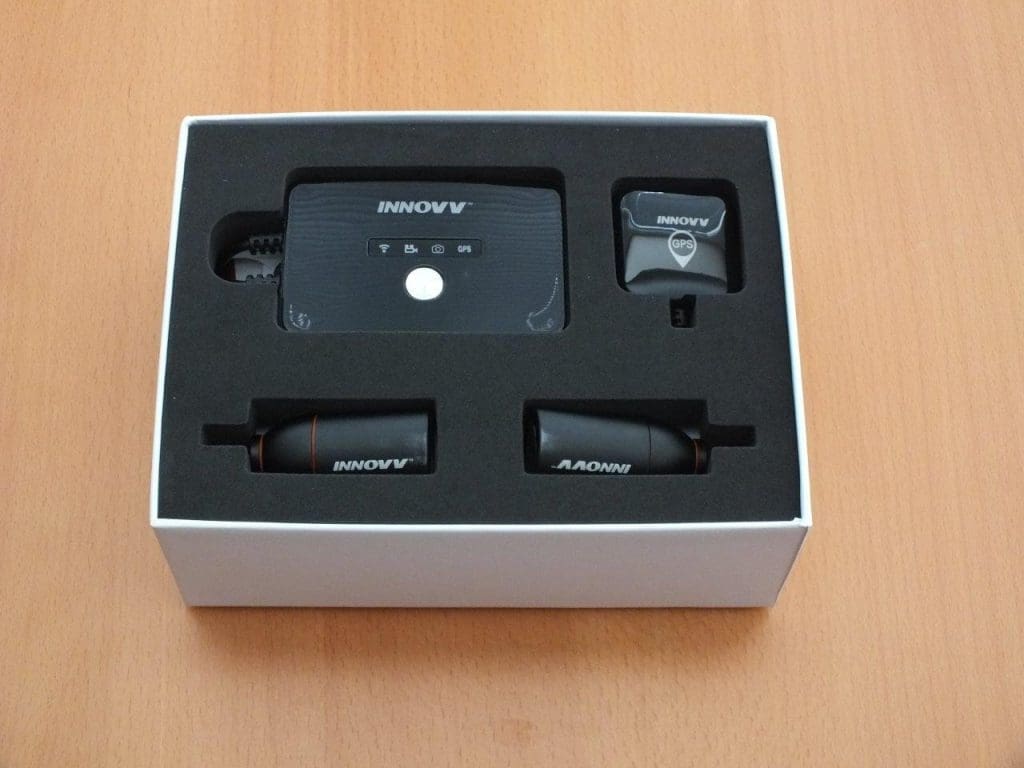 As the replacement for the tried and trusted K1 system, the K2 reflects an updated design and application approach in using a sealed DVR module, two hardened low-profile camera modules, a small GPS module, and a Smart Power module, all effectively brought together with heavy-duty cables and IP65/IP67 weatherproof connectors.
The K2 powers up after a slight boot delay and starts recording automatically (user intervention is allowed). The wide range of view lenses (horizontal and vertical) are just about perfect and the HD video quality is very good even in low light or nighttime conditions; this is indeed a 24/7/365 functioning system.
The WiFi link and iOS/Android apps provide a live-view or monitoring capability, with mirroring as desired while GPS data tagged to the video files provides an even more detailed record of riding activities that can be especially important in the event of incidents or accidents.
Shopping Now? We Recommend:
webBikeWorld works closely with Revzilla, 2WHEEL, and Amazon to provide our testers with quality products to review. While we have an affiliate relationship and receive a commission from items purchased, this addition comes at no additional cost to you. It is the primary way we pay for our site and reviewers.
Amazon

Free shipping (with Amazon Prime)
30-day return policy
Excellent selection
Competitive pricing
Overall First Impressions
| | |
| --- | --- |
| Pros | Cons |
| Very worthy successor to the original INNOVV dual-channel powersports system | No separate remote-control, other than in using connected device and app |
| Excellent design and build quality | Front and Back cameras cannot be set to differing resolutions/frames |
| Weatherproof integrity maintained by use of waterproof seals and secured cover plates | Recessed storage card hard to remove |
| Easy to install, everything needed is provided | Park Mode feature needs rethinking |
| No user interaction needed unless desired | Map playback procedure can be fussy |
| Very good quality video under all conditions | Recorded audio usable, some improvement seen with external audio port addition |
| Live monitoring, mirroring front and back | |
| Video/GPS data playback directly from camera, paired device, or as download | |
| Great system, excellent value & investment | |
INNOVV K2 Overview
There is no doubt that in a technology-based fast-moving society that we sometimes need help to cope with it all and having a motorcycle-mounted accessory that enhances both the riding experience and riding safety isn't a bad thing, especially when the Mark 1 eyeballs have other situational awareness tasks to handle.
Just such an accessory is the INNOVV K2 dual-channel camera system. Its front and rear views (or wherever the lens point) and always-on HD video recording, augmented with time, speed, and positional data tagged to the video files make it truly one of the easiest and most reliable ways to 'capture the ride'.
And given its features and functional parameters, the INNOVV K2 is also a passive and discrete safety tool, keeping a visual, audio and positional record of riding time; but when and if needed, this record can become critical information.
While not all original K1 features were carried over to the new K2 (I'm sure the team had some difficult choices to make), this new system is not lacking – its stylish low-profile design, upgraded components, increased robustness, and new features more than offset what was left behind.
The original INNOVV K1 dual channel camera system had a feature-rich footprint for lots of powersports applications – dual-channel HD video capture, integrated GPS data, external speaker and remote, hardened waterproof cameras (one with a shock sensor), integrated LCD display, park and impact back-up, and the list went on…
With the introduction in June 2017 of the single channel C5 system that was specifically designed for rugged harsh environment use, INNOVV added WiFi connectivity and a smart device (iOS/Android) app – features that by themselves added a host of capabilities; it all served to validate INNOVV's momentum and commitment to the market.
Now we have INNOVV's latest iteration of a purpose-built turn-key system, the K2 – evolved from both the original K1 and the C5 to deliver a turn-key dual channel powersports HD video camera system.
The dual-channel K2 components are designed to withstand the rigors of powersports use. The main components are either IP65 (dust-tight/water pressure resistant) or IP67 (dust-tight and immersion up to 1m of water) rated. Its overall operating/storage temperature range is -20C ~ 70C (-4F ~ 158F)
K2 Kit Contents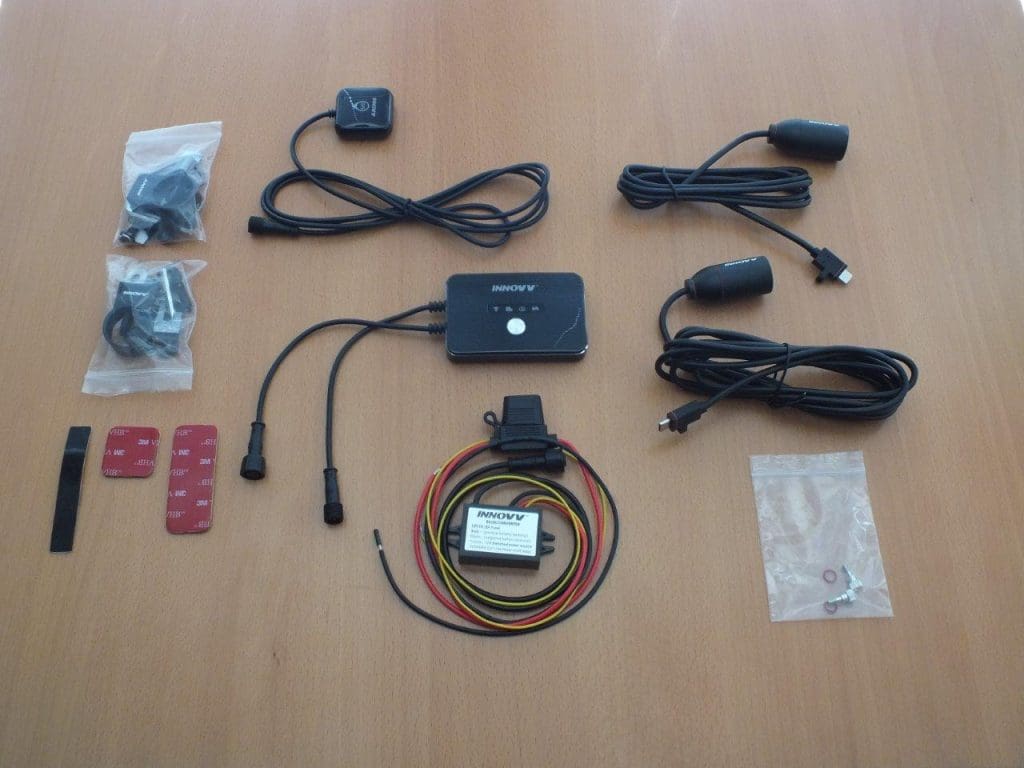 INNOVV aims to provide all the essential pieces and with the rare exception, everything needed to get the system up and running is indeed inside.
1 x DVR module (IP65) with microSD storage (up to 256GB)
2 x bullet style camera modules with integrated 1.5m/3.0m cables
1 x 12/5V DC Smart Power Converter
1 x GPS Module with 1.2m cable (IP67)
1 x hardware bag (lens holders, L-brackets, 0.25 in (20P) hardware and Allen-key
1 four-way folded installation and instruction sheet
K2 Component Description & Function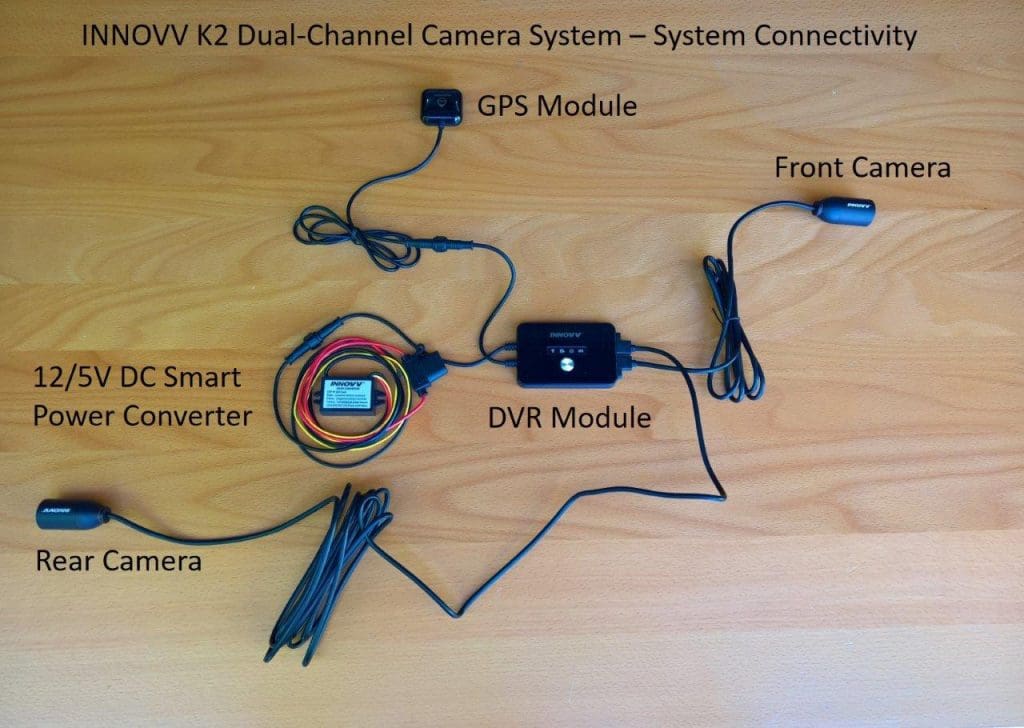 This section serves to describe a progressive build-up 'what', 'how' and 'why' of the main components providing a 'sum of the parts' walk-through of the K2 system.
Smart Power Supply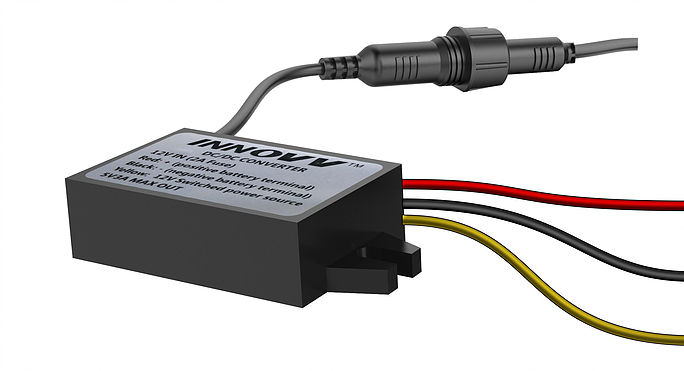 This sealed component is a 12/5V DC converter with some electronic smarts onboard. It provides the proper 5V switched power supply to system components and teams up with the DVR G-Sensor to enable the Park Mode feature described below. The system is lightweight electrically, drawing less than 500mA.
Layout-wise there are two wiring bundles exiting the top of the sealed module. On the top right are the Red positive and Black negative wires that go to the battery along with the Yellow trigger or switched (accessory/ACC) wire that connects to a switched lead on the motorcycle or third-party power distribution system output (Centech, PDM60, Neutrino Black Box, etc).
The second group exits as a three-wire (output) cable from the top left of the converter module. The cable terminates in a waterproof connector that is mated to its (keyed) counterpart on the flying lead of the DVR.
As described earlier, activation of the Park Mode feature is contingent up three conditions being met
G-Sensor activation under the app
Park Mode activation under the app, and
Battery State at/above threshold
Battery State
The power supply monitors motorcycle battery voltage and Park Mode activation is contingent on a voltage of greater than 12V being present (motorcycle on or off) as described below:
Motorcycle battery power is greater than 12V (>=12V)
Ignition On – after 10 to 15 seconds, from the output side, ACC gets 5.0V and the Positive 5.3V; the DVR starts recording.
Ignition Off – after ten seconds, on the Output side, ACC gets 0V and the Positive gets 5.3V; the DVR stops recording and goes to Standby/Park Mode; if the motorcycle is subsequently disturbed or there is an impact of some sort the DVR-imbedded G-sensor activates the camera system for 60 seconds of recording.
Motorcycle battery power is less than 12V (<=12V)
Ignition On – after 10 to 15 seconds, from the Output side, ACC gets 5.0V and the Positive 5.3V; the DVR starts recording
Ignition Off – after ten seconds, from the Output side, ACC gets 0V and the Positive 0V; the DVR does not record (battery is below the threshold), even if Standby/Park Mode is activated the G-sensor does NOT enable recording (avoiding further drain on the battery)
The ten-second power on/power off delay provides start-up protection when the ignition is turned on and the engine started and a graceful time-delay power off so that any active recording can be saved off and not lost.
Camera Mounts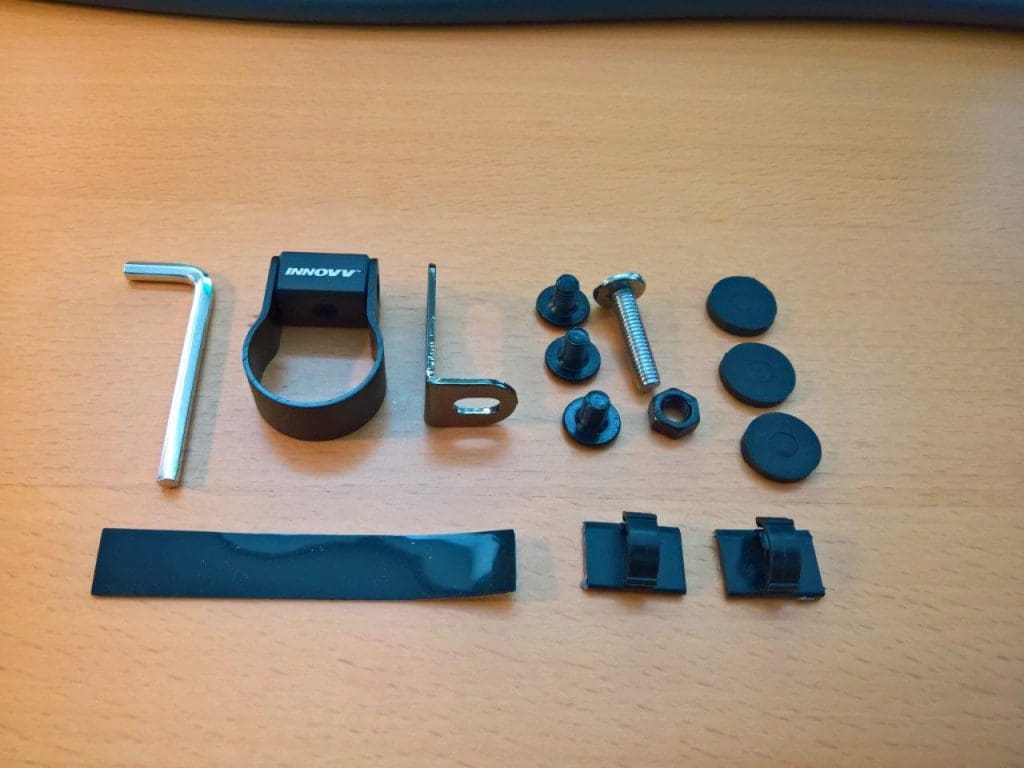 The pre-production kit had the (upgraded) thicker plastic brackets found in the C5 kit, with new black lightweight pinch brackets sent along a bit later – these well-machined pieces have side and top mounting points using the standard camera mount 0.25in (20P) thread.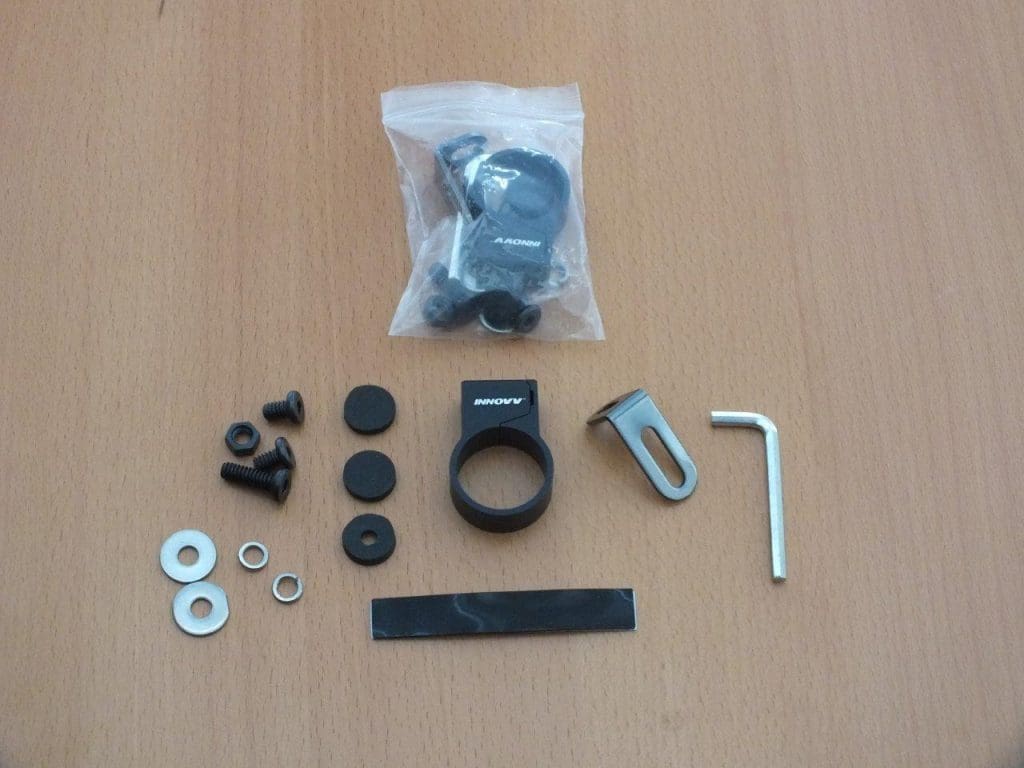 The standard pinch brackets are great for most installations – low-profile or otherwise and with the non-skid cushioning material added to the inner ring (as done for the plastic C5 holders as well) the lens pieces are (very) secure.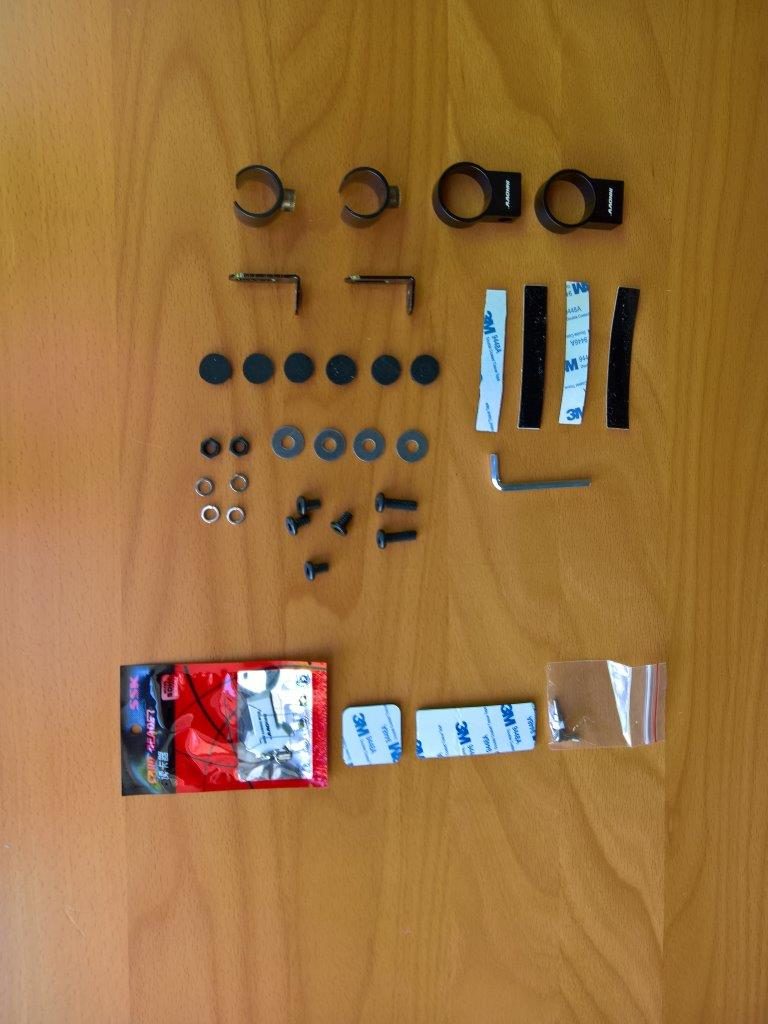 But in responding to feedback from users, the K2 team came up with a multi-piece design (see top photo), two of which were received just before submission of this review. While the use of them is pending, they should provide another very good mounting option.
Camera Modules
After the release of the single channel C5 and while developing the K2 system, INNOVV decided to standardize on a single style camera component – so the K2 kit uses two of the small solid billet tubular camera modules like those used with the C5 system.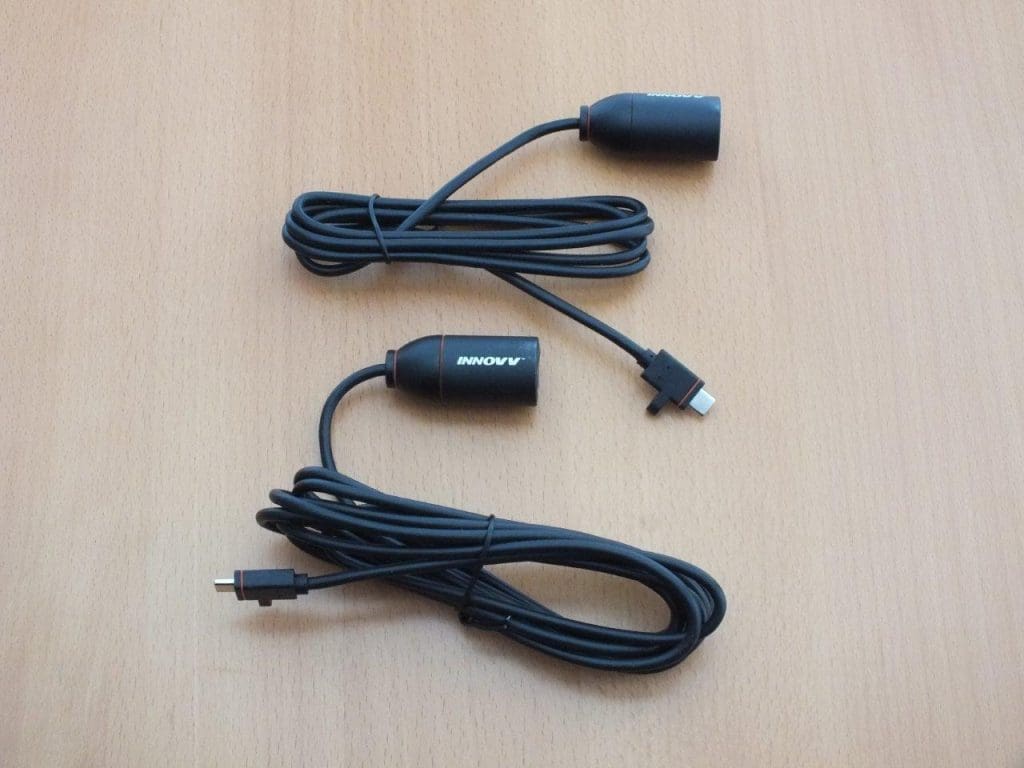 Each camera is sealed (IP67 stated) module with a 6G hardened medium wide-angle lens (diagonal 145⁰/horizontal 120⁰/vertical angle 100⁰) that provide an optimal field of view for the way ahead and behind enabling road and traffic monitoring and capturing the surroundings from whatever angle they are mounted for.
Available video resolution settings are 1080p at 30fps and 720p at 60 fps.The video format is H.264 compression in MP4 format. Both cameras are now set to the same resolution as a pair, unlike the original K1 that allowed differing resolutions for each camera.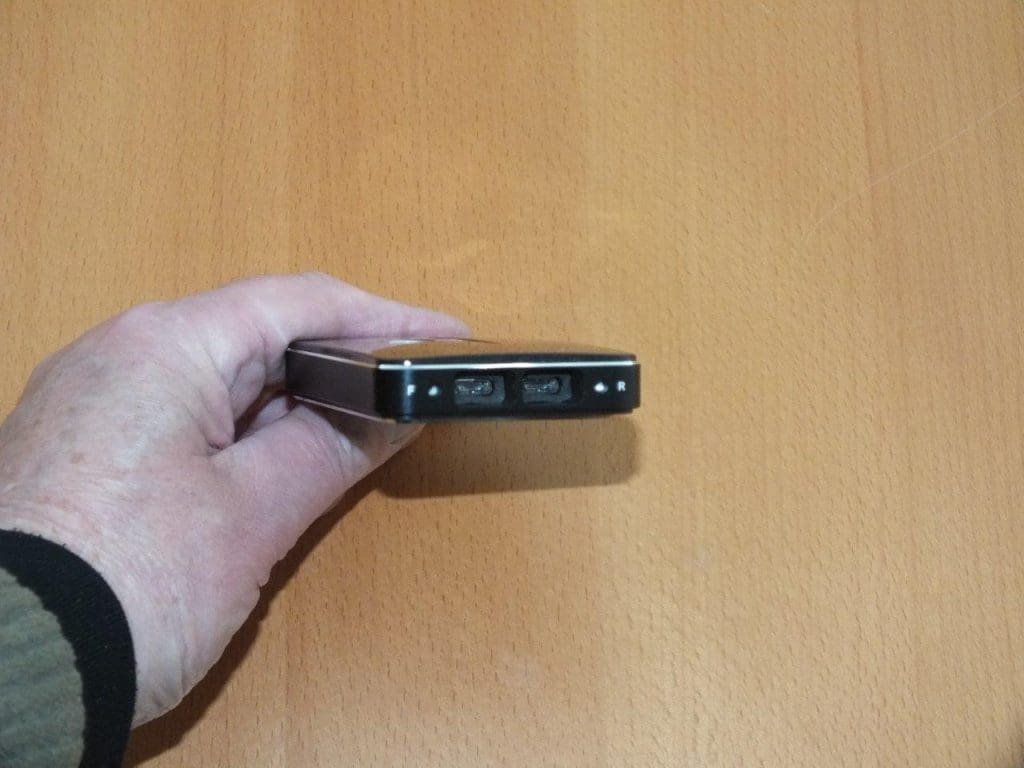 Of the two camera modules provided, one features a 1.5m (4.9ft) and the other a 3.0m (9.8ft) connection cable – both terminate in weatherproof USB-C connectors that plug into the right end of the DVR module, secured in place with small thumb screw assemblies.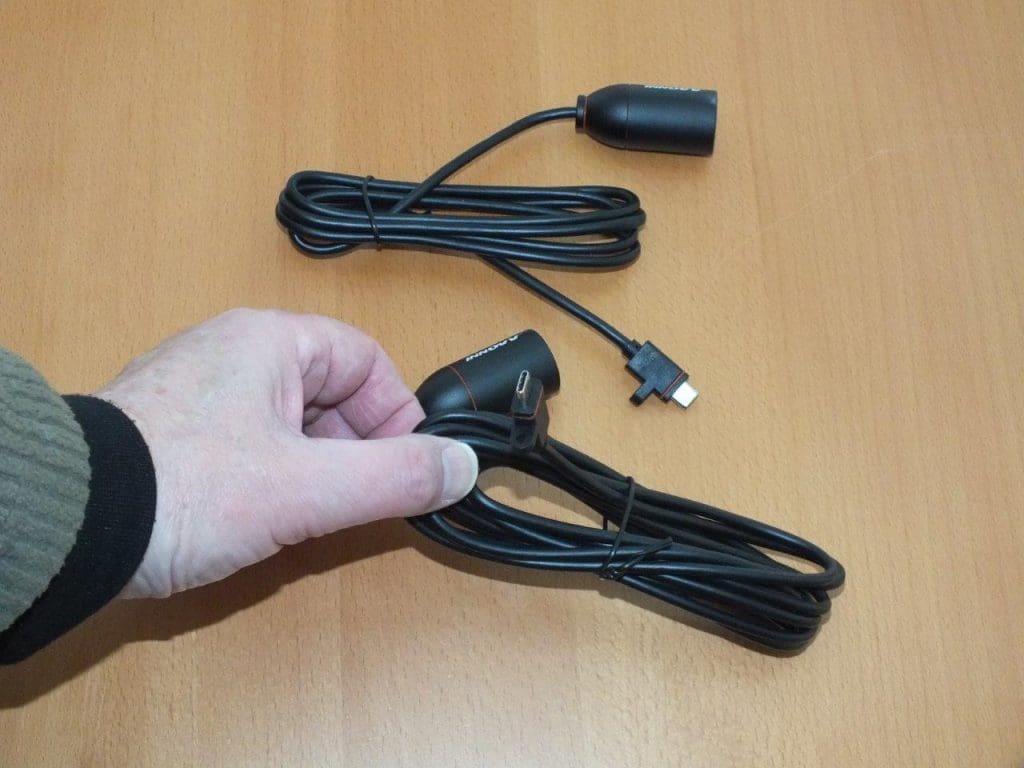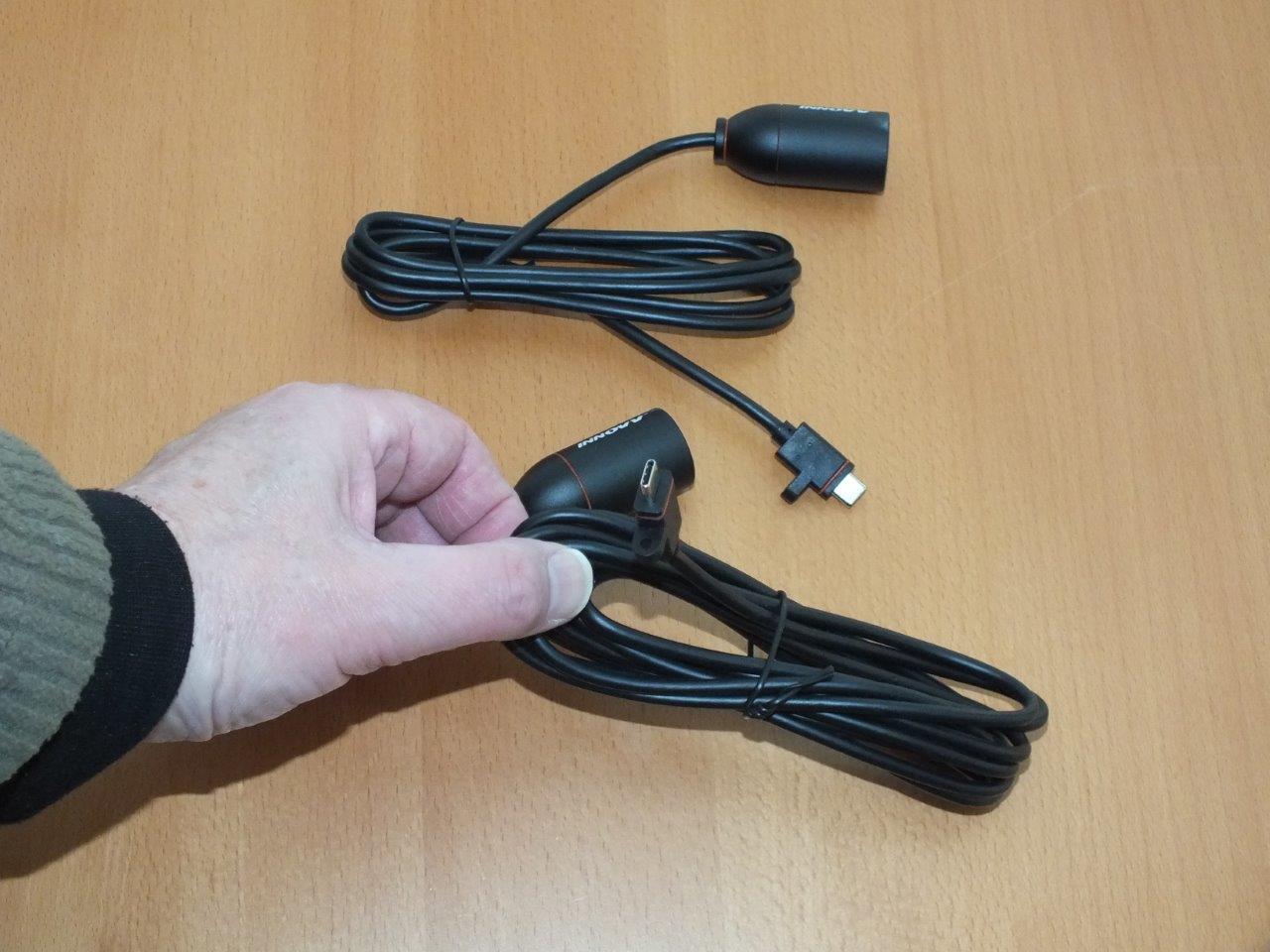 Note – when installing or removing the USB-C connectors, make sure the very small thin O-ring seals stay in place…two spares are provided in the kit parts bag.

GPS Module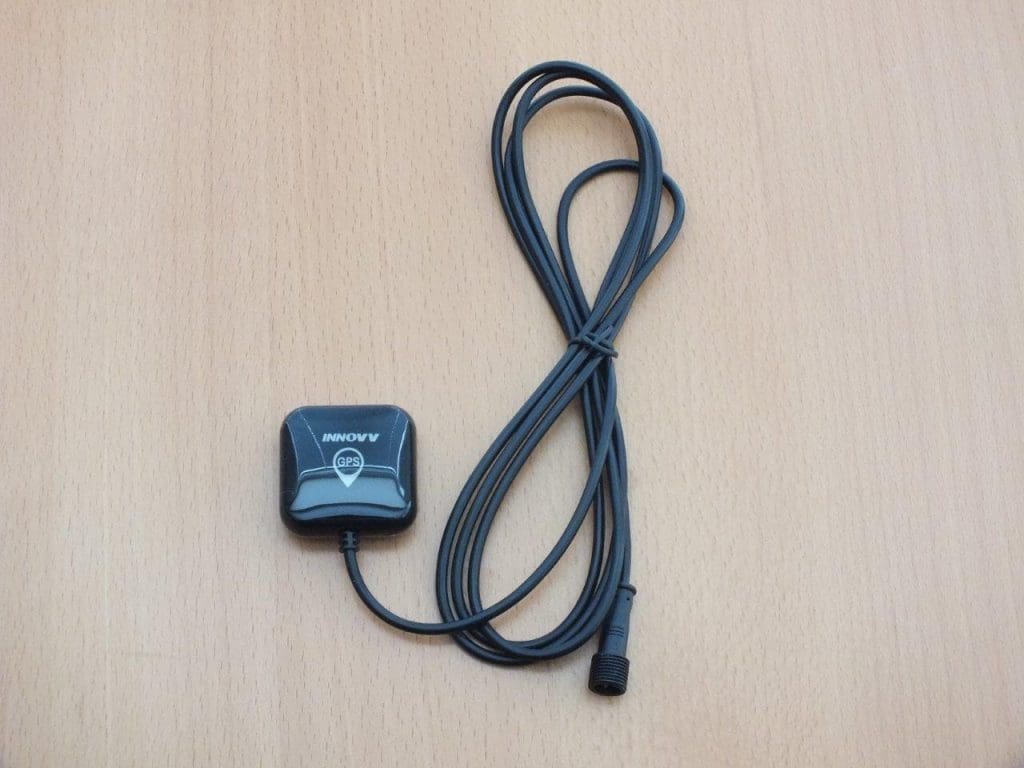 At a squarish 42 x 42 x 15mm (1.6 x 1.6 x 0.5in) this IP67 rated module with rounded edges is very low profile, although it needs to be mounted in a high-profile or clear line of sight location to the sky for synchronization purposes – top-cases, windscreens or high front fenders work well.
With its 1.2m (3.9ft) cable (longer than the pre-release unit) connected to the GPS-marked waterproof flying lead on the DVR module, and activated under the App 'Video' settings, recorded video is enhanced with position, time, date and speed data for an even more complete record of activities.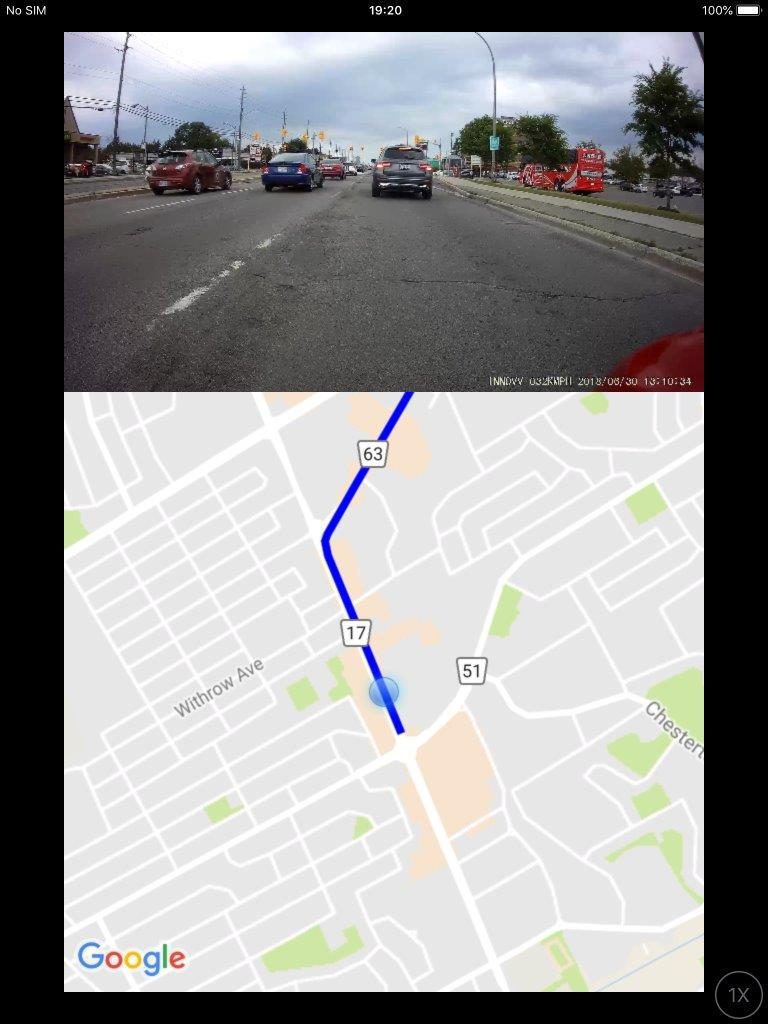 Exploiting the GPS tracking data during video playback can be done during playback on an iOS or Android device (if the needed access permissions (location and possibly storage) are provided) or playback on a PC. The user also needs to select the correct mapping system on the App (Baidu or Google Maps) as well when activating the feature.
When the GPS is connected and synchronized, a small icon is displayed on the app live-view screen and another related icon lets you know that the data is being recorded to the video track.

DVR Module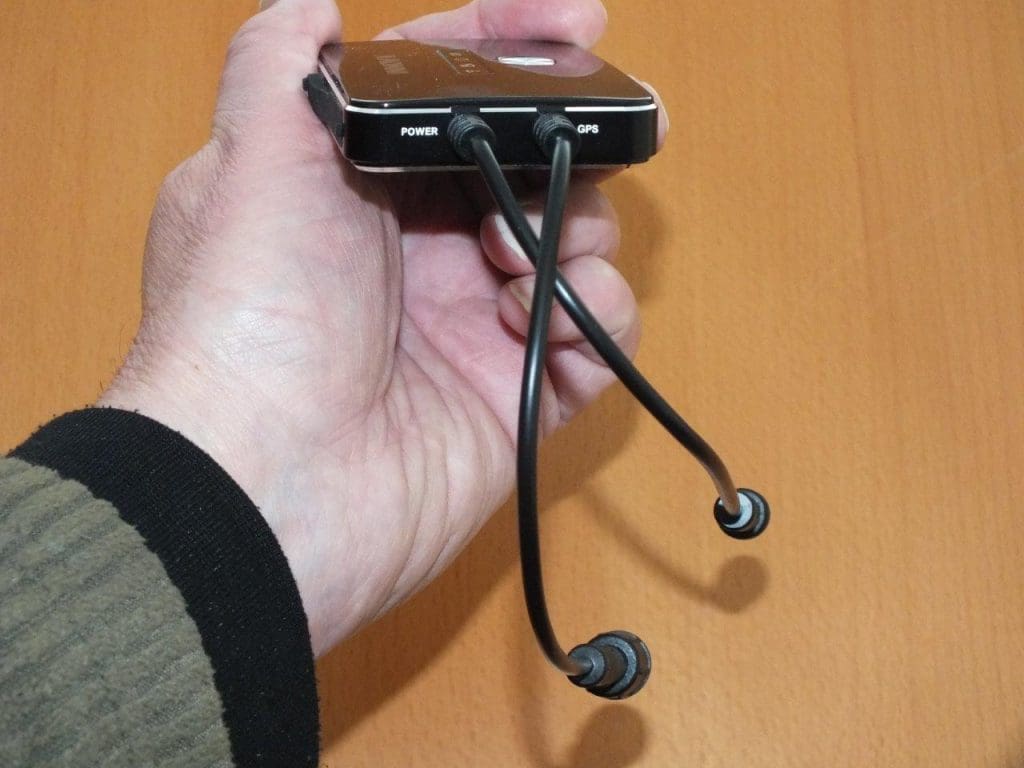 This stylish slim aluminum and plastic housing with integrated leads, recessed ports, and weather resistant features can be mounted externally but its ideally installed in a secure hidden location; particularly now that monitoring and user interaction can all be done via the WiFi connection and paired device app.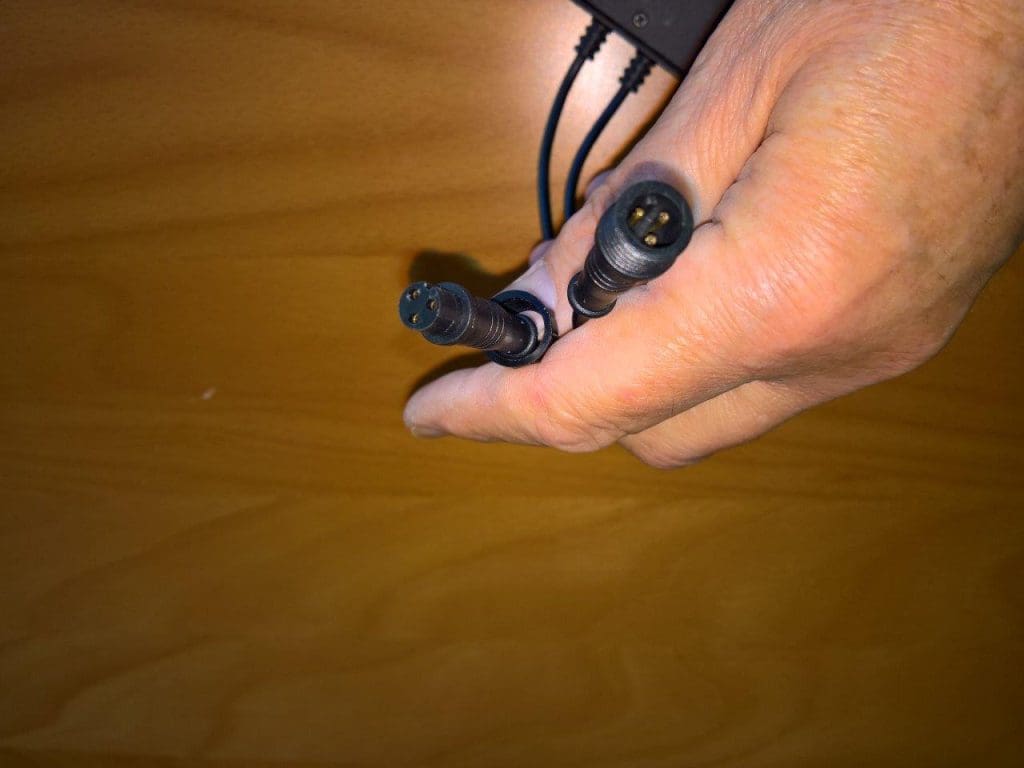 Two sealed flying leads (marked Power and GPS) with waterproof connectors exit the left end of the module, while two recessed USB-C ports on the right end host the waterproof screw-type front and back camera cables.
The original module housing used a weather resistant silicone flap on the top edge to hide the (reserved use/power only) micro-USB port, micro-SD slot, and a small pinhole audio pick-up.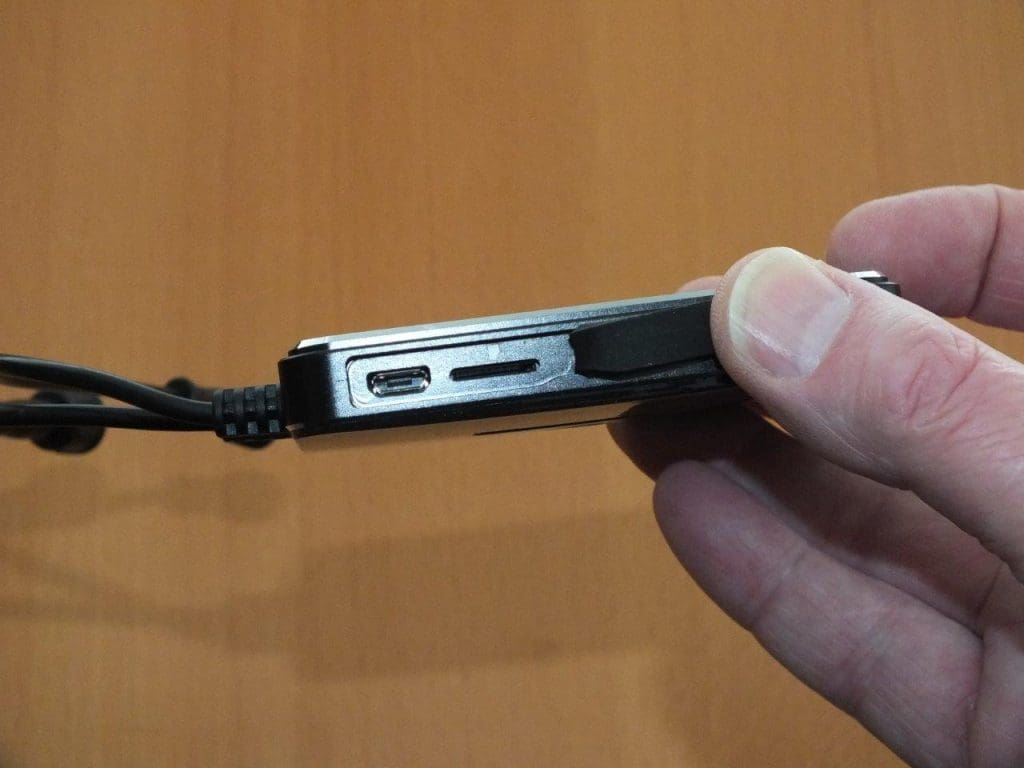 But just after submitting this review, the INNOVV Team Lead let me know that to address concerns (some raised during our pre-production use) a pressure-fit thumb-screw secured plate will replace the flexible silicone cover; this is being implemented for future production. This will serve to essentially seal the DVR module making it even more suitable for external mounting.
Here's a look at the pressure-fit thumb-screw secured plate:
The large button on the face is the manual On/Off control that works even if power is being supplied.
Above the power button are four LEDs as function and system status indicators. From left to right they are:
WiFi (Green) – flashes when awaiting connectivity/solid when connected
Recording (Blue) – flashes once per second when recording/solid when stopped, and flashes three times per second when there is no media card in the DVR
Photograph (Red) – flashes three times for a photo, and flashes on/off rapidly when SD card is being formatted, and
GPS (Yellow) – flashes when awaiting synchronization/solid when connected
Note – all four LEDs flash together when a firmware update is initiated – the system automatically resets once done.
Shopping Now? We Recommend:
webBikeWorld works closely with Revzilla, 2WHEEL, and Amazon to provide our testers with quality products to review. While we have an affiliate relationship and receive a commission from items purchased, this addition comes at no additional cost to you. It is the primary way we pay for our site and reviewers.
Amazon

Free shipping (with Amazon Prime)
30-day return policy
Excellent selection
Competitive pricing
Media Storage
Media up to 256GB is supported, but FAT32 formatting needs to be maintained and accordingly, using the App – 'Settings' and 'Format', is the most expedient means to do this – described in the 'App' section below.200GB SanDisk UHS-1 A1 rated media is being used with very good success.
G-Sensor
Now housed within the DVR module, this feature is a welcome carry-over from the original K1 system.It can be turned On/Off and set for Low, Mid or High sensitivity under the App and works in conjunction with the Park Mode setting to provide movement or shock detection and system activation with short-term video recording for a record of any event.
WiFi, App, & Firmware Versions
As of this submission, the posted firmware version is K2.20180925.V0.39; the latest posted iOS app is v1.1.2 and for Android it is v1.2.5; it pays to keep both system firmware and interface apps up to date to optimize system use.
WiFi Connectivity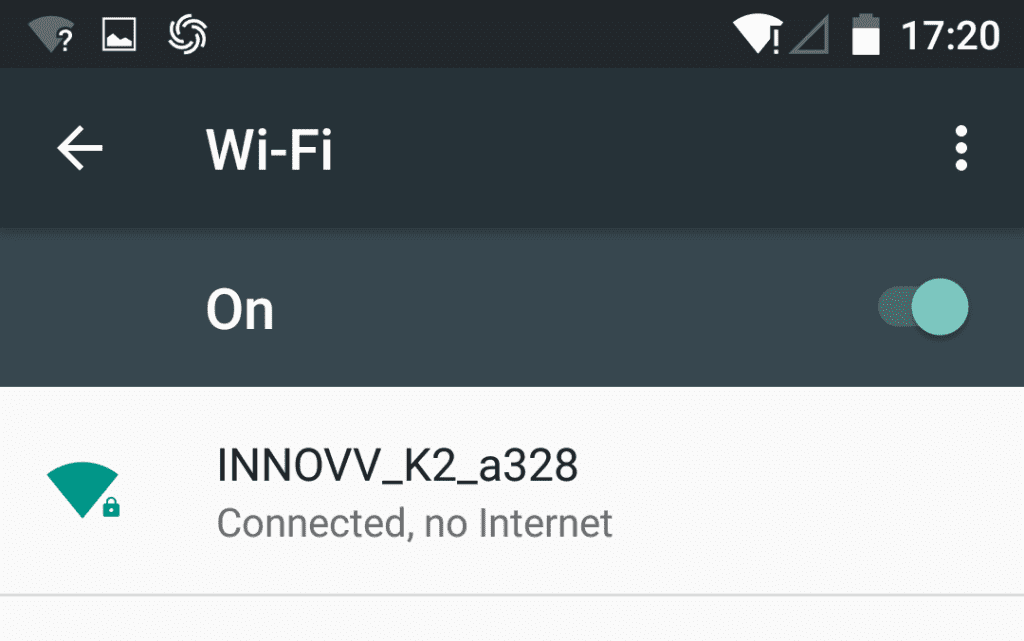 The INNOVV WiFi feature provides local (no Internet) connectivity. During pre-release testing, both the WiFi and app were slow and prone to dropping out, but between iterative updates and release of the retail box kit, everything is now pretty much seamless and quick. The network ID is 'INNOVV_K2_xxxx' and the default login is '12345678'.
With many devices, the INNOVV network connection won't be remembered; this is done in large part to that any default network connection doesn't get bumped out. So once the K2 is up and running, the K2s network ID needs to be scanned for or found and selected.
iOS and Android Applications
When launched two quick splash screens will appear while the app loads, then the main function screen comes up and goes live once the connection is made.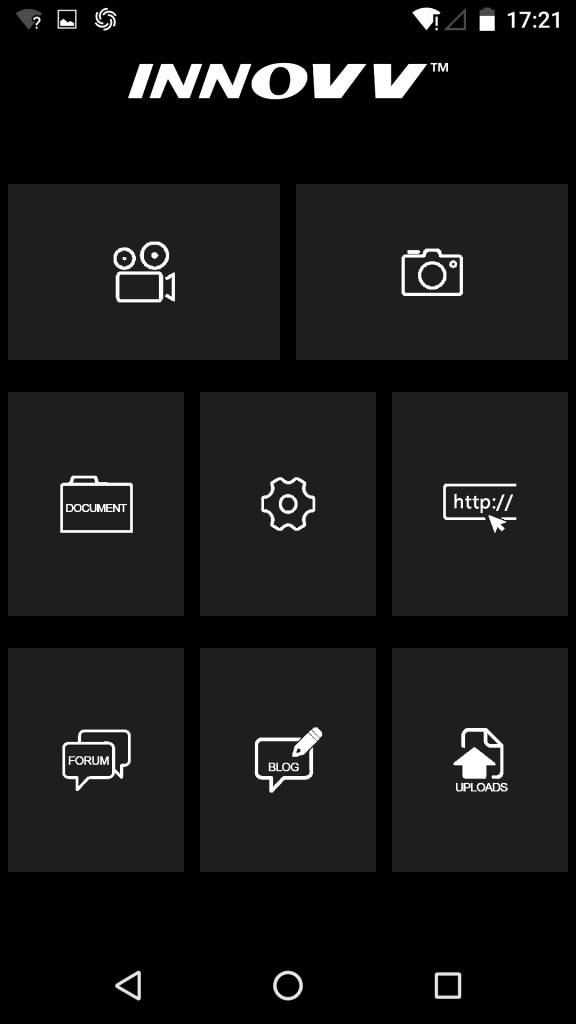 The middle tile on the main screen is the Settings (gear wheel) tile – activating it brings up a multi-page scrollable settings list – best explored first, then followed by a feature by feature customization to achieve the initial settings.
Some settings of note:
Loop Recording – settings of Off, 1, 3, 5 and 10 minutes are selectable; files are maintained on the storage media until space requirements dictate that the oldest files be overwritten. Park Mode generated files are stored under the 'Park' folder and not overwritten'
Photographs – single or time-lapse photos can be done using the 'Camera' tile; settings for the time lapse feature are Off, 100/200/500ms.
G-Sensor – Off, Low, Med, and High settings are available. Once the system is installed and if the Park Mode feature is going to be used, the user needs to try the different sensitivity settings relevant to the motorcycle to determine the best setting.
Park Mode – the Smart Power component and G-sensor combine to provide this feature. With G-Sensor and Park mode settings activated under the app, unplanned movement or impact of some sort causes the system to activate during which (up to) 60 seconds of video/audio is recorded for each 'event', then the system returns to Standby.
Initial Installation
For reference purposes, the applicable K2 component connection lead lengths are provided:
Camera module cables = 1 of 1.5m and one of 3.0m
DVR Module – Power and GPS Flying Leads = 15cm (5.9in)
GPS Module = 1.3m (ng Lead (DVR) = 15cm or 5.9in
Smart Power (12/5V Converter) Module

Input Leads = Positive & Negative are 60 (23.6in); Trigger Lead is 80cm (31.4in)
Output Cable, 3pin Connector = 53cm (20.8in)
2018 Triumph Tiger 800Xca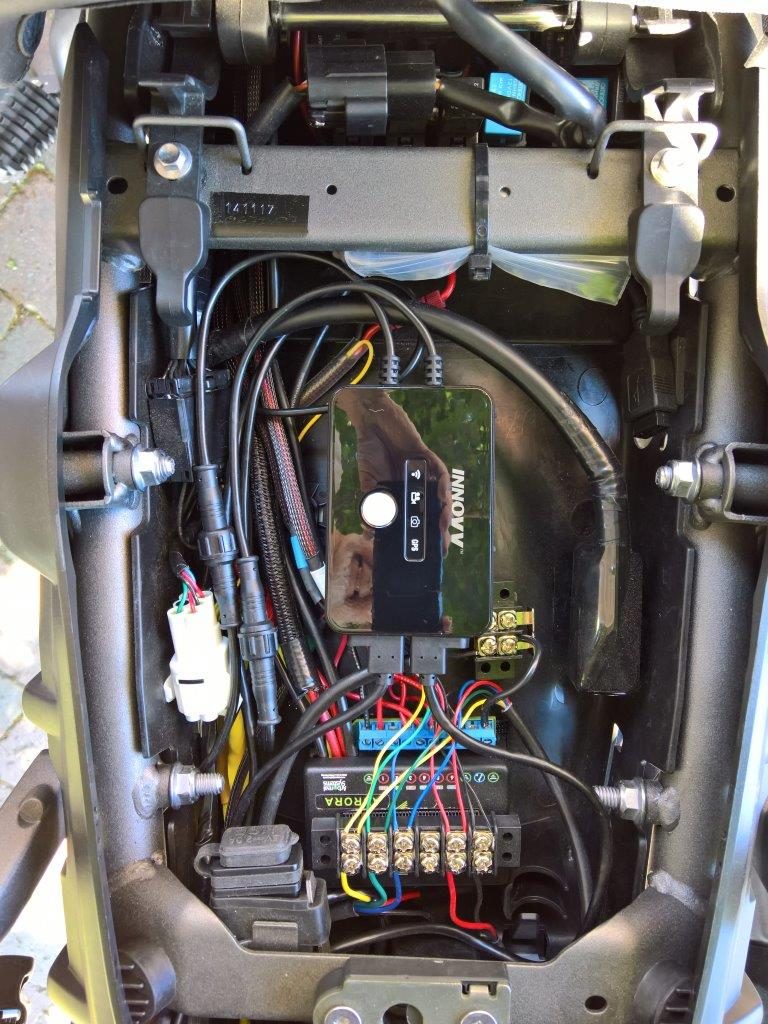 The pre-release K2 system supplied for initial comment and testing was installed on to the Tiger, which also hosts an INNOVV C5. This double-banking was good as it allowed for direct comparison between the two systems.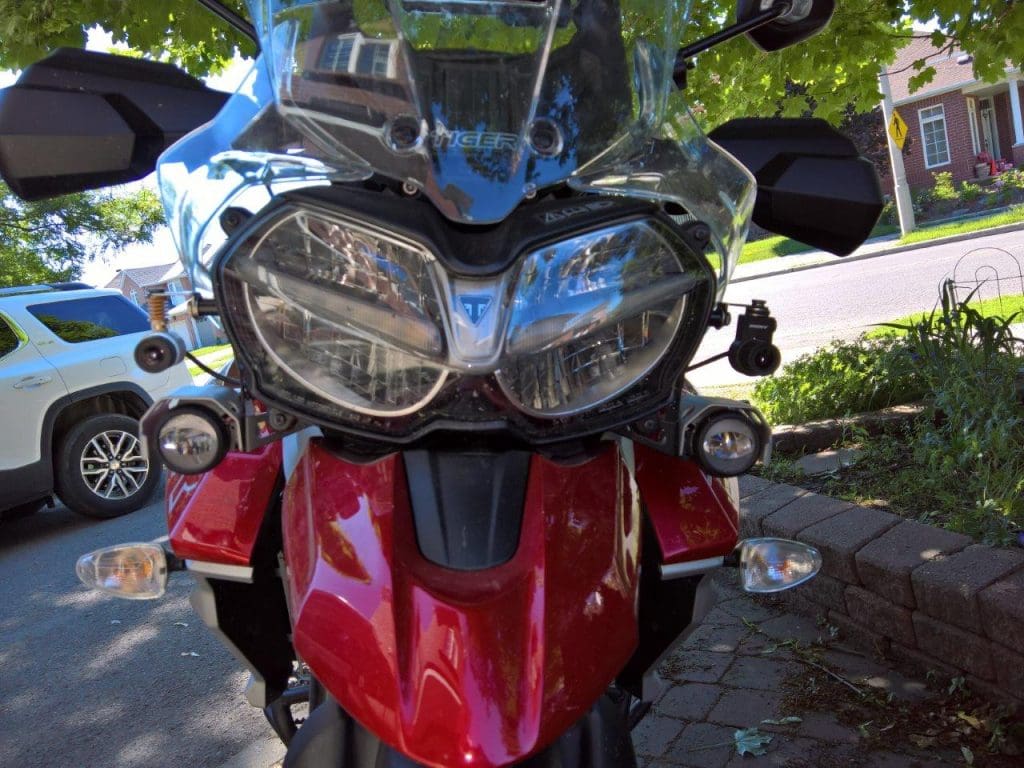 For better standardization regarding the frontal field of view both the K2 and C5 front camera modules were mounted on the left and right sides respectively – essentially level with the headlight. The K2 module used the newer black billet pinch-style mount and L-bracket while the C5 module used the plastic ring mount with spring assembly and L-bracket.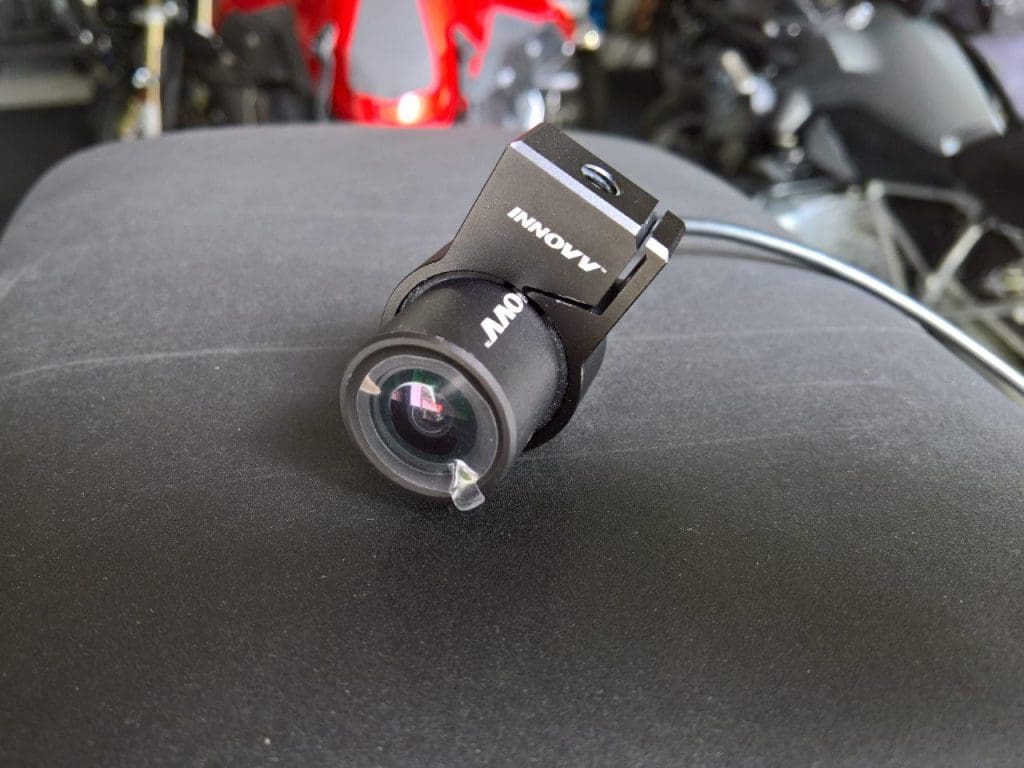 I did test-mount the front module under the upper front fender or beak – it is almost totally hidden from view (as it does with BMW GS models as well) and the overall field of view is limited and, the lens gets dirty quickly.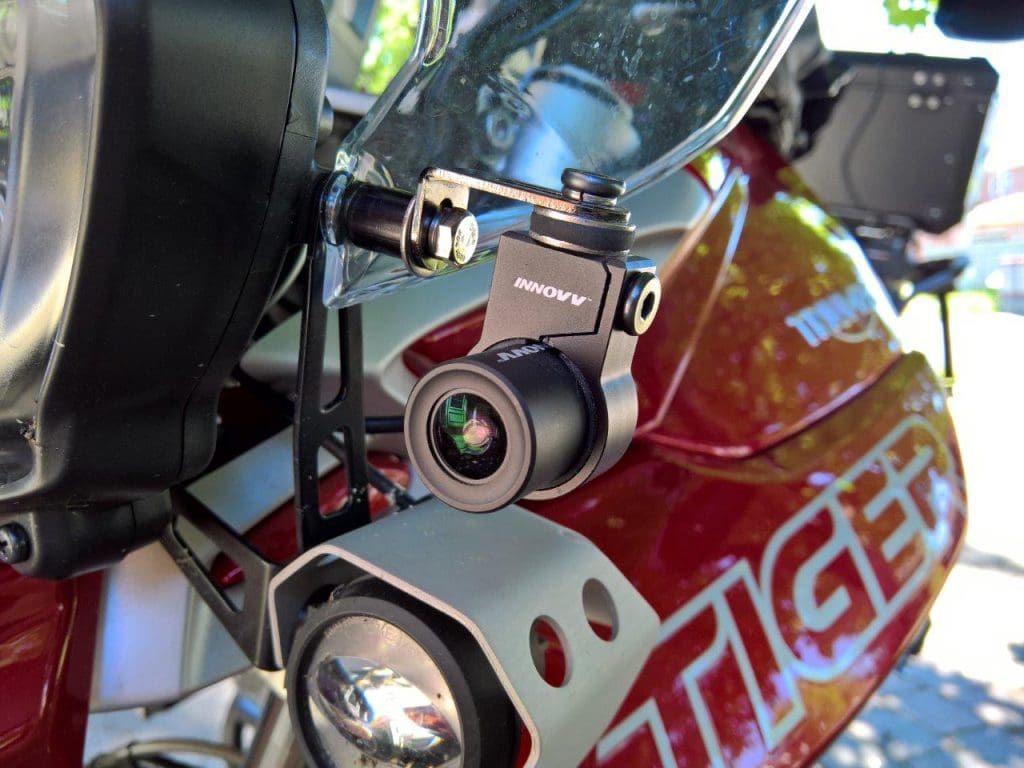 In considering the factors and from testing, the higher profile placement offers an unobstructed wide-angle view relevant to both horizontal and vertical axis and in being hung out in the breeze so to speak stay quite clean. A few front edge dings are evident on the module, but the lens remains undamaged.
The K2 rear camera mounts to a shaped light steel L-bracket that shares a mount with the adapter plate for a SHAD ST38 aluminum top box (a prototype that never made it to market).
Small metal and fiber washers from the kit form a sandwich style isolation washer between camera bracket and L-bracket; this is one of the most effective means to reduce vibration and stabilize video.

The GPS module was originally secured to the back of the top box lid using squares of low-profile 3M Dual-Lock but with the newer longer 1.2+m cable the component is now mounted to the top of the BMW Locking Cradle and Navi V combination fitted to a home-made heads-up navigation mount bracket.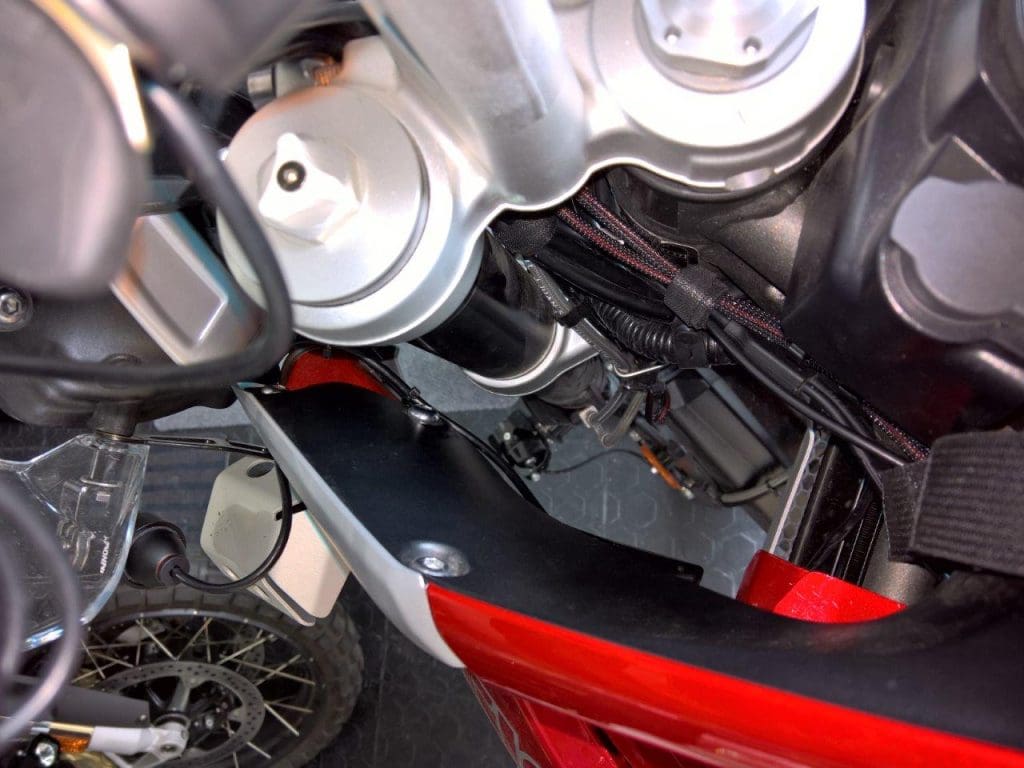 Both the camera and GPS module leads run back between the side panels and frame to the (fully usable) rear under-seat compartments that are perfect for electronic accessory installations including multiple leads and harnesses.
As the K2 12/5V DC Converter module is sealed, it is stuck to the left outer side of the under-seat housing right next to one of the ~24mm oval holes found on both sides of the deck housing.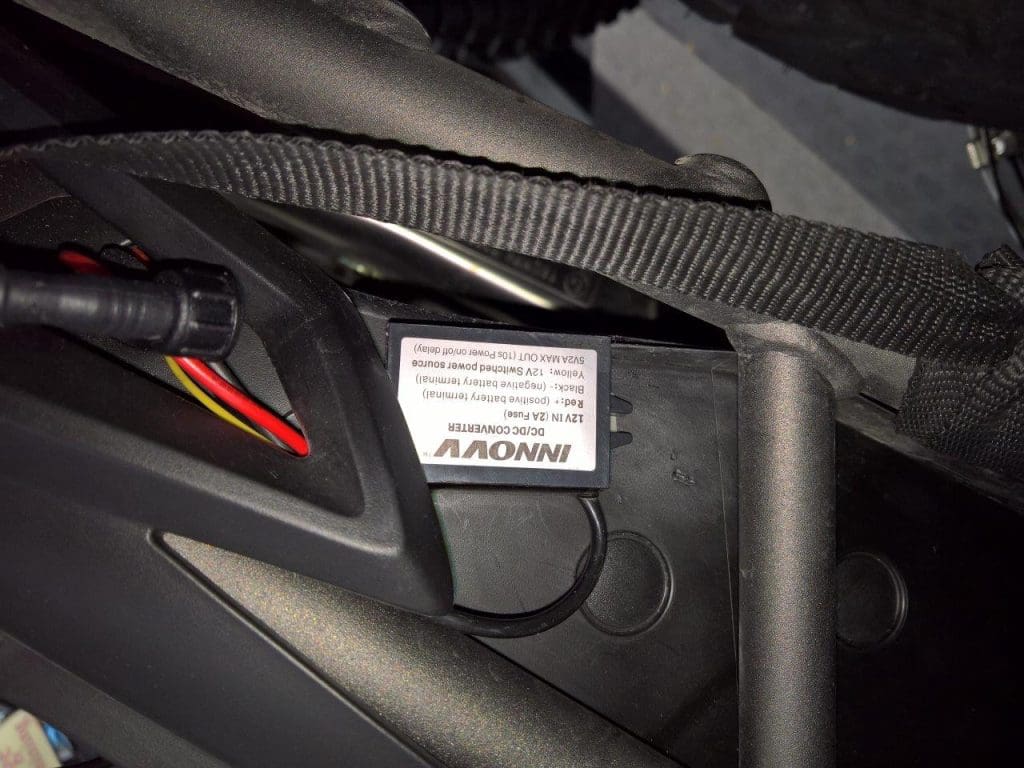 Shopping Now? We Recommend:
webBikeWorld works closely with Revzilla, 2WHEEL, and Amazon to provide our testers with quality products to review. While we have an affiliate relationship and receive a commission from items purchased, this addition comes at no additional cost to you. It is the primary way we pay for our site and reviewers.
Amazon

Free shipping (with Amazon Prime)
30-day return policy
Excellent selection
Competitive pricing
The holes provide easy access and routing of the input and output wiring for the Converter module, but also allow moisture and dirt in, so appropriately-sized grommets provide a better seal.
With ring terminals crimped/soldered on and sealing sections of heat shrink applied, the 2A mini-fuse from the converter's positive in-line holder and the negative battery lead were removed, the ring terminals were put in place along with the main battery leads and everything tightened up – negative terminal last.
The Yellow switched or trigger/ACC wire runs back to the under-seat accessory USB harness with a red Posi-Tap making a clean and unobtrusive connection into the White wire of the USB harness.
With the 2A in-line fuse replaced, the waterproof connections for the Converter output and GPS harnesses are made to the 'Power' and 'GPS' marked leads on the DVR (the connections are 'keyed' – they can only be fitted in the correct manner, eliminating installation errors).
And with the two waterproof USB-C connectors on the lens leads fully seated in their ports on the DVR module and the insert screws tightened up, the initial installation is done.
Turning on the ignition and waiting ten seconds sees the K2 system power up and the LEDs twinkle and shortly thereafter video recording starts. Time to make the WiFi connection, launch the app and configure the system.
Note – this pre-release system installation has since been replaced with the updated retail box (Rev 1) kit.
2018 BMW R1200GS Installation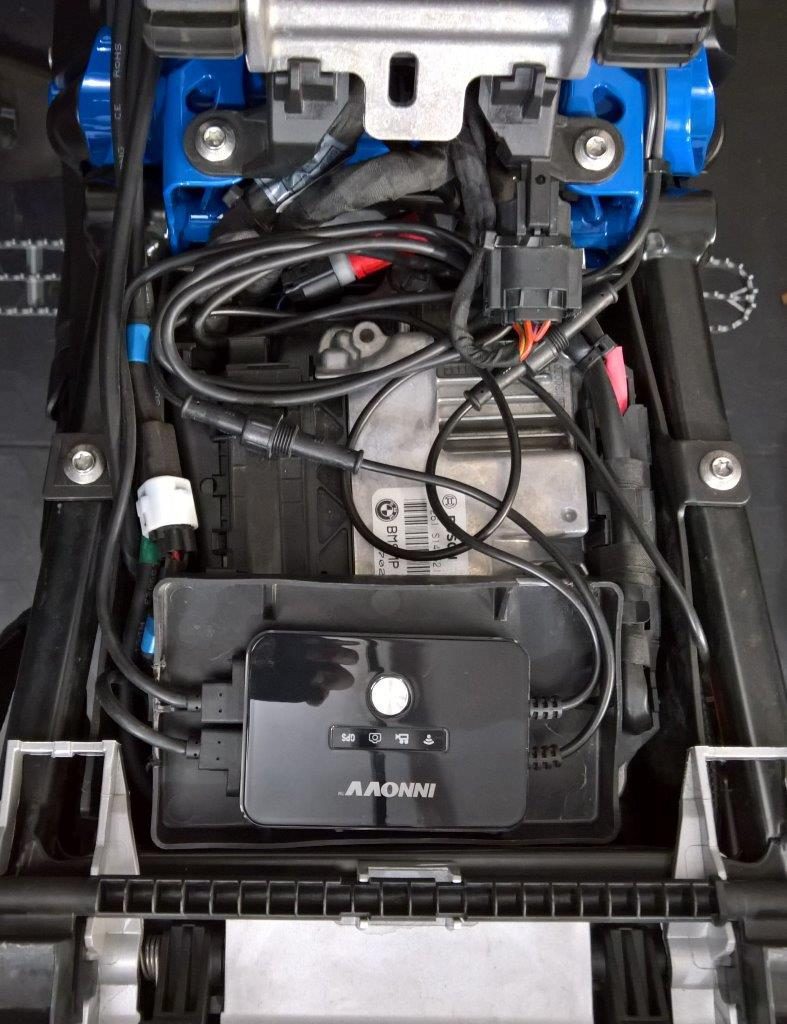 Using the second retail box kit provided. Overall its installation parallels the approach taken with the Tiger.
The installation process had only two deviations:
The Yellow trigger wire draws switched power from a Posi-Tap added to the 7.5A power lead of the under-seat accessory plug.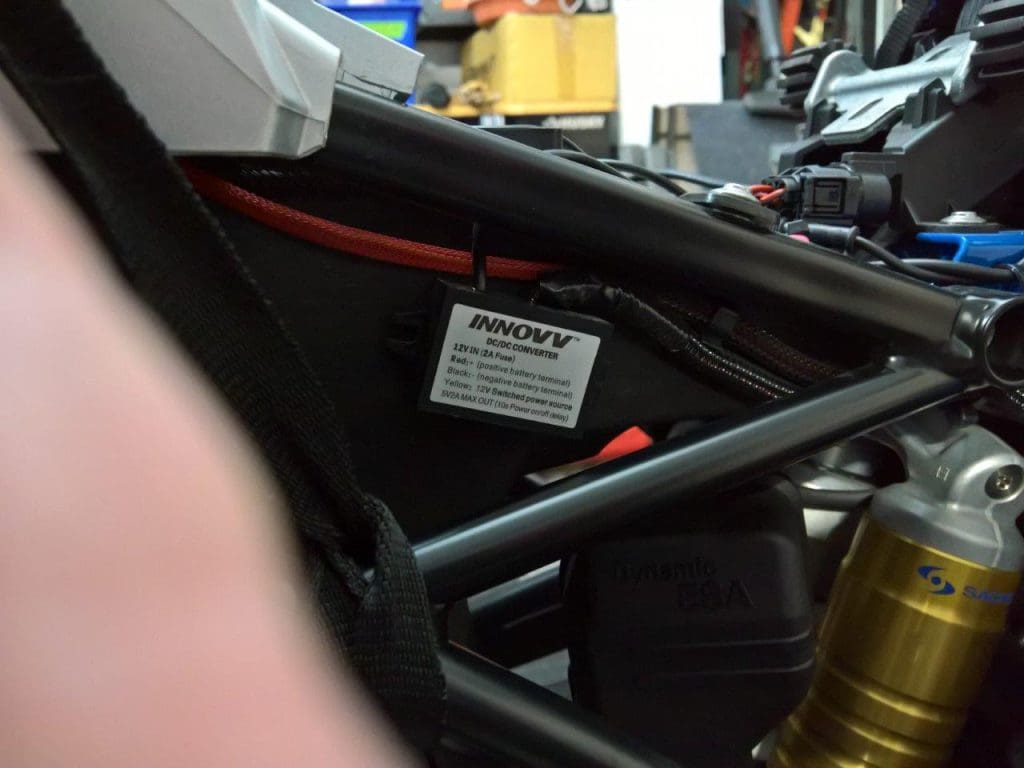 The DVR module sits in a light foam cushion under the front (rider's) seat section.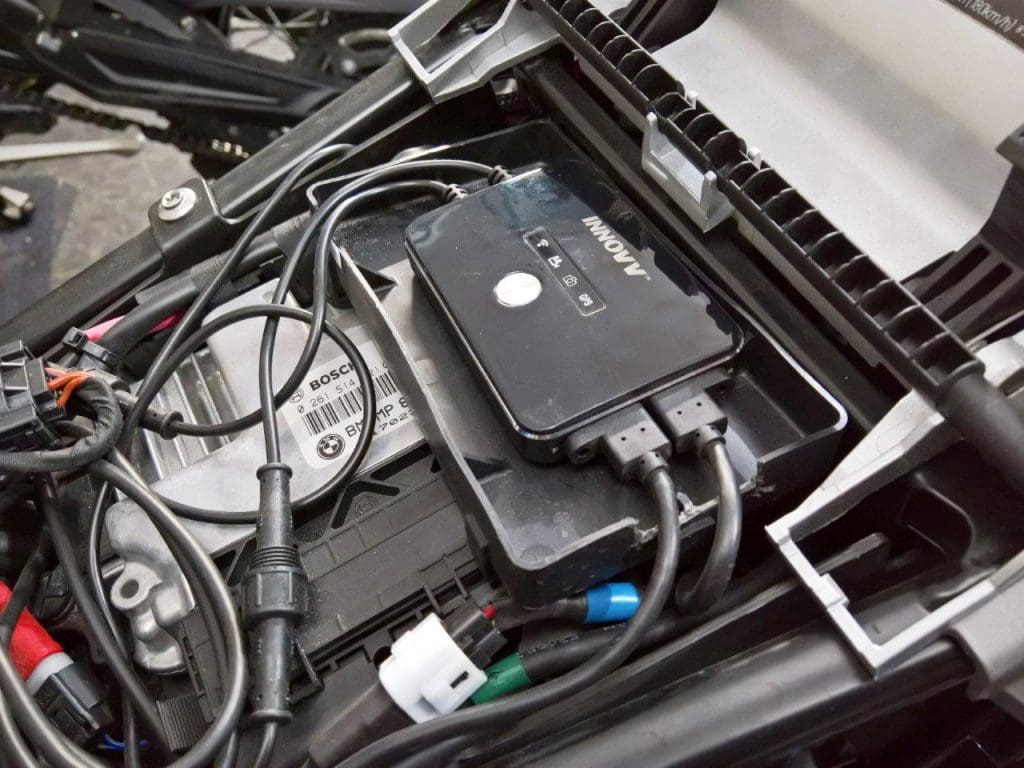 2019 BMW F850GS Installation (Pending)
As the Tiger is likely to be a short-timer in the home fleet, the first retail box kit installed on it is being moved over to the recently arrived 2019 BMW F850GS, that might also be a short-timer, given that an order for the F850GS Adventure is pending…
No issues are foreseen for either F850 model – thankfully given the new layout of the battery, sensor and main electronic modules, there is a fair bit of readily accessible real estate under the deck component.
K2 System Feature & Performance Observations
The K2 system with its components and features is an excellent plug-n-play accessory with near seamless set-n-forget performance – it just keeps on recording, with tagged GPS data and producing great HD quality front and back facing video.
Camera Versatility
One of the best features appreciated with the K2 system, specifically the cameras, is the lens versatility – providing an outstanding field of view in the vertical and horizontal axis, a key factor in being able to use the system for road and traffic monitoring and scenic captures.
Wireless & App
While I might still miss the original LCD on the K1 DVR, having the same preview/live-view ability, along with other abilities, via the WiFi connection and smart-device application provides far more versatility and ease of use – all good.
Cameras – Hidden or Exposed
Many will question why the K2 camera modules are not hidden or at least placed in a lower profile mounting on our home fleet motorcycles and it is indeed a fair question.
But the objective for use is to provide a clear optimal view of the front and back in respect to their respective fields of view so that optimal video capture is done, for a variety of purposes.
Once set-up the K2 system captures two channels of HD video that along with the GPS data and audio provides a scenic and enduring record of the ride. And over the years there have been some noteworthy incidents where the K1, C5, and K2 video, audio and reference data has proven valuable to us and other parties…
Standby/Park Mode
The power and sensor-based solution provided in the K2 for the Standby/Park Mode feature seems to work, but overall functionality seems dependent on the motorcycle and where/how the DVR is installed. Adjusting sensitivity between Low, Med, High doesn't provide much in the way of change either.
With extended use of two systems, the feature comes up as a hit-n-miss capability; sometimes it will activate, more often than not it won't and, it tends to generate a lot of files under the Park Mode Folder, even when the system is operating on relatively even road surfaces where this type of event triggering isn't expected.
And disturbing or physically moving the motorcycles off their stands doesn't activate the feature at all. As a consequence the feature is left off. Rest assured the issue is being discussed with the K2 Team Lead.
In being very familiar with the camera module-based sensor of the K1 and in using other systems that have G-sensor based capabilities to detect motion, etc., I'm not convinced that putting the single G-sensor into the DVR module is best, especially given where the DVR is likely to be installed (around the mass of the motorcycle).
My recommendation here is that the feature be revisited – wider dynamic range and/or adjustable (customizable) settings might work, acknowledging added complexities. Alternatively, the camera housings or GPS module could provide a better location for the primary (or secondary) sensor; this valuable feature could and should be more effective.
Audio
With the module tucked away somewhere and the silicone weatherproof cover in place on the DVR module and appreciating the typical motorcycle environment, audio is usually very muffled and can be hard to understand.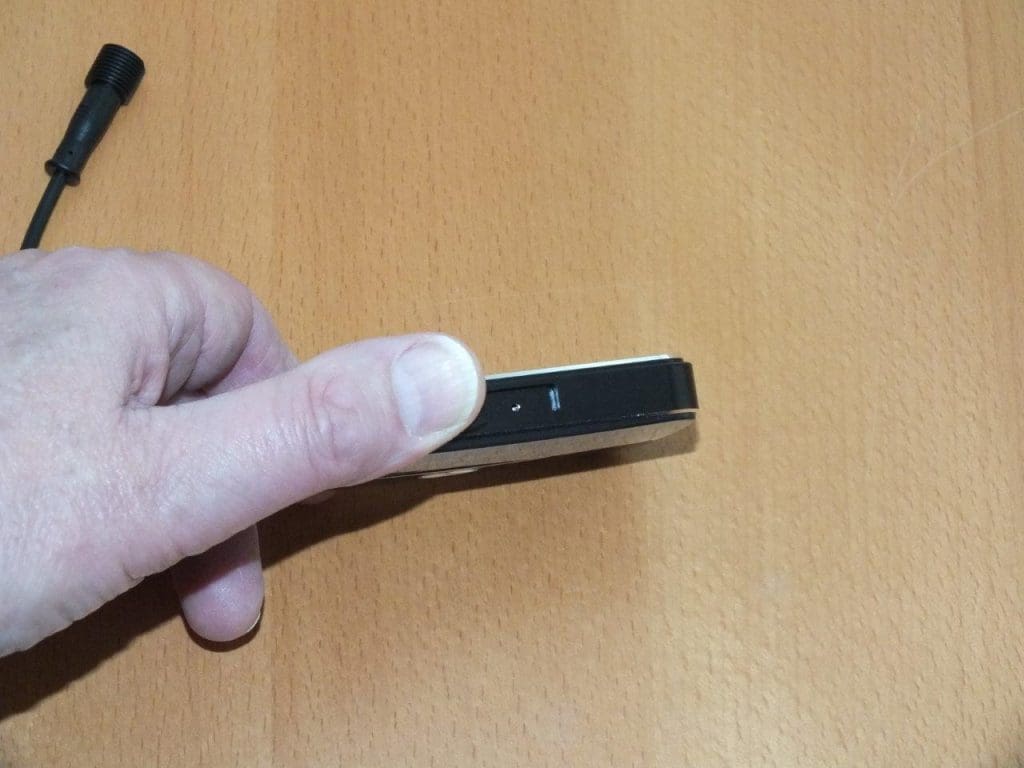 A workaround of sorts is to lift up or remove the silicone cover over the small pin-hole (shown above) – this can dramatically improve overall audio, although not without some compromise to DVR integrity and audio still isn't as good as many other PoV systems…
Thankfully this issue has also been addressed by the K2 team and in testing a modified module with an external hole, significant improvement in audio was observed.
We are awaiting one of the upgraded DVR housings with the new pressure sealed cover (see the previous photo in the DVR module section) that incorporates an enlarged audio pick-up opening covered with waterproof film. (Updated information will be posted once test data is gathered…)
Media Management
A lesson learned over the years in using body or motorcycle-mounted POV cameras is that it (really) pays to review stored files on a regular basis and download them to safe storage especially if lower capacity onboard media is used.
When commuting or riding the local terrain, the files get reviewed and downloaded once or twice a week or more often if there is a specific activity or incident that needs to be looked at or if it could be needed (first responders or insurance related).
On the road, where hopefully video recorded is or can be scenery focused rather than traffic-related the files are reviewed and saved off daily to the travel PC and/or a portable drive.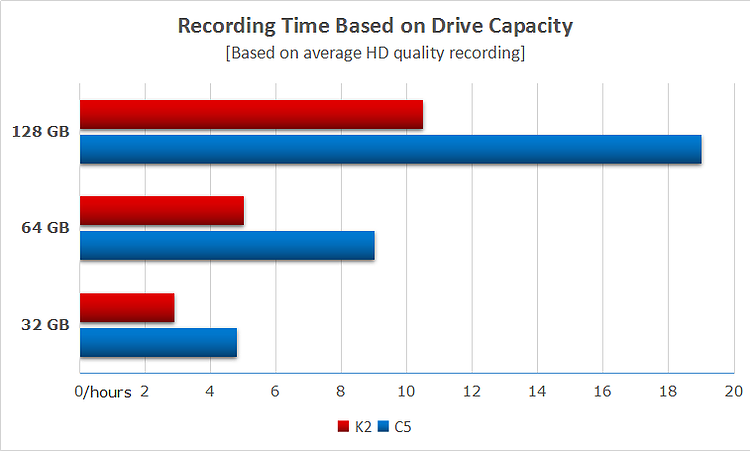 Apps for Video Playback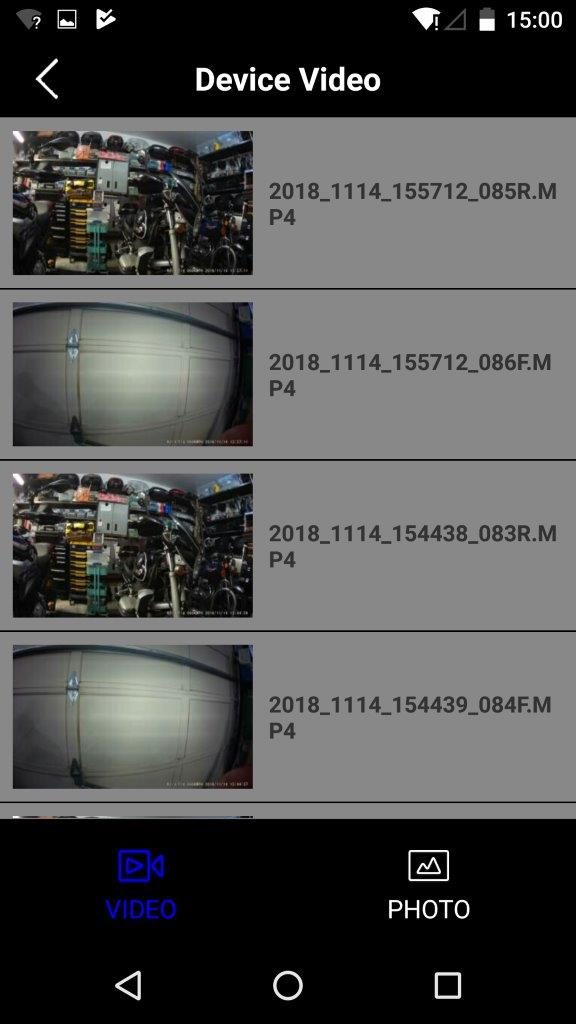 The INNOVV identified solution for displaying the dual-channel video with GPS tagged data captured by the K2 is Dashcam Viewer.
I used the free version initially but have since paid for the full version. It isn't the only app on the market supporting multi-channel multi-sensor data, but it works well once the needed plugins are installed. The software supports the original K1 system, along with other PoV systems I still use.
Conclusion
This the third INNOVV camera system reviewed for wBW and although the original K1 system had some (still) unique features its predecessor, the new K2 system is better in virtually every way.
I never go out riding without having at least one helmet, body or motorcycle mounted camera actively recording constantly; an amendment to the personal ATGATT approach.
And you know what? It is rare (very rare) that one of the active camera systems doesn't capture something of note or by the same token help in de-conflicting traffic issues… including 'your motorcycle is in my space' scenario where succinctly identifying the presence of a camera works wonders…
Otherwise, the INNOVV camera products just keep on running in the background, capturing video, audio and GPS data discretely, all typically with minimal intervention required. And by the way, one of the original K1 systems is now installed on the four-wheeler… as the K2 can be.
wBW has reviewed most of the INNOVV products over the years and in doing so, contact is typically maintained between reviewers and product team leads – a fact that allows us to sometimes get involved in pre-release testing or in refining requirements; and, done without compromising wBW principles regarding publication of honest objective reviews.
So, while my experience may admittedly be different than other users, this continued positive support and interaction with INNOVV needs to be acknowledged, whether as a consumer or product reviewer.
The INNOVV K2 dual-channel camera systems set a high standard. It is an excellent solution for a wide range of requirements and at a typically listed $338.00 USD, very much worth the investment, for lots of reasons.
My comment from the original INNOVV K1 review bears repeating here, "while we may not want to accept the need for this technology, it is a fact of life of many of us, unfortunately."
Pros
Very worthy successor to the original INNOVV dual-channel powersports system
Excellent design and build quality
Easy to install, everything needed is provided
No user interaction needed unless desired
Very good quality video under all conditions
Live monitoring, mirroring front and back
Direct video/GPS data playback
Great system, excellent value & investment
Cons
No separate remote-control, other than in using connected device and app
Front and Back cameras cannot be set to differing resolutions/frames
Park Mode features need fine-tuning
Mapping playback procedure can be fussy
Recessed storage card hard to remove
Recorded audio not very clear or loud
Specs
Manufacturer: INNOVV
Price: $338 USD
Review Date: November 2018
Shopping Now? We Recommend:
webBikeWorld works closely with Revzilla, 2WHEEL, and Amazon to provide our testers with quality products to review. While we have an affiliate relationship and receive a commission from items purchased, this addition comes at no additional cost to you. It is the primary way we pay for our site and reviewers.
Amazon

Free shipping (with Amazon Prime)
30-day return policy
Excellent selection
Competitive pricing
INNOVV K2 Image Gallery