Which is the fastest stock ATV you can buy? We've all asked ourselves that question at some point. Over the last few years, manufacturers have stopped disclosing top-speed numbers for their ATVs. In fact, some of them no longer mention peak power or torque figures on their websites. However, plenty of enthusiasts out there have put their machines to the test and reported their top speeds on forums and YouTube.
We do not recommend speeding, even if only to find out your ATV's top speed—that's why we have the internet. Now onto the stock ATV top speed reports:
Fastest Stock ATVs Ever: Through the Years
1988: A stock Suzuki LT500 ATV, popularly referred to as Quadzilla, went 79-80mph during testing by 3×4 Wheel Action magazine.
2001: A stock Yamaha Raptor 660R went 74-75mph during testing by Yamaha Motor Co. They later suggested that the Yamaha Banshee was capable of similar speeds. The same year, BRP announced that their stock DS650 ATV was capable of reaching a top speed of 75-77mph.
2004: Dirtwheels magazine reported that during testing, they clocked a stock Yamaha YFZ450R at a top speed of 75mph.
2008: Polaris joined the speed fray with their stock Outlaw 525S ATV at around 75mph.
2010: Arctic Cat brought their Behemoth 1000cc stock Thundercat ATV to a top stock speed of 79mph—which, considering it is a utility ATV and not a sport ATV, is pretty impressive.
2016: Yamaha's YFZ 450 recorded a stock top speed of 75mph at a Texas raceway.
The Fastest Stock ATVs You Can Buy Today
Over the last couple of years, ATVs like the Arctic Cat Thundercat 1000 and the Yamaha Raptor 700R have been discontinued (the 2021 Yamaha Raptor 700R is listed on its website, but there's no update on whether Yamaha will update it for 2022).
Those were some of the fastest stock ATVs you could buy. For 2022, however, there are fewer models on the market. Still, some of them (like the two we've covered below) show great promise.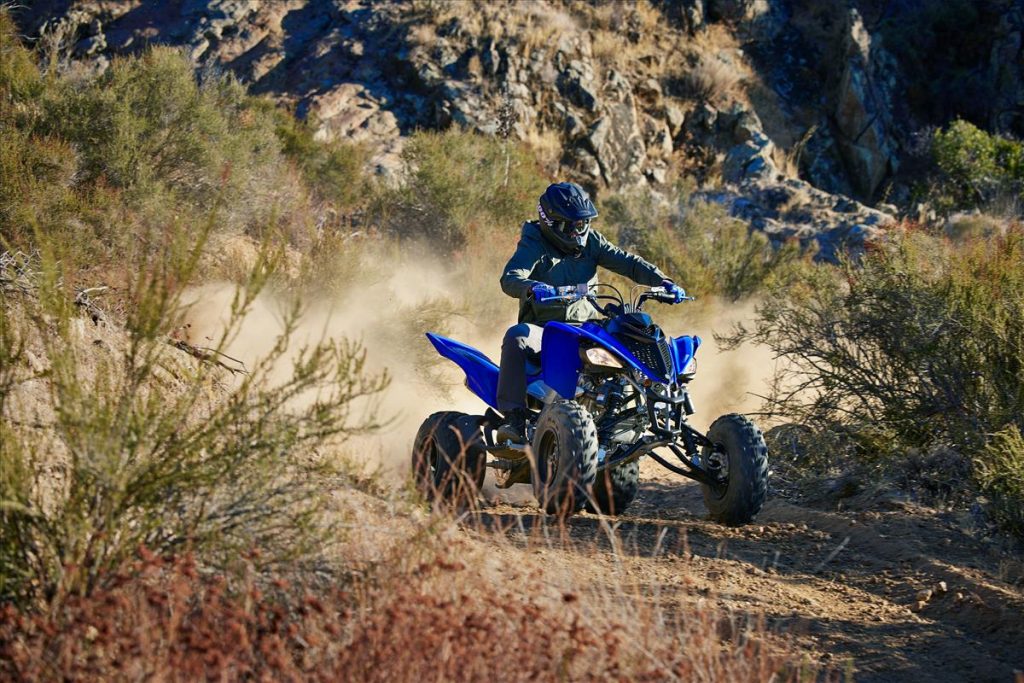 Can-Am Renegade X XC
Regardless of top speed capability, the Can-Am Renegade X XC is one of the best ATVs in the market this year. Powered by a 976cc, liquid-cooled, Rotax V-twin, the Renegade produces 91hp, making it one of the most powerful ATVs.
While the manufacturer has not revealed an official top-speed figure, owners have taken the Renegade X XC past the 85mph mark. With a simple ECU flash and aftermarket exhaust, the ATV will also breach 100mph—that's seriously fast!
The rest of the Can-Am Renegade X XC is quite impressive, too. It comes with ITP Holeshot tires from the factory to go fast on the dirt and the tarmac. The Renegade also offers 9.2 inches of suspension travel at the front and 9.9 inches at the rear.
There are also several aftermarket bits that you can get from Can-Am, like bumpers, racks, or a snorkel, if you're looking to make this speedy ATV more practical.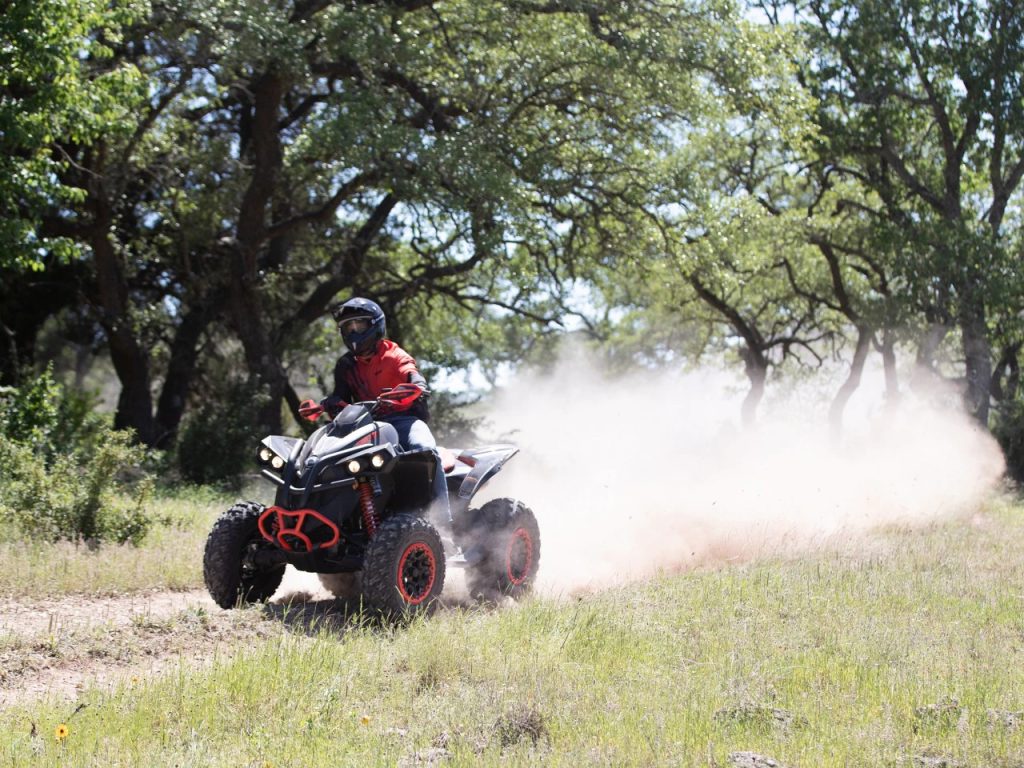 Polaris Sportsman XP 1000 S
As the name suggests, Polaris has taken its range-topping Utility ATV, the Sportsman XP 1000, and given it sportier suspension, more ground clearance, and multiple other performance-oriented features to create the Sportsman XP 1000 S. This is a hardcore ATV for someone who's looking to shred off-road.
Powering the ATV is a ProStar 952cc, twin-cylinder engine that produces 89hp. The standard Sportsman XP 1000 makes 1hp more and weighs a significant 84lbs less—however, it comes with larger, off-road spec tires meant for traversing trails and not going fast. As a result, the XP 1000 S has a higher top speed.
Compared to the standard Sportsman XP 1000, this 'Sport' model also brings 3 inches of added ground clearance, a 3.8 inch longer wheelbase, and 250lbs more towing capacity. There's also more suspension travel on offer—a substantial 11.6 inches at the front and 14 inches at the rear.
Owners have taken their Sportsman XP 1000 S to a top speed of 75-80mph, and there are multiple YouTube videos backing these numbers.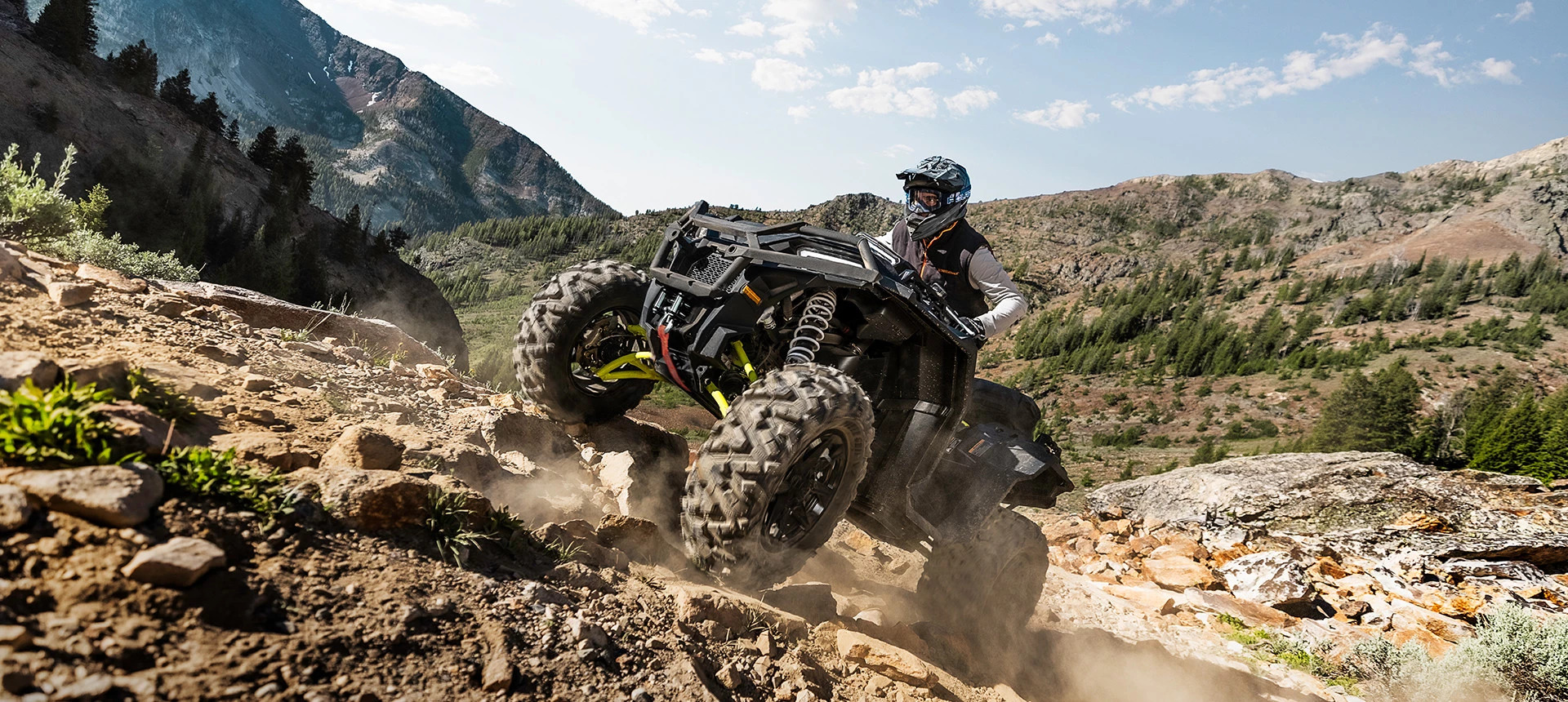 How Can I Increase ATV Top Speed?
There are a lot of factors that affect the top speed of your ATV. Typically, these include the condition of your machine and tires, as well as external factors like altitude and terrain type. If all these factors are in your favor, here's what you can do to improve the top speed of your ATV:
Altering the Gear Ratio
One of the simplest ways to change performance is to alter the final gear ratio. Horsepower and weight only determine how long it will take to reach top speed; the final gearing ratios absolutely set the maximum possible speed on an ATV.
You can only go as fast as the gear ratio will allow. A lighter ATV and a more powerful engine will accelerate more quickly, but the gear ratio dictates the possible top speed at max RPM.
You can increase your quad's acceleration rate by reducing weight and increasing horsepower. If you genuinely want to reach a higher top speed, you must install taller and steeper gears.
Changing Out Your Tires
Tires with a longer radius can also help you achieve higher speeds, assuming the engine can accelerate enough to make use of the extra size. A larger tire circumference increases top potential speed, but it also lowers acceleration rates slightly.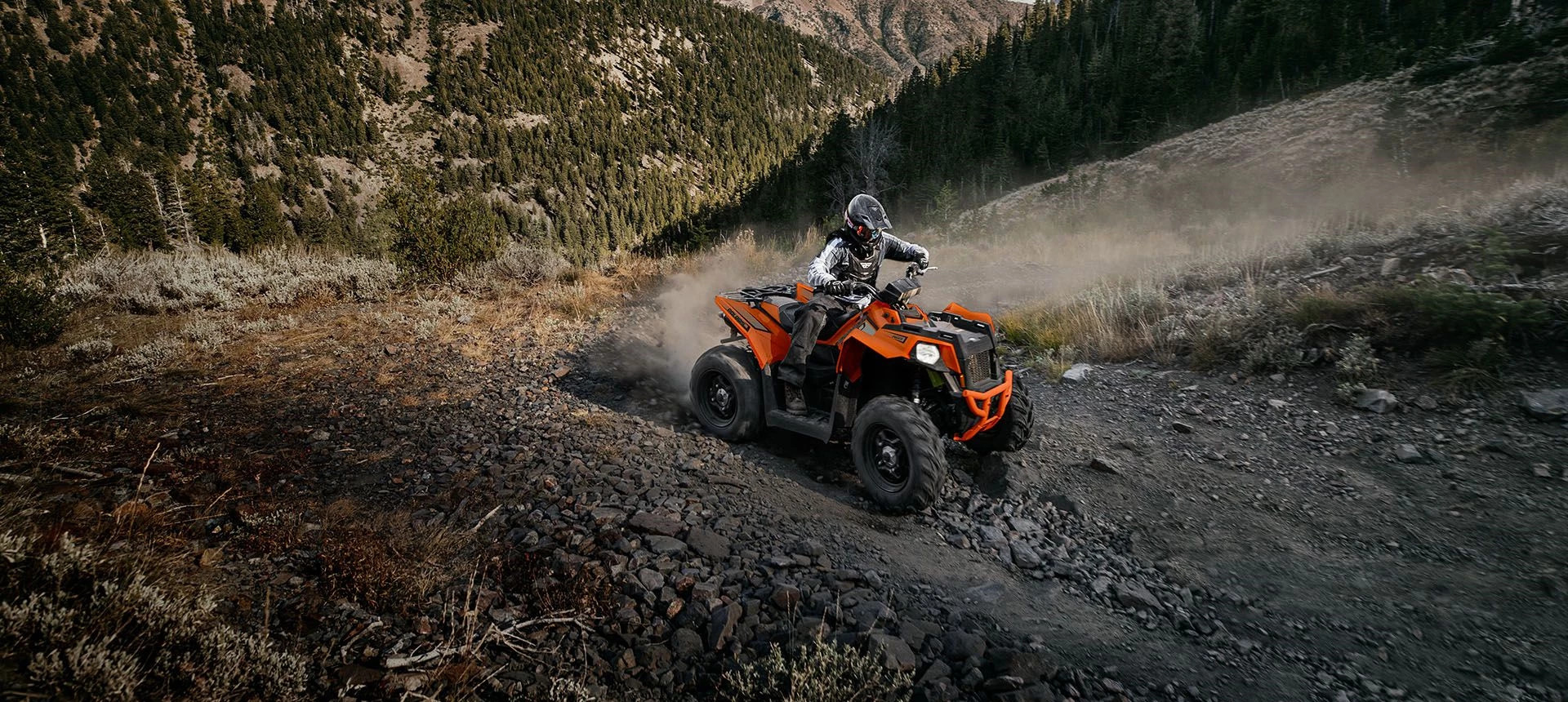 Remember, engine size doesn't dictate the possible top speed; it dictates the acceleration rate in getting to the max potential top speed that your current gear ratios allow.
To get a good ATV top speed comparison, start with a stock engine and slightly increase tire size. You will probably notice that it takes a bit longer to reach the same top speed you did with the smaller tires. After you change the gearing ratios, it will become even more noticeable. Your ATV will need more power to reach the new limits, but it's not the horsepower that makes the higher top speed possible.
You'll also notice that gains are not linear. They are exponential. The first increase in tire size may need a slight horsepower increase to maintain the same acceleration rate. The second increase in tire size, by the same amount, will need more of a boost than the first one did to maintain the same acceleration rate.
An ATV dragster has gears so steep you would probably find them extremely unrewarding to ride with a stock engine. I hope that helps you better understand why more horsepower does not equal a higher maximum top speed all by itself.
Increasing the Top Speed on Electric ATVs
Fun Fact: The top speed on an electric ATV is not limited by the same constraints. Theoretically, the tires can spin as fast as the amount of current the motor turning them can tolerate. With batteries big enough to sustain high output for long enough, an electric ATV has much higher potential, and the acceleration is much stronger.
Speed limitations on a battery-powered quad are battery size, electric motor capacity, and friction. Heck, even wind resistance will come into play at some point. Future ATV speed records belong to electric quads as soon as batteries become more affordable and easier to recharge.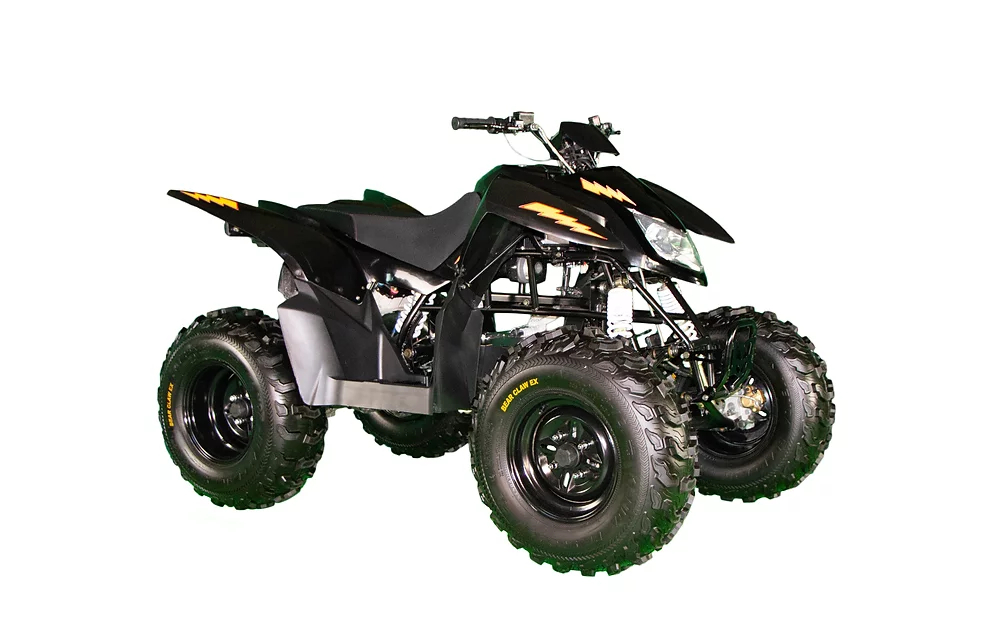 Does Top Speed Matter in an ATV?
Top speed isn't as important as acceleration in an ATV because you're likely to be riding in rough terrain. You will need to throttle up and down too often to reach top speed anyway. Still, it's fun to have a baseline of your quad's top stock speed before upgrading it with performance parts.