Britain's motorcycling history is long and illustrious. In the early days, the British industry was championed as being the best in the world, but after World War II the industry fell into a steady decline. Today, the British industry is a fraction of the size that it once was, but over the last 100 years, it has produced some of the most iconic and celebrated motorcycles ever made.
Ariel, AJS, Brough Superior, BSA, Matchless, Norton, Triumph, Velocette, Vincent, and more! These are just some of the marques out there that have left a lasting impression on the global motorcycling industry. Each of those brands has produced notable motorcycles, but there are some that are a cut above the rest. Here are 10 of the best motorcycles to come out of Britain.
Brough Superior SS100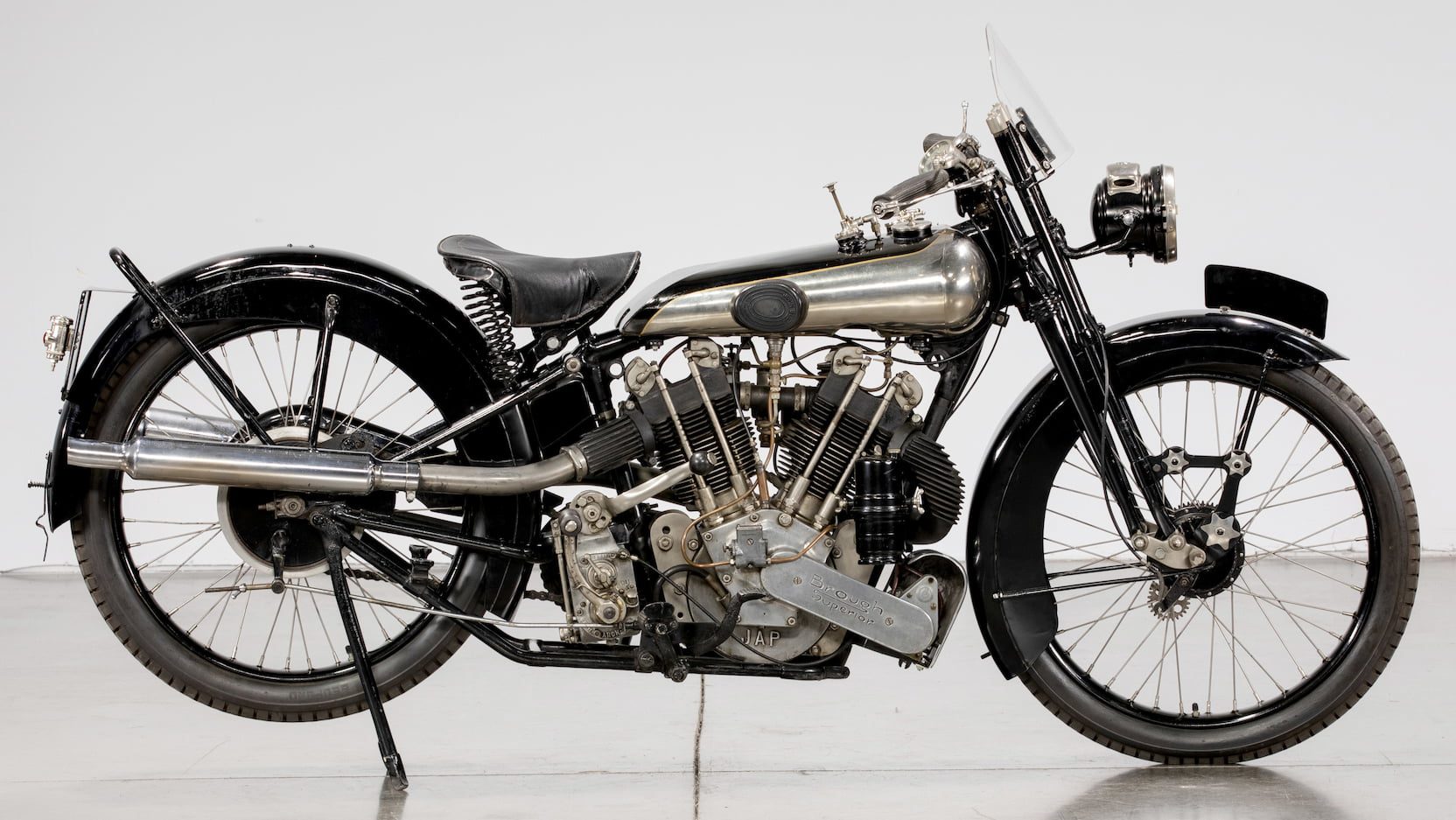 Let's kickstart our list of the best of British with the most obvious option: the Brough Superior SS100. You could choose any Brough Superior motorcycle and it would be worthy of this list. Any surviving models are sought after and hold incredible value, even when they're in the sorriest of states. The SS100 range is particularly valuable, with each model built to customer specifications.
While they had different characteristics, all SS100's shared the same powertrain: a 998 cc air-cooled V-twin, manufactured by JAP or Matchless depending on which year you're talking about. Each engine variation produced different horsepower figures, but all Brough Superior models were delivered with a factory guaranteed top speed of over 100 mph.
The SS100 has a storied history, setting numerous speed records, winning more than 50 racing events, and achieving critical acclaim. The model is famously tied to the famous T.E Lawrence who sadly lost his life while riding his beloved Brough Superior. His demise, however, led to the advent of motorcycle safety helmets, which changed the world of motorcycling forever.
Today, you can buy a new Brough Superior SS100. The brand has been revived and the bikes on sale are very much the "Rolls Royce of motorcycles" that their forebears were.
Triumph Bonneville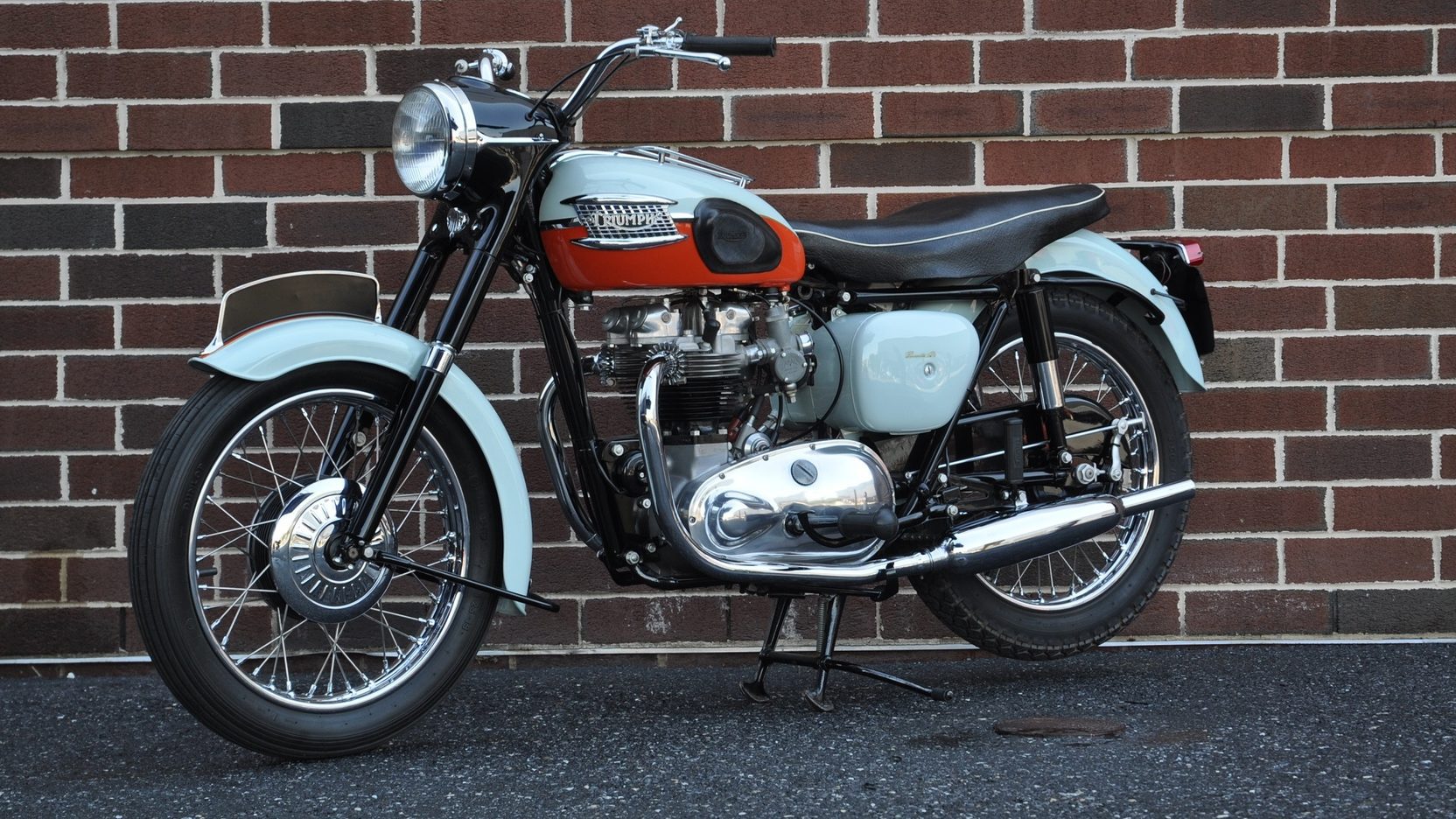 While we're on the subject of obvious inclusions, then let's look at the Triumph Bonneville. The Bonneville is arguably one of the most recognizable British motorcycle models in history. But which one should be on the list? All of them.
Over the years, the Bonnie has enjoyed three generations, and three separate production runs. The first Bonneville rolled onto the scene in 1959 and was a staple of the Triumph line-up until 1983. The second-gen Bonneville was a short-lived exercise between '85 and '88. Now, the current Bonneville has been in production since 2001 and shows no sign of slowing down.
All of the Bonneville models take their name from the legendary Bonneville Salt Flats, and all share a common engine format: a four-stroke parallel-twin motor. However, the overall displacement of these engines varies.
The design of the Bonneville, in any generation or displacement, is simple. It features a tank, a saddle, and a round headlight. It's everything a standard motorcycle should be, but there's  versatility in that simplicity. And that's why the Bonneville can be found in café racer, scrambler, and bobber forms. It's the perfect base for whatever you can dream of.
Silk 700S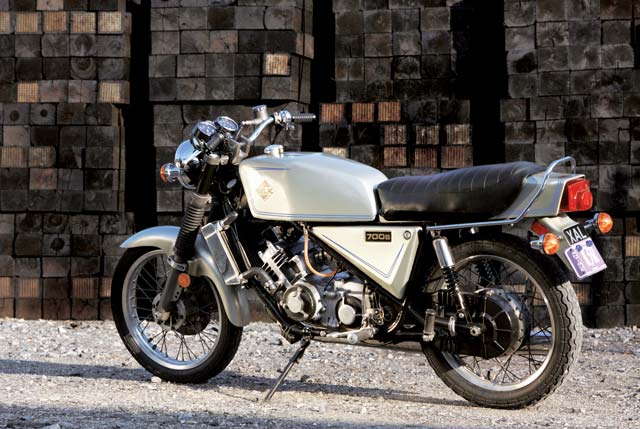 When it comes to top lists about British motorcycles, very few mention the Silk 700S. There's a good chance that you've never heard of it either, and that's a shame because it's a fantastic, innovative, and unusual machine. Produced between 1975 and 1979 by Derby-based Silk Engineering, the 700S featured state-of-the-art technology, big power, and an expensive price tag.
The heart of the Silk 700S was a formidable 653 cc water-cooled, two-stroke, twin-cylinder engine. It was able to produce 54 horsepower and hit top speeds of over 110 mph. It also featured electronic ignition, an advanced thermo-syphon cooling system, and an innovative lubrication system too. Despite the modern tech, it wasn't a heavyweight beast. It even had an impressive power-to-weight ratio.
In 1976, Silk was taken over by another engineering firm and while there was legitimate interest in the 700S, the number crunchers worked out that the firm was losing £200 for every model produced. Given that each model sold for £1355, that was quite a heavy loss in the grand scheme of things.
While the Silk 700S isn't as well-remembered as the others on this list, it shouldn't be forgotten!
 Ariel Square Four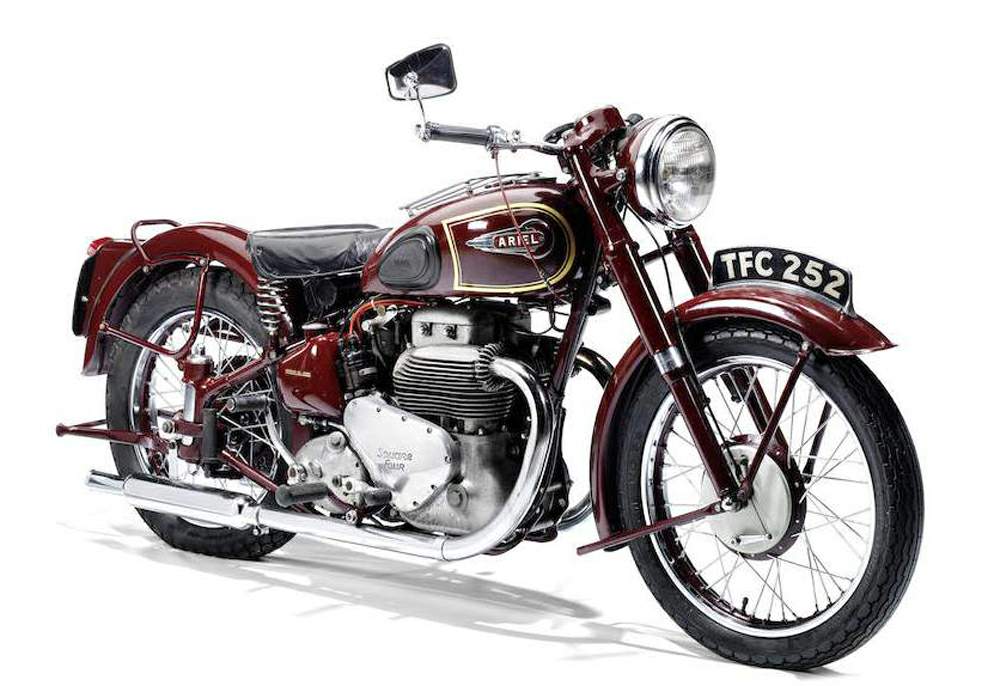 The Ariel Square Four is a true British icon. When it first rolled onto the scene in 500cc form back in 1930 it boasted innovative engineering, and by the time the "Squariel" was finally retired in 1958, it would have left its mark as a true British design icon. If we had to choose a particular Square Four, it would be a model from between 1948 and 1952.
Built around a square four engine—essentially two parallel-twin engines fused together with opposite-turning crankshafts—the rest of the Square Four could fit into a standard Ariel rolling chassis with minimal modification. The later Square Four models featured larger displacements (600cc and 1000cc) and didn't suffer from overheating as the earlier models did.
Most British motorcycles of yesteryear are often remembered for their funny quirks or unpredictable but charming character. The Square Four bucks that trend. It offered smooth and spritely acceleration, slick gear changes, and a comfortable, relaxed ride experience. Granted, the brakes are very much a product of their time and you won't be getting any serious lean around any corners, but apart from that, you could easily fool yourself into believing that this bike was built in the 70s or 80s, rather than the early 1950s.
Norton V4 SS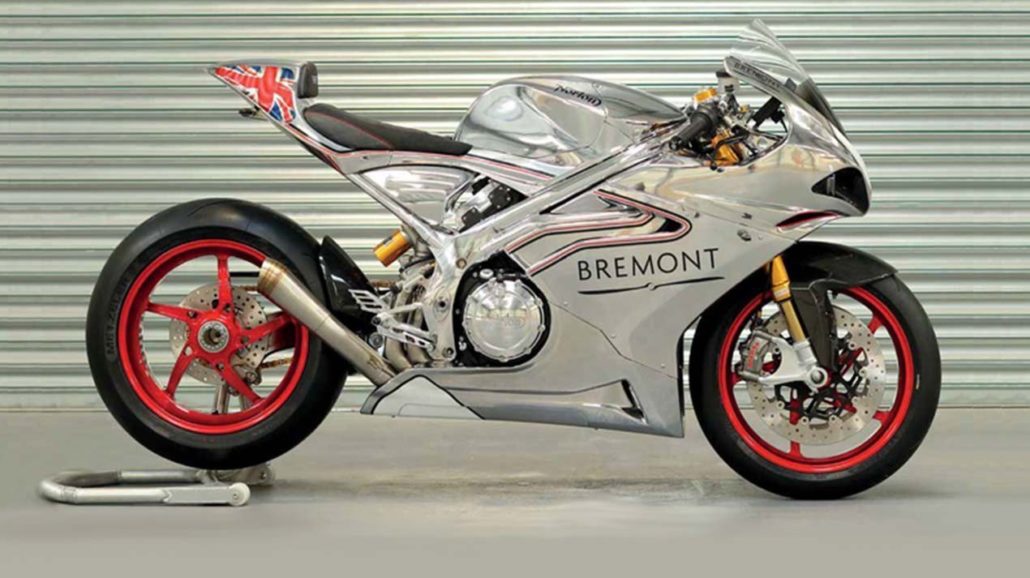 Norton, like Triumph, is one of those quintessentially British motorcycle brands. It's a classic name, but it has had a pretty rough history, with the marque being thrown from one owner to the next. And that's not part of its history, it's also very much a part of the brand's present and future. After being purchased by British businessman Stuart Garner in 2008, everything looked grand for Norton. Unfortunately, the new Norton went bust in 2020 and is now owned by India's TVS Motor Company.
However, during the Garner years, the new Norton pulled the covers off of something rather special: the Norton V4 SS. As you can see from the picture, it's quite an attractive thing. It looks great. But while we love the shiny curves and commanding stance, it also packed some serious performance too.
Under the proverbial hood, the V4 SS features a 1200cc V4 engine that produces a claimed 200 horses, with plenty of midrange power. Combined with top-of-the-range suspension and top-shelf hardware, the V4 SS delivers real eye-watering performance. And it should since it's the road-going equivalent of Norton's TT-racer, the V4 RR.
It's a true testament to British engineering. If only it was cheaper…
Vincent Black Shadow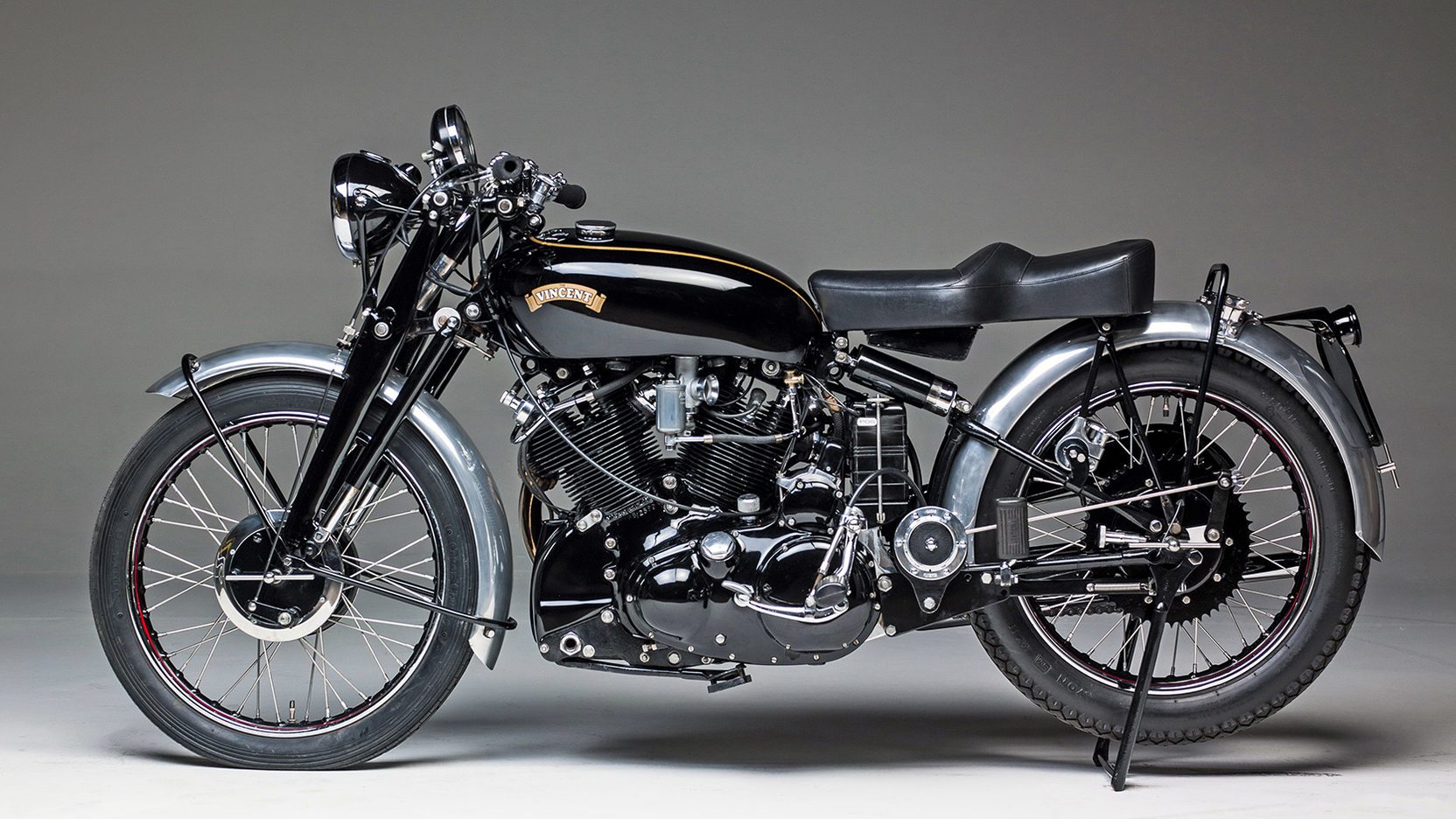 The Vincent Black Shadow is a motorcycle that requires no introduction. It is legendary. It was a pioneering motorcycle chock full of new innovations. It was incredibly fast. And today, they always make headlines if they hit the auction because they are also incredibly rare. In fact, only 1,700 of these beauties were made, and that's one of the reasons that pristine examples command such a high price.
Manufactured between 1948 and 1955, each Black Shadow was hand-assembled at the Vincent factory in Stevenage, Hertfordshire. Powered by a 998 cc V-twin engine with 55 horsepower, the Black Shadow was already set for greatness. However, in 1948 the Black Shadow managed to clock an incredible top speed of 150.313 mph at the Bonneville Salt Flats in Utah. It's not hard to see why the Vincent sales team adopted "The world's fastest standard motorcycle: This is a FACT – NOT a Slogan!" as its…slogan.
During its production, the Black Shadow was available in three different Series, as well as in White Shadow form, which was essentially the same as the Black Shadow but with a polished engine rather than enameled. Only 15 of those were ever made. Despite the success of those models, the Black Shadow story came to an end in 1955, when Vincent HRD ceased all motorcycle production.
Velocette Venom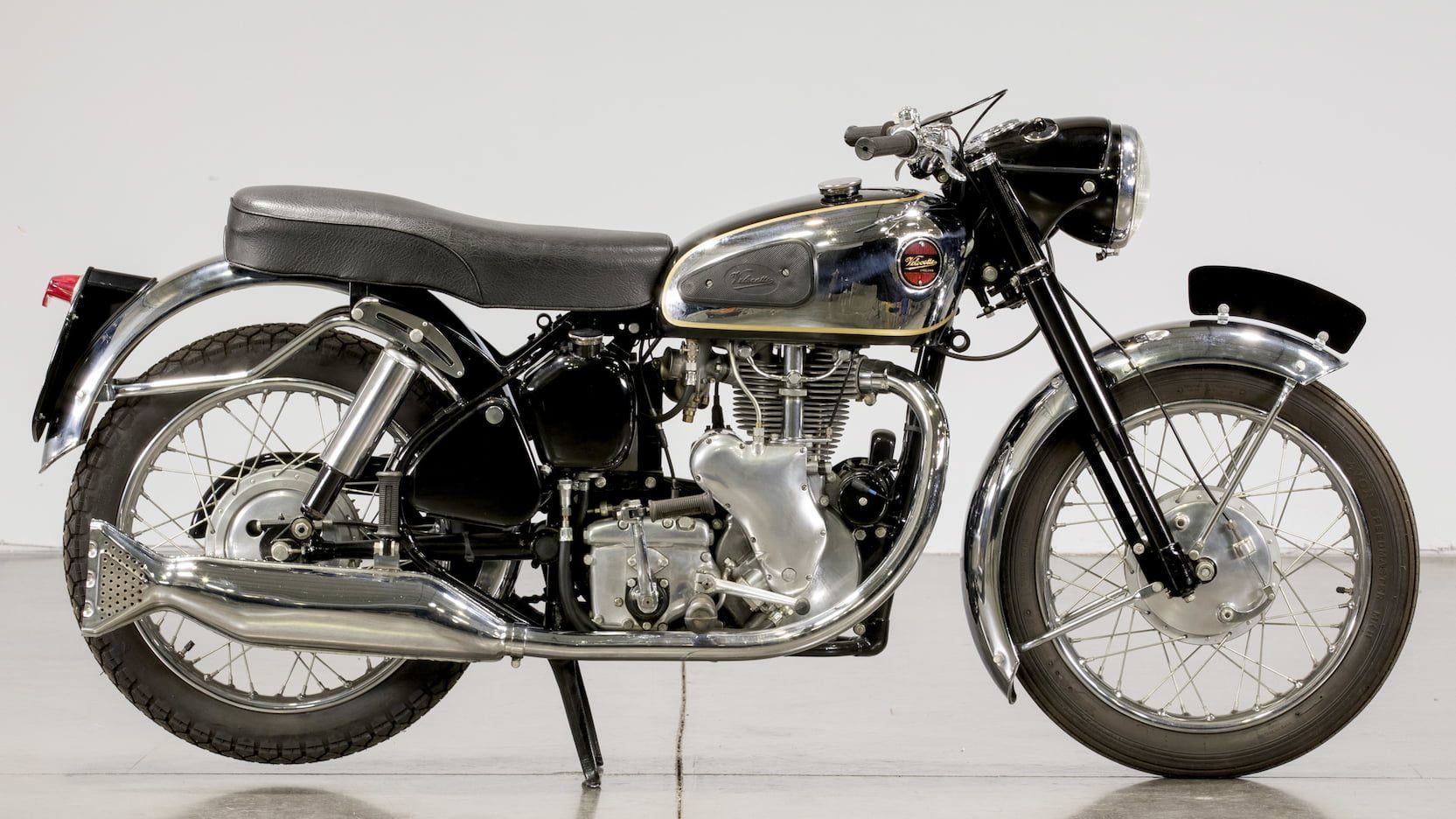 You can't have a list of British motorcycles without including a Velocette. We were torn between the Viper and the Venom, but it was the Venom that won out. Both motorcycles are great, but the Venom was bigger and enjoyed a slightly longer production period. Though both were introduced in 1955, the Viper was discontinued in 1968, while the Venom hung on for a couple more years before ending in 1970—just before Velocette closed for good in '71.
Manufactured in Birmingham, the Velocette Venom featured a 499cc air-cooled single-cylinder engine that produced an impressive 34 horsepower and could propel the Venom to speeds of over 100 mph. It was available in a number of forms, such as the off-road-focused Venom Scrambler, the sports-focused Venom Clubman, and the range-topping Venom Thruxton.
Not only was the Velocette Venom a great motorcycle but it's also a record holder too. In 1961, a Venom Clubman successfully set the 24-hour world record, hitting an average speed of 100.05 mph. Even today, that feat remains unbeaten for the engine class. In 2008, an attempt was made to break it, but it wasn't to be, and the Velocette Venom remains supreme.
BSA Rocket Gold Star
The BSA Gold Star is a regular on these top list kind of articles about British motorcycles but why include the Gold Star and ignore its heavier duty stablemate, the Rocket Gold Star? There are plenty of good BSA models worthy of this list, but it's the Rocket Gold Star that we'd choose if we really wanted something interesting.
The standard Gold Star was something of a legend: produced between 1939 and 1963, the Gold Star was a beautiful motorcycle available in 350 or 500 forms, driven by a powerful single-cylinder engine. The Rocket Gold Star, however, only enjoyed a short-lived run between 1962 and 1963, but rather than a single, it drew power from a 646 cc twin-cylinder engine. The bigger engine produced 40 horsepower and could propel the Rocket Gold Star to speeds of up to 115 mph.
Only a small number of these beautiful motorcycles were produced. Of the 1,584 units that rolled off of the production line, 272 of them were modified for off-road scrambling. If you can find one of those these days, snap it up. It could be worth a serious amount of cash!
Triumph Speed Triple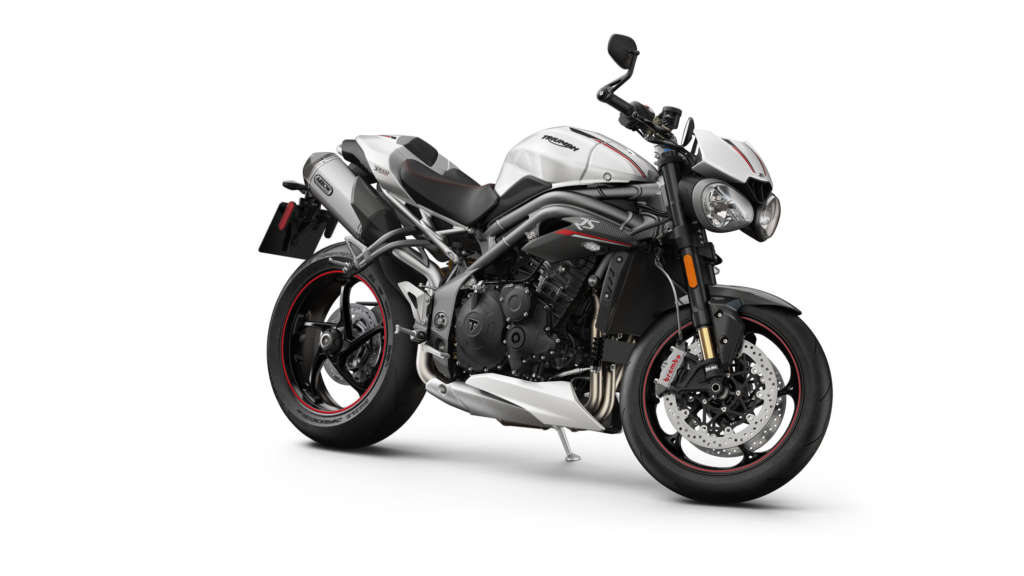 While there are plenty of "modern" Triumph motorcycles that could fit on this list, if we had to choose one that really defines the brand then it has to be the Speed Triple. The Speed Triple first rolled onto the scene in 1994, taking inspiration from the Speed Twin of the 1930s. Though it took inspiration from Triumph's past, it was designed with the future in mind. Even today, the Speed Triple is everything that a modern factory-built streetfighter should be. And more.
Over the years, the Speed Triple has enjoyed a number of evolutions. It began life with an 855 cc engine, before evolving into a 1,050 cc, to the 1,160 cc engine that we have for 2021. All of the Speed Triple's engines are triple-cylinder units—obviously. The latest model boasts 176 horsepower and 92 lb-ft of peak torque. It's an absolute powerhouse.
Now, the looks of the Speed Triple is always a good conversation topic. It provides plenty of debate! The distinctive bug-eye headlights are one of those features that you're either going to love or you're going to hate. But even if you hate the front end, you can't hate the agile nature and superior performance of this modern British motorcycle.
Norton Commando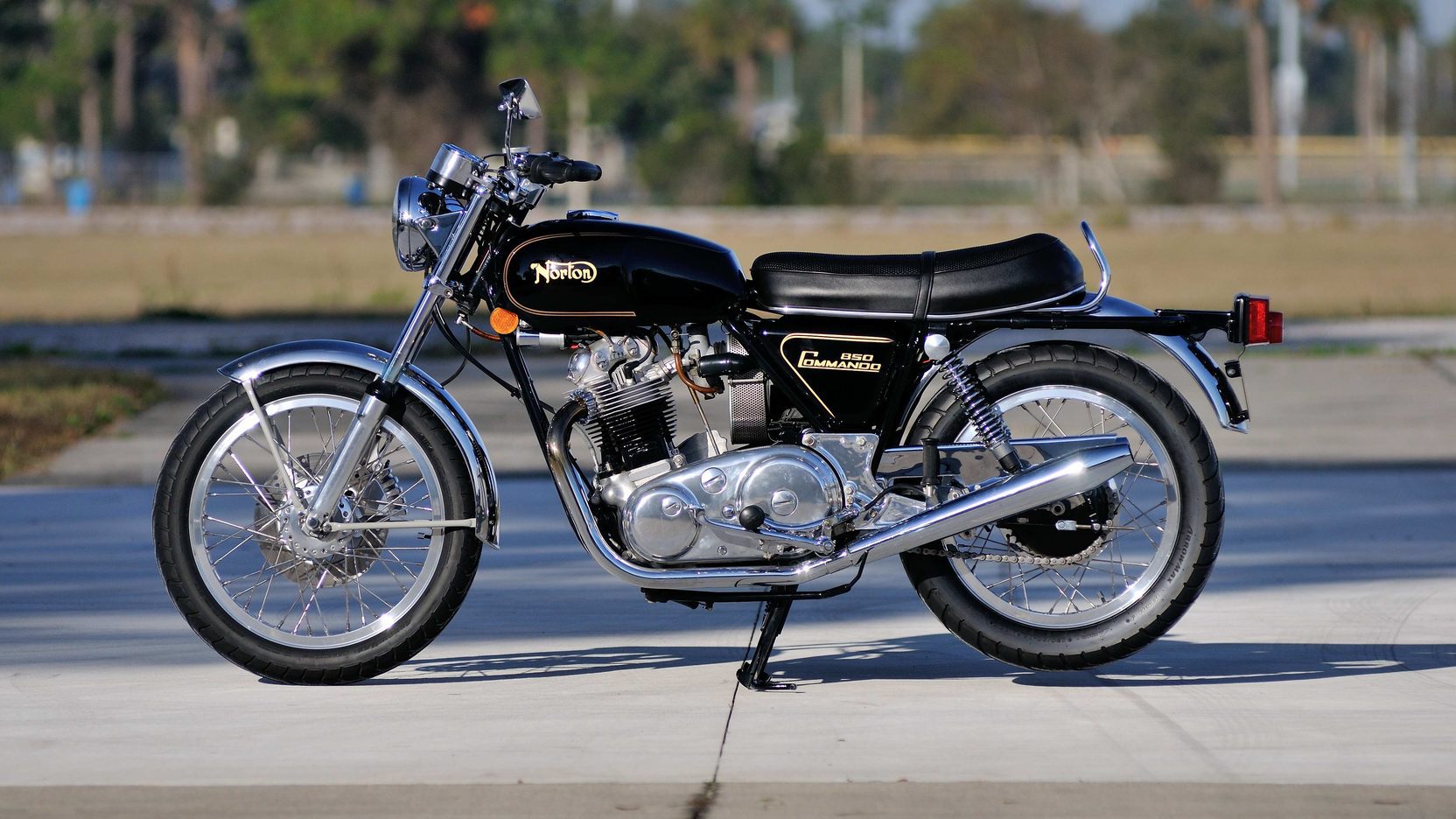 The Norton Commando is an unmistakable British icon. Manufactured by Norton-Villiers between 1967 and 1977, the Commando is often lauded as one of the last great British motorcycles before the real decline of the British motorcycle industry. Between 1968 and 1972, the Commando won MCN's "Machine of the Year" award every year, which should prove that this is a motorcycle with real attitude.
Originally, the Norton Commando came with a displacement of 750cc, however, that was increased to 850cc in 1973—which is the size most people remember. The 850 was powered by an 829 cc parallel-twin four-stroke engine, producing 60 horsepower and a top speed of about 125 mph. It was fast, but it was no sports bike. Instead, it was a sports touring machine, without the kind of vibration you'd expect from a British bike of the era.
Vibration was a big problem for a lot of British motorcycles, especially older Nortons. This problem was eliminated thanks to the introduction of a new Isolastic System frame. This new system isolated parts of the frame and joined them with rubber mountings to reduce vibration. And it was a success. The result was a smooth and comfortable ride experience from one of the most iconic British motorcycles ever made.