You know how it goes: your kid sees a YouTube video, streaming show, or live event involving ATV riding, and they are suddenly and completely hooked. You get them a starter ATV, you sign them up for an introduction to ATV riding course, and now you're looking how best to protect them as they learn.
There are plenty of great affordable ATVs out there, but you'll also need to make sure your kid has proper riding gear—especially a helmet. Numerous manufacturers have helmets at all different budget levels, but to be able to list a helmet for sale, they must pass a base test to be certified for use. If they don't pass the test, they can't be sold, so it's often in the manufacturer's best interests to put out a high quality product.
This list is organized according to pricing, with categories for entry level (under $150), mid-range ($150 to $200), and high end ($200+) helmets. Let's get started!
Entry Level ATV Helmets for Kids ($150 or Less)
Fox Racing Youth V1 MIPS ATV Helmet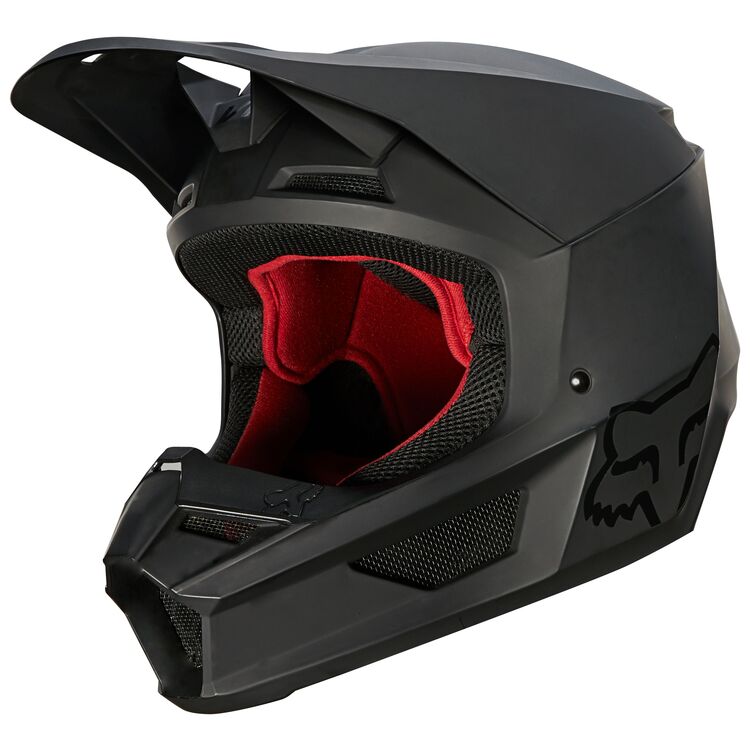 The Fox Racing Youth V1 is, in the simplest terms, a smaller version of the superb Fox Racing V1 MIPS. That last acronym stands for Multidirectional Impact Protection System, which absorbs and dissipates a lot of rotational impact force before it can act upon the head of the rider—something that has saved many an ATV rider, MX rider, and Dirt rider from a concussion or worse.
The V1 is also one of the most ventilated helmets in the market, with a full 9 intakes and 5 exhausts. If you're worried about the sun peak causing your kid's head to be forced back, don't—it is mounted on a magnetic system that will cause the peak to break away from the helmet in the case of enough force acting on it.
In essence, the Fox Racing V1, in both its adult and youth sizings, is one of the single best entry level helmets you can buy.
HJC Youth CL-XY 2 ATV Helmet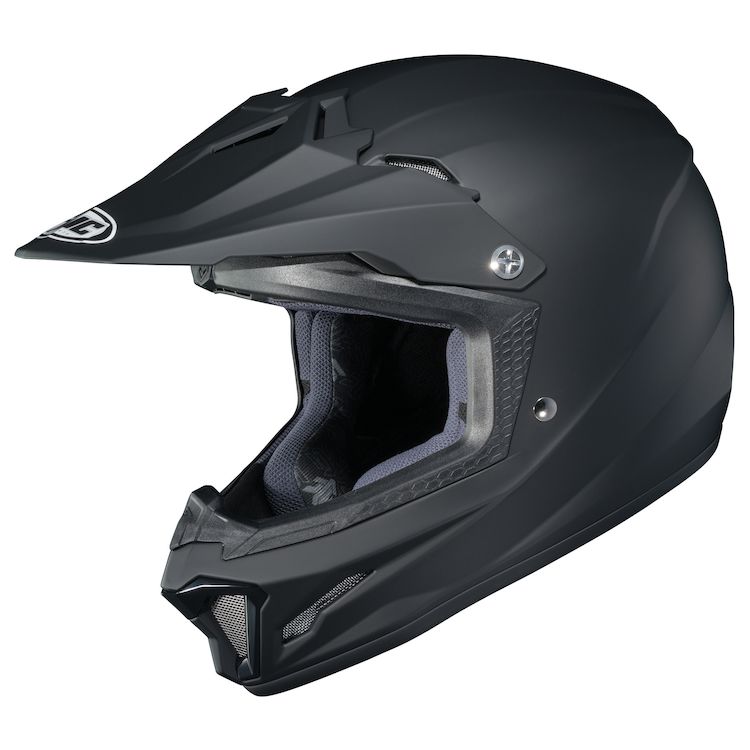 HJC is not one of the "big names" of helmets in North America, but definitely deserves attention for how they develop their helmets. They are heavily involved in competitive powersports, from MotoGP circuit racing to the Monster World Supercross series. After they put in their research, development, time, and money into making competitive helmets, they then turn around and put all that work into producing consumer helmets at astonishingly affordable prices.
The CL-XY 2 is just such a helmet, which uses an advanced polycarbonate composite shell material originally developed for competition. This is backed by a single layer of multi-density EPS foam, which works with the ventilation system to carry away heat and sweat almost as fast as it appears.
The shape of the helmet, however, has been heavily influenced by findings for competitive powersports, and is shaped in such a way as to harness airflow (by pulling exhaust air from the helmet) and take impacts (by dissipating as much force as possible before the EPS absorbs it). This is why the EPS is not dual-layer or more—the shell itself acts as a surrogate layer of EPS.
All this high tech development and application, in a $100 helmet? It's a bargain that's hard to beat.
Mid-Range ATV Helmets for Kids ($150 to $200)
Troy Lee Youth GP ATV Helmet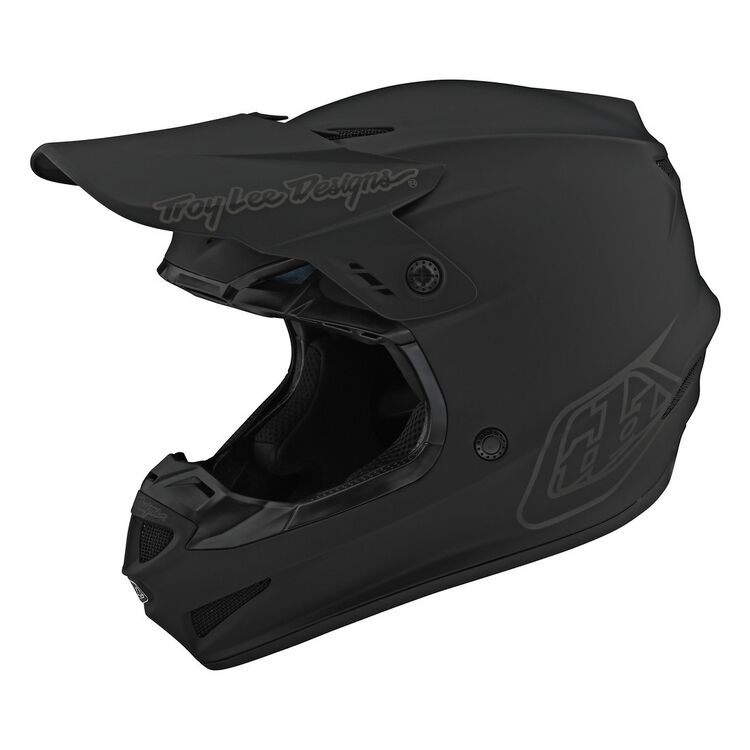 Troy Lee is a brand that is all about dirt, MX, SX, and ATV riding, and it really does show in their product lineups. The Youth GP helmet is a bespoke helmet with no adult equivalent that is designed specifically for the protection needs of young heads.
The shell is made of a composite material called polyacrylite and backed by EPS foam throughout the helmet, with an EPP (expanded polystyrene) chin bar for extra stiffness and energy dispersion. The sun peak is designed to break away during a crash, but will not rip off at speed or from light whacks against it (like ducking to take a branch).
With a removable liner and padding, the biggest thing about the Youth GP is that the EPS foam is layered differently than in any adult helmet. This is because adults have finished their skull growth and fusion, while kids still have developing skulls and need to take impact energy away from specific areas where bone fusion hasn't taken place fully yet.
This attention to detail, specifically for youths, is what makes Troy Lee one of the best midrange helmet manufacturers for young ATV riders.
Leatt Youth Moto 3.5 V22 ATV Helmet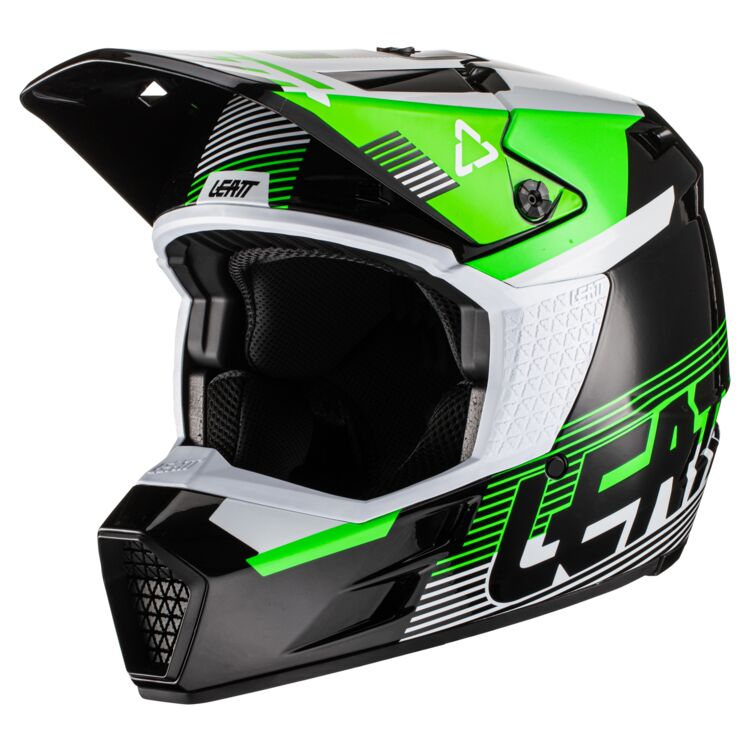 Leatt is a name that is familiar to anyone that watches MX or SX racing, or enduro ATV cross country races. With the Youth Moto3.5 V22 helmet, they also have perhaps one of the biggest leaps between helmet generations ever.
Compared to previous Moto 3.5 helmets, the V22 packs in a gigantic amount of safety and material advances in a helmet that hasn't jumped at all in price. The biggest advance that the helmet has is what Leatt calls the Turbine 360 BIRT (Brain Injury Reduction Technology)—in essence, a series of sliding mount points that counter rotational and linear impact forces, dissipating up to 40% of initial moment energy before the EPS and skull take on the forces of a tumble.
What is revolutionary about it is that unlike MIPS (Multidirectional Impact Protection System), Turbine 360 BIRT works in three dimensions, instead of along one of two planes of movement. This means that the system can take horizontal rotational energy, vertical rotational energy, and angular rotational energy all at the same time, reducing brain acceleration by 30% and peak brain rotation by 40%.
In other words, this highly ventilated, colorful, and otherwise completely regular-looking ATV helmet has within it one of the newest iterations of energy dispersion technology on the market. At just $170, it's an excellent investment in your young ATV rider's safety.
High End ATV Helmets for Kids ($200 and Up)
Fly Racing Dirt Youth Formula CP ATV Helmet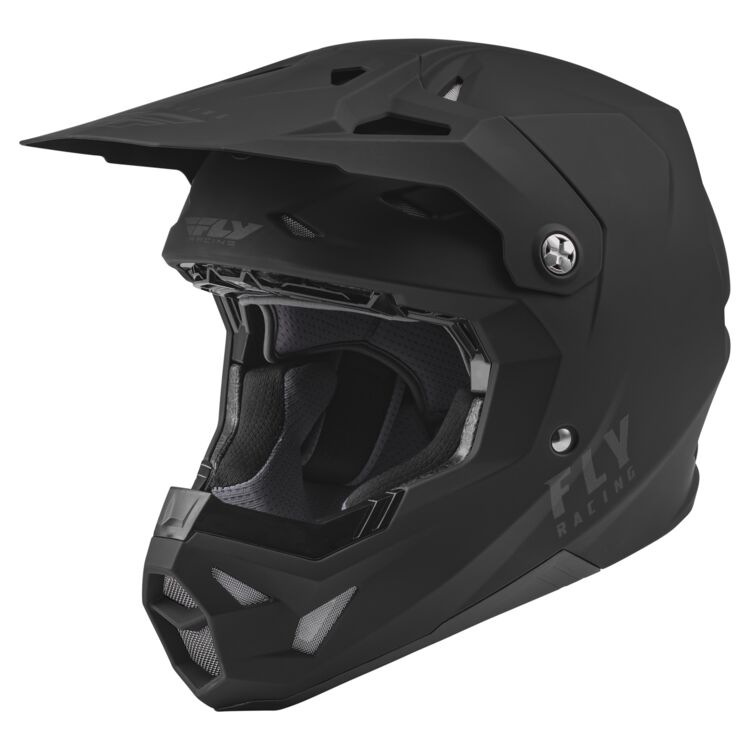 Being completely honest, the Fly Racing Dirt Youth Formula CP helmet may, in fact, be the best youth helmet available on the market today. Most helmets that redefine safety only have one or two features that make them rise above the rest. The Formula helmet has three.
First among these is a new type of EPS protective foam. Instead of just being multilayered, the EPS foam is shaped into cones at high impact areas, so that if the foam does go through destructive energy dissipation, it decelerates the skull against the foam before it reaches the big energy absorbing layer.
The second safety innovation in the Formula helmet is it is lined with what are known as RHEON energy cells. While shaped specifically by science and made of a special material, the simplest explanation is that these energy absorbing cells are pliable, but when sudden energy is put into them (during an impact) they stiffen to achieve steel-like hardness.
The last safety innovation, and one that supports both of the previous innovations, is what is known as expanded volume EPS. In key areas around the helmet, the protective foam is thicker but has more space between the foam cells, which allows again for decelerative destruction of the foam to prevent the brain from being jolted around inside the skull.
Add to all of that a polycarbonate-composite alloy shell that is extremely durable, a full ventilation system that has so many intakes and exhausts it's not even worth counting them, and a fully removable inner liner and padding that allows you to wash it after a sweaty day of youthfully exuberant riding! This helmet gives you tons of features to keep your kid safe.
6D Youth ATR-2Y ATV Helmet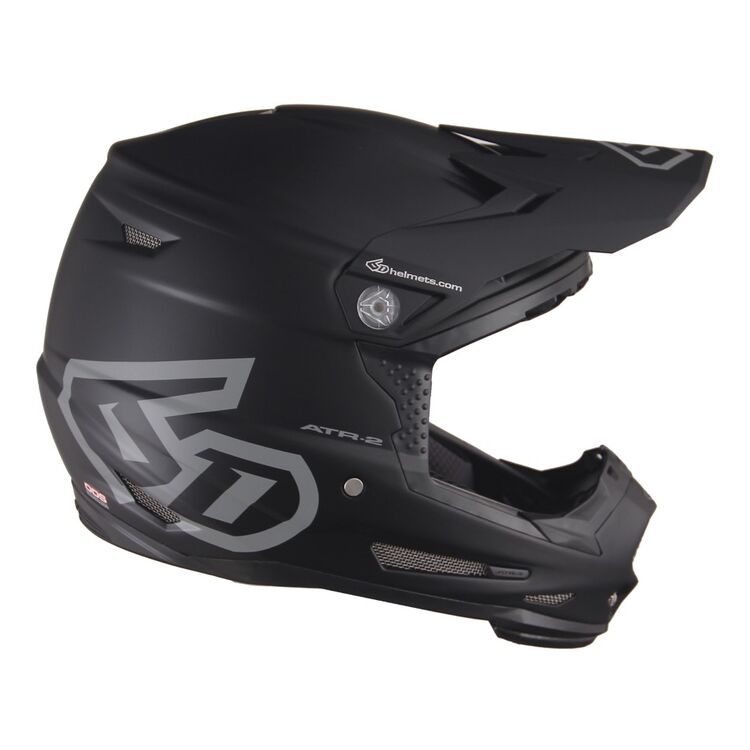 This is, without a doubt, the most expensive helmet on this list, and one that we recommend in only two situations: if money is no object when it comes to your kids' safety, or if your kid is entering into competitive ATV racing.
The 6D ATR series of helmets, both for adults and kids, are the literal results of a long-term study of NFL concussions and how to best design the next generation of head protection across multiple sports. With a shell made of polycarbonate-composite alloy, the helmet features two separate internal liners, the first being an Expanded Polypropylene liner for direct impact force dispersion, which then passes through a series of dampers into the Expanded Polystyrene inner liner, distributing force across a large area.
The biggest advance in the helmet—and the reason it is so expensive—is an energy transfer and absorption system known as Advanced ODS all around the helmet between the shell and the EPP liner. It is a reactive material that is literally a support scaffold for the liner to rest against when a force is not applied to it.
But when a force is applied to this material, it acts like the big elastic net that trapeze artists fall into when they dismount. It distributes any impact, be it angular, linear, or rotational—and also distributes the deceleration force and disperses as much of it as possible.
On top of all the energy dispersion and absorption features, the ATR-2Y helmets also have a built-in cervical spine protection zone through a lower, deeper helmet rear, and a reinforced eye port with energy distribution zones to move crown and forehead impacts away from the skull and into the ODS system.
Without making too much more of a fuss, this is the Rolls Royce of youth ATV helmets. It costs a hell of a lot, but it also has an insane amount of energy dispersion and absorption that will deflect as much of the impact away from your kids brain and skull in less time than it takes you to think about blinking.