Famous charity rider Tex O'Grady is set to retire his second dog pillion, Bundy, and is currently training her replacement, Rebel.
Tex and Bundy racked up a million kilometres in December 2017 raising more than $6m for charities.
He says it is a world record for a motorcycle dog that may never be broken.
Bundy is the only dog in Australia with a Ministerial declaration giving her permission to ride on the front of a road bike.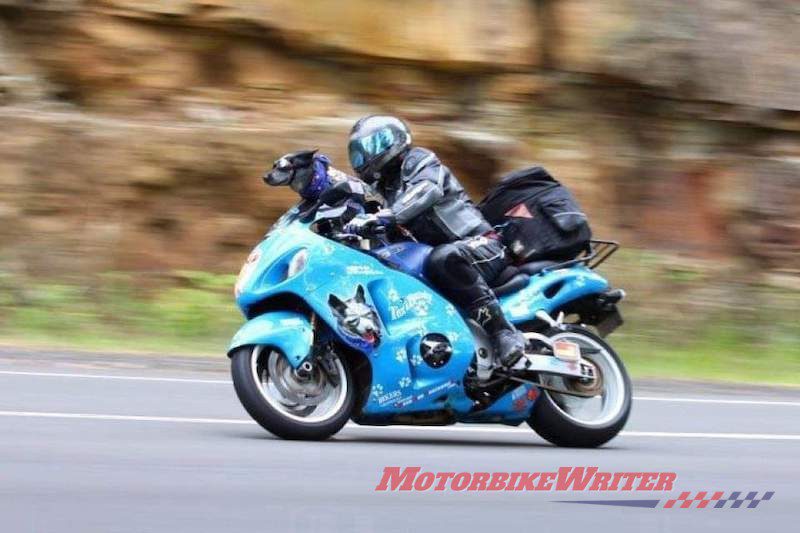 The Australian stumpy tailed cattle dog is also the fastest motorcycling dog in the world at 283km/h on a Hayabusa.
"She's now done around 30,000km since 2017 but has now retired from riding," Tex says.
"I might add that her 1,030,000km has been without incident or mishap."
Tex and his first dog Cash were inducted into the QBE national hall of motorcycling fame in 2006, the same year Bundy was born. Cash passed away in 2005 after being hit by a car, while crossing a road.
Time to retire
"Bundy is now 13 years old and has arthritis in her back from a farming accident when she was four and has cataracts in her eyes," Tex says.
"Her vet is reluctant to operate due to a heart flutter and her age.
"She has officially retired from riding on the bike but is still carrying out work commitments as a therapy dog at the Prince of Wales Hospital (POWH) and other minor engagements."
Watch this 30-minute documentary on Bundy's 13 years or 91 "dog years".
Hospital fundraising
Tex and Bundy have been working with the Sydney-based Prince of Wales Hospital for several years and Bundy is an Ambassador for their Delta Therapy Dog Program.
"I am particularly interested in the spinal injury unit and the motorcyclists that unfortunately end up in there," Tex says.
"I have visited several patients in the spinal ward and have witnessed first hand how much difference it makes to the patients when they can talk to a fellow motorcyclist.
"I see the smiles on their faces when they spot a therapy dog, let alone a famous motorcycling therapy dog.
"Bundy and I cannot do this forever, we need to raise funds to train and obtain more therapy dogs and handlers to continue on with this work."
The duo hope to raise $10,000 for the program and you can donate by clicking here.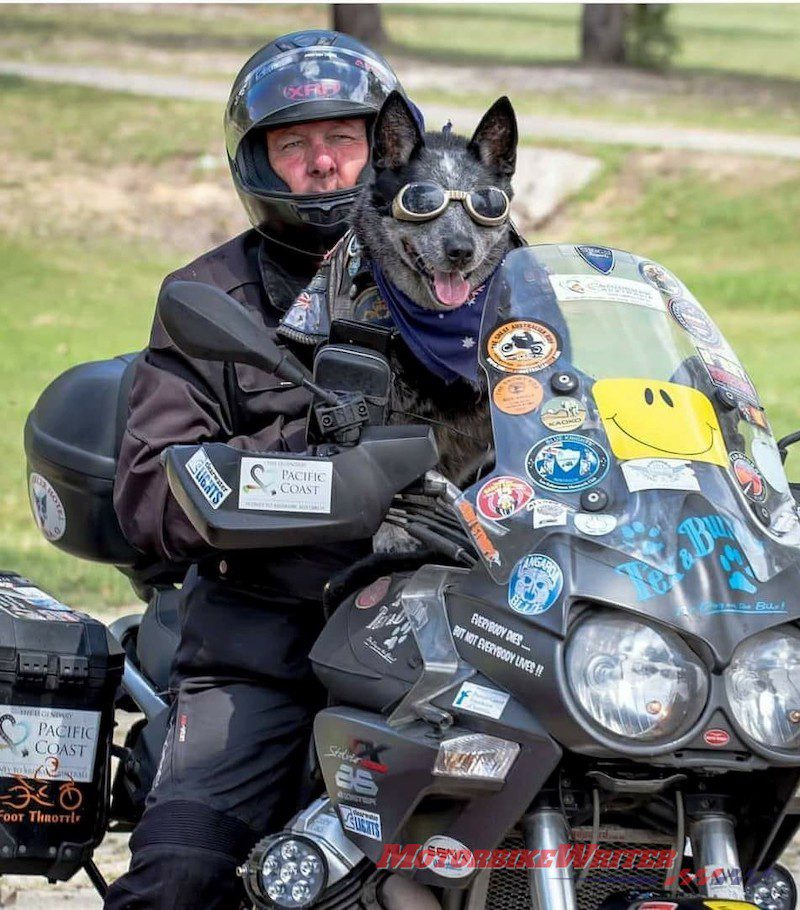 "If you have been a hospital patient and have had a therapy dog visit you, I bet that made your day and took the worry and stress off your mind for a while." Tex says.
"Those that have been fortunate enough to have seen a therapy dog and their handler at work in a hospital while they have been visiting would understand.
"Hospitals can be a lonely place for a patient, especially one with life-threatening or life-altering injuries.
"To be able to bend an ear, smile, pat a dog and more can make a huge difference to a patient and it certainly helps in the mental attitude to the healing process.
"I know only too well through the many hospital visits that Bundy and I have done the difference it can make."
Rebel training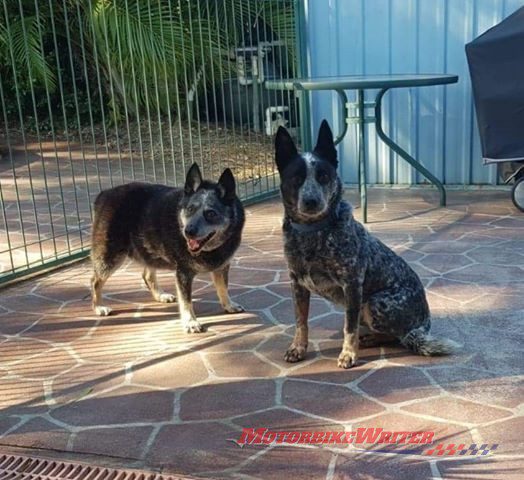 Tex is now training two-year-old cattle dog Rebel as a replacement. Rebel was a Rescue dog from South East Queensland.
"If successful, he will then take over the reins," Tex says.
"If not, then he will go to a good home and the search for a suitable cattle dog will continue."
Tex is still riding a Moto Guzzi Stelvio donated to him for his charity work in 2013.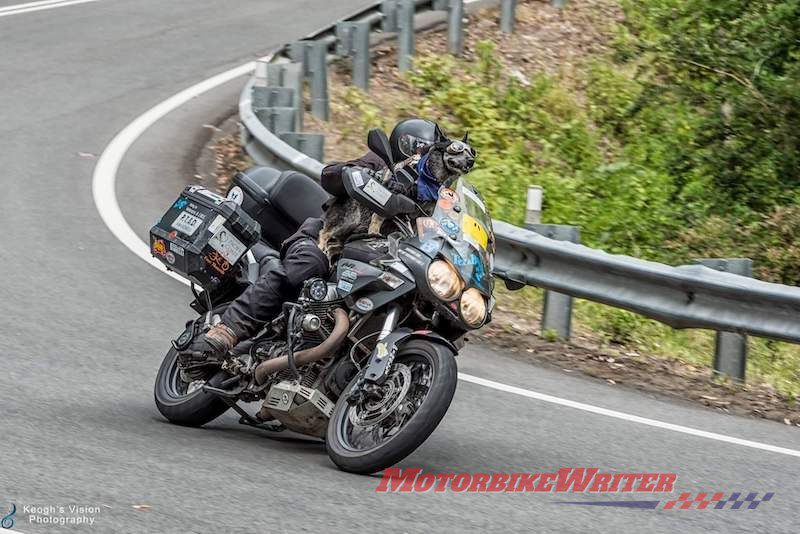 However, he is now also looking for a replacement bike through sponsorship.
"I have pulled back from doing the big miles, but I will still ride for PTSD and selected charities," Tex says.
He is a strong supporter of mental health and veteran health affairs having been diagnosed with severe post-traumatic stress disorder (PTSD) a few years after leaving the military.
Tex is also working on another charity venture, refitting an old yacht.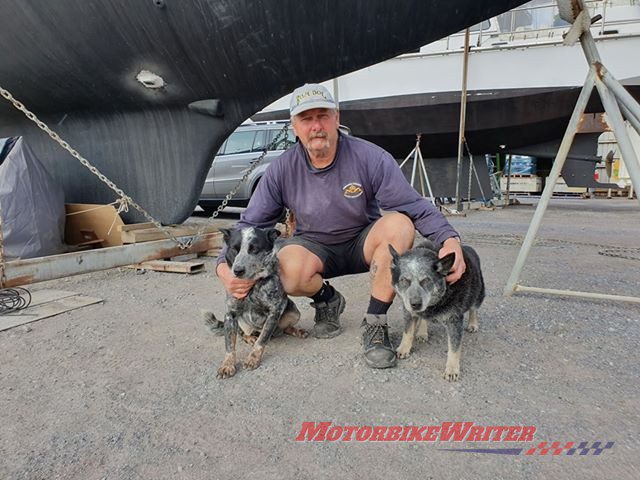 "I can work with veterans and EMS/First Responders suffering from PTSD by taking them out to sea on day trips on a wellness program," he says. 
"They can learn a whole range of different marine-based skills.  Or  they can just come onboard, relax and do nothing.
"As a retired Veteran with PTSD, I understand what they are going through."