TCX X-Blend Boots Review Summary
TCX X-Blend Boots Image Gallery
The TCX X-Blend boots combine a classic leather work boot look and feel with CE certified protection.
(For more information, be sure to read the wBW report "CE Certified vs. CE Approved", because their is a difference.)
Most people would never know these are motorcycle boots unless the details such as the shifter cover on the toe boxes or the round ankle protectors were noticed.
Add waterproofing to the mix and you have a motorcycle boot that looks old school but has taken lessons from modern riding gear to provide both safety and comfort.
Editor's Note
It's been some time since we've reviewed any TCX motorcycle boots.
The company has revamped its lineup, which now covers every segment, from cruising to off-roading.
This is part one of a quick two-part look at two different TCX boots.
First up is the retro/street TCX X-Blend boots, which provide CE protection with a work boot look.
The X-Blend boots are new from TCX as part of their "24/7 Lifestyle" collection.
Then we'll switch gears to the TCX S-R1 Gore-Tex Boots (review) from the TCX "Road Racing" collection.
They're very protective and very waterproof, an interesting combination.
Introduction
I feel like I'm working my way through a "retro" trend with this latest webBikeWorld review as I take a look at the TCX X-Blend boots.
Like the AGV Sport Compass jacket I reviewed recently and the Yamaha XSR90 I reviewed not long ago, the X-Blend boots are targeting the "classic" or "modern retro" motorcycle rider.
With the rise of the café racer style that started trending a few years ago, all things old are becoming new again and this isn't a bad thing…if done properly.
I feel like Triumph had a lot to do with the modern retro movement when the "New Bonneville (review)" hit the road, itself a modern motorcycle styled to recall the 60's and 70's.
TCX is taking a similar approach with their "24/7 Lifestyle" line of boots.
Much like the "Bonnie", you could say that the X-Blend boots look cool and retro but they're made with modern techniques and materials for good performance and reliability.
TCX revamped their boot lineup, which now covers everything from "Road Racing" to "24/7 City Business" and everything in between.
This covers the entire range of modern sport riding and racing boots to cruiser boots to subtly styled boots appropriate for the office to off-road boots and even riding shoes that look like classic high-top basketball shoes.
Bottom line: TCX makes boots for every kind of motorcycle rider.
Work to Ride. Ride to Work.
The first impression when seeing the X-Blend boots is that they are simply leather work boots. The subtle, utilitarian styling definitely doesn't scream motorcycle boot.
At the same time, there are a lot of riders on the street wearing boots that look like these, either for style or functional purposes (to wear at work).
This style is seen on many a hipster's feet these days, often standing next to (or riding) a cafe racer, bobber, or modern retro bike.
For my part, I don't currently own a retro or vintage bike; I  just liked the way the boots looked when I saw them at the shop. So I'm as guilty as the hipsters on the taste front — just looking for some style.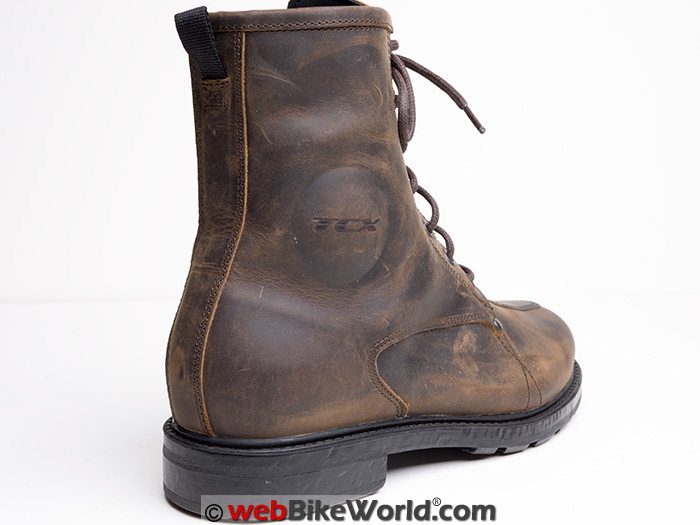 The TCX X-Blend Boots
The X-Blend boots are available in black or brown leather and the leather has a nice texture and patina. The leather is used for the entire outer section of the upper portion of the boot and the tongue.
Over that tongue is a set of thick, soft laces in brown or black cloth to match the overall color of the boot.
The laces run through metal ringlets and there are two matching metal rivets used where the toe box meets the upper section of leather and the base of the tongue.
From the sides, the sole appears to be a classic rubber type, but when viewed from underneath, the tread pattern is fully modern. The soles also offer excellent grip, even on very smooth surfaces like finished concrete.
Moving back up to the top of the boot, there's a thick nylon pull strap in the rear. It's large enough to accommodate large fingers and it feels strong enough to last a long time.
Inside the boot is a light neutral-colored lining that is smooth and appears to be a type of nylon. TCX says the lining is waterproof, but the exact type of material isn't specified (at least anywhere that I can find).
The brown colored boots reviewed here started out as medium to dark brown color when I first purchased them, but over the past several months, the boots have darkened to a very attractive, almost chocolate brown color.
The X-Blend boots are available in men's sizes only.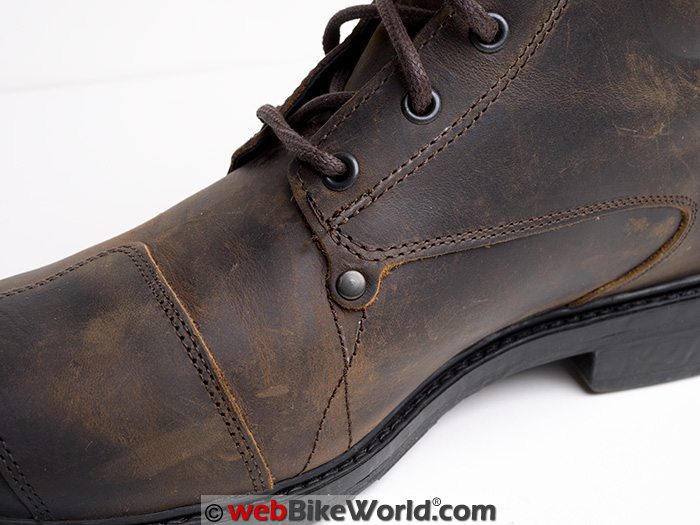 Women's Version
Women looking for a boot with the same style and functionality might be interested in the Lady Smoke boot, which has a similar appearance, materials and construction.
It's also rated as waterproof but it looks more like a logging boot, with a lug type pattern on the sole and medium height (4 cm) heels.
The leather sections of the X-Blend boots are sewn with a matching color thread and double stitching is used in all major seams.
The stitching is tight and even and the overall feel is that of tight and durable construction.
There are some places though where one can see some "less than straight" trimming to the leather panels though.
Careful examination around the top opening and other areas where the edges are visible show what appears to be hand cutting of the panels.
Is this a bad thing? I can't say for certain.
But inspection of these areas indicates that the edge never seems to get too close to the stitching and from what I can tell, there isn't any cause for concern.
It may be that these are hand cut and a little imperfection is going to happen.
The sole uses multiple layers of rubber.
The main portion of the sole is 16 mm thick while the heel is 29 mm thick.
The sole has a good amount of flex at the ball of the foot and then stiffens noticeably under the arch as it heads back towards the heel.
I suspected that there was a shank in the sole but TCX has confirmed there is not.
However, the sole is strong enough in the middle to keep me from experiencing any fatigue from long periods of riding with my feet on the foot pegs.
Other boots I've had in the past with very flexible soles were not as comfortable when riding for long periods of time.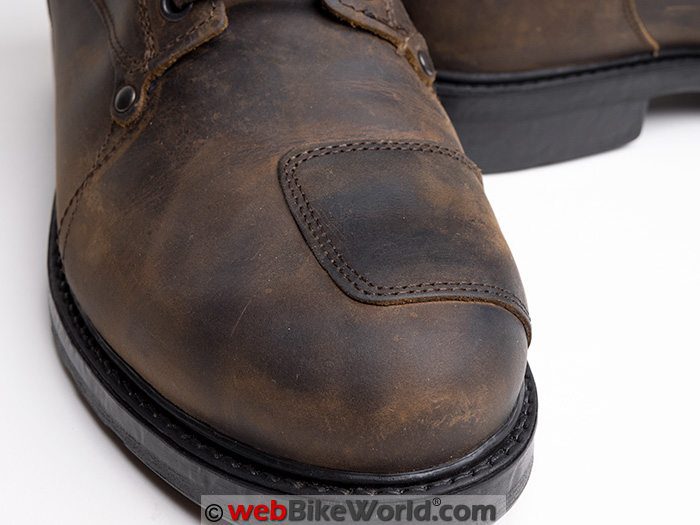 Protection
 Beauty is not just skin deep with the X-Blend boots; they are also CE certified for Level 1 protection.
Ankles are protected on both side with disc shaped, flexible inserts in place between the leather exterior and the interior liner.
The placement of these is clearly visible, as the stitching is exposed on the outside showing two circles on the boots at ankle level and the anterior facing protector location also has the TCX logo embossed into the surface.
The heel and toe sections are "reinforced" according to TCX and I can easily feel that these areas have some material adding rigidity.
The material will still flex if I push hard enough, so steel toes these are not.
That said, they should offer reasonable protection in a crash, but I wouldn't expect them to withstand the entire weight of a street bike sitting on them (although they must meet the CE standard to be certified).

Boot Height
The X-Blend boots are mid-height and besides the ankle protection on either side, there is not other impact protection above or around ankle height.
On the plus side, the less bulky upper portion of these boots makes for a good pairing with MX style knee/shin protectors (review).
Those Shift shin guards are now very old but I still use them today and they have held up nicely for over five years of use and counting.
The nature of boots of this height and design is that they do not offer much in the way of protection against hyperflexion of the ankle.
This is something that racing boots with their stiff upper sections can protect against.
Most touring boots I've worn, while just as tall as many race boots, don't offer much in this area for protection either, so I can still see the X-Blend boots as a comparable touring boot option.
Of course, you'll need to make your own decision on the risks involved, so the acceptable range of risk will vary from rider to rider.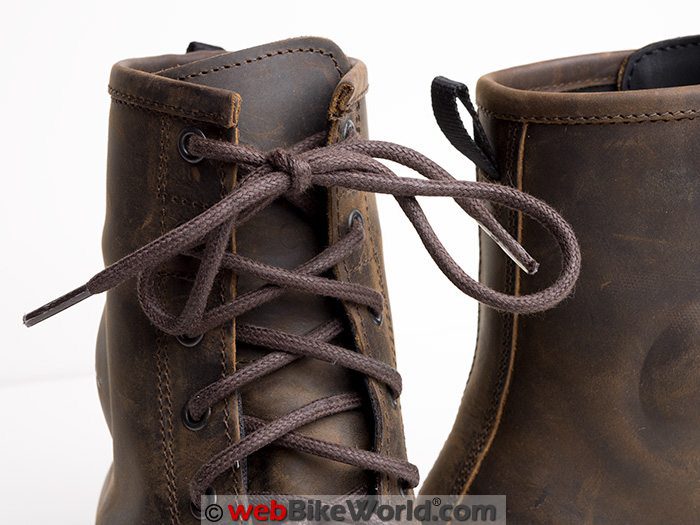 The boots shown for this review are size EU43 (US 9), but I'm a solid 10.5 in running shoes and most other types of shoes.
This is not the first time where I have had to drop a size or more to get a good fit for a boot or shoe.
I was lucky to be at the local dealer when I found these boots so I was able to try multiple sizes on the spot. I initially tried the size 44 (US 10) and found them to be too large; moving down one size seemed just right.
I'd say it is surprising that the sizing could be that far from the accepted standards, at least based on the foot measuring devices used in shoe stores, but it isn't anymore.
This trend seems to have spread to footwear of all kinds (but could have something to do with the translation from Euro sizes, with no half sizes, to US sizes).
The X-Blend boots do feel a bit wider than boots I've had from Alpinestars and Dainese, so if those brands tend to feel narrow for you these might be more comfortable.
The included insoles are a bit on the thin side and they don't offer much arch support. As such, standing or walking in them can literally be hard on the feet.
I replaced the insoles with a thicker set from a well-known insole maker and this improved things a lot and it also reduced some of the buzzing reaching my feet from my Ninja 1000.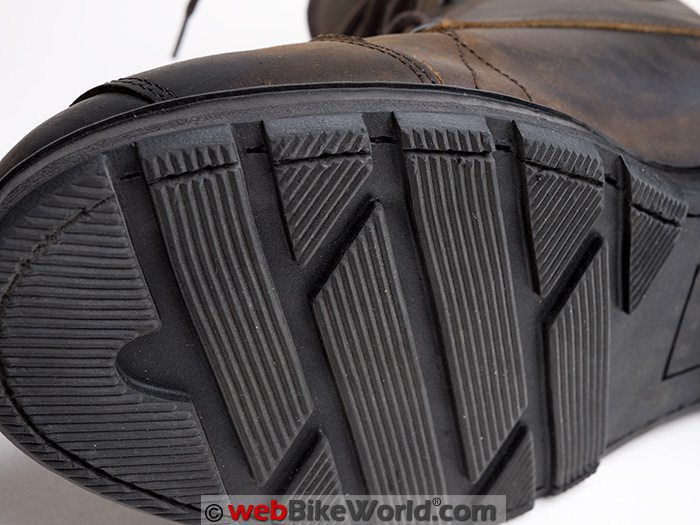 Ventilation?
The X-Blend boots are labeled as waterproof (which I'll cover in a moment), so ventilation isn't great.
The leather and the liner aren't too thick, so the boots don't get too warm for me and shouldn't during the summer here Nashville.
However, this does mean that they're less than ideal for cold weather and I can feel the tops of my feet getting cold pretty quickly once the temperatures getting down into the low 50's F (around 10 C).
I have read some consumer reviews saying that they found the X-Blend boots to be very warm in the summer due to the lack of ventilation, but I never experienced this myself.
I almost always wear motorcycle-specific socks like the Roadgear Coconut socks (review) when I ride and those do a good job of moisture control. So maybe that is the key?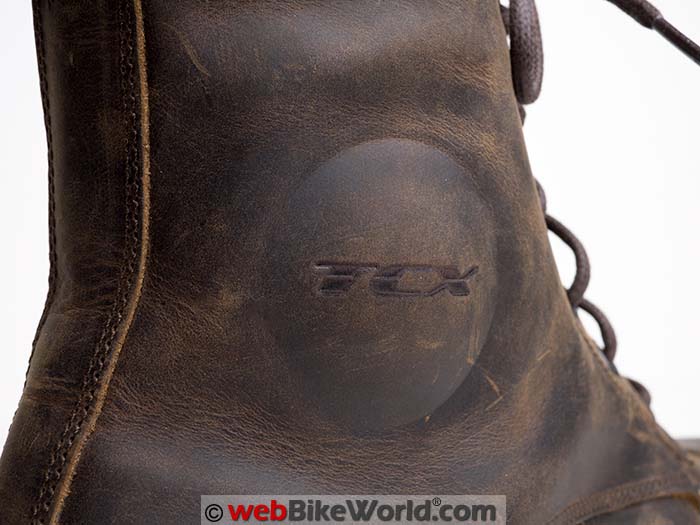 Regular webBikeWorld readers know that when boots or gloves are labeled as waterproof, we're going to put them to the test.
The TCX X-Blend boots are no exception and they were subjected to the "Bucket Test" torture test — twice!
This means the boots were held under water up to the top of their waterproof liner for up to five minutes. For the X-Blend boots, that means about 38 mm (1.5 inches) from the top of the boot.
With a deep basin sink full of water and pair of boots on my hands, the test was done.
The first time around, the boots passed with flying colors. No water made its way iside and even though there is a waterproof interior liner, it didn't seem like any water made it through the leather.
In fact, the boots didn't even feel heavier at all, so it seems the leather is treated in a way that it doesn't absorb water (or at least is very good at resisting it).
After 7 months of wear, I thought I would check again to see if they were still as waterproof as they were when new.
So the X-Blend boots went into the sink again and — guess what? Their excellent performance was repeated.
They still remain dry on the inside after being submerged for five minutes and the leather still doesn't seem to absorb much, if any, water.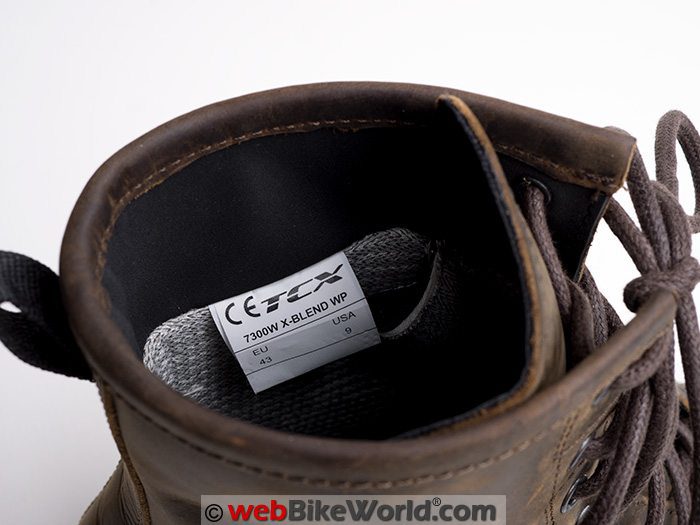 Conclusion
It's hard to find a flaw with the X-Blend boots.
They offer reasonable protection for what I feel is their target audience — commuters and light touring riders. Of course, urban riders on their retro and classic machines would likely find these an attractive option as well.
I wear them on my fully modern NInja 1000, so I while I may pick at those urban riders in jest, I still fell victim to the charm and looks of these boots.
I think they would make very good touring companions, especially with some additional shin protection.
So having CE certified protection and comfort for walking when you reach your destination doesn't mean you'll have to pack additional pair of street shoes for short trips or long.
For longer walks or hikes or all-day on-your-feet at work with the X-Blend boots, I would recommend some good replacement insoles. That, or bring along some "mission specific" footwear.
The $239.99 USD (street price) might seem a bit high, as there is a lot of competition in motorcycle footwear in this price range and lower.
But while the X-Blend boots may not be an outright bargain, the materials used are of good quality.
And despite the nits I picked about the hand-trimmed leather edges, the construction is solid and the waterproofing has held up.
After owning these boots for several months, I do feel confident that I got what I paid for and I expect these are going to last for a while.
w

BW

 Review: TCX X-Blend Boots
Manufacturer: TCX Boots
List Price (2017): $239.99
Colors: Black, Brown
Made In: Romania
Sizes: 38-47 Euro
Review Date: January 2017
Note:
 For informational use only. All material and photographs are Copyright © webWorld International, LLC since 2000. All rights reserved. See the webBikeWorld® 
Site Info page
. Product specifications, features and details may change or differ from our descriptions. Always check before purchasing. Read the
Terms and Conditions
---
From "D.W." (January 2017): "Loved the write up on the TCX boots, and my cheap ones happen to be getting killed by the San Diego Apocalypse. Or 'rain' as the rest of the world calls it.
Anyway, these look great, but I was not quite able to figure out if these have a replaceable sole (e.g.: Goodyear welt)? That might make them the perfect all day boot!
Editor's Reply: We contacted TCX to ask and they confirmed that the soles are glued, not stitched:
They said:
'Even though we do not sell replacement soles for this particular style, if you ever need work done, a good local cobbler may also assist..
We do recommend a boot/shoe repair facility in Corona del Mar, California by the name of MX Boot Repair.
 We do find Greg at MX Boot Repair very knowledgeable, particularly since he also started a business many years ago with leather repair.
His email, where I have had other customers first email him a picture of the problem in order to know if it's an issue worth trying to repair is info (at) MXBootRepair.com'"