It was a tale of two Troys when two-time World Superbike champion Troy Corser caught up with three-time WSBK champ Troy Bayliss  to discuss his return to Australian Superbikes.
The two Troys met at Phillip Island where Corser was part of the Australian team that reclaimed the International Challenge trophy from the United Kingdom at the 25th Island Classic at the weekend.
After the classic racing, Bayliss was at the Phillip Island track today to test ahead of the 2018 World Superbike season opener from February 23-25.
The two Troys caught up to discuss the three-time WorldSBK champion's decision to come out of retirement to compete in the 2018 ASBK championship on a Desmosport Ducati.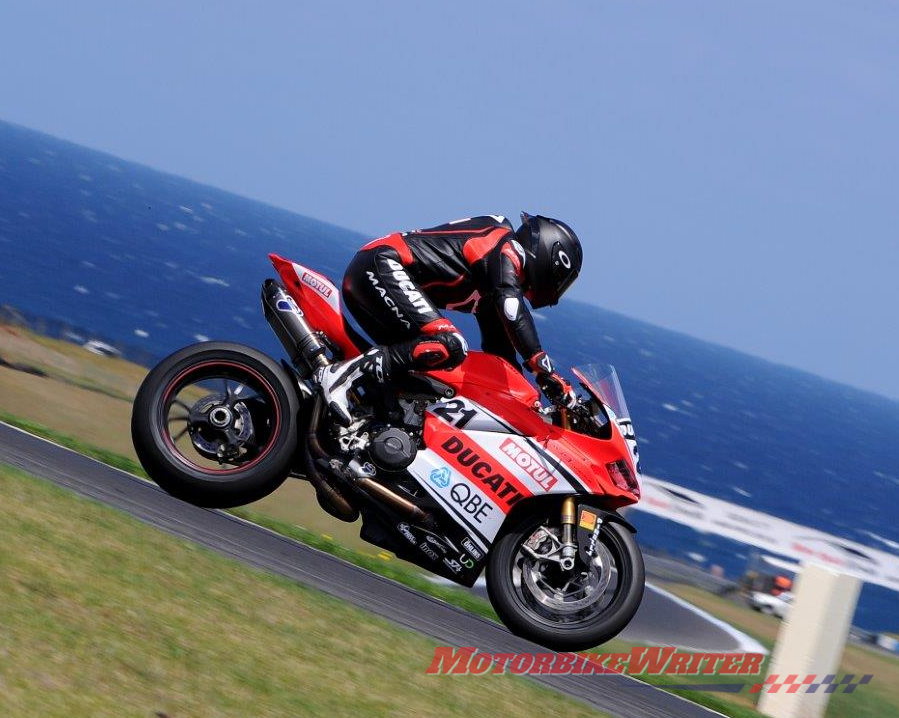 ASBK will be the major support class at the WorldSBK opener, with Bayliss to battle it out against reigning and past national champions like Josh Waters, Wayne Maxwell, Troy Herfoss, Glenn Allerton and Bryan Staring.
Taree-bred but now based on the Gold Coast with his family, Bayliss last competed in the ASBK in 1997, finishing in second position before heading overseas to race world supers and MotoGP.
He retired from WorldSBK at the end of 2008 after a total of 52 wins and three titles (2001, 2006, 2008) but returned for a two-round return cameo in 2015 to replace an injured rider in the Ducati factory team.
His three years in MotoGP delivered one win at Valencia in 2016.
Bayliss says his competitive instincts still burn brightly. 
"I want to be fast enough to be up the front in 2018 and anything else after that will be a bonus," Bayliss tells Corser in the video.
"There could be times when I feel really good on the bike and take a podium, but I want to see the bike up the front – that's the main thing."
Family ties and fitness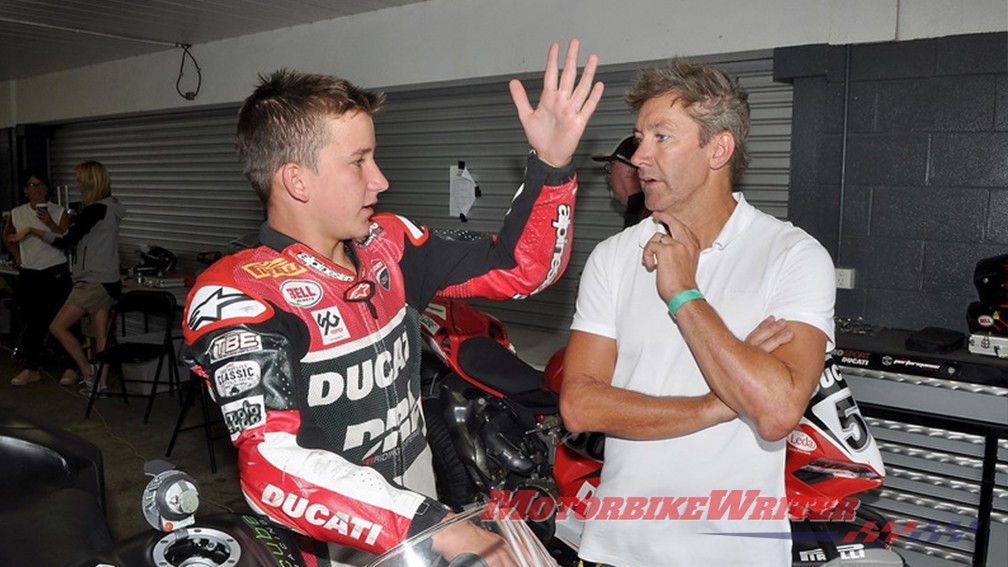 Bayliss will be joined on the ASBK trail in 2018 by his 14-year-old son Oli, who will continue his promising road racing career in the Supersport 300 ranks.
"Normally Oli says to me: 'Dad you need to tuck in more, hang off it more, you look like an old fart'. 
"I think he's enjoying it because I'm not on his back so much this weekend (aka at test), and he's having a good time – but it's great."
Bayliss also knows that he has to be in prime condition to take on the young bucks of ASBK, which has made for a "hard Christmas".
"I've dropped down about six kilos and been living like a monk. Beers are gone!  Yoga starts as soon as I go home.  Got to free up my hips and get a bit looser but I'm doing everything to try and make myself to ride these things."
ASBK testing
Over the last two days (January 30-31) Bayliss has been testing at Phillip Island alongside his 2018 ASBK adversaries, and after eight sessions he ended up 10th  overall on the Desmosport Ducati with a 1m33.950 s time, 1.2 seconds behind the pacesetting Glenn Allerton on the BMW SRR (1m32.728s). 
"Initially, after 10 years away, everything felt like it was in fast motion," Bayliss said. "Then I looked at the times and said: 'Wow, I've got a way to go here'.
"But I started to make progress and felt a lot more at home on the bike."
Bayliss' 14-year-old son, Oli, will also compete at the Phillip Island WorldSBK round in the national Supersport 300 races. 
For further information on seeing Troy Bayliss make his ASBK  debut at the season opening round of the 2018 MOTUL FIM Superbike World Championship, Yamaha Finance round at Phillip Island from February 23-25 go to www.worldsbk.com.au   Tickets at Ticketek.
Two Troys at Festival of Speed
The two Troys will also appear at the International Festival of Speed returns to Sydney Motorsport Park on March 22-25, 2018.
More than 400 classic race bikes will compete in the 50+ program over four days.
Highlights of the International Festival of Speed include spectator parade laps, trade stands, motorcycle club stands, legends autograph sessions as well as general public access to pit garages and main grandstand.
Other racers appearing include Pierfrancesco Chili (Superbike, 250cc and 500cc GP rider), Randy Mamola (500cc GP winner), Jeremy McWilliams (250cc GP winner and MotoGP rider), Steve Parrish (500GP rider and factory team manager), Graeme Crosby (500cc GP rider and TT Formula One winner), Kevin Magee (500cc GP winner), Chris Vermeulen (2003 World Supersport Champion and MotoGP winner) and Sir Alan Cathcart (motorcycle journalist)
Buy tickets online for special offers and to purchase raffle tickets to enter the draw to win a brand new Honda CBR600RR.