Review Summary
The Tackform Eduro mounting system allows us to utilize our phones for GPS safely and reliably. Why purchase extra equipment and learn how to use it when you already know how to use your phone? Easy installation and quality construction make it THE mount to use for any on or off-road riding that requires you to protect and use your phone's endless features.
Pros
All Metal/Aluminum
Industrial quality springs
Padded phone bracket
Custom spacers
Easy and fast installation
One hand operation
360-degree range of motion
Back-up safety sling included
Super durable
LIFETIME GUARANTEE
Cons
3.25-inch cradle capacity
Difficult size for a sportbike
Tackform Enduro Motorcycle Mount Image Gallery
Technology has become a part of almost every aspect of our daily lives. Not only do we rely on it for many forms of entertainment but we also depend on it for necessities such as communication, gathering information and even navigation when we are traveling.
How long has it been since you referred to a printed phonebook, an encyclopedia or a paper map? Thanks to smartphones, most of the 20 somethings have never done any of those things. But until recently, there was no reliable device to secure your smartphone to your bike in a functional and safe manner. However, all that has changed thanks to the Tackform Enduro Motorcycle Mount.
Easy Install
When I look at a website or open an instruction sheet and read, "EASY 2 MIN INSTALLATION", I am always very skeptical. But in the case of the Tackform Enduro mounting system, that promise is very accurate. The box contains three ABS cushion bushing to protect the handlebar of your bike and to create a secure fit of the aluminum clamp.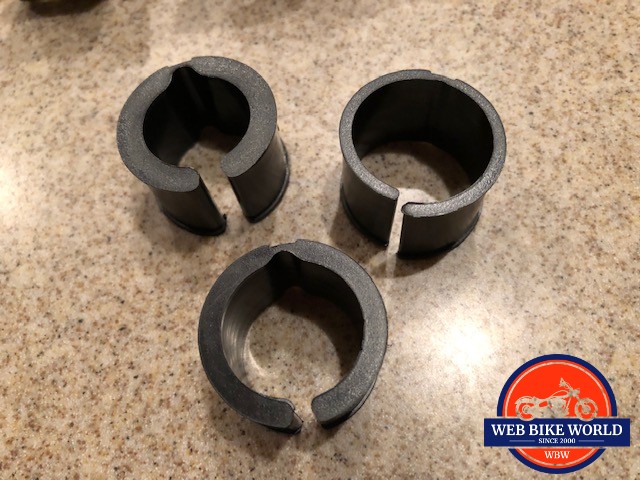 And once you select the appropriately sized bushing for your bike, there are only two screws to mount the clamp in place. The screws have an Allen's head and Tackform has even included a wrench in the box, so you really need nothing else but your bike to get this mounting system installed.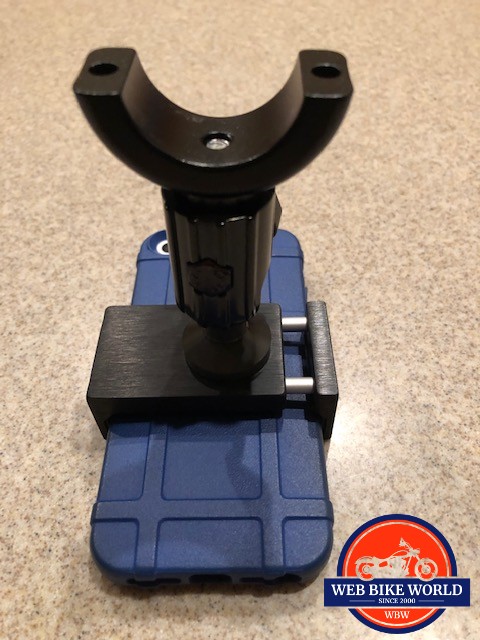 What could take you a little bit more time is selecting the perfect location for the mount. But again, the 2 minutes to install the mount are about what is also required to move the mount to a new location. And once you have the mount where you want it, just a twist of the thumb screw tightens both the clamp end of the coupler and the cradle end in place.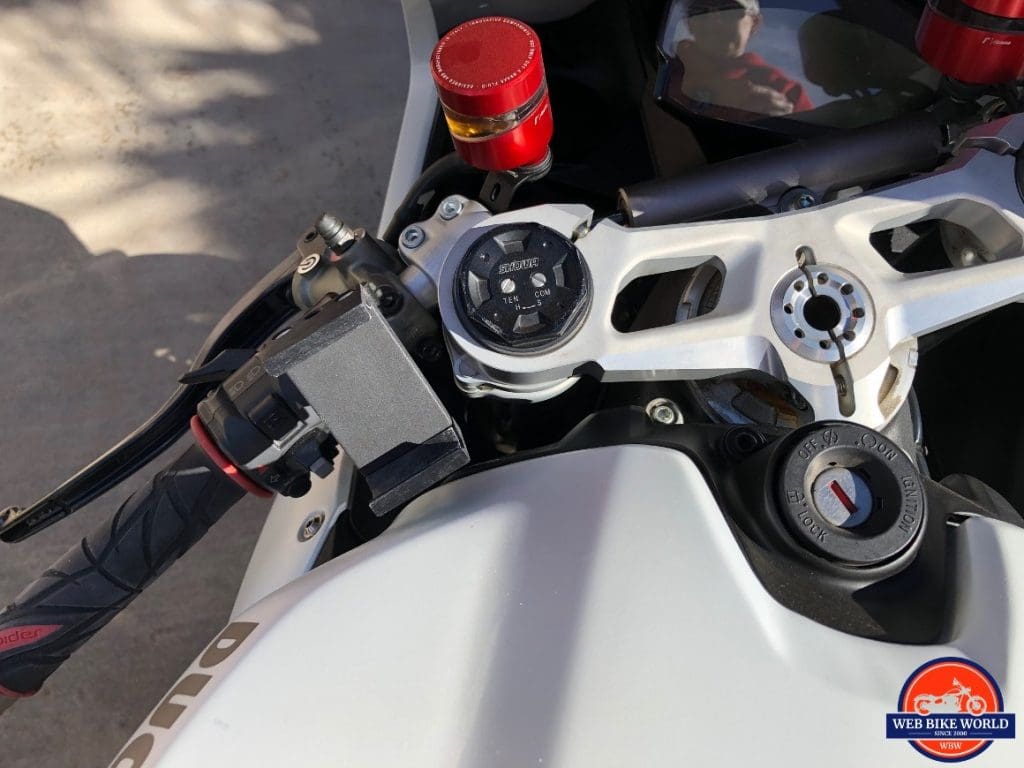 Reasonable Pricing
The all-metal Enduro Mount sells for $59.99 which is less than you might pay for many dashboard mounts that you use in your car, but this mount has a far more serious job. When your phone falls on the floor of your car, it might get scratched or scuffed, but when it falls from a mount on your bike it is most likely going to be destroyed. So under 60 bucks is a great price for such a reliable, durable and functional mounting system.
The Tackform Enduro Mounting System
Features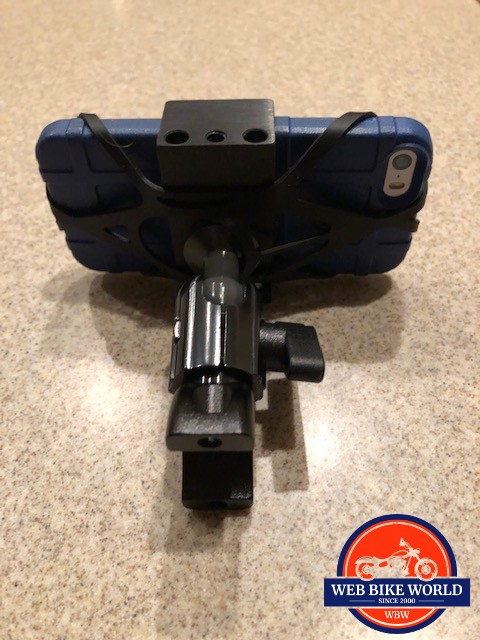 Being an all-metal mounting system and offering the grip strength of an industrial spring is critical to providing superior security for your smartphone or even a GPS system that you might mount while you are out for a ride or on a road trip.
After all, this mounting system is responsible for holding not only a major financial investment but also a piece of technology that touches almost every part of your daily life. And though the cradle is super strong, Tackform also knows that your technology needs a softer touch to protect the screen and case, so the internal edge of the cradle is covered in a soft poly layer.
When it comes to functionality, the Enduro offers awesome one hand function which allows you to insert or remove your phone with just one hand. It is a single motion of pulling against the spring and slightly turning your phone to remove it or placing the edge of your phone on the cradle and opening the spring slightly to slide your phone into place.
The single thumb screw is also very easy to grip and turn due to the large, ergonomic sides. This single screw loosens the clamp side which rotates 360 degrees as well as the cradle side pivot ball. These two joints allow you to completely customize the angle and location of your phone in either a portrait or landscape configuration.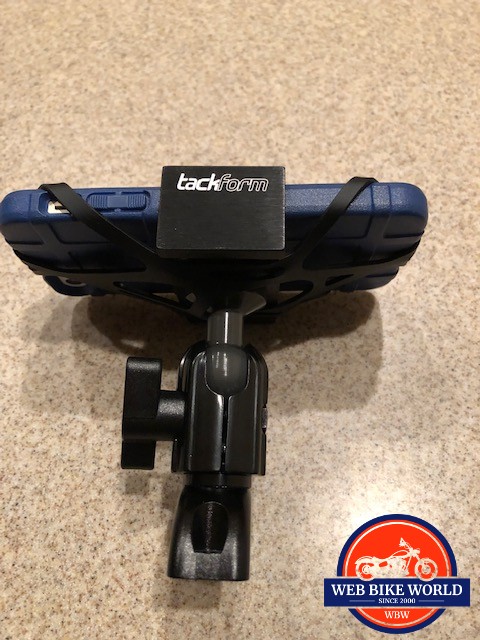 The only challenge that I noticed was that with a sportbike, it was a bit more challenging to locate the mount. The handlebar on a sportbike is pretty compact so installation locations were more limited than on some other bike models. In my case, I needed to take some time to find the perfect sport for the mount so that I was not hitting my tank or windscreen when turning.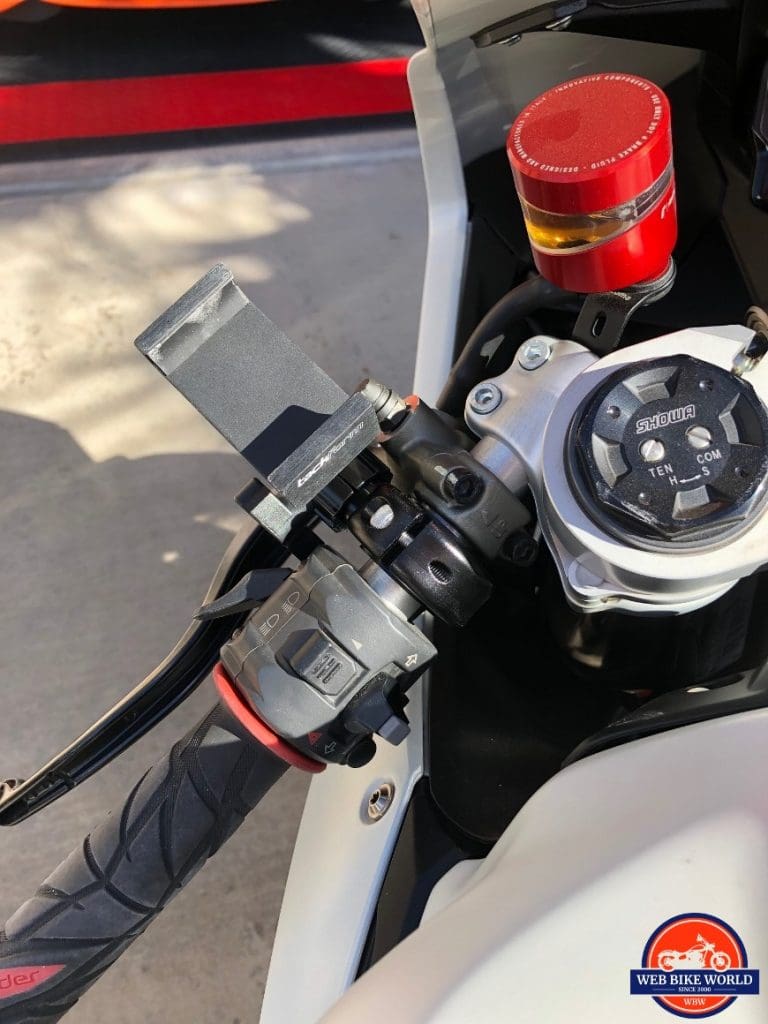 Because of the durability and quality construction of the Enduro mount, Tackform provides a Lifetime Guarantee on this piece of equipment, which is far better than most manufacturers offer on mounting units that reside in the climate control of a clean, dry vehicle.
In addition, they understand that until you try out this mounting system, you could have a few reservations about dangling your nearly $1,000 smartphone from an unknown mounting system.
To provide riders with just one more assurance that their phone is safe, Tackform includes an optional rubber sling that can work as a failsafe in the event of an issue with the spring in the mounting system.
The key word here is optional, because after a few rides or maybe a few months of rides if you are a tougher sell, riders can discontinue the use of the sling once they see the reliability of the cradle grip.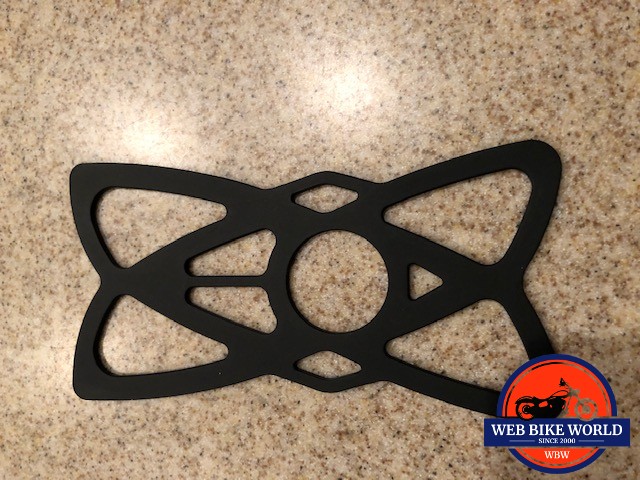 The Spring Test
The quality construction of the Enduro mount is very clear from the first moment that you handle it. The parts are well made with perfect edges and a great fit. But the one thing that I could not really see was the internal spring, so I set out to find a way to test that.
After several test-pulls, I decided that I wanted to make sure that a sudden tug or strong pull would not cause the spring to fail. Everyone has pulled too hard on something with a spring only to discover that it is sprung and no longer provides reliable resistance.
What I ended up doing was suspending a kettlebell from the cradle to see how well the spring could support the weight. I started with a 15-pound kettlebell and was pleased to find that the spring was unphased by the weight. It snapped crisply back to the closed position.
The 20-pound kettlebell appeared to have no impact on the performance of the internal spring either. That test along with the video on the Tackform website of the bowling ball bouncing off of the Enduro Mount convinced me that this mounting system provides incredibly durable both from the materials that I can see and those internal springs that I can't see, but also can't seem to damage.
The Verdict?
I am very impressed with the quality construction and attention to detail that I discovered when testing the Tackform Enduro Motorcycle Mount.
The installation was a pleasant surprise because it was exactly as easy as the website said it was going to be. And from a durability standpoint, I was not able to damage the spring retention system that provides the grip fo the phone cradle. The Enduro is definitely the mounting system to use to protect your smartphone or a GPS system on any type of on or off-road riding.
The Techform Enduro Motorcycle Mount certainly lived up to all of the promises that the manufacturer makes on the website. The system is very easy to install or relocate and provides the reliability that riders will want to secure a smartphone on any type of terrain.
Pros
All Metal/Aluminum
Industrial quality springs
Padded phone bracket
Custom spacers
Easy and fast installation
One hand operation
360-degree range of motion
Back-up safety sling included
Super durable
LIFETIME GUARANTEE
Cons
3.25-inch cradle capacity
Difficult size for a sportbike
Specs
Manufacturer: Tackform
Price (When Tested): $59.99
Alternative models & colors: All black only
Review Date: March 2019