Touratech Waterproof Moto Tank Bag Review Summary
Touratech Waterproof Moto Tank Bag Image Gallery
The Touratech Waterproof Moto Tank Bag system is also made by Ortlieb in Germany for Touratech.
It is a direct-fit solution for wide range of motorcycles, but a workaround or compromise for others.
With a universal-approach tank harness, the 18L Moto Tank Bag has a removable clear map case and lots of attachment options.
This makes a complete kit, reflecting the high quality and versatility expected from Touratech (and Ortlieb).
The tank bag and its flat map case can be used together or separately.
They attach to the fuel tank with the included tank mounting) harness.
And the tank bag can also be used as stand-alone luggage on the rear seat or luggage rack, or as a backpack with the optional back pack kit.
Depending on the moto-platform, fitting the Moto tank bag system did take more planning and work than envisioned, however.
But a solution is possible for most motorcycles, particularly those oriented for off-road or adventure travel use.
The Waterproof Moto Tank Bag is hard to fault, just like Touratech/Ortlieb Moto Saddlebags (review) and Touratech/Ortlieb Adventure Dry Bag (review).
But a couple of small changes to the tank harness component would work wonders in providing an even more universal solution for even more motorcycles.
Keeping your valued stuff dry isn't an issue however; its ability to keep out dust, dirt and water (even from pressure hoses) is a fact that I have validated during this review.
Just keep the top rolled and strapped and the heavy-duty quick access bottom zipper sealed and you're done.
At $209.95 USD, the Touratech Moto Tank Bag carries a small premium.
But then, you are getting the "Made by Ortlieb" logo along with Touratech's renowned warranty and support.
Think of the Moto Tank Bag, along with the other Touratech Waterproof motorcycle luggage items as an investment, with quality, flexibility, adaptability and dry belongings as your return on the investement.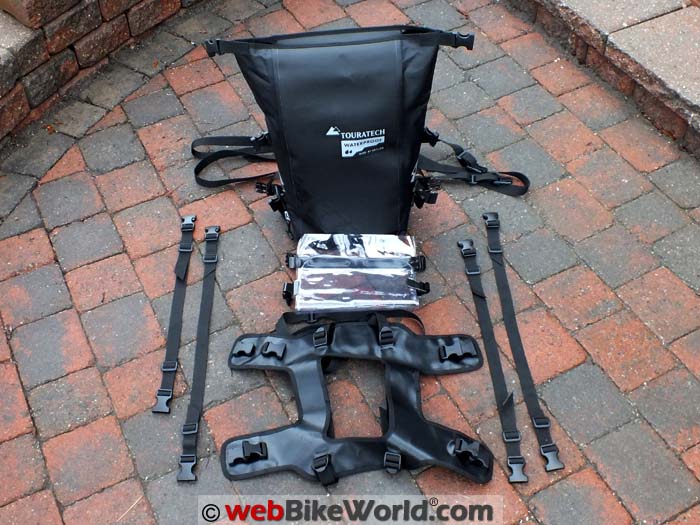 Introduction
Fall is here and I'm wondering where spring and summer flew off to?
It seems like a short time ago that the Touratech Moto Saddlebags (review) and Touratech Adventure Dry Bag (review) arrived, along with the Moto tank bag.
The first two reviews, published in May and June of this year respectively didn't raise many issues about these two outstanding waterproof products marketed by Touratech and made by Ortlieb.
And in having owned, used and evaluated my share of Touratech products over the years, I was expecting more of the same regarding the Moto Tank Bag, even though it has more pieces and is a bit more complex than the other two products.
My first close inspection and layout of the items included in the kit didn't bring any real surprises, other than an observation about the size and format of the tank harness. Everything else made sense, as expected.
But what I didn't fully appreciate at the time were all of the pros and cons — these came later…
Having said that, now that it is "later", everything is clearer regarding design, build and intended applications for the Moto Tank Bag kit, but there are still some rough edges that need smoothing.
It is easy to be super-critical when we have such a wealth of choices available to us and the Touratech Waterproof products could be easily missed or dismissed — but they shouldn't be, especially given the positives ratings for the first two reviews.
So is the Moto Tank Bag combination another "bang-on" solution from Touratech?
Not completely, especially when compared to one or two other competitive motorcycle tank bags (and more on this later).
But it does bring some "new" to the table and it does make its own tracks regarding fit, form and function. Time to see how it fares…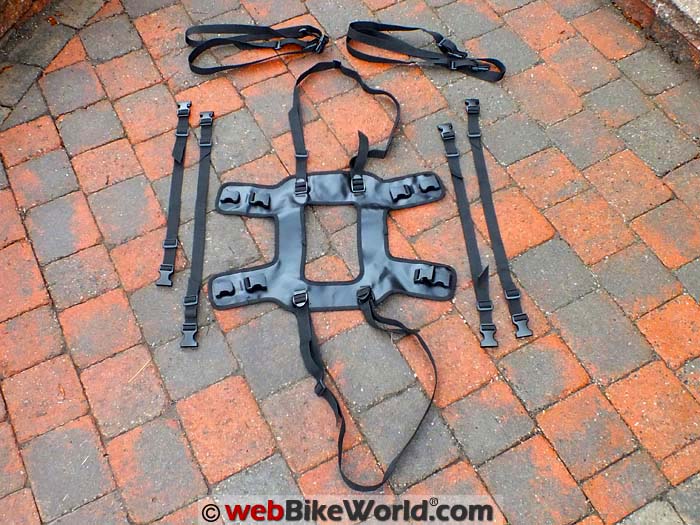 The Touratech/Ortlieb Partnership
Just to refresh your memory, the Touratech waterproof luggage reviewed in this series is made by Ortlieb for Touratech under a partnership between the two German companies.
The partnership was initiated in 2016 as a joint venture between Touratech and Ortlieb to develop the new line of waterproof motorcycle luggage, sold under the Touratech Waterproof brand.
Ortlieb and Touratech have developed an extensive line of soft luggage, dry bags, stuff sacks, backpacks and accessories.
The range even includes water storage bags and other campsite essentials like collapsible bowls.
Touratech said that each product has been "designed for motorcycle travel and has features and durability built to withstand the rigors of long-distance touring and the everyday commute to the office."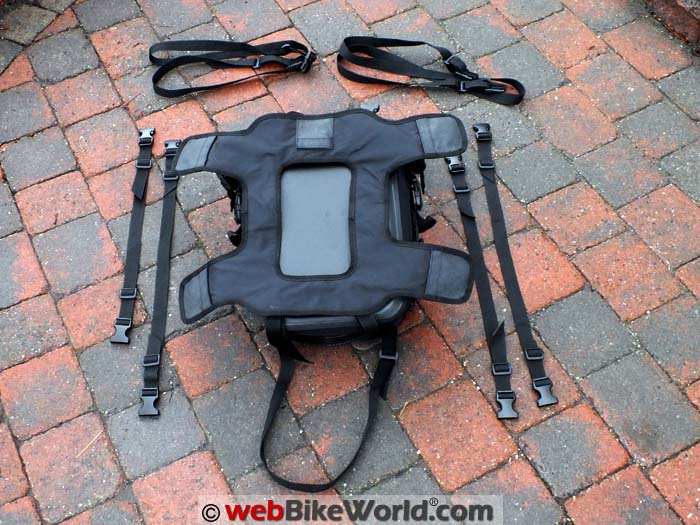 The Touratech Waterproof Moto Tank Bag
As with the 31L Touratech Adventure Dry Bag duffel and the Moto Dry Bag Saddlebags, the Touratech Waterproof Moto Tank Bag (PN 055-3100) provides absolute waterproof storage.
The bag is rated at 18 liters capacity (1,098 cubic inches) and its IP64 rating gives it a dust- and splash-proof environment for anything packed inside.
I have used the bag extensively and have put it through various waterproof tests — both natural and man-made — during this review.
The testing revealed that when the bag is rolled and sealed (including the zipper), it provides a totally waterproof environment for whatever is packed inside.
Formed of heavy-duty tear-resistant polyurethane with welded seams, the Moto Tank Bag is actually a heavy-duty dry bag that's adapted for use as part of the Touratech Moto Tank (Ruck Sack) system.
It's both similar and different from other dry bags on the market in featuring a tried-and-true wide-mouth roll-top opening at one end.
But it differs in offering expedient access at the back or bottom (depending on orientation) via a full-width "TIZIP" waterproof zipper.
The TIZIP zipper system was first developed for drysuits for diving and it was first used in motorcycle clothing on the original REV'IT! Infinity one-piece suit (review) back in 2007.
A bonded (welded) perimeter strip on the sides and bottom provides the anchor points for the bag's fixed and adjustable buckle connectors, as well as five pass-through slits (three bottom and one per side) that provide additional fastening points.
A semi-rigid pad secured to the inside of the dry bag provides a base that conforms to the shape of the fuel tank or mounting location while adding some shape and rigidity to the bag.
Also on the base side are two more connectors, stitched on each side of what is a small flat strap carry handle located near the top of the (rolled) bag.
The next piece is a large unpadded tank harness (also identified as the base plate), featuring an elongated centre cutout and four corner extensions with small underside pouches to host the magnets when used.
A fifth underside magnet pouch is found on the top, or bottom (depending on orientation of the harness) for additional grip when the magnetic option is exercised.
Two connectors, one for the tank bag and one for harness fitment are located on the upper side of each corner extension.
Three different lengths of flat straps along with removable buckle connectors and sliders provide versatility and adaptability for fitment on the bike.
A clear plastic/acetate roll-top map or document envelope rounds out the major pieces.
Right-sized for holding the way-ahead visuals or other important reference pieces, its four buckle connectors allow it to be mounted on top of the dry bag or directly to the tank harness.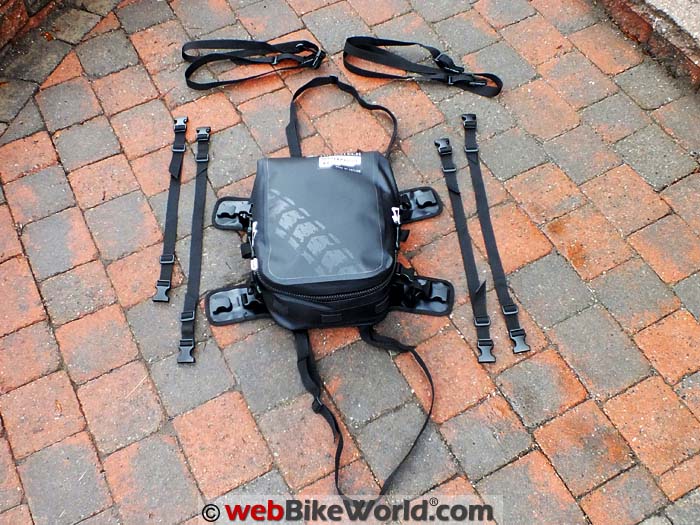 Kit Contents
A complete listing of the kit components is provided here for reference purposes:
Moto Dry Bag (16 cm Height x 25 cm Width x 35 cm Depth (6.3 x 9.8 x 13.8 inches rolled).
Moto Clear Map Case with four connectors (39 x 26 cm flat and unrolled).
Tank harness, measuring 52 cm wide by 38 cm long.
Five magnets.
Straps: 2 x 200 cm (78.7 inch) flat straps; 2 x 152 cm (60 inch) flat straps; 4 x 91 cm (36 inch) flat straps.
12 x 2.5 cm buckle connector pieces (four male and eight female) and 16 flat strap sliders.
The three main pieces (dry bag, tank harness and map case) can be configured to provide a tank bag with map case or just the tank bag or map case configurations.
The waterproof Moto bag can be used alone as a rear seat bag or luggage rack bag or as a backpack (with the optional adapter kit).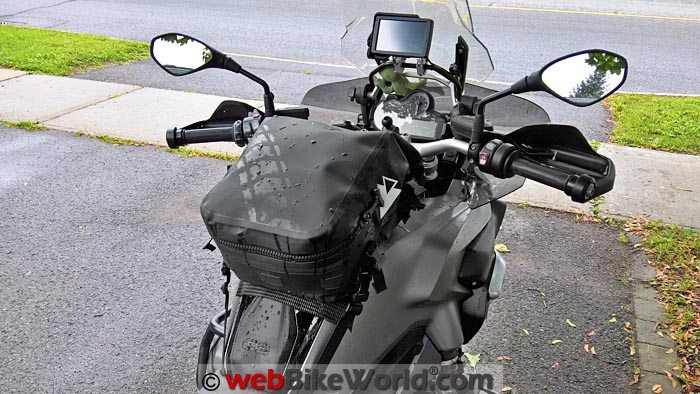 Reflectivity
Some side conspicuity is provided with small 3M Scotchlite reflective accents on each side.
These pieces can be effective, but more retro-reflective accents such as inserts or striping would be even better, especially when the bag is used on the rear of the motorcycle or used as a backpack
Optional Backpack Harness
As noted above, the optional Touratech back pack harness (PN 055-3101), which we didn't have for this evaluation, provides another option for using the Moto tank bag.
Warranty
Like the other two waterproof luggage items reviewed in this Touratech Dry Bag series, the Moto Tank Bag is made in Germany by Ortlieb with a five year warranty from Touratech.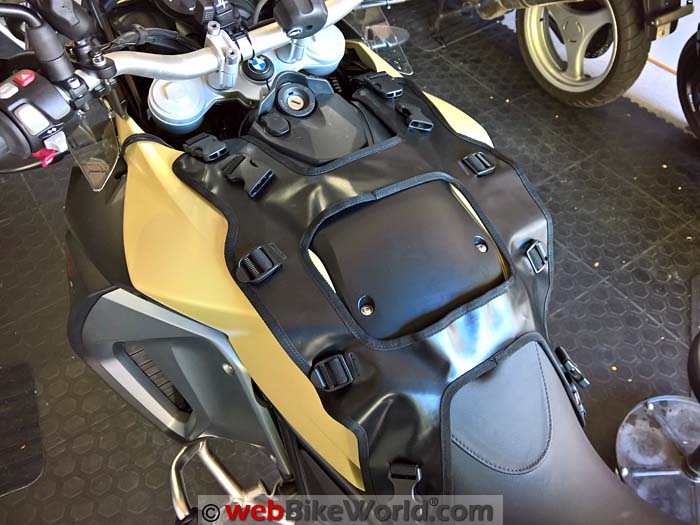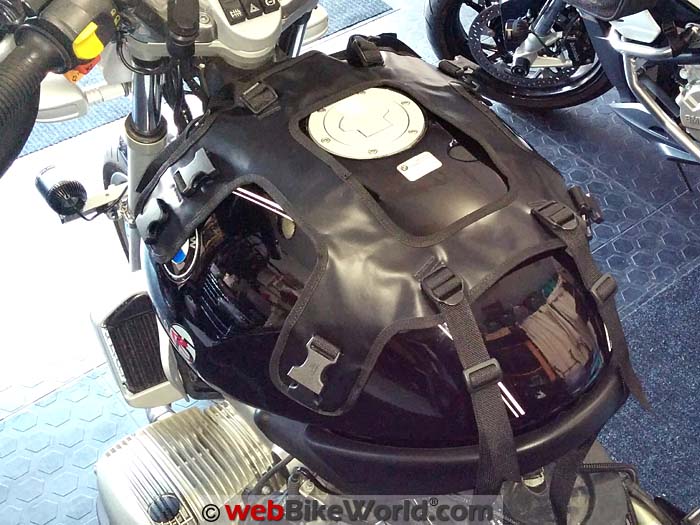 Fitment Pros and Cons
Touratech states that the tank harness provides "innovative tank mounting with straps, buckles and (removable) magnets".
But innovation is one thing; actually fitting it to a fuel tank is another…now the fun starts.
The Moto Tank Bag system is well made and has all the needed bits and pieces, but it can be frustrating to work with, largely due to the design of the tank harness and the layout/orientation of mounting connectors.
Comparing the Moto Tank Bag kit relative to other competitive products such as the Kriega tank pad that is used with various Kriega dry bags reveals why the Touratech product comes up short in certain areas.
It's not that creative and encompassing approaches like the Touratech Moto Tank Bag don't work for a large number of motorcycles — especially those oriented towards on/off road use.
But the issues summarized below can work against proper fitment and effective use of the combination.
Tank Pad Size and Shape
At 52 cm wide (including the corner extensions) and 38 cm long (top to bottom as oriented on the tank), the piece covers a lot of real estate — too much, actually.
It is far larger than the usable surface area of most fuel tank or fuel cell covers found on motorcycles today.
And while some manufacturers, like Triumph, feature a larger-capacity fuel tank, one typically needs to look at older machines to find the ideal real estate.
The Kriega tank bag, like those from Wolfman and SHAD, are somewhat down-sized, making them more suitable for a wider variety of motorcycles.
They have simple top and bottom straps and connectors or pass-through straps, all of which offer flexibility in mounting the tank bag.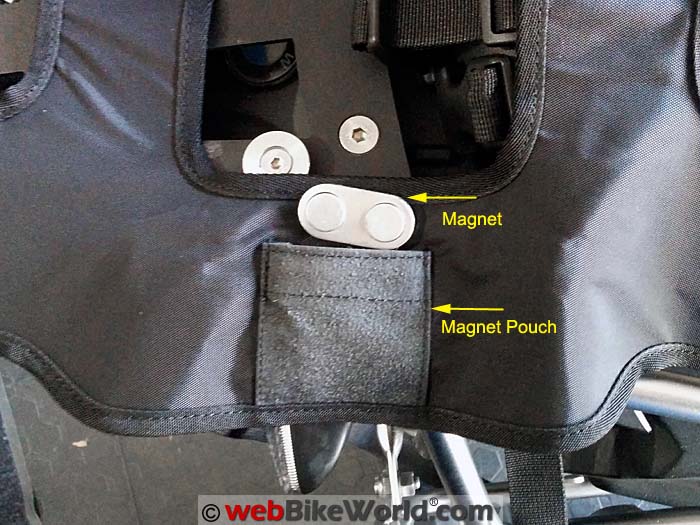 Tank Harness With Magnets
The five magnets sit securely in small well distributed hook-and-loop sealed pockets on the underside of the pad, but the harness still slides around easily, especially where cockpit protection is minimal.
And even with the neck and back straps in use, the magnets move too much and scratching of painted surfaces is sure to occur.
A cushioning under-pad of non-skid material works wonders (more on this later).
And we can't forget that magnetic property sensitivities need to be appreciated regarding personal items.
Tank Harness Strap Mounting
The harness corner extensions (think arms and legs) have two connectors each, one for harness mounting and one for tank bag mounting.
But in going through the harness fitment and tank bag mounting exercise, two design points become issues: the side mounting approach and harness shape.
Driving the design was a somewhat obvious presumption that side or lateral mounting approach would be used by the owner.
And appreciating Touratech's focus and the many motorcycle makes and models, this isn't a completely bad premise, but not a guaranteed thing either.
So unless your motorcycle frame or configuration allow the tank harness mounting points to be used securely and safely, its current size and layout detracts from what otherwise should be a very secure base for the other components.
And as expected, when only the neck and back straps are used given above limitations, fitting the Moto tank bag to the unsecured harness connections doesn't make for a very stable assembly.
Other tank harnesses or pads used addressed multi-mounting (magnetic/strap) use by using a more top/bottom or pass-through mounting approach or, allowed the unused option pieces to be tucked away within or under the assembly.
So here's my recommendation: put the buckle connectors on pivots or short adjustable straps, as is done for the tank bag connections.
This would improve flexibility and allow the rig to be adapted to more different types of motorcycle configurations (see Fitment Options below).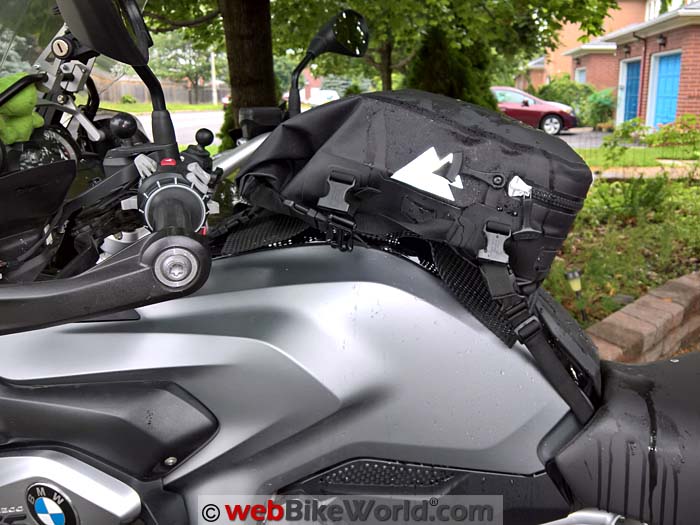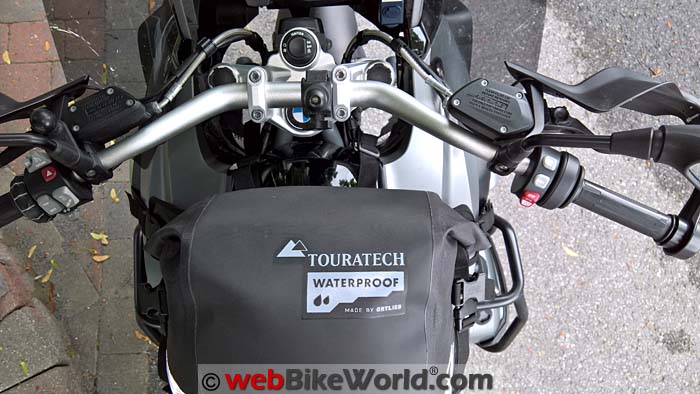 Tank Bag Size and Orientation
The Moto tank bag isn't as large as the tank harness, but it is oversized in its length and width for many tank and handlebar layouts.
Even with a minimal load packed inside, the Moto tank bag is likely to interfere with the handlebars and or controls in some way unless mounted well to the rear of the fuel tank, which can then interfere with the rider.
In having to deal with these issues and others, a secure and safe mounting of the Moto tank harness can be a challenge, depending on the motorcycle involved.
Note I said a challenge, but not impossible…and challenges can often be rewarding when successfully met.
On large fuel tanks, some or all of these issues come into play, including some movement allowed by the magnets and the need to try and find side or lateral mounting points.
What isn't an issue is access for the fuel cap.
The elongated cutout in the harness, which is a feature used on other tank pads or harnesses (Kriega and SHAD harnesses specifically), allows flexibility with regards to positioning the over-sized harness and tank bag combination.
But once the best orientation is found for a secure mounting (buckles to the side or buckles to the front), snapping the Moto tank bag into place with the four adjustable strap buckles proves how well the pad and bag can fit together.
But it also reveals that larger isn't always better, especially regarding fore/aft and side clearance requirements.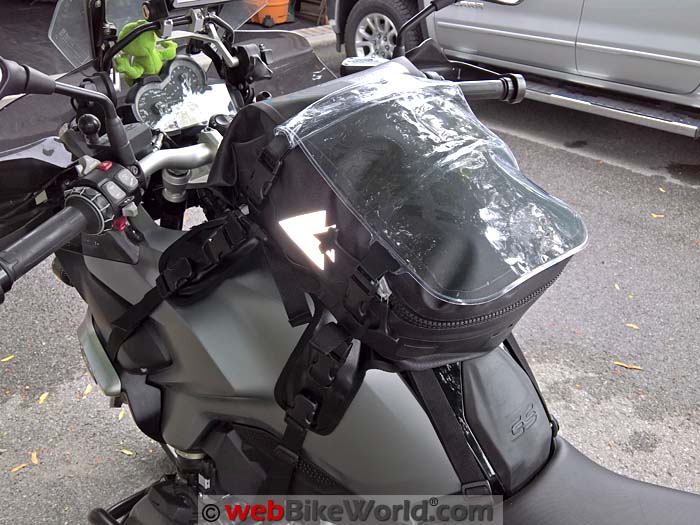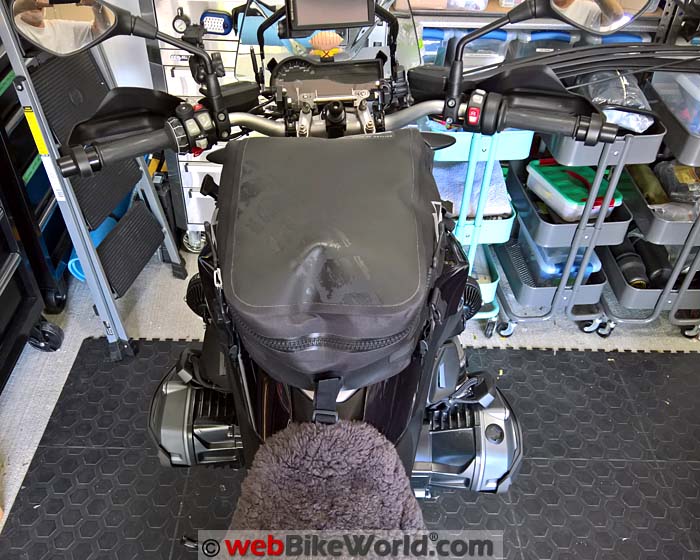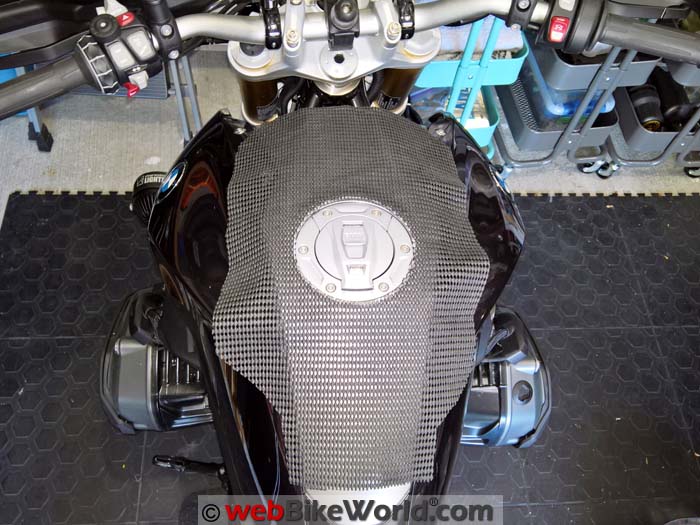 Fitment Options
As noted above, depending on the host motorcycle, the orientation of the Moto tank bag harness can be adjusted to address layout real estate, harness mounting points and clearances.
On a BMW F 800 GS Adventure, for instance, the tank pad was oriented so the buckle sets were located at the front and back.
This works, as the four short straps and connectors are used on frame attachment points at the front without compromising steering in any way and then to the bike's side frame points at the rear.
This orientation works well for mounting the tank bag, as the four buckle connectors on the bag are on adjustable straps.
With this flexibility, they can be connected to their counterparts on the tank harness — in this instance at the front and back sides — for a secure fit.
But given the tank pad shape and size and the large dimensions of the Moto tank bag, once the two pieces are brought together the tank harness and tank bag combination can work.
But for many fuel tank surfaces the combination is too wide, too far back or too loose.
Thankfully, in situations where the tank harness may not work well in either orientation, the tank bag, along with the straps and connector pieces, can be mounted cleanly, securely and directly to the surface of some fuel tanks.
Connectors and Straps
Remember those two front bottom connectors on the tank bag?
These connection points, more likely intended for the optional backpack kit, are perfectly positioned for a neck strap while the rear adjustable strap-based tank bag connectors can be used in different orientations.
So after some simple strap customization with the sliders and connectors, the tank bag fits up directly to the tank's surface.
Loosening or disconnecting either the front or rear connections facilitates fill-ups without much effort overall.
Alternatively, the small pass-through slots found on the sides and back of the tank bag provide additional mounting points, no matter where it is installed.
Used with the front neck strap identified above, the rear pass-through with another strap adaptation forms a stable three-point mounting for the tank bag.
Additional Padding Is An Option
Key to making these options work is the use of a shaped section of non-slip cushioning material inserted between the tank and the harness or the tank and the tank bag.
This material prevents slippage between and on the surfaces (think of those magnets) while providing a thin unobtrusive cushioning layer.
My favourite solution for this is the Oxford Blanket multi-purpose anti-slip mat, a product that never seems to deteriorate with age or exposure.
Tip: tool drawer liner material works almost as well and can cost less.
Remember: measure twice, cut once!
And finally, on a related multi-brand workaround note: the Kriega tank adapter pad with its stitched-in pass-throughs, along with two of the Touratech short straps with sliders and connectors and the Moto dry bag can make a very secure adaptation.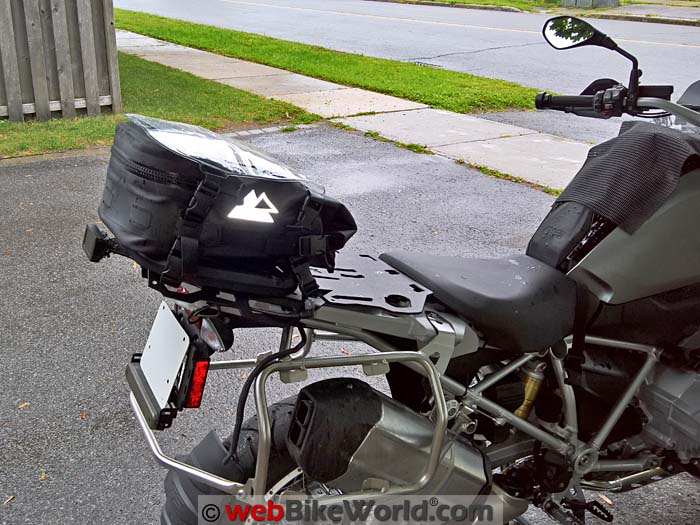 General Luggage Use Options
When the Moto tank bag doesn't correctly fit a specific motorcycle, it still can be an effective piece of standalone luggage.
The 18 liter bag is a perfect waterproof solution for commuting or travel to distant places when it is mounted to the rear seat or to the luggage rack using a quickly configurable set of straps.
Function & Performance
As a tank bag solution, the Moto harness and bag combination loses out in some areas.
This is when compared to competitive products like the Kriega tank adapter that quickly and easily accommodates any of the Kriega 5/10/20L dry bags, with quick detachability maintained.
But on motorcycles where real estate, attachment points and clearance requirements aren't an issue, the Moto Tank Bag system is very effective in its advertised role.
And the tank bag and map case can be used together or individually on the harness.
The pass-through slits on the perimeter of the tank bag come in handy, especially if the tank harness isn't used; I've done this for multiple test and use installations.
Additional small soft items like rain gear can be rolled and secured via these points also, with clearances and safety kept in mind of course.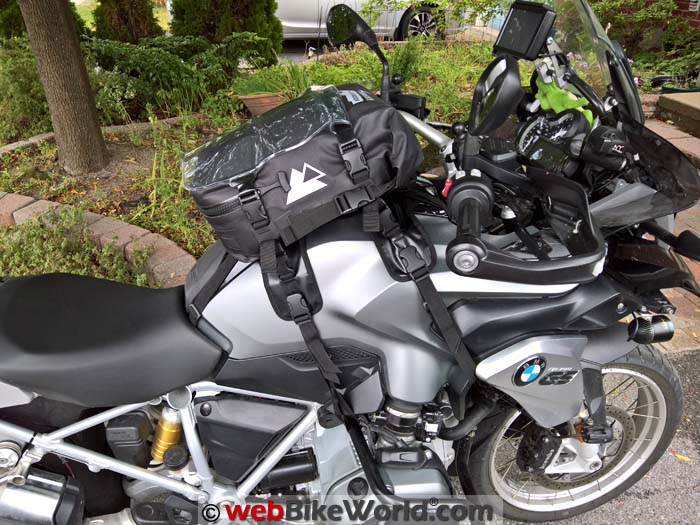 Wide Mouth Accessibility
One of the biggest advantages of the Moto tank bag?
Its ability to be loaded from the wide mouth top with the contents, which can then be quickly accessed via the back/bottom zipper.
Just hold the T-shaped handle and exercise some opposing muscle building force to pull the matching T-shaped handle attached to the zipper in the opposite direction: pull, hard.
The optional backpack kit, that we don't have turns the waterproof Moto tank bag into a nicely-sized and very useful backpack or carrying bag.
I modified an old comfortably padded camera bag strap to use the buckle connectors on the tank bag and it makes a suitable shoulder-slung solution.
The Map Case
With maps, directions or other documents inside for viewing and protection, the map case is about 30 cm long from top-to-bottom.
It fits securely to the top of the Moto tank bag using the four connectors between the case and upper connectors on the dry bag.
The map case can also be mounted directly to the tank bag harness for a low-profile but useful waterproof enclosure, which keeps things totally dry and secure.
And being detachable, it then also becomes a portable map case, which is good for sharing a review of that terrain where you didn't want to go but did anyway…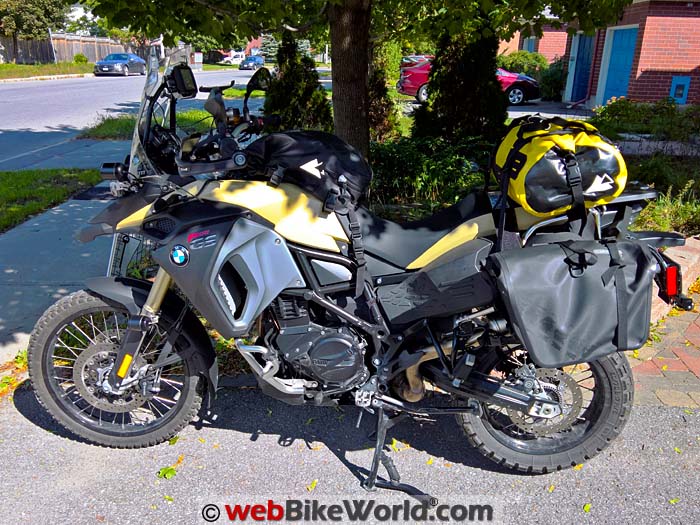 Conclusion
In initially starting to work with the Touratech Waterproof Moto Tank Bag components, it seemed that the whole system would or could come up really short.
But as I worked with the pieces more and fitted it to more motorcycles, the law of averages came into play in a positive way.
I installed it on four of the five Beemers in my home fleet and layed it out on five other on- and off-road motorcycles (400 to 990 cc displacements) to check the mounting and fit options.
After all of that, the Moto Tank Bag combination ends up well on the plus side of the scorecard.
So despite the issues — all of which could be addressed quite easily — the Moto Tank Bag kit comes very close to living up to the "innovative" label given to it by Touratech.
With Fall 2016 officially here and cooler and wetter weather becoming more prevalent, I will continue to install this durable and versatile combination more motorcycles.
I'll also keep it in use to see how the long-term scenario unfolds.
Despite being a bit more complicated to use and with some limitations, the Touratech Waterproof Moto Tank Bag is a good complement for the previously reviewed Touratech Adventure (Duffel) Dry Bag and the Moto Saddlebags reviewed in this series.
At $209.95 USD, the Moto Tank Bag combination may seem to carry a premium, but then you are getting the "Made by Ortlieb" promise, along with Touratech's renowned warranty and support.
Think of it as an investment, with quality, flexibility and adaptability and dry contents being the returns.
In This Series:
▪ Touratech Adventure Dry Bag Review
▪ Touratech Moto Saddlebags Review
▪ Touratech Moto Tank Bag Review
w

BW

 Review: Touratech Waterproof Moto Tank Bag
List Price (2016): $209.95
Made In: Germany
Colors: Black
Sizes: 18L
Review Date: November 2016
Note:
 For informational use only. All material and photographs are Copyright © webWorld International, LLC since 2000. All rights reserved. See the webBikeWorld® 
Site Info page
. Product specifications, features and details may change or differ from our descriptions. Always check before purchasing. Read the
Terms and Conditions
Owner Comments and Feedback