Motorcycle Luggage Review Summary
Motorcycle Luggage Image Gallery
A set of Kriega Drypack luggage was a long overdue item on my wish list and I now regret not having acquired it sooner.
The products live up to the claims and the set has become an indispensable part of my motorcycle luggage collection.
A good and versatile piece of kit that has application both on and off the motorcycle and can survive any type of use can be difficult to find.
But in assessing the Kriega bags, the question here is not what they can be used for, but rather what they cannot be used for.
Introduction
On one hand, I really didn't need more motorcycle luggage.
But on the other hand, I hadn't tried the much-touted array of motorcycle luggage from Kriega.
That, as it turned out, was justification enough, so I placed an order with Kriega US and about two weeks later the package arrived via Canada Post — taxes please!
this would be my initial foray into the realm of Kriega products and I had a desire to satisfy the base requirements for use and evaluation purposes.
So I ordered the Kriega US-20 "Drypack & Courier" bag, along with a pair of US-10 Drypacks and two US-5 "Drypack & Fenderpack" bags.
The 20-litre Drypack & Courier bag can be used alone or interconnected with the 10-litre Kriega Drypack products.
This forms a multi-bag combination, which constitutes the Kriega US-30 Drypack and Tailbag Combo or the US-40 Tailpack System.
I also ordered a set of the Kriega US10/US20 Drypack Strap Retainers (keepers), which are used to keep a set of the bag straps secured to the motorcycle when the bags themselves are not mounted.
Kriega components are designed in the UK and the designers' goals are to "bring innovation, functionality and craftsmanship to the entire Kriega line".
This approach seems to be working, because every Kriega product I have seen is full-featured, well-made and performance-oriented.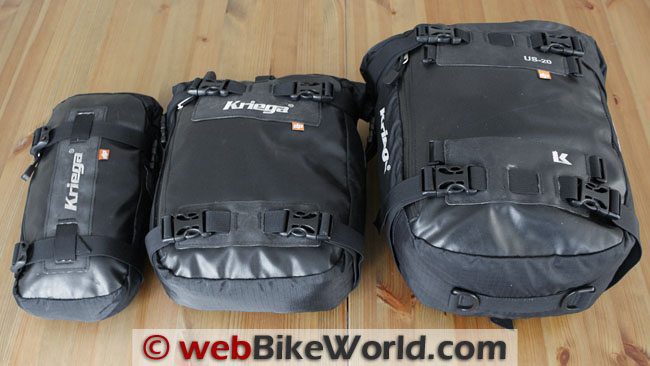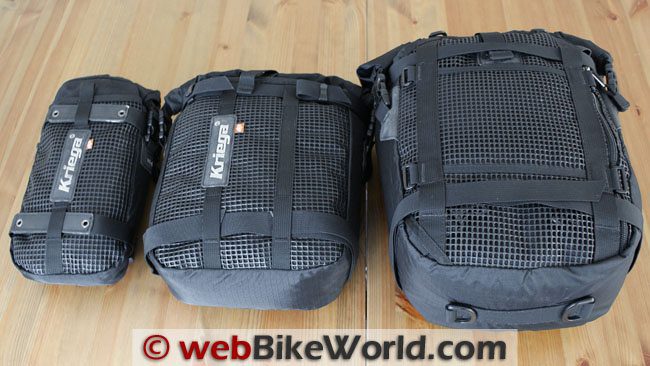 Kriega Luggage Overview
At first glance the three Kriega bags are clearly different, but design, execution and functional similarities abound.
They all work in the same basic manner and all have the same basic storage features, although attachment options differ. The capacity of each bag is identified by their individual designator.
All three — the US-5, US-10 and US-20 — are claimed to be 100 percent waterproof, with a key factor in this claim being their roll-top design.
Top and side compression buckles optimize storage space and help minimize the profile of each bag. Made of heavy-duty ripstop nylon, the bags have two reinforcement layers front and back.
The front layer is a smooth material while the back (or reverse) layer is made of rubberized non-skid mesh. This feature keeps the bag from sliding around and protects against abrasion.
Each bag has a removable white waterproof liner, secured at the mouth of the bag by a full diameter hook-and-loop band.
The white interior helps to identify the contents of the bag in low light conditions.
External zippered flat pockets or pouches are formed from each material layer on the front and back with proven YKK zippers used throughout.
The (front) flat pockets on the bags are not claimed to be waterproof, but between the material used and the self-sealing zippers they would seem to be up to the task of keeping small items dry for prolonged periods of time.
The back or reverse side mesh pockets on the Kriega US-10 and US-20 bags have a zipper along one side.
These pockets are good for softer items especially wet cleaning cloths or travel towels that might benefit from air drying.
The US 5 bag has an open-end mesh pouch instead of a full pocket. Nylon straps with flat slide orFastex-style quick release buckles are used for compression and connectivity.
TThe strapping  on the Kriega US-5 luggage measures 25 mm wide, while the straps on the US-10 and US-20 are 26 mm wide — close enough to call them one inch.
Two small plastic strap keeper pieces are provided for each strap; useful in securing loose straps and tidying up any installation.
The bags are very well constructed with multiple reinforcement layers, strong stitching and easy-to-use fasteners and zippers — attention to detail is everywhere.
All of the Kriega bags feature a ten year guarantee.
Kriega US-5 Drypack and Fenderpack
The smallest of the three Kriega products, the US-5, is extremely versatile. It is particularly useful as a waterproof fender pack for off-road or adventure touring and, like the other Kriega Drypack bags, it fits with virtually all of the other Kriega luggage components.
At 11.8 x 6.3 x 3.9 inches (L x W x H), the US-5 bag is large enough to hold a small one-piece rainsuit or perhaps one-half of a heavy-duty two-piece rain suit.
It can also hold a collection of tools, which is one of the more popular applications for this narrow rectangular bag.
The roll top is secured along the sides by two one-inch Fastex-style connectors; this smallest capacity Kriega bag does not have or really need a top compression top.
Two separate 20.5 inch attachment straps slide through flat loops on the non-skid mesh pocket side of the US-5 bag. These straps have a "Hypalon" reinforced pad with two punched and gusseted holes for bolt-on (dedicated) use.
A flat slider buckle is stitched on to one end of the flat strap, which is used for both compression and connecting the bag to other luggage or tie-down points.

Kriega US-10 Drypack
The riega US-10 Drypack probably provides the most versatility for use on a wide variety of two-wheelers.
IIt can be used as a stand-alone strap-on bag; a tank bag with the optional tank bag adapter; or it can be interconnected to other Kriega backpacks or Drybags, my typical use.
At 13 x 8.7 x 4.9 inches (L x W x H), the bag is rectangular in dimension but more square in appearance, especially when packed.
The US-10 bag swallows my heavy-duty two-piece BMW rain suit, both Olympia liner pieces and the small First Aid kit — stuff that I never leave home without.
It is a great candidate for carrying netbooks, notebooks or whatever, although a protective carrier or cushion sleeve should be used at all times to properly protect the devices.
Substantial tool rolls or a tool-roll and essential ancillary items like tubes, a patch kit, air pump, etc., would all be good candidates for this bag — just keep in mind end weight and proper stowage.
The bag has two 39-inch straps with quick-release buckles to facilitate interconnection with the US-20 Drypack and other Kriega luggage products.
It does not have the interconnect D-rings or the waist-strap connectors found on the Kriega US-20 bag though — features that would be useful in providing more user options.
Like its US-20 big brother, the US-10 Drypack does have a top compression strap but there is no lower retention ring on the mesh side of the bag as found on the US 20.
This small feature serves to secure the end of the strap in place, depending on how full the bag is of course.
Kriega US-20 Drypack and Courier Bag
So, what do you do with the riega US-20 Drypack? Pretty much anything you want!
WWith 20 litres of capacity, it functions as a day pack, an overnight bag or a single luggage piece for weekend trips. When combined with one or more of the Kriega US-10 Drypacks, it forms a longer-term travel combination.
At 15.7 x 10.2 x 7.5 inches (L x W x H) it seems almost square when packed and believe me, it packs a lot.
My big Sony VAIO 18-inch display notebook packed into its cushion bag slides easily into the wide open mouth of the bag.
So while the US-10 has great versatility, when it comes to packing just about anything in, the US-20 is hard to beat, especially when part of a multi-bag combination.
Its two 47-inch mounting straps with quick release buckles are classed as "over long" and for most applications they will work just fine, including under-seat applications or around other luggage pieces.
The US-20 bag has four reinforced low-profile D-rings stitched to both sides of the bag for interconnect purposes.
It is a simple matter to thread the US-10 mounting straps through both sets of D-rings and tighten them up to form a very solid 30 or 40 litre combination.
An included shoulder strap and a set of waist straps make the US-20 fully functional as a courier bag, on or off the motorcycle.
Two sets of large D-rings on the top and bottom of the bag provide flexibility in orienting the shoulder strap and thus carrying the bag.
The waist strap connectors snap into receivers stitched on to short straps tucked away in the V-cut corners of the mesh facing. All the straps can be stored in either of the two flat pockets when not in use.
Kriega US-10 and US-20 Drybag Strap Retainers
This double female connector strap is an optional accessory item from Kriega.
But for those users who want to keep their US-10 and US-20 straps mounted on the motorcycle when the bags are not in use, these short keeper straps let you do just that.
Other strapping options come to mind as well for these items.
Fit and Function
The best way to describe how useful and totally functional the three bags are individually and collectively is to just describe the many functions they fulfill.
The US-5 bag falls readily to hand and given its size, it can be used to keep hard or soft items secured and cushioned inside other mounted luggage or mounted externally.
For longer trips where more tools and support items are carried, I balance the load between the two bags with one assigned to each motorcycle — typically carried deep in the left side pannier or if light enough, externally.
Travelling to rallies is a favourite activity and with the timing right, the two F800GS machines were pointed south for the 2010 BMW RA held in Pownal, Vermont this past summer.
An early visit to the MicaTech stand located inside the main building to scope out new stuff, lead to the purchase of a Pack Rack that I installed on the spot.
While finishing this installation and socializing with several other GS owners, I happened to spot the new MicaTech Roof Racks (Quick Review pending).
This handy and very lightweight accessory is meant to be mounted on the lids of panniers to provide additional mounting options for smaller items.
I borrowed one of the Roof Racks on display and put it in place on the left side BMW Adventure Luggage installed on my F800GS and then pulled the Kriega US 5 (tool) bag from the pannier — it was a perfect fit. The Kriega US-10 bag was mounted up a few minutes later.
Returning home, I permanently mounted the purchased set of the Roof Racks to the lids of the panniers and this location for both the 5 and 10 litre bags has now been well validated.
In reality, both the US-5 and US-10 can be mounted on any pannier system that has some sort of lug or rail mounting. Just keep in mind specific accessory load restrictions and handling.
A 30- or 40-litre assembly using the US-20 and one or both of the US-10 bags is the best combination for my travel purposes.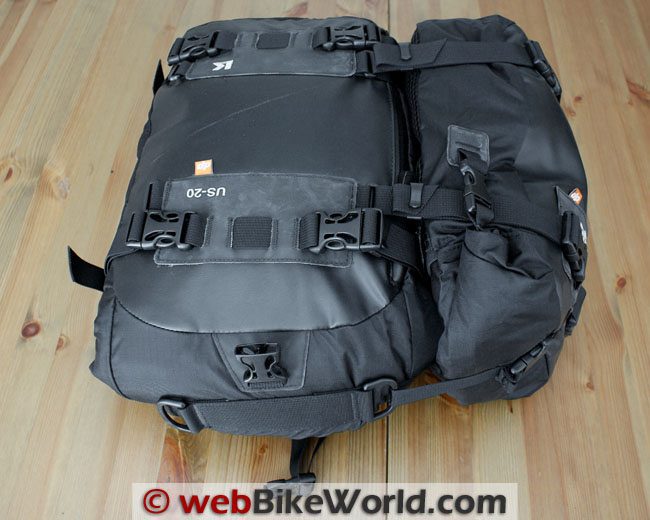 Kriega Modular Design
Either combination mounts across or length-wise on the (now removed) SW-Motech Quick-Lock rack or the newer Micatech Pack Rack; both racks have slotted cutouts to facilitate strapping.
When one of the large 50-litre BMW duffel bags occupies the Pack Rack or the Shad SH50 trunk (review) is in place, I just put the combination piece across the back portion of the seat and strap it to the top rails of the pannier brackets.
In an attempt to assess how the combination or pieces might work as soft pannier luggage, I managed to get both a 30- and 40-litre combination mounted to the side pannier brackets on both BMW F 800 GS motorcycles.
Although it wasn't as stable as desired — a couple of flat nylon slider straps fixed that issue.
I also mounted the US-20 bag to the pannier bracket and then a US-10 bag to the upper section of the Touratech brackets on the Yellow F 800 GS. Separating the bags works well and it is hard to argue the versatility of the straps.
Again, Rok straps or slider straps can provide additional security if needed.
All in all, the three bags are functional in every regard — the roll-top approach is simple and quite foolproof, although many riders shy away from them citing the lack of quick or easy access and apparent lack of "space" or at least the perception thereof.
While access is a somewhat valid issue, it can be pretty much mitigated by thinking of about what is packed, where it is packed and how it is packed — considerations that apply for any use of luggage.
When using the combination set-up, usually without panniers mounted, I keep small items that might be needed in a hurry in the separate US-5 bags or the outer mounted US-10 bags.
This leaves the central US-20 capacity for luggage that is probably not accessed except when stopped for the day.
Whether you mount the pieces with the roll-top forwards or backwards is a personal decision and the bags are absolutely weather proof; neither driving rain and crud flung up from the road and wheels creeps in.
I mount them facing front or back depending on where the combination sits and what access is needed. A mix can be configured as well…
I have a heavier-duty well-padded shoulder strap that gets used when the often heavy 40-litre combination is pulled off at the end of the day or a trip…the whole assembly sits comfortably under one arm for transport.
And for what it is worth, I classify all three bags with their liners as absolutely waterproof. The outer bag will allow some minor seepage but with the liner installed nothing gets through.
Even the external front flat pockets hold up to sustained exposure to rain and crud thrown up from the road. For weekend or short trips, especially when extended off-road travel is likely, the Kriega combination is all I need and want for luggage purposes.
The US-10 and US-20 serve duty as man or machine mounted bags, and don't forget that the handy US 5 bags can be strapped on almost anywhere.
Between or during road trips, the bags provide other luggage services.
For example, the Kriega US-20 functions as the shoulder bag for my (very) large Sony Vaio notebook with the outside pockets perfect for the usual computer peripherals and the US-10 Drypacks draw duty housing the two smaller notebooks used.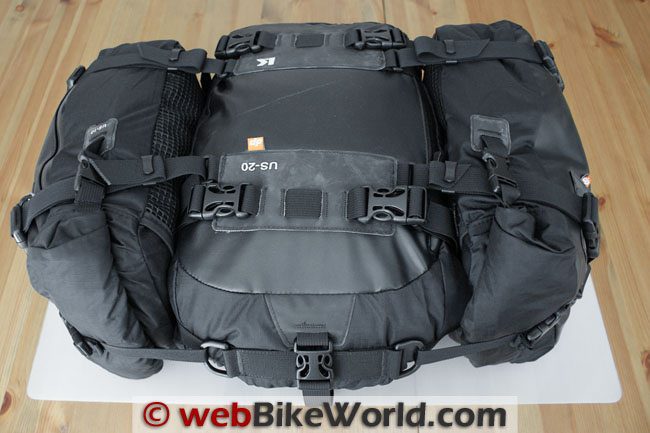 Conclusion
So does the Kriega Drypack luggage live up to their billing and reputation? Yes.
For everyday use and most mounting situations I haven't yet run out of strap, although I do wish the straps on both the US-5 and US-10 bags were a few inches longer, even if it means doing a bit more strap management (a function for which the plastic strap keepers excel).
Being able to remove the white luggage liners if not needed or for cleaning is a plus.
I usually pack like items in separate soft bags anyway and use shoe bags, all of which slide into the US-10 and US-20 bags nicely.
The Kriega website identifies replacement and optional items for the Drypacks as well, all of which can serve to extend and enhance ownership of these versatile products.
My shortfall is that I don't have enough of them to make another 30- or 40-litre combination.
That will be rectified shortly with a follow-up order that will probably include a Tank Bag Adapter, a couple more sets of the strap retainers and, replacement straps.
The Kriega Haul Loops look pretty interesting as well…hmmm.
w

BW

 Product Review: Kriega Drypack Luggage
Manufacturer: Kriega
List Price (2010): US-5 Drypack & Fenderpack – $47.00. US-10 Drypack – $66.00. US-20 Drypack & Courier Bag – $115.00 (Prices in USD)
Colors: Black.
Made In: Designed in the UK. Assembled in China.
Review Date: December 2010 Warranty: 10 years.
Note:
 For informational use only. All material and photographs are Copyright © webWorld International, LLC since 2000. All rights reserved. See the webBikeWorld® 
Site Info page
. Product specifications, features and details may change or differ from our descriptions. Always check before purchasing. Read the
Terms and Conditions
!
Owner Comments and Feedback
---
From "C.K." (September 2016): "I enjoyed reading your review of the Kriega Luggage System. I'm thinking about getting the US 30 as well. I want to use it as a pannier on my Triumph Bonneville T120.
The problem I face, is that I don't have a luggage rack (don't want one) and am now wondering if the US-30 can still be used as a pannier (ho flexible is it, could I fit a small wooden board into it, to make it stiffer)?
Furthermore, my exhaust is running on both sides. How well would you rate the heat resistance of these bags?
H.B.C.'s Reply: It has been some time since the original Kriega review was done, but the products are still among the best available and arguably the most versatile as well.
For your T120 (low pipes), without a luggage rack or in using the back portion of the seat (if available), the US-30, or even a combination of the smaller products can make a good 'pannier' solution, but without a side frame kit of some sort, a solution can take a bit more thought.
Stiffening/Support: A plastic, light metal or wood insert can be installed inside or fitted into the back mesh pouch to provide shape and rigidity (packed or empty) but some support is still needed.
The sides of the seat and frame tubing can help if the pannier is mounted higher.
And the front of the pannier (could) perhaps sit against the shock, although the usual cautions about free play and safety need to be considered, especially with an open spring shock.
Heat: With the lower exhaust system, if clearances of 5 to 6 inches can be provided, the pannier should be fine, although one would need to keep an eye on heat build-up.
The Kriega drypack outer-shell and even the plastic mesh used on the back are very tough, but won't tolerate temperatures generated from the exhaust (or other sources) at close range.
There are, or used to be, some heat shield solutions available that could be attached.
Tank Converter: Just as a thought, in not knowing if you currently use a tank bag, is the option to fit a US-10/US-20 or even a US-30 with consideration for its packed size, to the US Drypack converter.
They fit up easily on virtually any motorcycle and can be left in place (with just the bag snapped off) or removed completely when dismounted.
I have two of them and they are in constant use or on loan.
Other Kriega Options: In noting they are making a saddlebag platform Duo/Solo for the Ducati Scrambler, something like this might be an option for the T120 and would be very unobtrusive with the plate removed (although it could become a 'number plate').
And for what it might be worth, Kriega does have a line of dedicated saddlebags that have good rigidity, although a side frame kit is still identified as a requirement.
There are some other good semi-rigid or rigid soft-luggage solutions on the market as well."
---
From "E.N." (January 2016): "I have purchased the Combo-70 which consists of 1X30 litre bag and 2X20's and also the tank mount.
I found the 20L bag too large for a tank so I added the 10L which fits perfect for my MT-09 Yamaha. The 30L is fixed constantly to the tail on the carrier that used to hold a Givi case and as the bike is covered, it is left there.
The tail pack and tank bag combination suits my daily use perfectly and the 2 additional 20L's kick in on demand. Kit proved to be rain-proof and is great for anything Israeli weather threw at me at the past year or so. A great purchase with no much downside."
---
From "B.B." (September 2015): "As a recent purchaser of several Kriega items I can say that they have excelled at their task.
I ride a 2003 RC51 and do a good amount of touring with her as well, hoping to hit 100K in 2016.
Purchased the following items:
Tank bag adapter.
5 liter bag.
20 liter bag.
30 liter bag.
Besides commuting and long trips and what I use them for the most, carry all of my roller derby gear.
On the side I am a roller derby referee. My skates, pads and helmet represent an investment of several hundred dollars and any amount of moisture would most likely ruin my gear.
At this time I have ridden through several downpours here in the Pacific Northwest and can say without a doubt that there has been NO WATER on the inside of my gear.
TThank you, as your website is one of the FIRST places I check before considering the purchase of any gear."
---
From "G.T." (August 2011):  "I just stumbled upon your review of Kriega luggage products and so I'll cut to the chase. I wish every product review I have read on various web sites in the past was as thorough and informative as your review of Kriega products.
This review should serve as the "gold standard" for those who write reviews. Well done."