SW-Motech Bags-Connection Quick Lock EVO Daypack Tank Bag
A small tank bag that uses the Quick Lock EVO second generation mounting system.
The EVO locking system uses a special ring that mounts on the fuel filler and different sized tank bags can be fitted.
It keeps the tank bag off the paint, while making it easy to remove the bag during a refueling.
Once the Quick Lock is installed, different size tank bags can be attached.
Note that clip that attaches to the underside of the bag is quite bulky, however.
This means that it takes up proportionally more room inside the small Daypack than it does in any of the larger SW-Motech Bags-Connection tank bags.
First of all, let's get some nomenclature explained. SW-Motech, the German accessory manufacturer, now owns Bags-Connection, which used to be a separate motorcycle luggage company.
The luggage is called SW-Motech Bags-Connection, but that mouthful will soon be changed to the SW-Motech name only.
So in the future, the tank bags, panniers, rear bags and other goodies will be known as SW-Motech luggage.
Also, the Quick Lock attachment system has two parts.
The tank ring that attaches to the fuel filler on the motorcycle and the plastic clip that attaches to the bottom of the tank bag. The newer EVO system is an evolution of the first generation Quick Lock attachment system.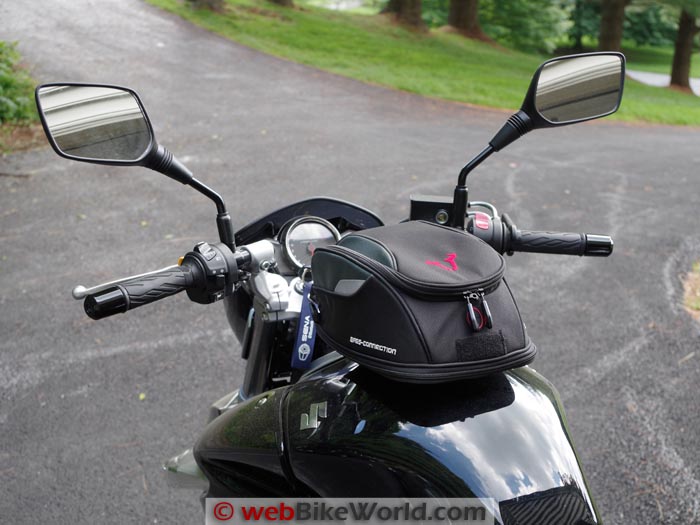 Introduction
Now I'm sure some sharp-eyed long-term webBikeWorld fans will remember that we reviewed the very similar Bags-Connection Daypack II (review) back in 2009. You do remember that, right?
The Daypack II is still with us — more or less — and the Daypack shown in this review is the latest version. It's a small (bordering on tiny) tank bag but without the expansion capability of the Daypack II.
But the basic design must be pretty popular to stay in the lineup all these years, relatively unchanged.
The original Quick Lock mounting system shown in the Daypack II review is still around also.
It's now used in the less expensive "Ion" brand of tank bags. But the new Quick Lock system has been revised quite dramatically since then and fits the modern sloping-style fuel tanks much better.
The Quick Lock rings are available for many different makes and models of bikes. The one shown here is the model number 303, which fits both the new V-Strom and the new GW250.
It was described in the Suzuki V-Strom 1000 tank bag (review), which is another SW-Motech bag that Rick recently installed in his 2014 Suzuki V-Strom 1000 ABS (Blog).
That bag is made by SW-Motech for Suzuki and it uses the identical Quick Lock mounting ring. When I say "identical", I mean identical.
The exact same ring that fits the V-Strom also fits the Suzuki GW250 (Blog).
Suzuki must have reached into the parts bin and used the same fuel filler system on both bikes which, as it turns out, is a good idea if you own a couple of Suzukis, as you can swap bags back and forth.
---
Where to Buy SW-Motech EVO Daypack Tank Bag
Check Reviews & Prices on Amazon
Check Reviews & Prices On RevZilla
See More: Motorcycle Luggage, Motorcycle Accessories, Motorcycle Helmet
---
The SW-Motech Bags-Connection Daypack
The Daypack tank bag has a 5 to 9 liter rating, so it's a lot smaller than some of the monster tank bags you've probably seen attached to touring bikes.
But the small size comes in handy, because it won't get in your way yet it holds the essentials, like a bottle of water, sunglasses, cell phone (turn on the Bluetooth and Google Maps and stream your directions to your intercom!).
The best part about the EVO Quick Lock mounting system is that you don't have to mess with straps or magnets and it won't scratch the paint. It's easy to clip the bag on and take it off for refueling.
The Daypack is a bit different from other installations because you can mount the bag clip forward or aft within a small range to get the bag located just where you want it.
Be sure to check the steering lock though when you're lining it up (see the photos below).
The Daypack measures roughly 11″ long by 8″ wide and it's about 6″ tall. This one doesn't have any external pockets but it has a mesh pocket inside the cover (photo below) and some reflective trim on the outside.
Like all SW-Motech Bags-Connection bags, it uses the special RC-Fuse "self-healing" zippers and it has a two-year warranty.
Installing the Daypack
Since Rick just covered the installation procedure for the SW-Motech EVO Quick Lock system in the Suzuki V-Strom 1000 tank bag (review), I'll just do a quick run-through here in photos to show you the differences with the smaller Daypack on the GW250 (I helped him install both).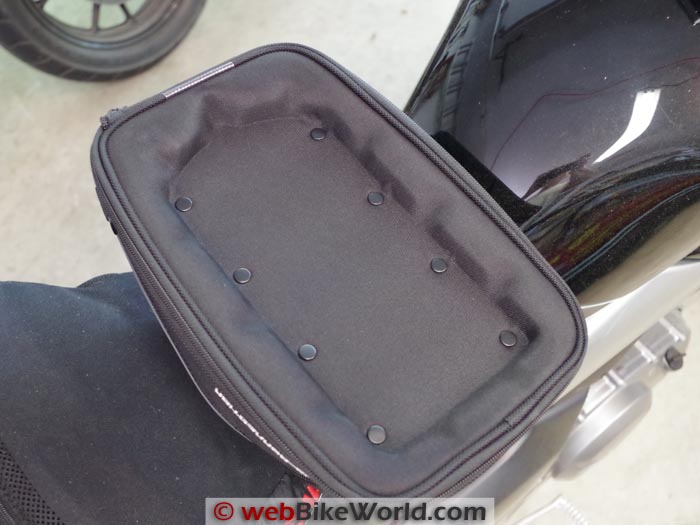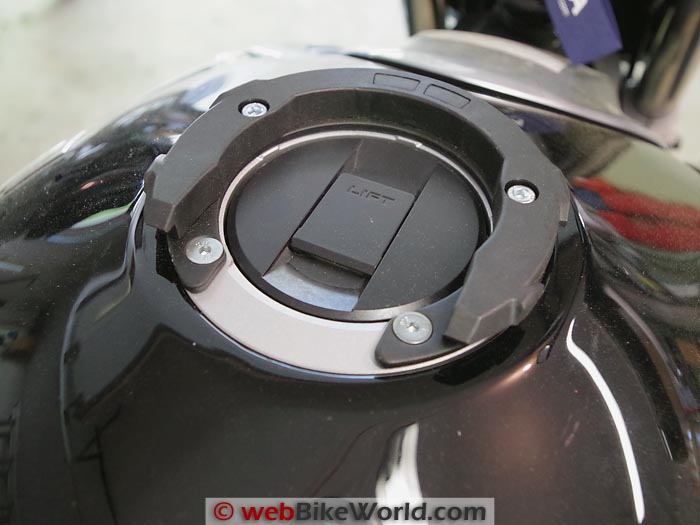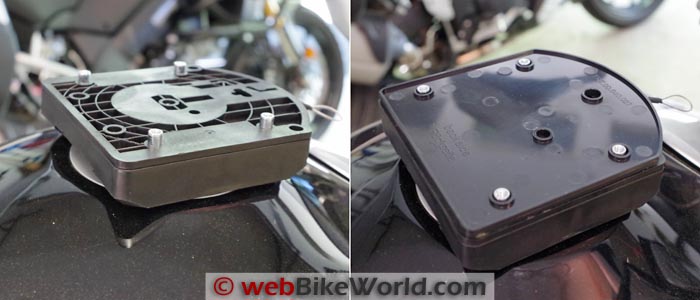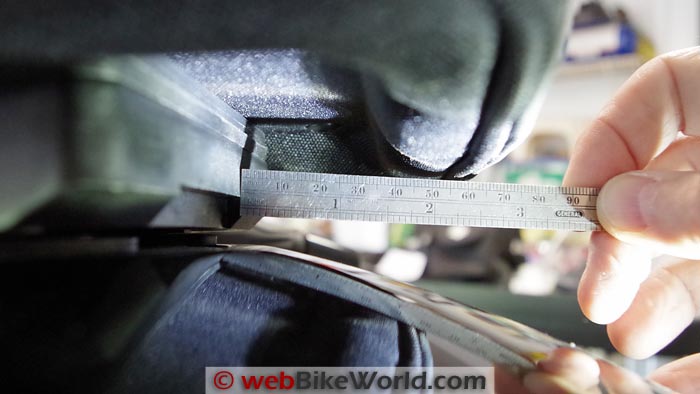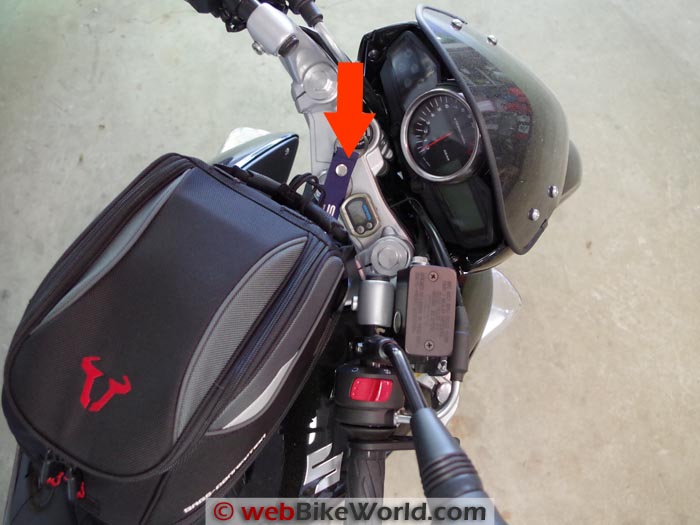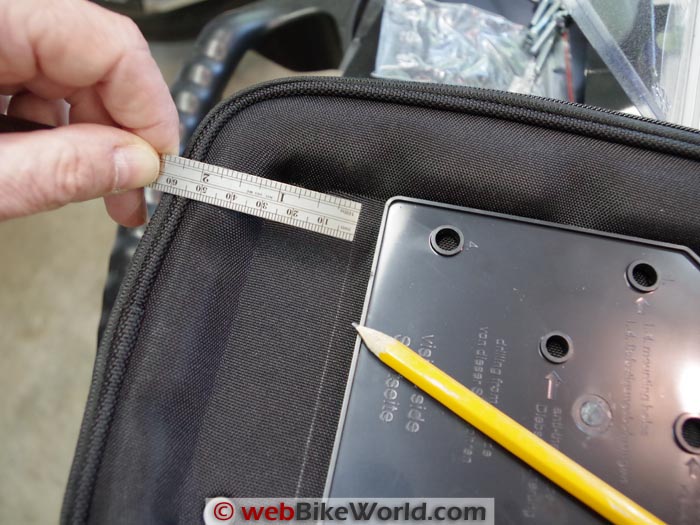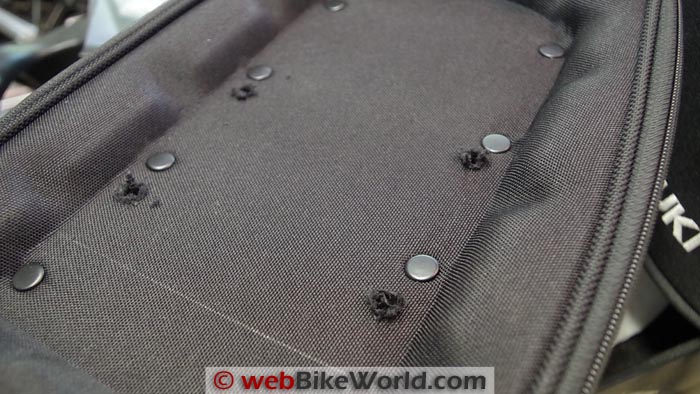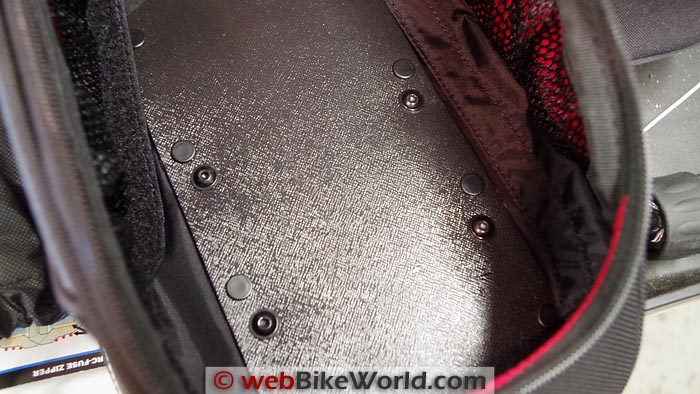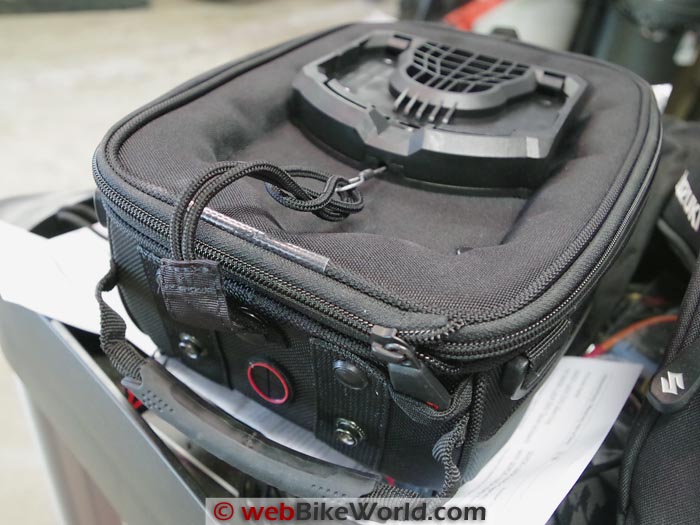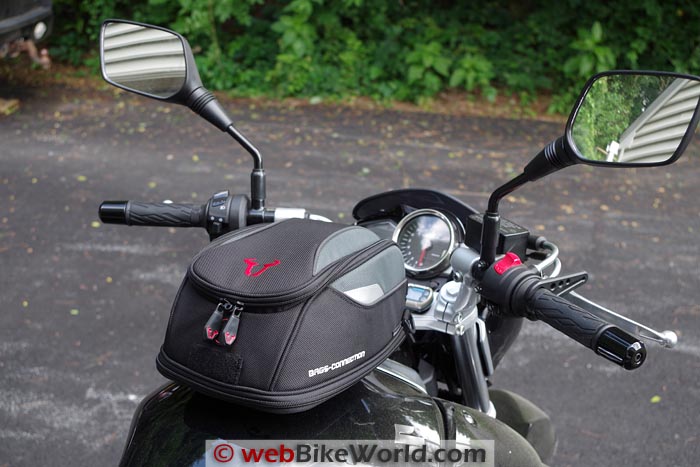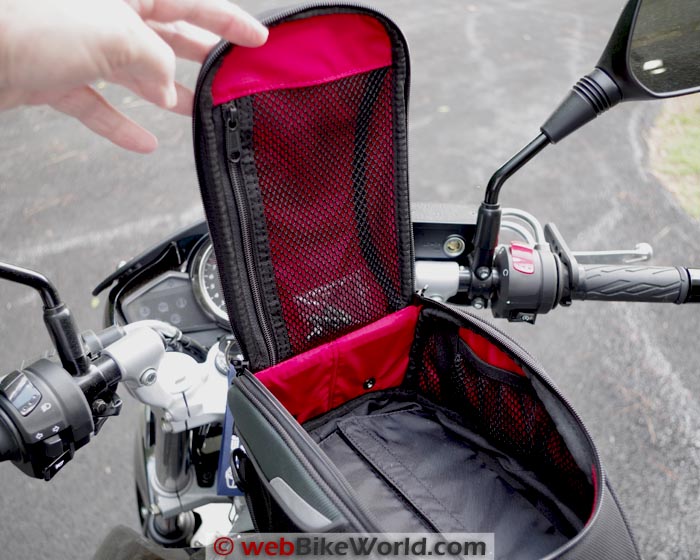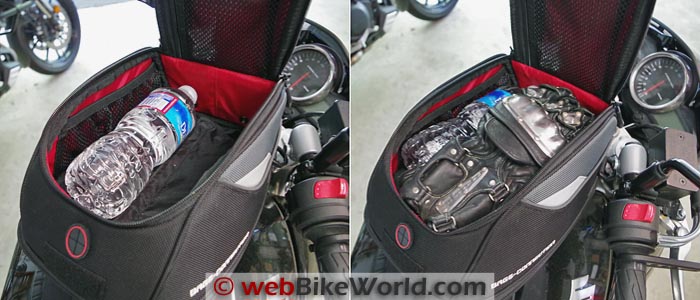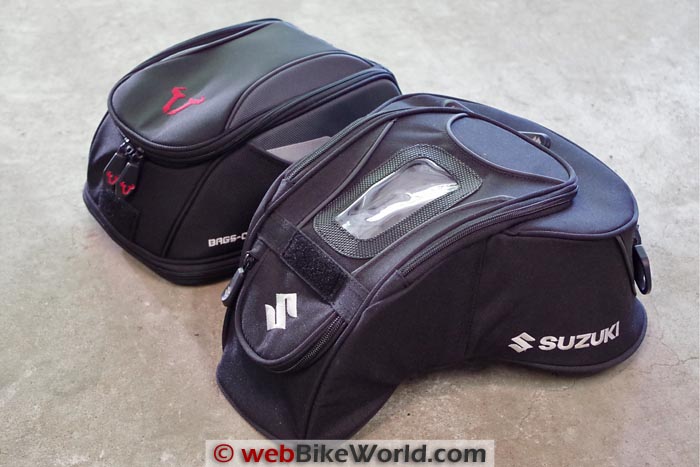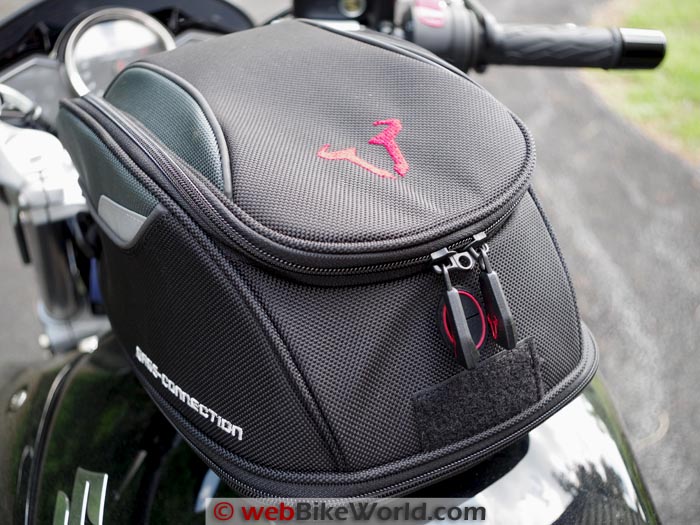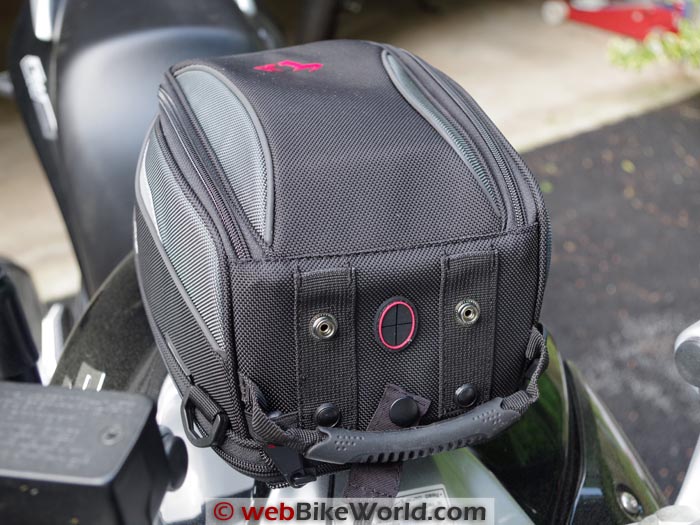 Conclusion
The Bags-Connection Daypack is about as small as you probably want to go in a tank bag, although we've reviewed smaller sizes, like the Marsee Mighty Mini (review).
I'm a believer in the "smaller is better" philosophy when it comes to tank bags.
I don't like a big giant mountain in front of me on the bike (although I can understand the need for storage). All I need is a place to stow a bottle of water and maybe a cell phone and extra gloves or sunglasses. The Daypack is perfect for that.
SW-Motech Bags-Connection products seem to be very well made. We've reviewed several tank bags and rear bags and they're all excellent quality.
The Quick Lock EVO system works well, although it can be a little fussy to get the bag correctly clipped and locked on the tank ring. Make sure it's firmly attached before taking off, because it is possible to think the bag is secure when it isn't.
The best part about it is not having to worry about scratching the paint, like you would with a magnetic tank bag.
No matter how careful you are, you're going to get scratches when you move a magnetic bag on and off the tank to fill up with fuel.
Compared with the Suzuki GW250 magnetic tank bag (review), the Suzuki bag lists for $149.95. The SW-Motech Bags-Connection Daypack lists for $129.99 ($222.99 for the electric version) and the Quick Lock ring costs $39.99 for a total of $169.98.
So it's more expensive than the Suzuki magnetic bag and you lose a little volume (and a couple of extra pockets) but gain the easy on/off and non-scratching features of the EVO tank bag system.
Also, once the Quick Lock is installed, all you need is another tank bag and you can easily swap sizes when needed.
Both bags are nice but the paint on the GW250 is so beautifully applied and so shiny and glossy that I'd hate to scratch it. That's why I think the SW-Motech Bags-Connection Daypack is the one to have.
See Also: 
▪ Bags-Connection EVO Rear Bag Review
▪ Suzuki GW250 Tank Bag Review
▪ SW-Motech Quick-Lock EVO Daypack for Kawasaki
w

BW

 Review: SW-Motech Bags Connection Daypack
Retailer: Twisted Throttle
List Price: $129.99 (plus $39.99 for the mounting kit)
Colors: Black
Made In: Vietnam
Review Date: June 2014
Note: Item provided by a retailer, distributor or manufacturer with these Terms and Conditions.
Note: For informational use only. All material and photographs are Copyright © webWorld International, LLC since 2000. All rights reserved. See the webBikeWorld® Site Info page. Product specifications, features and details may change or differ from our descriptions. Always check before purchasing. Read the Terms and Conditions
---
Where to Buy SW-Motech EVO Daypack Tank Bag
Check Reviews & Prices on Amazon
Check Reviews & Prices On RevZilla
See More: Motorcycle Luggage, Motorcycle Accessories, Motorcycle Helmet
---
Owner Comments and Feedback
---
From "D.B." (June 2014): "I have been using one of these daypacks on my Yamaha XT2100 Super Tenere for about a year now. I liked that you could finesse the installation yourself by drilling your own holes so the bag could go exactly where you wanted it.
I used the plastic rain cover once but the air gets in and blows the cover so much it seems it might come off.
Also it's quite distracting so now I don't bother with it at all. With the windshield I have found that it doesn't get too wet even in heavy showers.
Mind you, that's not very often over here in sunny Perth, Western Australia!
And once I'm off the bike temporarily, say for lunch, I will put the daypack in the lockable top box firstly for security and secondly to keep it dry if its still raining.
I can usually fit my cell phone, my iPod, my reading glasses, sunglasses, a couple of hex keys, a small bottle of aspirin, a pen and all sorts of other little bits and pieces. It really is a most handy piece of equipment.
I am 61, retired, and have been riding motorcycles since I was 17 and have no connection whatsoever to either the SW-Motech company or the local shop where the tank bag was purchased."
---
From "K.R." (June 2014): "I've been using the first gen SW-Motech mounting system with a regular tank bag for about 10 years now.
My SW-Motech tank bag just fell apart (I hope the quality has improved since then) but I loved the lockring system and wanted to keep that functionality.
I fit a plastic cutting board inside of a regular tank bag, attached the cutting board to the bag at each corner (making the regular tank bag stiff like the SW-Motech bag was) and then mounted up the ring just like I had done with the original SW-Motech bag.
It works awesome and I was able to use a much cheaper and sturdier tank bag."
Other WebBikeWorld Luggage Posts