There is a swarm of bees heading our way this spring. Well, not exactly bees, but Suzuki Boulevard M109R Black Edition cruisers.
They come in a stinging black and yellow paintscheme that makes them look like bees. I haven't made my mind up yet if I love or loathe the new colour.
However, if you favour the Black Edition's colour scheme which is complemented by black wheels with aggressive yellow pinstripes and clear tail light and indicator lenses, you will pay an extra $500 for the privilege.
The M109R Black Edition arrives in spring at $19,490 and comes with a two-year unlimited-kilometre warranty. It features a host of parts from the stock M109R transformed from chrome to black, including rearview mirrors, handlebars and handle switches, clutch and brake levers, tank, clutch, magneto, side and cylinder head covers, brake calipers, side stand and mufflers.
I've ridden the M109R before and it's more cruise missile than cruiser.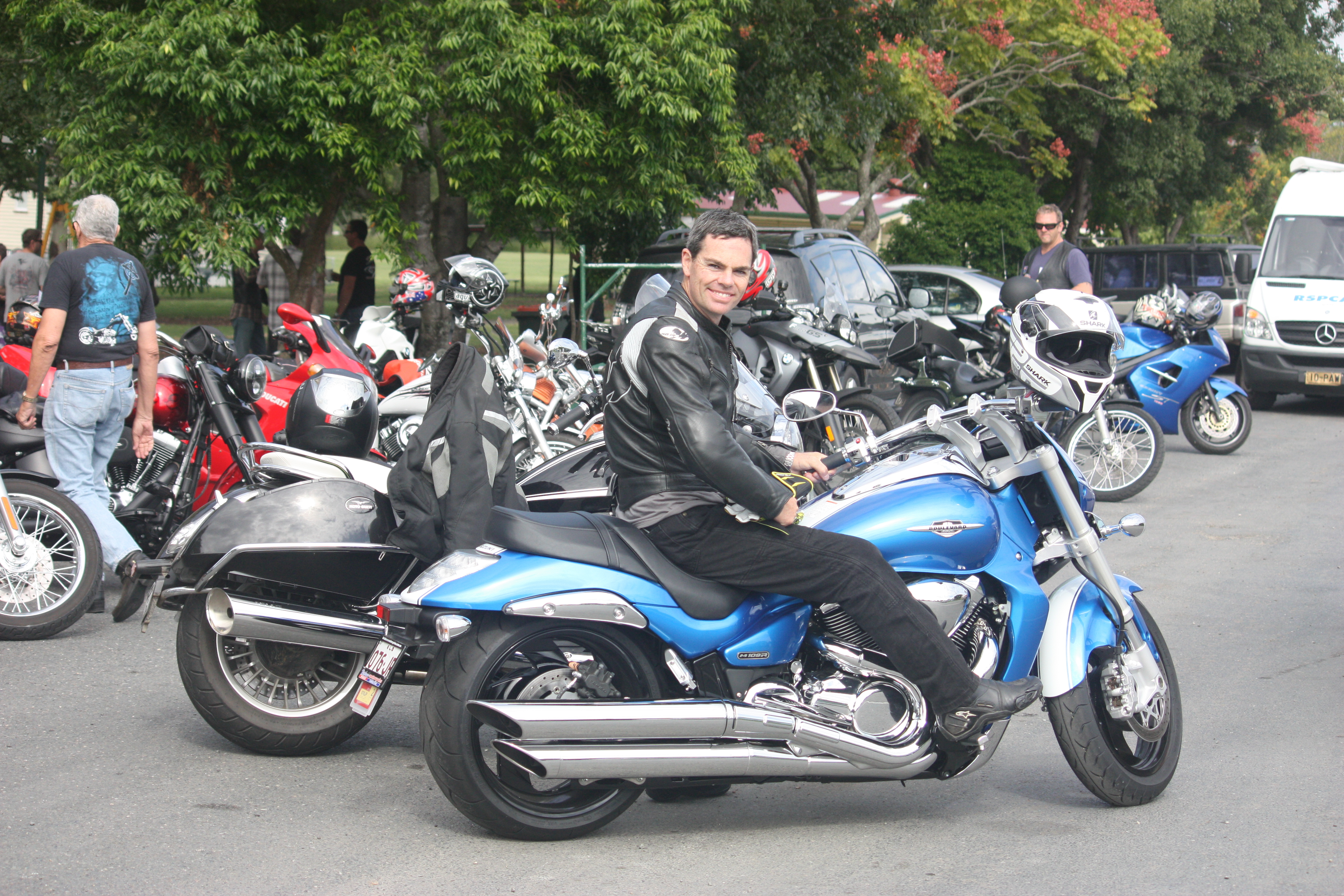 That's probably why Suzuki ambassador Craig Lowndes chose an M109R as his road bike. "It's nice to have the opportunity to swap motorbikes through the Suzuki range," he says. "It's very different to ride but it's nice and relaxing. Having to put my feet in front of me instead of below me is unusual and I've had to get used to cornering, but it's no drama.
"The two big things I have to keep reminding myself is it doesn't handle as well as my Gixxer and it takes a bit more time to stop and pull it up because of its weight. It's a heavy bike, but once you start riding, the centre of gravity and balance is surprisingly good. It's actually quite nimble; more so than I expected."
As a driver of a V8 Supercar, Craig enjoys the M109's 100ft lb of torque at the rear wheel. "It's got a heap of torque so it accelerates very quickly and being shaft driven it's very responsive," he says. "I really enjoy riding cruisers. It's something I like to do from time to time, but I think ultimately my passion is to migrate back to a sports bike."
When it comes to cruisers, there is no replacement for displacement. Back in 2006 this V-twin engine had the biggest piston capacity of any production passenger bike or car in the world. Top of the capacity stakes now is Triumph's three-cylinder 2.3-litre Rocket ($22,990). The biggest of the twin-cylinder cruisers is Yamaha's 1854cc XV1900A at $24,099, followed by the Harley-Davidson Custom Vehicle Operations (CVO) 1802cc models which start at $42,995 and run up past $50,000.
Next is Suzuki's range of 1783cc cruisers and even at $19,490 for the new Black Edition, it's just about the biggest V-twin bang for your buck on the cruiser market.
The fuel-injected double-overhead-cam engine feels smooth and refined rather than rough and coarse. Suzuki doesn't give out power figures but it is probably around 90kW with 160Nm of torque which is why you only need the five gears supplied.
A compact dry-sump lube system lowers the engine in the frame for a lower centre of gravity and more stability.
Suspension is like a sportsbike's with upside-down forks, and the brakes, radial-mounted four-piston front brake calipers and dual-piston rear brake caliper, are straight from Suzuki's sportsbikes.
It looks like something big Arnie would ride in a Terminator sequel. The instruments are in two pods: a tank-mounted analog speedo with two LCD screens for odometer, dual trip meters, fuel gauge and clock. Another LCD screen on the steering head shows gear position and a digital rev readout. They should be the other way around as you have to look too far down to check your speed and you don't need a tacho anyway if you can count the lazy engine beat.
Also, the LCD screens on the tank are recessed and fall into shadow in the bright sun making them impossible to read.
There is no ABS unlike some of its more expensive rivals, but the stopping power from the twin front discs is excellent. And like most cruisers, there is quite a bit of stopping power from the rear.
Muscle cruisers have an odd mix of feet-forward controls and lean-forward drag bars. It means riders end up sitting in a reverse V shape that is neither relaxing nor aerodynamic. You feel more like a windsock.
It's more about attitude than comfort. Yet the M109R is an easy bike to ride hard … just not for long.
Cornering angles aren't great and turn-in requires a hefty amount of leverage of those drag bars and a concerted effort through your arms to keep it leaned over. All the time you are fighting against that massive 240mm rear tyre and its desire to stand the bike up again. It may be a manual struggle, but it still takes corners aggressively with plenty of grip and stability.
Despite its hard-tail look, it's also got more bump absorption than other cruisers with the same limited-stroke hidden rear shock. It also has adjustable spring preload to allow for a pillion.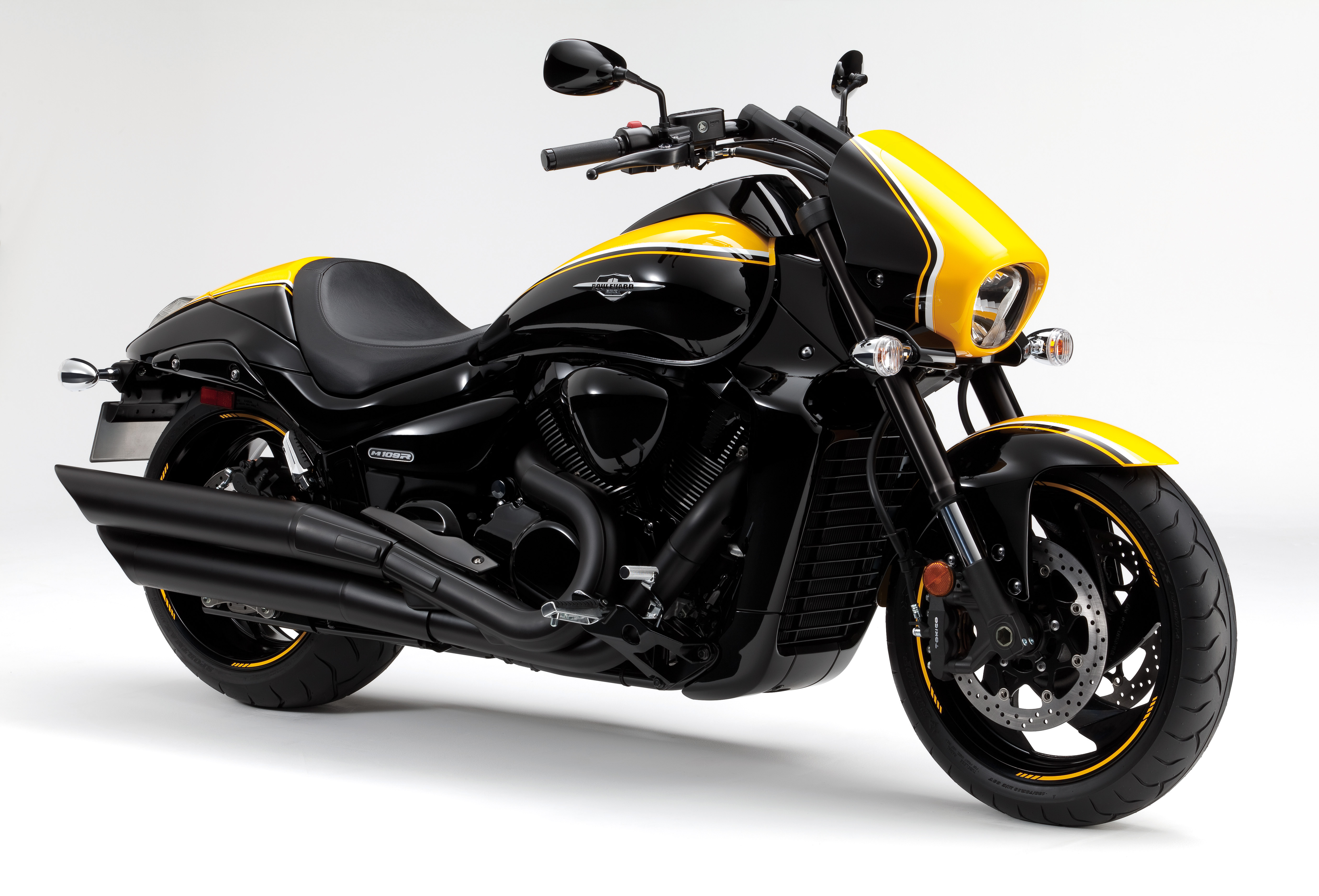 Suzuki Boulevard M109R VZR 1800Z Black Edition
PRICE $19,490
SERVICING 6000km/12mths
WARRANTY 2yrs/unlimited km
ENGINE 1783cc fuel-injected V-twin, 160Nm
TRANSMISSION 5-speed, shaft drive
SUSPENSION Inverted forks, link rear
BRAKES Twin discs (front)
DIMENSIONS 2480mm (L), 875mm (W), 1185 (H), 1710mm (WB), 705mm (seat height)
KERB WEIGHT 347kg
FUEL 19.5L tank