Rumours of a Suzuki turbo bike, possibly called a Katana, have revved up after the Japanese company recently filed more patents for a turbo engine.
Suzuki unveiled its turbo-charged 588cc parallel twin "Recursion" concept sportsbike at the Tokyo show in October. The company then registered the Katana name and trademark Samurai sword.
And now they have filed more patents for turbocharged motorcycle engines.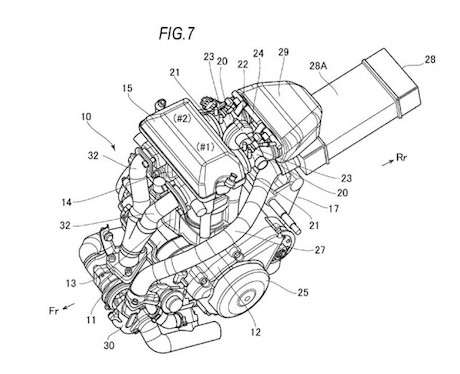 The switch to smaller, lighter, more powerful yet more fuel efficient sportsbikes makes a lot of sense given the stricter emissions rules in Europe and California, as well as tough imposts such as a £12.50 ($24) daily charge for pre-2007 bikes to enter central London.
It also follows Kawasaki's force-fed supercharged H2 and H2R sportsbikes which has sparked a power struggle among brands such as Yamaha and BMW.
However, the Recursion isn't about absolute power. It is believed to make only 75kW (100hp) at 8000rpm and 100Nm of torque at 4500rpm. But with a low weight of only 173kg it gets 50% better fuel economy than a 600cc sportsbike and nearly as good a power-to-weight ratio as a litre sportsbike.
There are no capacity or output figures on the recently submitted patents, but it certainly isn't a litre four-pot engine.
It's a parallel twin with an unknown capacity and a body that looks like the Recursion concept.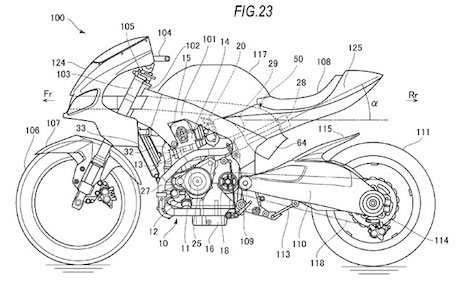 Filing the patents seems to indicate that Suzuki is going ahead with production.
Recursion means "flowing back, repeating" which is what a turbo does with the exhaust. However, that name may not necessarily make it to market.
A more fitting name would be Katana which was their 1980s futuristic designed sportsbike, although it was also used for a scooter and some mid-sized bikes about 15 years ago.
It would also follow Kawasaki's lead in bringing back its old H2 model name.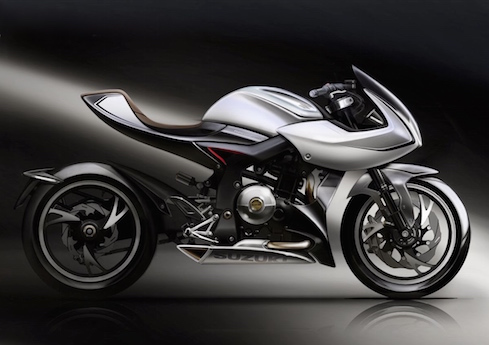 Suzuki has also registered the name Gamma which they used in the 1980s for their two-stroke machines, however the Katana name fits better with the pointy nosed styling of the Recursion.
Turbo was the "next big thing" back in the '80s with models from several of the Japanese manufacturers. They had manic light-switch power that made them not only difficult to control, but dangerous. They were also temperamental and unreliable.
However, modern low-boost mini turbos and superchargers which have revolutionised the car industry in recent years would be a lot more controllable and reliable than the temperamental rocketships of the '80s.