Suzuki has given its V-Strom 1000 the military look with a khaki paint job and the name Desert V-Strom.
We're not sure if it's a clever play on Operation Desert Storm, the military name for the 1990 Iraq War and subsequent video game, but it certainly conjures images of military action.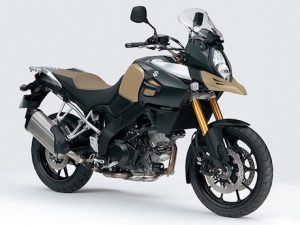 Suzuki Australia spokesman Lewis Croft says the Desert V-Strom was unveiled at the Motorcycle Live show in the UK, but would not be coming Down Under.
"We're looking at doing our own localised fully kitted out model for around $20,000," he says.
"We'll call it Overlander or something like that. We just have to make sure we don't tread on someone else's name."
He expects to make the announcement in the next few weeks.
Meanwhile, the Suzuki Desert Edition V-Strom 1000 not only gets special khaki panels, but also panniers, centrestand, engine bars, a Garmin 590 SatNav, heated grips and LED fog lamps. There are no other changes to the mechanicals or the 1037cc V-twin.
It will go on sale in Europe and the USA early in 2015.