Suzuki Motorcycles believes riders are vulnerable in a tunnel where they can disappear into the darkness, so they have invented a beacon light that shines on the roof to make traffic aware of the rider's presence.
It seems a lot of effort and expense to solve a problem that would be a fairly rare occurrence in most countries, except maybe Europe which has a proliferation of tunnels.
In Australia, most tunnels have a fair bit of light on the roof, so a beacon may not stand out anyway.
However, the Japanese company seems keen to make riding safer by filling for a patent for their tunnel vision system.
It's basically just a light that shines vertically on the roof, not into the eye of other motorists.
Tunnel sensors
The lighting unit would be mounted on the rear of the bike and automatically switch on when entering a tunnel.
It would cast a tight beacon of light.
The system has sensors that detect the tunnel roof, not the lack of light, otherwise it wouldn't automatically switch off when leaving a tunnel at night. And that could pose a bit of a problem!
Suzuki says the sensors will also detect following motorists.
Needless expense?
We wonder about the expense of such a system when the problem doesn't seem to be very common.
There is a lot of other hi-tech being developed to sense other vehicles which seems far more relevant.
For example, Ducati and KTM are planning to release models in the next year or so that feature blind spot technology and adaptive cruise control.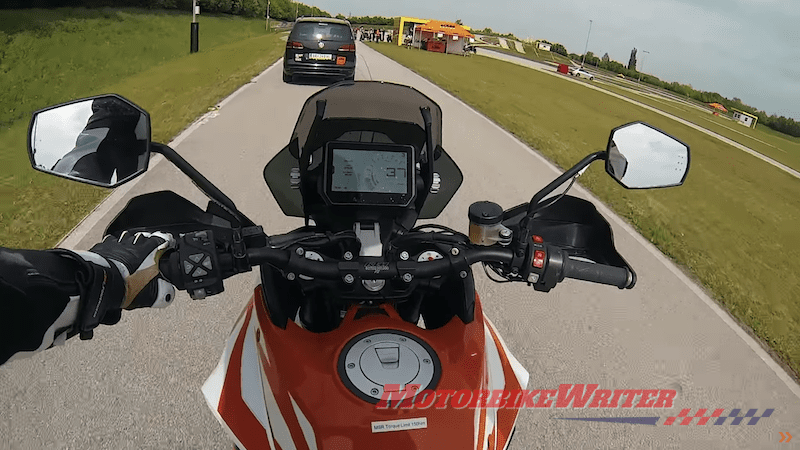 Check out some of the recent articles we have published below under "Other stories you may also like".
What do you think of this lighting technology? Leave your comments below.