Suzuki LTZ 400 Specs – Value, Weight, Oil and Top Speed | ATV Style
Suzuki's Z400 ATV, also known as the LTZ-400, is a high performance all-terrain vehicle in Suzuki's popular Quadsport ATV lineup. The Suzuki Z400 earned it's reputation of being an all-around top performer by being equally impressive on trails, sand dunes and on the race track. The Z400 provides ample four-wheel fun for the experienced rider.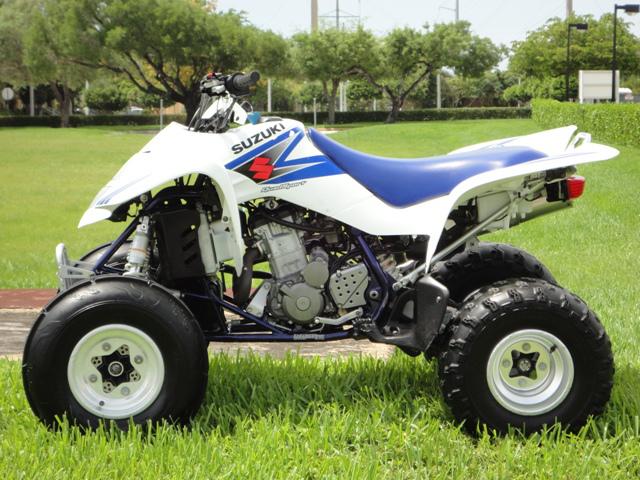 Key features of the Suzuki Quadsport z400 include aggressive bodywork with high fenders and specially designed air intake vents to improve airflow to the radiator. The Suzuki 400 ATV also sported a distinctive color pattern, blue and yellow (white also available), and a lot of optional high performance aftermarket Z400 parts were available.
From the Z400's compact lightweight 398cc 4-stroke, single-cylinder, liquid-cooled engine to it's lightweight, high tensile steel-alloy frame and removable steel sub-frame this Suzuki ATV screams of fun.
Suzuki LTZ-400 Specs
Engine : 398cc, 4-stroke, single cylinder, liquid-cooled, DOHC, 4-valve, TSCC
Bore Stroke : 90.0 x 62.6mm
Compression Ratio : 11.3:1
Fuel System: Mikuni BSR36
Lubrication : Dry sump
Ignition : Digital/transistorized
Transmission : 5-speed, with reverse
Final Drive : # 520 chain
Overall Length : 1830mm (72.0 in.)
Overall Width : 1165mm (45.9 in.)
Overall Height : 1160mm (45.7 in.)
Suzuki LTZ 400 Seat Height : 31.9 inches
Ground Clearance : 265mm (10.4 in.)
Wheelbase : 1245mm (49.0 in.)
Suzuki LTZ 400 Weight (lbs/kg) : 372 / 168.7
Suspension Front: Independent, double A-arm, fully adjustable preload, compression & rebound damping, 8.5 inches of travel
Suspension Rear: Linkage-type, gas/oil damped, fully adjustable spring preload, adjustable compression rebound damping, 9.1 inches of travel
Brakes Front : Dual hydraulic discs
Brakes Rear : Single hydraulic disc
Tires Front : AT 22 x 7-10
Tires Rear : AT 20 x 10-9
Fuel Tank Capacity : 10 liters (2.6 gal.)
Color : Yellow, White
z400 Oil capacity and type – 2.2 Quarts of 10w40 oil
The Suzuki QuadSport Z400 all-terrain vehicle is manufactured by Suzuki and is designed for riders 16 years of age or older. In 2014 Suzuki quietly discontinued production of Suzuki Z400 ATVs. It is apparent that the mass appeal of side by side ATVs and utility ATVs has led to the decline in demand for sport ATVs.
How fast is the Suzuki LTZ-400?
Suzuki z400 top speed is 70 MPH. Higher speeds can be attained after installing high performance parts however 70 MPH is the stock speed rating. Several factors greatly affect speed such as condition and tuning of the engine, altitude and wind conditions.
Suzuki believes strongly in safety and offers to pay for rider training courses to anyone 16 years or older wanting to take them. They refer riders to a local Suzuki dealer and arrange for the classes to be taken, very few other types of products can say that about a manufacturer. Of all the ATV brands, Suzuki is a leader in being proactive about safety.
What kind of oil does the LTZ-400 use?
The LTZ-400 ATV requires 2.2 quarts of 10w40 engine oil. Some manufacturer data sheets specify 0w40 which works just as well but the general consensus is that, in warmer climates especially, 10w40 is the way to go. Fully synthetic oil is not required unless high performance parts have upgraded the power output of your z400 or if it has already switched to synthetic. Once a change to synthetic is made it's not recommended that you alternate back to regular oil.
How much is a used z400 worth?
ATV value is dependent on condition, age and upgrades if any. z400 MSRP averaged $5200 new and a used z400 will be worth roughly half of that or less, unless it's been exceptionally maintained and upgraded. If you want to valuate your z400 for sale purposes you can read more about ATV values.
Will Suzuki ever produce another Z400 model? They haven't said they wouldn't but it will depend on market demand. I hope you found this Suzuki LTZ-400 quad review helpful.
How much Does a Suzuki LTZ 400 Weigh?
The Suzuki LTZ 400 all-terrain vehicle weighs 372 lbs (168.7 kg) dry. ATV dry weight means the weight of an ATV without fluids, such as gasoline, cargo or riders added.
Suzuki Z400 Parts Availability
Several marketplaces carry z400 quad parts. We've found a great selection online, at fair prices, new from motosport.com and used on ebay.com.
Related Posts