The latest motorcycle brand ambassador is Sarah McLeod, front woman of Australian rock band The Superjesus.
Most major motorcycle brands have brand ambassadors who are not motorcycle racers and it seems more and more are appointing women as recognition of the growing interest in motorcycles by females.
Harley recently appointed Olympic cyclist Caroline Buchanan and Ducati has used model and presenter Zoe Naylor in the past as a brand ambassador.
It's a welcome change from male motorcycle racers, sportsmen and the proliferation of V8 Supercars superstars who are motorcycle ambassadors.
As part of their sponsorship, a brand ambassador is usually required to appear at corporate and public functions, and wear their logo on their uniform if they're a sport star. In return, they get a bike usually of their choice, or they are rotated through the fleet of bikes.
In Sarah's case, she might fit in a rendition of Suzi Q in her set!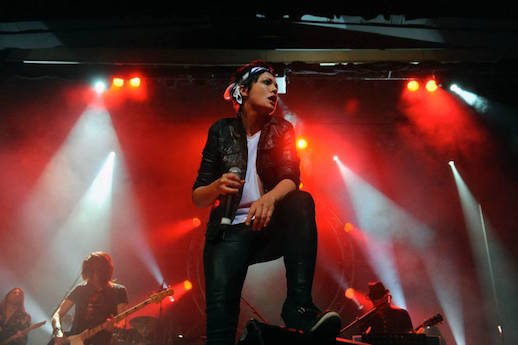 Ambassador agreements usually last a year before they are re-negotiated.
Suzuki Australia Marketing Manager Lewis Croft says Sarah's music is a "natural fit" with their retro-styled road bikes.
After Sarah took delivery of a new Boulevard S40 retro-styled cruiser she sent Suzuki an email: "I LOVE the bike, it's the easiest, most comfortable ride I've ever had, whilst being totally bad ass."
Sarah has been riding bikes since she was a teenager and was a Triumph ambassador a few years ago, riding a Speed Triple in the UK and a Bonneville T100 when she was living in New York.
"Being on a motorbike is the best place for writing melodies," she told a British newspaper. "You can feel the rhythm of the road and the hum of the motor. Sometimes you can hear notes ringing through the engine and you think you can hear melodies in them.
"You can hear your voice loudly in your helmet and being in motion is always inspiring. I always make up songs on the bike, whether I can remember them when I get home is another thing."
She says she's not attracted to the danger of motorcycles, but the freedom.
"It's way more than just transport, it's a sport … I don't take the bike to the shop coz it's quicker; I take it because it's fun."
Her tip to women who start to ride is to "ride a lot".
"Nothing gives you confidence like time on the road."
Sarah will be touring with her band The Superjesus, along with The Baby Animals, through May/June 2015.