Summer Mesh Motorcycle Gloves Review Summary
Hot weather riding and thick leather gloves.  Not a recipe for comfort — think sweaty palms and sticky fingers.  The miracles of modern chemistry have given us mesh motorcycle jackets, vented pants, and even perforated boots, but what about gloves?
Stop by any motorcycle shop and you'll probably find a pair of Cheap 'n Cheesy leather gloves with a few holes popped into the top for summer riding.  I own a pair, but I don't have much confidence that they would actually do anything to protect my hands if I fell.  Since the only alternative is hot, sweaty palms, I wear them and keep my fingers crossed — figuratively speaking, that is.
So I was skeptical when I first saw this REV'IT! "Hurricane" glove.  Common practice seems to dictate that protection and air flow are mutually exclusive, but here's a glove that offers a high level of protection while still providing excellent air flow.  Leave it to the REV'IT! designers to outsmart the competition!  We've been impressed by the level of innovation that REV'IT! designers have delivered, and the Hurricane glove is no exception.
Can a motorcycle glove designed for hot weather riding actually be too cool?  The answer is yes, believe it or not.  Maybe I have extra-sensitive digits, but the Hurricane gloves flow so much air that my hands get cold when the temperature starts to drop below about 18C (65F) or so.  Feeling the air flow over my hands is an interesting sensation, and it feels great when the temperature starts to rise.
The Hurricane glove uses the REV'IT! "3D" mesh fabric for most of the outer surface and in between the fingers.  The mesh looks and feels like a cross between the external mesh used in their jackets and the more open mesh used for the jacket liner.  It also has some type of thin padded backing that feels comfortable while still letting the breeze through.
The back of the fingers, the palm and other sections are made from a combination of Chamois and Pittardsleather.  Lorica, which is a synthetic leather substitute, is also used in various sections.  The leather on the back of the fingers are perforated with 4-5 holes for additional air flow.  A nicely sewn section of additional leather is sewn across the palm and up around the inside of the thumb, which adds protection and padding and also helps prevent the normal wear and tear that occurs from holding the motorcycle's handlebar grips.
REV'IT! added a carbon-fiber hard shell backing over the knuckles, and it's covered with a thin layer of leather for a neat and smooth appearance.  This is similar to the armor treatment on the REV'IT! "Ultra" gloves, reviewed previously on webBikeWorld.  Add some Schoeller Keprotec Kevlar material on the palm, and a bit of padding here and there to add flavor to the design, and the result is a hot weather glove that has about as much protection as I think can be expected with this much air flow.
The knuckle armor and the leather palms do block some of the air, but the compromise seems to us to be worth the added protection that might be provided.  The air flow is directed more on the back of the hand than the palms; nevertheless, the Hurricanes are much more comfortable to wear than full leather gloves when the temperature starts to climb.
The seams on the gloves are flat locked on all of the impact zones, in typical REV'IT! fashion.  The Hurricane gloves are also fully lined, and they're comfortable to wear.  The REV'IT! trademark is their ability to blend styling with function, and it's no different here.  There are some silicone strips embedded in the fingers, and they serve as a unique accent while providing better grip.
The Hurricane gloves have a short cuff, very similar to the cuff length of the REV'IT! Ultra gloves.  We wished for a longer cuff on the all-season Ultras, but in this application the shorter cuff is probably better suited for warm weather riding.
The cuffs use a Velcro covered flap to snug them up, and they can be worn under or over most jackets.  They fit over the sleeves of the REV'IT! Airflow Mesh Jacket, and match its styling to make a good-looking and functional summer riding outfit.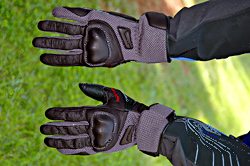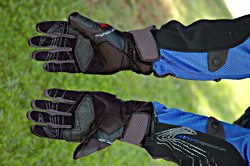 Conclusion
We continue to be impressed by the REV'IT! approach to motorcycle riding gear.  The products offer a unique and functional approach to motorcycle clothing with excellent quality and a good dose of style.  The Hurricane mesh gloves are only slightly more expensive than lower performing hot weather riding gloves, but their feature set makes them well worth the extra dosh.
Product Review:  REV'IT! Hurricane Mesh Gloves

BUY IT!  Get your REV'IT! motorcycle clothing at RevZilla and help support webBikeWorld!

Available From:  REV'IT!
Suggested Retail Price:  $59.99
Colors:  Red, Anthracite, Black
Made in:  China
Product Comments:  Lots of features; innovative approach to warm weather riding gloves; good protection with excellent air flow.  High quality.  Comfortable.  Available in sizes XS to XXL.
Notes:  1. Lorica is a synthetic leather material, registered trademark of Lorica Sud S.r.l., Milan, Italy.  Lorica is claimed to be "a very popular, exceptionally light synthetic microfiber nearly identical to animal leather.  Lorica is ultra-stain-resistant and washable.
Note:  For informational use only.  All material and photographs are Copyright © webWorld International, LLC – 2000-2011.  All rights reserved.  See the webBikeWorld® Site Info page.  NOTE:  Product specifications, features and details may change or differ from our descriptions.  Always check before purchasing.  Read the Terms and Conditions!