They may be a classic-style cruiser boot, but the Stylmartin Legend RS ($349) boots have become my favourite for just about all occasions.
Not only are they the most comfortable long boots I've worn, but they are also waterproof, breathable and cool on hot days, they are classy and they look different from normal boots in the new "sand" colour.
I've been wearing them on sportsbikes, cruisers and even adventure bikes where I find the colour matches the dirt so they never look gross and dirty.
The Italian brand is not familiar to Australian motorcycle riders, even though they were worn by former world GP champ Wayne Gardiner.
The Italian company mainly makes racing boots for road and off-road use, but they have now branched into touring boots and sneakers.
The Legend RS comes in Euro sizes 39-47.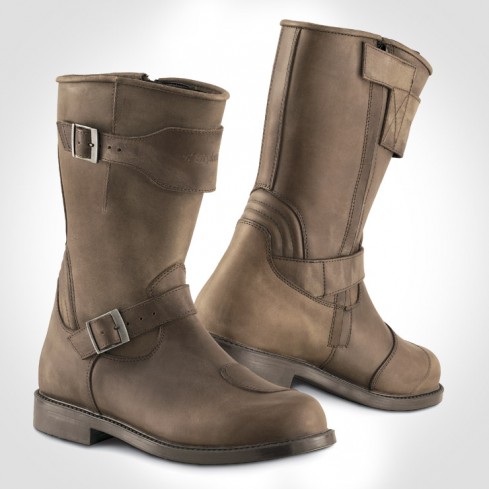 It looks like most of the cruiser boots on the market with the buckle at the ankle and a leather loop across the front.
But because of their racing background, there is more ankle protection than just a buckle. There is also an internal ankle support.
The boots are made of greased full grain writer leather, whatever that is. All we can say is it feels thick and sturdy, yet is supple with a rich grain.
Unlike many of the classic cruiser boots, it comes with a zip right up the inside for easy fitting.
However, the zip goes right to the bottom and underneath the ankle strap so you have to push it under with your finger, making it a little fiddly.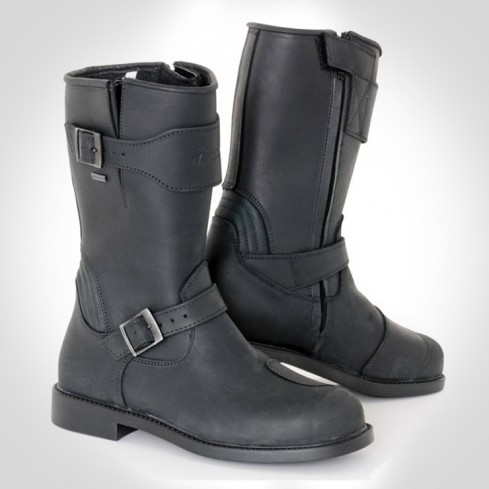 Few classic cruiser boots are waterproof, let alone breathable. This boot promises both and I was skeptical until I tried them.
The membrane has a rubbery feel on the outside which keeps the water out, but inside it is a soft material and the top of the boot is wide for big calves but also to allow the air to get in and stop your feet from sweating and stinking.
I can attest to it being waterproof as I have ridden through some very heavy deluges without getting my socks wet and even done some creek crossing on my big Bavarian adventure bike.
However, the wide open top means you have to be careful about how deep you go as water can easily go up your trouser leg and down inside the boot.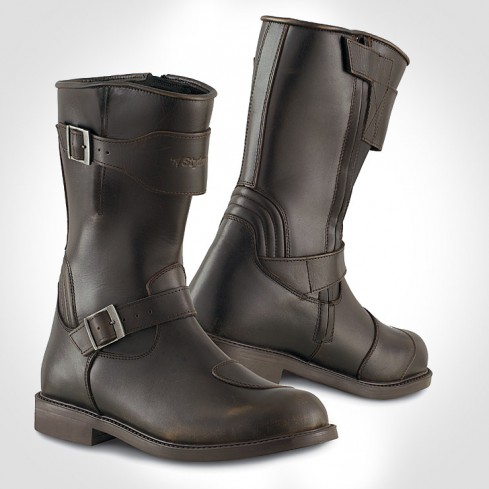 I've also slept in the same room as the boots after a long and sweaty adventure ride, yet they didn't keep me awake at night with their pong so they are obviously breathable, too. Stylmartin claims the Antex "transpiring" (breathable) liner is also anti-allergenic. Maybe that helps with the odour.
I admire the sand colour and always like to be a bit different. However, don't expect them to remain in their pristine state as they tend to scuff and the gearshift protector has turned black from the shift lever rubber.
I tried to clean them with all manner of neutral and light brown polishes and nothing will restore the original look. However, they now have a nice lived-in look that I quite like. It lends a certain street (and bush) cred that a worn-in boot gives, only it does so without having to ride millions of kays.
The sole is antislip and oil proof, and despite touching down on the roadway on hundreds of corners, it's showing no signs of wear.
Despite a tough sole, the boot is very comfortable, not just when on the bike, but also walking around. It feels more like a hiking shoe than a big motorcycle boot.
So if you want to look a little different, stay dry and not stink out the hotel room at night, give the Stylmartin Legend RS a go. they also come in black and dark brown.