The introduction of the popular Street 500 has bumped up the number of accessorises featured in the 104th annual Harley-Davidson Genuine Motor Parts + Accessories catalogue.
Harley-Davidson Australia spokesman David Turney says the number of pages in the 920-page "big book" is the same as last year, but the number of accessories has increased.
"They must have squeezed more in," he says. "There are 90 unique-fit Street accessories currently available."
In fact, the Street accessories make up almost half of the 200+ new product lines introduced for the 2016 models.
They include the Street 500 Drag Handlebars in chrome and satin black and Street 500 Diamond Black Collection Hand Grips with distinctive knurled surfaces that expose the raw billet aluminium for a dramatic contrast.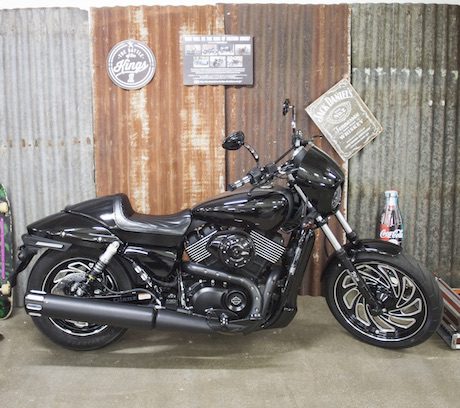 About 22,000 copies of the 2016 catalogue are printed in Australia and New Zealand and they are available free to customers.
If they are all snapped up before you can get your mitts on one, you can download the full Harley-Davidson Genuine Motor Accessories and Parts catalogue here.
TESTING TIMES
Meanwhile, David says the two Harley-Davidson promotions to win a trip to Daytona Beach Bike Week and your dream Dark Custom Harley-Davidson motorcycle have increased test rides substantially.
"Over 3700 test rides have been completed to date this year, compared to 720 at the same time a year ago," he says.
The two competitions require entrants to test ride one of their bikes; a Dark Custom Sportster 48 and Iron 883 and Street 500 for the Dark Custom price and any of the Big Twins for the Daytona prize.
"Obviously we've put plenty of marketing horsepower behind promoting test rides (both active and passive), as well as having an accessible and open dealer network."