Quick application of a proper tourniquet to stop bleeding could help save the lives of crashed riders, according to a two-time Australian Road Safety Awards finalist.
Janine Nicholas of the Rider Down motorcycle first-aid skills program says bleeding control is the single most important skill that will save lives of motorcyclists. 
"We know that the majority of injuries that occur to motorcyclists involved in an accident are to the arms and legs," Janine says. 
"We also know that major blood loss is the leading cause of preventable death and that with the use of a tourniquet, we may have an opportunity to be saving many lives."
She says Rider Down is licensed to teach the international Stop the Bleed campaign which was launched in the USA in 2013 by the Hartford Consensus. 
Training the trainers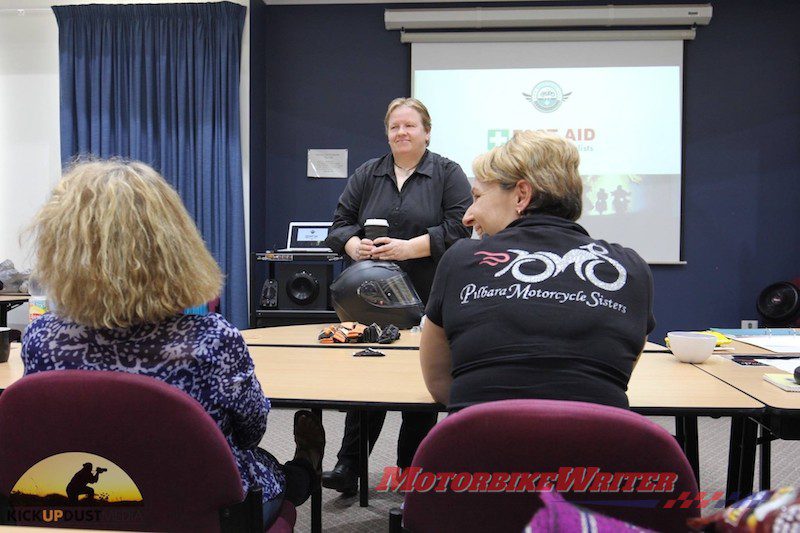 The Stop the Bleed component of Rider Down was this year commissioned by the National Institute of First Aid Trainers to train first-aid trainers around the country in the use of commercial tourniquets and haemostatic dressings.
"A person who is bleeding can die from blood loss in less than five minutes," Janine says. 
"So no matter how rapid the arrival of professional emergency responders, it will always be the first person on the scene that will be able to quickly stop the blood loss."
Rider Down has been training motorcyclists for the past two years in first-aid procedures, including Advanced Bleeding Control. 
The Rider Down program also includes skills such as accident scene management, patient assessment, emergency helmet removal (1 and 2 person/rescuer), dehydration and safe rehydration, and first-aid kits for motorcyclists.
Courses and costs
Most courses are organised by groups such as motorcycle clubs, Motorcycle Safety Week, the Defence Department, police and security companies.
Programs scheduled for open enrolment are listed on the Rider Down website.
Rider Down course:
1. 8½-hour First Aid Nationally Recognised unit of competency (HLTAID003 Provider First Aid) contextualised for the motorcyclist – $160.
2. 4½-hour workshop – $120.
Motorcycle clubs may qualify for a discount of up to 20% on training and equipment.
About Janine
Janine is the founder and managing director of MED Response Pty Ltd which owns Rider Down and offers a range of first-aid and pre-hospital education and services.
"I am an internationally certified emergency medical service (EMS) provider and educator with experience in Australia, North America and the Middle East," the 25-year medical professional says.
Janine grew up in Tasmania and has been riding for "as long as I can remember, both on-road and off-road".
She now lives in Western Australia and rides a BMW R1200 GS.