Super hefty lock and chain is about as big and thick as they come.
The looks and the feel of this combination should be enough to intimidate a potential thief.
You're looking at what has to be the biggest, baddest and most intimidating motorcycle lock and chain in the world.
If this thing doesn't stop a thief, consider welding your motorcycle to a lamp post.
The SS65CS lock and chain combo was recommended by the Squire Locks folks as the ultimate in motorcycle security.
It carries a UK "Sold Secure" Gold rating and also the Ride magazine "Recommended" label.
This means that experts could not compromise the security of the device after 5 minutes of pounding, using the tools commonly employed by motorcycle thieves. (Note: See visitor comment below regarding this claim).
I'm not sure that anyone would want to carry this monster around, because the chain alone weighs a massive 15 lbs. (6.8kg).
The padlock, which barely fits in my hand, weighs another 2.0 lbs. (907g).
But for anyone planning on leaving a motorcycle outside all night, or at the train station during the day, this may be just the type of security you need. Although it's not cheap, it's peanuts compared to the time and cost involved if the bike was stolen.
Some motorcyclists also use a permanent floor anchor in their garage and the Squire SS65CS lock and chain combination so they can rest securely at night.
You'd have to be a pretty tight sleeper not to notice someone trying to cut these links apart!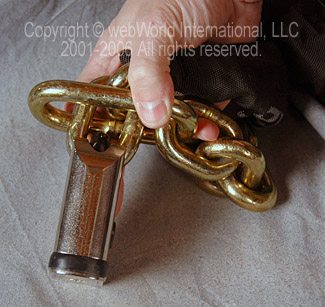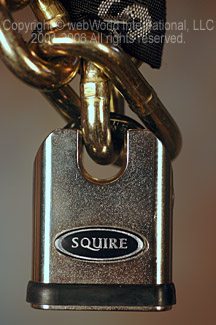 The chain links are made from 1/2″ diameter (13mm) hardened boron alloy steel, and each link is about 2″ wide by 2.5″ long.
The padlock is a work of art; a nearly solid block of hardened steel, looking like something you might find on the front door of the local gun shop.
The shackle on the padlock is made from the same hardened boron steel as the chain links.
When the shackle is closed, it hunkers down into the body of the padlock and it's covered by a special end link, making it even more difficult for thieves to get a bite with a power saw or bolt cutter.
The padlock's keyhole is covered by a hardened steel plate, which helps resist drilling and slide hammer attacks.
Squire claims that the lock uses 6 pins in the tumbler with an "anti-pick" design and that there are over 250,000 key combinations available, making it unlikely that someone else will have the same key as your lock.
The chain is covered in a textile tube to help prevent chafing. Squire also claims that the chain, which is available in 4 or 6 foot lengths, resists over 10 tons of tensile pull.
Although we haven't tried to break the chain or lock and thus can't vouch for how it compares to, say, the OnGuard "Beast" lock and chain we reviewed some time ago, everyone who has seen the Squire product is impressed.
One of the interesting features on the Squire chain is the use of round steel to form the links.
This helps prevent most tools from getting a purchase on the surface of the link, making it much harder to break or cut through.
Even so, it's important to ensure that the chain is not lying on the ground when the motorcycle is locked.
A flat concrete surface gives the thieves a good platform to use for leverage when trying to break the links.
You may also want to consider using some 3M Scotchcal protection over any painted surfaces where the chain might chafe.
The SS65CS padlock is made in England; it complies to the EN 12320 European standard for padlocks and meets the "6" level, which is the highest rating available.
It also gets a "15" on Squire's own security rating, which runs from 1 (low) to 15 (maximum). The padlock is also guaranteed by Squire Locks for a whopping 10 years.
Conclusion
If you're serious about motorcycle security, we recommend using the layered approach of escalating levels of protection. That is, use a combination of disk lock, chain and padlock, floor anchor, immobilizer, etc.
It may seem like a pain to have to lock and unlock your bike every time you want to use it, but you can bet that the first time you get lazy and skip a step, the thieves will strike.
Although it's almost impossible to completely protect against a determined thief or thieves acting in concert, one would assume that they'd think twice about having to break through something like this Squire lock and chain combination.
If anything, it should at least demonstrate that its owner is serious.
Maybe some thieves will take this as a challenge, who knows?  But the intimidating look and feel of the Squire SS65CS should help put your mind at ease.
Next: Squire Paramount Wheel Lock Review
w

BW

 Review: Squire Motorcycle Lock and Chain
Manufacturer: Squire Locks (UK) or Squire Locks USA
List Price (2006): $168.98 + S/H
Colors: N/A
Made In: England
Review Date: February 2006
Note:
 For informational use only. All material and photographs are Copyright © webWorld International, LLC since 2000. All rights reserved. See the webBikeWorld® 
Site Info page
. Product specifications, features and details may change or differ from our descriptions. Always check before purchasing. Read the
Terms and Conditions
!
Owner Comments and Feedback
---
From "C" (6/10):  "I am very curious about the (comment below) made by "K" about the Squire SS65CS Lock and Chain.
He says something very interesting:  He is saying that it is possible to make a chain nearly as good as the Almax, for under $50!!  The Almax chain is over $400 with shipping to US… If this is true it is absolutely incredible.
He is saying using a simple 16 mm lifting chain which croppers can't fit around, and some tubing it does the same thing as an Almax essentially for waaayyyy less. In all my research I have read of no one else doing this… Have you??"
Editor's Reply:  He doesn't specifically say it's "nearly as good as the Almax", just that a decent system can be put together by purchasing the items separately. If anyone has done this or has any further information, please let me know. Thanks.
---
From "K":  "Go to (Starr Products) and get some of their Peerless, 16mm, grade 100 chain. (about $8 USD per foot). With the money that you save on the chain go and purchase a good ABUS lock. You will have as good a chain lock assembly as anything that you can purchase on the retail market and for a lot less money.
And finally, for some good, inexpensive, sleeve material to put over the chain go to (Suburban Manufacturing – Diamondback Hose Sleeves) and check out their offerings. There is no way to stop a determined thief but you have to balance their investment in risk time, energy and equipment against your investment in security."
---
From "Z.Z.":  "Please don't take this the wrong way, but I'm on a bit of a mission here. The chain reviewed this article (Squire lock and chain) has been bolt-cropped by me in less than 63 seconds, this was in front of 2 members of Motorcycle News staff, 2 reps from Thatcham, a rep from Oxford Products and a rep from Motohaus.
I have cropped the SC4 (amongst many others) a few more times since and it has still gone in under 1m 30s. There is no 13mm chain on the market that cannot be cropped with Record 42″ croppers, well certainly none that I have come across (and I've chopped a few).
Got a couple of video clips of the Sold Secure GOLD Oxford Monster (video no longer available) and English Chain Quadlink (video no longer available) being cropped by me at a bike show.
Check out the times. As I said, it's nothing against anyone personally, it's just that people are losing their bikes because of the incompetence of the test authorities and the greed of motorcycle security manufacturers.
By the way, if you recall reading about the round key/pen lockpicking fiasco, that was me. Well documented in RiDE and MCN at the time."