Maybe Motorbike Writer threw a figurative spanner in the spokes causing the company to issue its latest voluntary safety recall for several of its spoked models.
Some time ago I was on a media tour of the Mattighofen factory in Austria and was admiring the spoked wheels which are hand-threaded by zealous craftsmen and women.
I got a little close to one of the wheels and the woman almost attacked me!
Maybe I put her off her work, because KTM Australia has now issued a safety recall on 2016-model 125, 150, 250 SX; and 250, 350, 450 SX-F motorcycles over defects in their spokes which can cause them to break.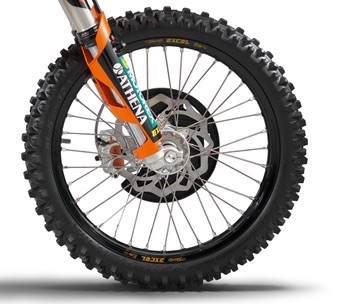 This can also overload the remaining intact spokes and consequently break them.
Owners should contact an authorised KTM dealer to make a booking for the vehicle to have the spokes replaced in the front wheel.
They must also supply the same spokes to Husqvarna which is now owned by a KTM Board member as the 125, 250 TC and 250, 350, 450 FC have been recalled for the same issues.
Meanwhile, KTM has recalled the European and US model-year 2016 250, 350, 450 SX-F;  250, 450 SX-F Factory Edition; 2012-2016 Freeride 350; and 2014-2016 Freeride 250 R motorcycles over a fuel leak issue.
The motorcycles should not be ridden until inspected by an authorised KTM dealer.
All repairs will be done free of charge for the customer.
Recall notices are issued by the manufacturer through a voluntary industry code under the ACCC.
Despite hundreds of recalls by various automotive manufacturers, none has ever been mandatory.  All have been issued by the manufacturer.
While any recall is not good news for the manufacturer, it shows that they are largely diligent in fixing problems.
If you believe there is an endemic problem with your bike that should be recalled, contact the ACCC on 1300 302 502.
To check whether your motorcycle has been recalled, click on these sites:
• Australia
• USA
• UK
• Canada