Spark Motorcycle Windproof Underwear Image Gallery
More outstanding Spark quality in a wind-blocking, moisture-wicking vest to match the Camelot shirt.
It works for summer or winter, as a wind barrier for mesh jackets or to improve wind-blocking in cold weather.
Background
We have reviewed several Spark motorcycle base layer products on weBikeWorld over the years.
In fact, we reviewed a Camelot long-sleeved shirt back in 2009 (see below).
But for some reason, we didn't take many photos at that time.
So when Spark sent one of their new Camelot vests recently, I was given the job of writing a quick update, since I also did the original evaluation.
And this time, we took photos of both!
Also, the "Windless" three-layer membrane used in the Camelot shirt and vest have been updated, so I wanted to try the new version also.
In the original review, I mentioned that Spark clothing is made in Montemurlo, Italy, a hub for textile, apparel and leather manufacturing.
The Spark brand is mostly focused on what we in the U.S. call "base layers".
Most of the Spark garments are both windproof breathable/moisture-wicking and designed for motorcycle use, although they are also used in many other sports.
So why write a review (or "Quick Look") in late Spring of a product that, at first blush, seem suitable only for Winter and cold weather use?
A Secret!
I'll let you in on a little secret: In fact, a good windproof under-layer works for motorcycle riding in every climate and weather condition. In fact, these Spark windproof base layers may actually bemore useful in Spring, Summer and Fall than in the winter!
How's that, you ask?
Well, most winter motorcycle jackets have enough wind-blocking layers or fabrics to do the job in cold weather.
A windproof shirt or vest underneath certainly helps in winter, but here's the hot tip:
A garment like the Spark Camelot windproof vest (called a "gilet" (zhee-lay) in French ) is super-easy to carry on a motorcycle and it's perfect to throw on under a mesh jacket on a cool morning or damp evening.
It can easily and quickly extend your comfort zone for riding, whatever the weather.
And it's much easier to wear and quicker to put on than trying to re-install that windproof liner in your mesh jacket — you know, the one with all the buttons, loops and straps?
You can easily climb into a windproof vest and throw on that jacket and you'll be 5 km down the road before the next guy (or gal) has that liner installed.
Even on the hottest day in summer, if a quick rainstorm pops up and the temperature drops when you're wearing a lightweight or mesh summer jacket, a Spark Camelot is as good as a cup of hot cocoa and a warm fireplace…and a lot easier to manage, too.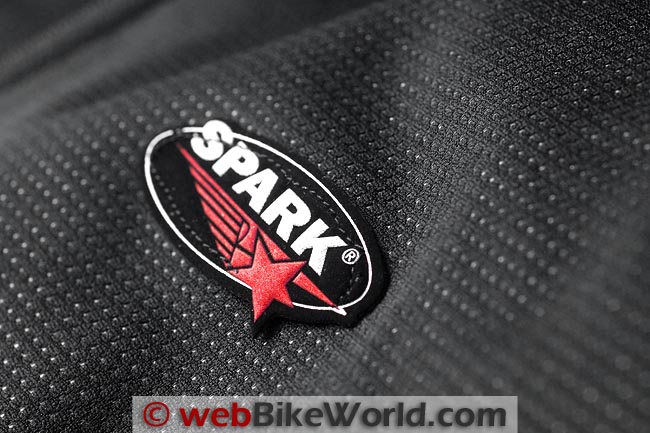 Spark Camelot Long Sleeve and Vest
Spark motorcycle clothing can be difficult to find, even in Europe, but it's worth the trouble.
The Camelot vest is a brand new product for 2012; it is an addition to the Camelot "Windless" line. Also, the "Windless" membrane has been updated for 2012 in both the Camelot shirt and the vest.
Note that Spark is a small (i.e., tiny) company, so supplies may be limited. In fact, the first batch of Spark Camelot vests that came here sold out right away, so we were lucky to get this one.
But it's worth the wait. Anyone who has seen or worn the Spark clothing has commented on how nicely it is made.
The stitching and construction and the quality of the materials are all of the highest order. This may be due to the high-tech equipment employed at the factory. Spark has some of the most leading-edge garment machinery on the planet.
In fact, they even have a machine that will weave several different textures and materials together in the same garment, consecutively and without stopping.
It's pretty amazing; there are some photos of this in Rick's Spark Clothing report from the EICMA 2011 show (report).
I own and wear the original Spark "Windless" base layer and now these, and there is no comparison to the cheap junk one may find for sale elsewhere.
The prices of the Spark clothing reflects that quality, but basically this is a garment you'll buy once and it should perform for many years.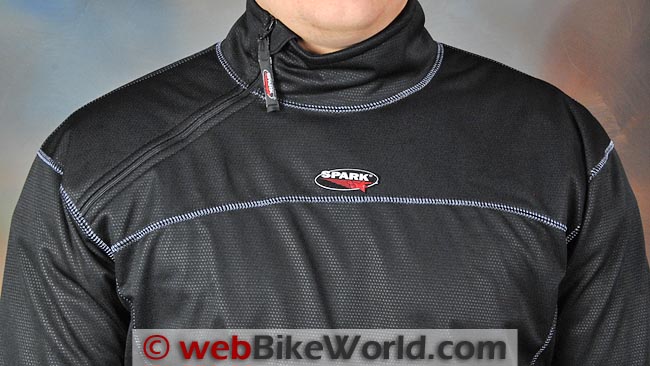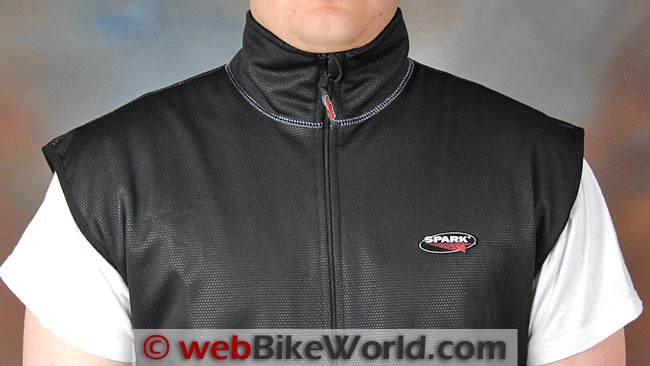 Spark Camelot "Windless" Vest for Summer?
The Spark Camelot vest, or gilet, is new for 2012. It is similar to the garment described in my brief review of the Camelot long sleeve "Windless" undershirt from February 2009 (which also included information on some other Spark underwear items).
For some reason, we didn't take enough photos of the Camelot shirt at the time (it was Winter — we were probably too busy wearing them!) and the cold weather meant that my comments were also related to wearing the Camelot shirt under a heavy jacket.
I've been wearing the Camelot long-sleeved shirt since then in all sorts of weather conditions and Spark sent an updated version of the shirt along with the Camelot vest, so we took some photos of both for this review.
The long sleeve version has an angled zipper that runs from the neck down along the front towards the right shoulder.
This helps to avoid any extra bulk under the front when wearing the Camelot shirt under a jacket, which may already have several zippers in front.
The Camelot vest has a central zipper and a short turtleneck, so the vest works well underneath a mesh or lightweight summer jacket also.
And now that the warm weather is here, I have been wearing the vest underneath a mesh Joe Rocket Phoenix jacket (review) in the morning, and then I can store the vest in the saddlebags later on in the day when it gets warmer.
The Camelot shirt still works well for cool mornings also, and both are useful additions that can extend the range of any jacket, but as I mentioned, it's sort of a secret tip to have one available for Spring, Summer and Fall, where they come in very handy.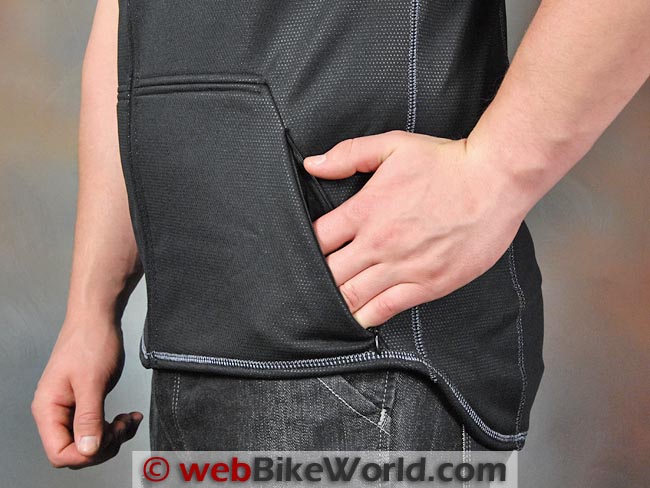 Spark Windproof "Windless" Camelot Undershirt and Underpants
Back in 2009, we didn't have much information on the "Windless" brand fabric that is used in the Spark clothing. I still don't know much, but I have a brochure about the technology, along with what is now a few years' experience.
Also, the technology has been updated recently and Spark is including the most recent Windless textile design in the new Camelot shirt and vest.
The Windless brochure says that the fabric is made from three layers.
The outer layer, which can be seen in the close-ups in the photos included in this review, is called "the net". It is an open-weave fabric that is a tiny mesh weave, which allows the air to pass through from underneath.
Somehow, this mesh layer also supports the action of the breathable membrane underneath. The outer layer isn't waterproof like a vinyl jacket might be, but water will first bead up and then remain on the outer layer, without seeping through the membrane underneath.
The middle layer is the breathable/waterproof membrane. It allows the wearer's body moisture to pass through to the outside, where the outer layer wicks it away for evaporation.
The inner layer, next to the rider's body, is a type of very fine, very soft and very thin micro-fleece. The back of the Camelot vest and shirt do not use the Windless construction. They are a type of stretch polyester material that allows a free movement of air.
In the "real world", it all works. The Camelot vest and shirt are very soft and very comfortable and they can (and should) be worn right next to the body or over a light T-shirt for best results.
In fact, the Windless fabric technology is what makes the Spark Camelot garments different from many other wind-blocking vests that may not breathe.
When riding, the breathability of the Camelot is different from, say, a 100% vinyl windbreaker or vest or liner. You can feel the moisture exchange in the form of air transferring back and forth.
The effect is just enough of a barrier to add that extra comfort under the jacket without making the rider too uncomfortably warm.
And back to my original "secret": wearing the Camelot vest actually seems to make more of a noticeable difference in the warmer Spring weather than it does in the winter. Again, this makes sense, because the effect isn't as necessary under a heavy winter jacket.
But especially this time of year, under a lighter-weight jacket, the vest keeps me warm in the morning and it wicks away the moisture from my body (e.g. sweat), which makes a big difference.
Construction and Fit
Not much more to say here than I haven't already written in the original Spark review. The Spark clothing is finely tailored, with flat-stitched seams that remain comfortable.
The Camelot vest has an extended "tail" in the rear to prevent rise. The vest also has two zippered hand pockets on either side in the front, which are an addition from the Camelot long-sleeved shirt.
The sizing runs about one size small; that is, both garments shown here are size XL and fit about a standard U.S. size large to maybe "large-and-a-half".
The fabric is slightly stretchy, and for best results, this type of garment should be worn a bit snug, so if you're on the borderline, probably stick with the smaller size. The Camelot is made in an extended size range anyway, from XXS to XXXL.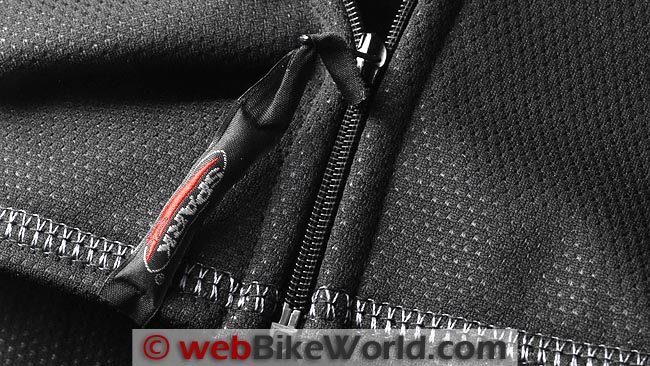 Conclusion
Check out the photos just above, of the stitching and "Windless" fabric on the Spark Camelot vest. This is a very high quality product that is both beautifully made and works really well.
A Camelot vest is a nice addition to a motorcycle clothing portfolio and it works just as well or better in warmer weather when you need that extra bit of protection in the morning or evening.
The Spark Camelot vests and shirts are somewhat difficult to find, but worth the effort.
See Also: Spark Windproof Underwear for Winter Review
More wBW Heated Clothing Reviews  |  Motorcycle Glove Reviews
w

BW

 Review: Spark Camelot "Windless" Vest
Manufacturer: Spark (G.P.R. srl, Italy)
List Price: Camelot Shirt $107.00. Camelot Vest $72.00.
Colors: Black.
Made In: Italy
Sizes: 2XS-3XL
Review Date: May 2012
Note: Item provided by a retailer, distributor or manufacturer with these Terms and Conditions.
Note:
 For informational use only. All material and photographs are Copyright © webWorld International, LLC since 2000. All rights reserved. See the webBikeWorld® 
Site Info page
. Product specifications, features and details may change or differ from our descriptions. Always check before purchasing. Read the
Terms and Conditions
!
Owner Comments and Feedback