Canadian company Lito Green Motion has given the green light on production of its 190km/h Sora electric motorcycle. It's claimed to have the highest top speed of any production electric bike, beating the 170km/h Wattman.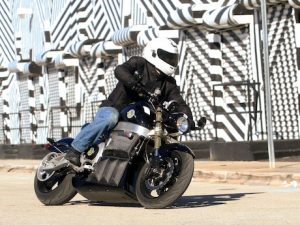 However, when talking about electric bikes, power and top speed are not as important as range and recharge speed. Unfortunately, the Sora is still limited to 100km on the highway and about 200km around town and it will take nine long hours to recharge the battery from flat.
The Wattman charges in just 30 minutes, but has range of 180km, while the Zero electric motorcycles that are coming to Australia in March have a quick charge unit and a new Z-Force Power Tank accessory providing range of 276km in the city or 141km on the highway, which is the reverse of the Sora.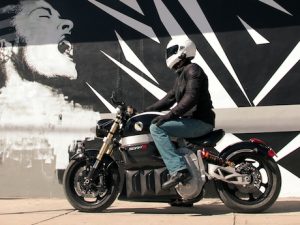 Lito Green Motion president Jean-Pierre Legris is leaving open the possibility of export to Australia and other countries. "We do not have short-term plan to have a team in Australia, but always depending on opportunities, that is something that we would like to consider," he says.
But don't expect it to be cheap. In the US it will cost $48,500. "The price for the Australian market might be similar to those on the EU market which is 49000 Euro (about $75,000)," says Jean-Pierre.
Despite the expense of the first few models, electric motorcycles and scooters are definitely the way of the future. BMW will release its C-evolution electric scooter this year although it's not coming to Australia, British sportscar manufacturer Caterham has produced two electric prototype bikes and, not to be outdone, Yamaha has unveiled five electric concept bikes.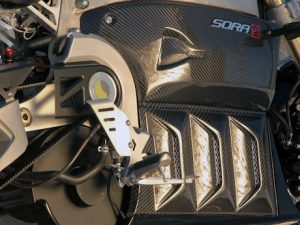 The Quebec-made Sora is driven by a liquid-cooled three-phase 90Nm AC induction motor powered by a 12kWh lithium-polymer battery. Three power management modes – performance, normal and safe range – determine the power output and, of course, the range. So you can't have 190km/h top speed and still expect to go 200km on the highway.
However, it doesn't need to go fast. Just standing still it looks pretty hot. In fact, it's the first electric bike to display any tasteful design. The shorty seat even reminds us of the new BMW R nineT.
The Sora has a carbonfibre fairing and aluminum chassis to reduce weight, but the big battery means it's still a rather hefty 260kg. There are a few interesting features on the bike such as a seat height adjuster which you can use on the fly, an integrated GPS and touchscreen on the tank and a compartment to store and recharge your mobile phone.