Sony Bluetooth Adapter Image Gallery
An inexpensive way to listen to music while riding.
Both devices are relatively easy to use and quickly pair with everything I've thrown at them.
Many webBikeWorld visitors have asked about a wireless system that would allow them to listen to their MP3 player, iPod, GPS or other electronic device while riding.
Most of the intercom systems we've reviewed provide this type of connectivity, but if all you want to do is listen to an iPod, spending several hundred dollars isn't logical.
Of course, all you really need is a pair of small earbuds that will fit comfortable under a helmet. Pop your MP3 player in a jacket pocket and you're all set.
But for true wireless connectivity that provides more capabilities, like connecting with a cell phone, a radio or GPS, a simple, lightweight and relatively inexpensive Bluetooth adapter and headset is the way to go.
We have  reviewed a couple of Bluetooth adapters which are made by motorcycle intercom manufacturers, and for the most part, these can also be used with any output device that will accept the 3.5 mm standard adapter jack.
However, the Bluetooth adapters made by the intercom manufacturers do seem rather expensive and they can also be difficult to buy — it's not like you can go into your local Best Buy and find a wiRevo hanging on the rack.

More Bluetooth Adapters
(December 2012) – Note that the Sony Bluetooth adapter is apparently no longer in production for some reason, and that is a real shame. But the good news is that there are many more brands of Bluetooth adapters than there were when I first wrote this review. Try the TaoTronics TT-BA01
 (~$25.00); we have a new review comparing three different Bluetooth adapters coming soon.
Why a Bluetooth Adapter?
In simple terms for my simple mind, a Bluetooth adapter is a device that plugs into an MP3 player or pretty much any other device that will accept a standard 3.5 mm jack.
The Bluetooth adapter (aka BTA) then acts as a tiny transmitter that takes the output from the music player or GPS and wirelessly transmits it to a paired Bluetooth headset.
A Bluetooth headset is a receiver that pairs with the Bluetooth adapter and accepts the data stream and turns it back into music. Simple.
In theory, a Bluetooth adapter can turn any device that outputs sound and has a 3.5 mm plug into what is, for all practical purposes, a miniature radio station. Since the range of a Bluetooth transmission is measured in feet (or a couple of meters), you don't even need a broadcasting license!
Many webBikeWorld visitors have been asking for a wireless solution like this to listen to their radios or GPS units and this Sony duo might just be the solution.
Bluetooth and Me
Just to allow for full disclosure, I'll admit that I'm a purist when it comes to motorcycle riding. When I'm riding alone, I stuff in the best pair of disposable ear plugs I can find (either Pura-Fit 6800 or EARsoft Grippers (review) are my all-time favorites) and ride — no music, no GPS, no distractions. Just me, the wind and the sound of the Ducati's V-twin pounding away underneath.
But I'm old-fashioned!  We do use intercoms for multi-person rides and they're especially useful when we're out on a ride evaluating new products. In that case, it's a simple Interphone (review) or Scala-Rider (review) system because they can be easily switched among helmets and riders.
Because I don't use a GPS very often, I'm not sure how many GPS units even have a 3.5 mm output. I do know that at this point in time, it's usually the more expensive units that include built-in Bluetooth. But don't forget that it might be possible to add a 3.5 mm output jack or even Bluetooth capability to an inexpensive GPS; check out our articles on making your own Bluetooth adapter or adding a 3.5 mm output jack to a GPS to learn more.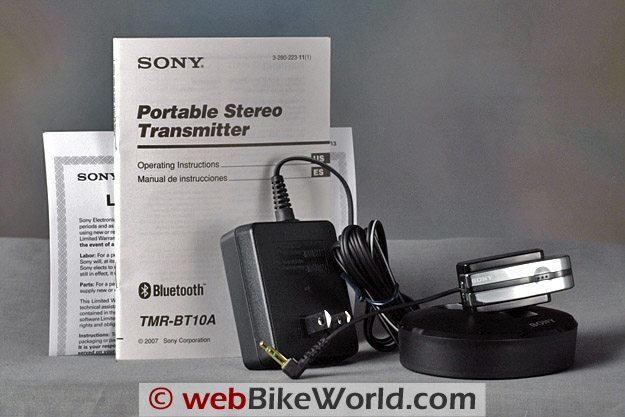 The Search Is On
After many emails from webBikeWorld visitors asking about simple Bluetooth connectivity, curiosity got the better of me, and off I went, looking for a solution.
The criteria include a Bluetooth device that is "generic"; i.e., commercially available and (relatively) easy to find. And inexpensive. I was looking for a Bluetooth adapter that could be used with any music device, and a set of Bluetooth headphones to match.
When I started the search, I thought it would be easy. Surely in 2009 there must be dozens of Bluetooth adapters and headphones, along with all sorts of Bluetooth MP3 players, no?  Uh…no.
To my surprise, the search was much more difficult than I anticipated. As it turns out, Bluetooth adapters (aka "Bluetooth wireless transmitters") and Bluetooth stereo headphones just aren't all that easy to find, and you'd think by now just about every MP3 player sold would have built-in Bluetooth to transmit to a set of matching Bluetooth headphones.
I Googled, Bing-ed, searched CNet, PCMag and Amazon.com. I visited Walmart, Radio Shack, Best Buy, J&R and B&H. It's not that they don't exist, but for some reason, Bluetooth just doesn't seem to be as ubiquitous (there's that word again) as it should/could or might be. Especially when it comes to Bluetooth MP3 players.
Thankfully, Sony and Samsung are in somewhat of a Bluetooth battle, although Samsung's renowned T9 and P2 Bluetooth-enabled MP3 players are getting a bit long in the tooth and it's not clear if they're going to add that feature to future products.
As for Sony, well, you'd think you could find one of their Bluetooth adapters and Bluetooth headset just about anywhere electronics are sold, but these products seem to be very difficult to find. Just the fact that Sony calls the Bluetooth adapter the "TMR-BT10A Portable Stereo Transmitter" and the Bluetooth headphones are officially known as the "DR-BT100CX Wireless Stereo Headset" tells you something.
Why don't they have one of those geeky electronic names for these things?  At the very least, you'd think they'd call it simply the "Sony Bluetooth Adapter" or the "Sony Bluetooth Headset". Uh-uh.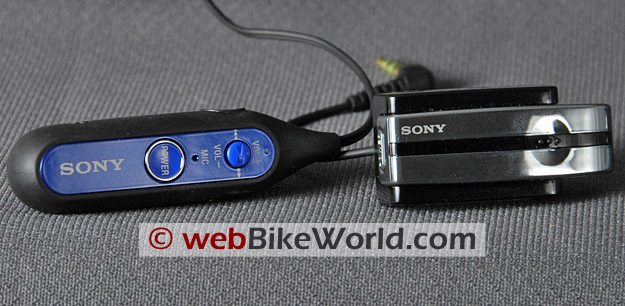 A nice Bluetooth stereo headset paired with a Bluetooth adapter is a solution, but maybe not the perfect solution. For one thing, having the Bluetooth adapter hanging off your iPod makes for a slightly clumsy setup and, in fact, the adapter is bigger than an iPod nano.
Also, don't forget that Bluetooth devices are powered, and even though one of the advantages of Bluetooth is that it draws just a tiny amount of juice, it will have to be charged occasionally.
The best solution is if the GPS or MP3 player has its own built-in Bluetooth transmitter, and then all you'd need is a Bluetooth headset. Or if you want to spend a lot of money, you could connect the Bluetooth radio with a Bluetooth helmet or intercom system, and we've reviewed plenty of those — just take a look at the right-hand column.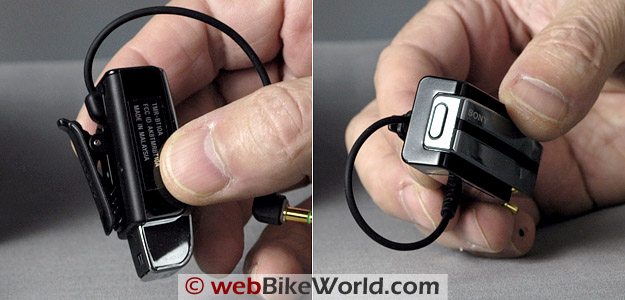 The Sony TMR-BT10A Bluetooth Adapter
Of course, a helmet-based or independent Bluetooth intercom system provides a lot more functionality than a simple Bluetooth adapter and headset, but again, if all you want to do is stream music or GPS instructions, there's an easier way to do it.
The Sony Bluetooth adapter lists for $69.99 and it can be purchased directly from Sony, but we got this one through our Amazon.com affiliate link (of course) for only $47.99 brand new. Be careful — there are some used TMR-BT10A's out there, and earlier versions, but I suggest buying the latest edition brand new.
The Sony adapter is a small device, about the size of a box of matches. It only weighs 21 grams, including the ~100 mm jack cord. It uses the standard 3.5 mm output jack.
It comes with a cradle charger and a 110V converter that can be plugged into a standard home outlet. The detailed and well-written owner's manual says it will take about 3 hours to charge the internal 3.7 V lithium-ion battery from completely empty, and that's about right. But once it's charged, it will last for about 10-11 hours before the indicator starts blinking.
This is actually a pretty sophisticated device, even though it doesn't have an LCD screen to tell you what's up. For example, when you press the button in the rear to turn on the adapter, the low battery indicator light will flash 3 times if the battery is fully charged; 2 times at mid-charge and once if it's low.
When it's really low, the red light will flash continuously and finally the unit will turn off when the battery is fully depleted.
The owner's manual goes into all sorts of detail about pairing, and you have to pay attention to the blinking lights to tell what's happening. The TMR-BT10A has enough memory to remember 8 different paired devices, which should be enough for just about anyone.
So in other words, once you pair it with another Bluetooth device, like a set of headphones or cell phone, it will remember that and we found that it very reliably and quickly connects with those devices whenever they're used again.
This is quite different than some of the first generation Bluetooth motorcycle intercoms and other devices we've reviewed in the past, many/most of which had a lot of problems pairing even once. In fact, I'm very pleased and a little bit surprised to see how easy the Sony TMR-BT10A works — the promises of Bluetooth are finally here!
The TMR-BT10A has a fairly big clip on the back that allows the device to be attached to a pocket or elsewhere, but I simply plug the adapter into my old iRiver MP3 player, throw them into the tank bag or an upper pocket and I can listen to the radio or MP3 music while riding or messing about.
The Sony adapter is a Power Class 2 device and it uses Bluetooth 2.0, broadcasting in the 2.4 GHz band. Sony claims a line-of-sight range of about 10 m (30 ft.), and that's just about right. It also uses A2DP, so it broadcasts in stereo.
Of course, a Bluetooth adapter is only half of the required system. You'll need a set of Bluetooth headphones or a Bluetooth helmet or intercom set to listen to the music.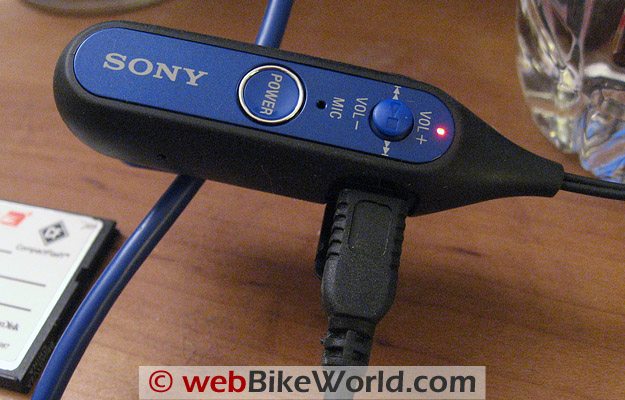 w

BW

 Video: Sony Bluetooth Adapter
Sony DR-BT100CX Wireless Bluetooth Headset
The Sony Bluetooth headset (or headphones) is a more sophisticated device than the simply Bluetooth adapter. The headset pairs with the Sony Bluetooth adapter or a Bluetooth cell phone or other device with built-in Bluetooth.
But it also has a volume control, fast forward or pause controls (for devices that allow this) and even a built-in microphone and cell phone connector button that allows the Sony Bluetooth headset to be used as a Bluetooth cell phone device!
Of course, talking on the phone isn't recommended while riding and the noise of the bike and the environment quickly overwhelms the microphone, but the functionality is there to use at home anyway.
The best part about the Sony headset is how quickly it paired with any of the Bluetooth devices we tried. The owner's manual for the headset is pretty thick and it details all of the functions of the product.
The headset control unit has the same built-in lithium-ion 3.7V battery, but this one doesn't come with a charging cradle. It is charged via a USB port hidden under a cover on the side of the module and the headset comes with a one-meter long USB cable.
The only problem with this is that some USB ports, like on my Dell 8400 desktop, are not powered when the computer is powered down or put into standby. So the computer must be running to charge the headset, which seems like a waste of energy. Sony does sell an external 110V charger for the headset, however.
The headset takes about 2.5 hours to charge from empty and the battery gives about 8 hours of connection time. Sony says it has a standby time of 120 hours. Note, by the way, that any of these battery charge times are dependant upon ambient temperatures.
The headset also uses a series of flashing lights to communicate what's happening; there are actually 10 different combinations of light flashes, so you may either want to take a copy of the page from the owner's manual or memorize the series to know what's going on. This is the downside of not having an LCD screen.
In reality, however, once it's paired, there's not much else you need to know. Working the controls is intuitive and they're marked. If the sending device uses the AVRCP (Audio Video Remote Control Profile), then some or all functions can be controlled with the Sony headset control unit.
For example, I can fast-forward, reverse or play over songs, change volume, advance to the next tune, etc. with the Sony Bluetooth adapter connected to the iRiver MP3 player and the same for both cell phones. The older XM MyFi radio apparently does not have the AVRCP feature though.
The headset can also be used to both initiate and receive calls, although other than a brief trial to confirm this, I don't use it for this purpose.
Sound Quality
I have a well-tuned ear for audio quality, and I think the Sony headset has surprisingly good sound quality right out of the box. The bass is a little lacking, as it usually is with the combination of Bluetooth and a set of cheap earbuds, but the clarity is good and it's better than I expected and it also seems like a perfect compromise for listening to a combination of talking and music while riding a motorcycle.
The Sony DR-BT100CX has a list price of $79.99 and can be purchased directly from Sony, or it can also be purchasedthrough our Amazon.com affiliate link for $49.24.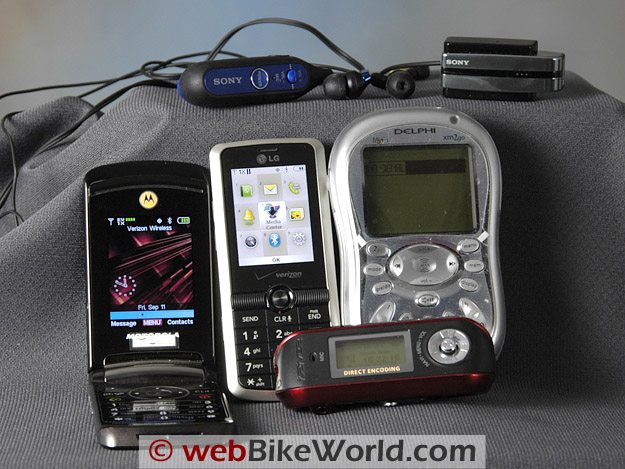 Conclusion
Both of these Sony Bluetooth devices work very nicely to add a lot of capability to old (or new) music players, radios and other electronics. They're much easier to use and to set up than any of the original Bluetooth devices I've tried in the past.
Obviously, they're not comparable with a true motorcycle intercom system — Bluetooth or otherwise — but they have many uses on the bike and at home and they are a quick and easy solution to help make your ride more enjoyable.
More wBW: Motorcycle Intercom Reviews  |  Reviews Home
Note:
 For informational use only. All material and photographs are Copyright © webWorld International, LLC since 2000. All rights reserved. See the webBikeWorld® 
Site Info page
. Product specifications, features and details may change or differ from our descriptions. Always check before purchasing. Read the
Terms and Conditions
!
Owner Comments and Feedback
---
From "J.C." (10/10):  "I have a Sena SMH10 headset, which paired easily with my iPhone, both phone and music. I also have a Garmin Nuvi GPS, which does not have the Bluetooth headset profile.
So, I bought a "slightly" used Sony TMR-BT10 Bluetooth transmitter from Amazon.com to plug into the headphone output jack on the Garmin so I could listen to voice directions on the Sena. I could not be sure that the Sena and Sony were pairing and there were definitely no voice commands coming through the Sena.
I called Sony's support people and they had me try several times to make the combo work to no avail. So, now I am faced with returning the Sony to the seller (not a problem) and looking for an alternative. It may be that a new Sony Bluetooth transmitter may work just fine, but I wanted to check with you first.
Here are my questions:
1) Since the Sony unit is supposed to turn off if it receives no audio signal for an extended period of time, is it a good choice for GPS voice instructions which may be far apart depending on the route taken?
2) Do you know of anyone who has used the Sony with GPS successfully?
3) Do you have any other recommendations?
Thanks again for your help. You and webBikeWorld have proved to be an invaluable resource."
HBC's Reply:  Your observation about not being sure if the two devices were actually finding each other and pairing up is key here…if the correct tones or light sequences are not there, then they are not (likely) communicating/authenticating, so audio will not be streamed to the headset.
Q1: Since the Sony unit is supposed to turn off if it receives no audio signal for an extended period of time, is it a good choice for GPS voice instructions which may be far apart depending on the route taken?
A1: This is a point noted by other users…many consumer Bluetooth Adapters do this to save battery life (primarily), whereas most dedicated adapters (those specifically designed or marketed for Bluetooth Helmet systems) keep the Bluetooth link open, even though there is no audio signal present or, they feature very fast switching and restoral, i.e., milliseconds vice a second or so (so no initial audio is lost).
So while a more common or lower cost device might be attractive, it may not provide the performance needed, even though audio from the GPS might not be continuous. All the Bluetooth Adapters featured in the many system evaluations have been successfully used with whatever GPS was on hand that had an audio output jack.
Q2:  Do you know of anyone who has used the Sony with GPS successfully?
A2: The Editor has, as identified in the latest Bluetooth reviews, including the Sena SMH10 Part One article. He may be able to verify what specific version or release he is using. As he noted in the original review of the Sony adapter, older models may not be (fully) compatible with all devices and especially, helmet headsets. Once I find one, it will get tested with everything on hand. (Editor's Note: Burn and I never thought about leaving the BTA on for extended periods, so a certain period of inactivity may indeed cause the BTA to shut down).
Q3: Do you have any other recommendations?
A3 One recommendation I could make right now is that you should look for a Rocketfish RF-MBT30 (Amazon.com)
 or variant which has proven to work well.
Alternatively, try one of the specific Bluetooth adapters used in the wBW evaluation – they cost a bit more, but they do work – the AKE BTD-302 (review), Chatterbox iCombi AG-12 (review) and Camos BH-200M (review) (marketed by other vendors under different names) are rock solid. Checking some related forums might help as well as I know there are other adapters that are being used…
Of course the expedient solution is to directly connect the output of the GPS to the audio input jack on the Sena via cable – not the ideal I know, but…
Some feedback would be good if you pursue this further. Hope the above helps, cheers, HBC.
---
From "S.K." (9/09):  "In the U.S., many states do not allow earphones or their subset earbuds because they are considered to cause diminished hearing. The AMA site has a listing of what is allowed for helmet speakers and many address the use of headsets.
I actually prefer using my headset with the speakers mounted within the helmet. I bought an off-brand "Super BT Interphone" With rider2rider, rider2pillion, and A2DP Stereo in a pair for about double the Sony set and split the cost with a friend who also usually rides alone. It's not had a single issue in over a month of use now, rain or shine, mostly for music, but it's nice to be able to say, 'Hey, let me call you right back when I stop next' to caller as well.