If you squint just right, you'll see that DAB Motors has recently released a teaser of the newest addition to their showroom..and pinch me I'm dreaming, it's EV.
It seems that almost all motorcycle manufacturers today are tackling the challenge of electric transport with style, and DAB is no exception. From the looks of the dramatic lighting in the sparse handful of photos released today to the masses, the Scrambler is set to make a flashy entrance into the moto world.
Keep in mind, this bike comes from a french company that hand-assembles all their models. And although the photo might not be much to go off of, the 'fully customizable' bike is likely to raise some eyebrows – and standards. 
Head over to DAB's website and you'll find a portion of the website devoted to complete customization of any bike currently available with DAB motors. It's a neat feature and something almost unheard of when it comes to bikes and the EV industry.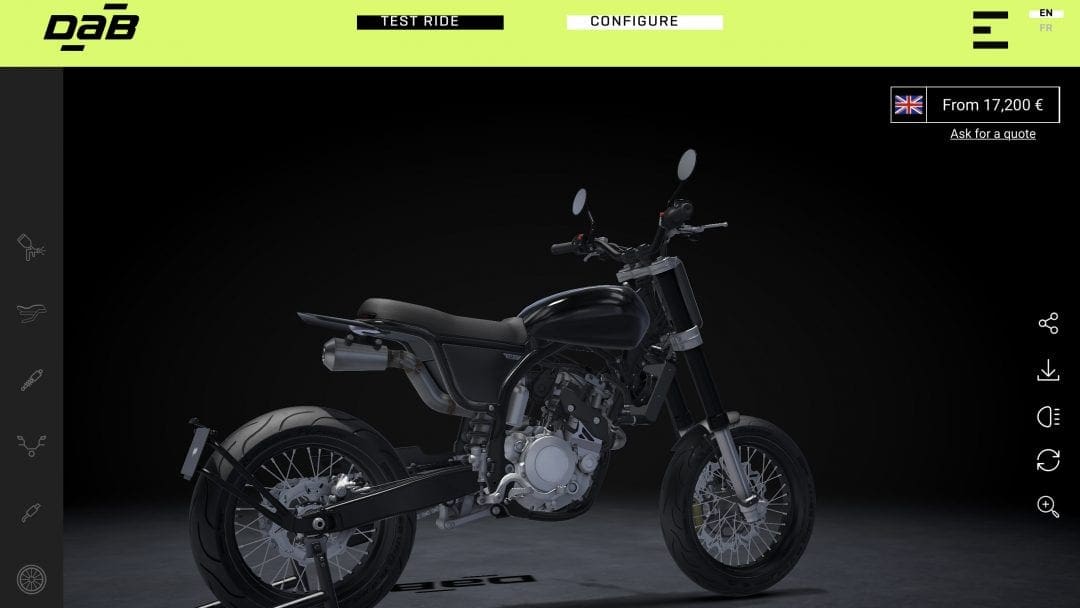 According to a report from Visordown, the scrambler will sport a gigantic rear sprocket, signature faceplate, and integrated LED light – though the value will likely be in the customization of parts and top specs, as was the case for DAB's LM-S 500. Estimations of power vary, with the most popular opinions leaning toward the capabilities of a 125cc motorcycle, such as the recently emerged Husqvarna E-Pilen.
Dab's goals of 'challenging traditions through intelligent disruption', it seems that this bike has diversity in its pedigree. I know I'm not alone, but I am certainly looking forward to the big reveal in June.