Production of SlimBuds Bluetooth motorcycle earphones has begun a year after the company launched its successful crowd-funding program and they will be ready for shipping in August.
CEO Alperen Topay recently sent me a set of pre-production earphones and the associated app to test ahead of production models which will cost $US140 (about $A189) in grey or black and gold.
SlimBuds earphones review
Initial impressions are that SlimBuds earphones are indeed slim and fit comfortably under a helmet without dislodging when you put on your helmet or remove it.
They come with three silicone and three foam tip size options to get the best fit. We found the best sound quality and volume when using the large foam plugs. They squash down to fit in your ears then swell up after insertion to form a better acoustic seal and isolate harmful wind noise.
There are also three different-sized "ear hooks" to anchor the SlimBuds so they don't fall out.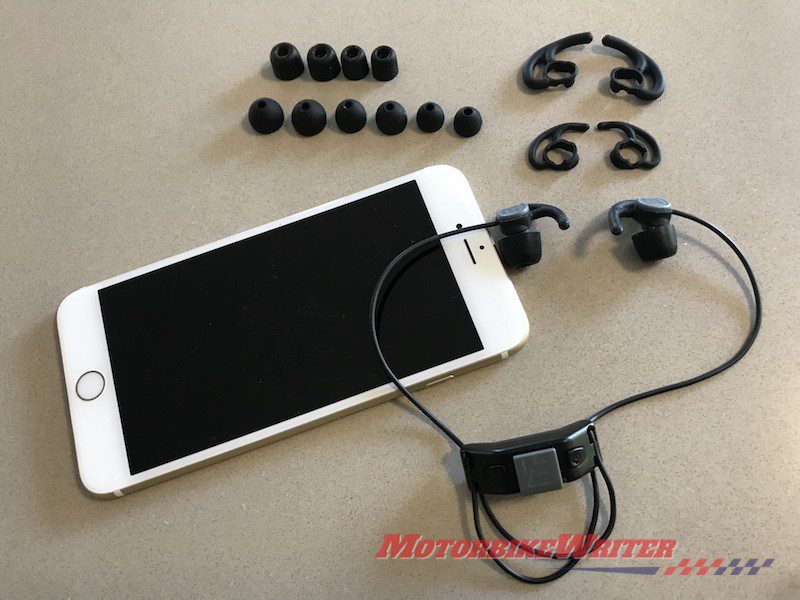 Because the earphones don't stick out, not only will they not get dislodged but your helmet won't push them uncomfortably against your ears. I found them comfortable to wear even on a long ride.
They are so comfortable I have even used them in bed to drift off to sleep and suppress the noise from partying neighbours!
Sound quality is pretty good as the drivers are the same as used in Klipsch hi-fi earphones.
I did experience some occasional and momentary drop-off in sound in the left side, but Alperen says they haven't had a similar problem. It may just be a quirk with the pre-production plugs.
They are also useful when cycling. The best earbuds for cycling such as the xFyro, Bose SoundSport Pulse, and more can give you access to high-quality audio while on your bicycle.
Controls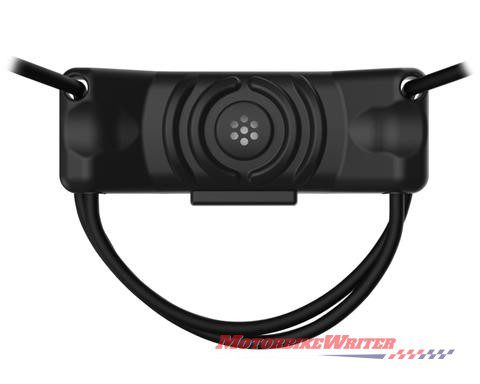 The earphones are joined by wires to a central control unit and microphone that sits against your chin. It can be a bit irritating at first, but after a while you forget it's there.
However, it is difficult to reach the controls with your finger inside a full-face helmet. They work better with an open-face helmet, but the 12g units do vibrate in the wind against your chin.
The two buttons are "on/off" function that also halts play on your music and a "phone answer" button that also contacts voice command operations such as Siri on iOS phones.
There is no volume control on the unit, but you can do that through your music player or phone.
I also asked wether the on/off button could be used for "next track" or "back track" functions by double- and triple-clicking. Alperen says he had not thought of that function, but may add it in a future firmware update.
You can still use that function by pressing the phone button which activates Siri, then say "next track".
They are also working on a SlimRemote that attaches to your handlebars. It will allow you to control play, pause, volume, Siri/Google Voice, next/previous track control and accept/reject phone calls. It's expected to be available in the next couple of months.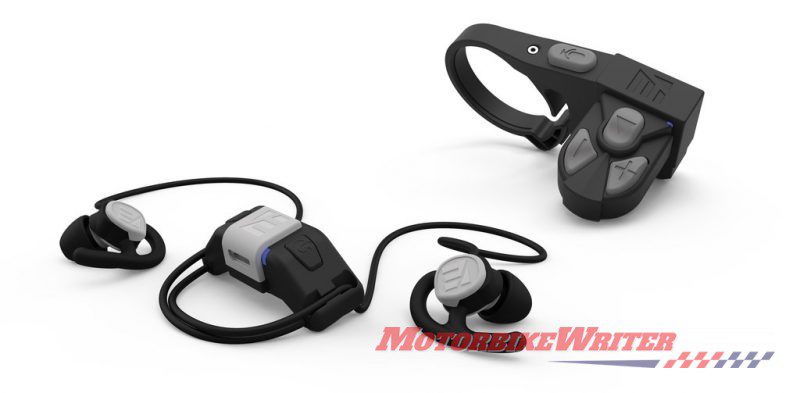 Meanwhile, the best way to use this device is with your phone or music player attached to your handlebars.
Bluetooth 4.1 pairing is quick and easy and reconnects every time without failure.
I made and received several phone calls while wearing the SlimBuds and asked the people on the other end of the call if they could tell I was on a motorbike. Even when wearing it with an open face helmet, they said the sound was clear and no worse than Bluetooth in a car.
The unit takes two hours to fully charge via a USB cable and the battery is good for about six hours of continuous music playing or even longer if on standby just to receive calls.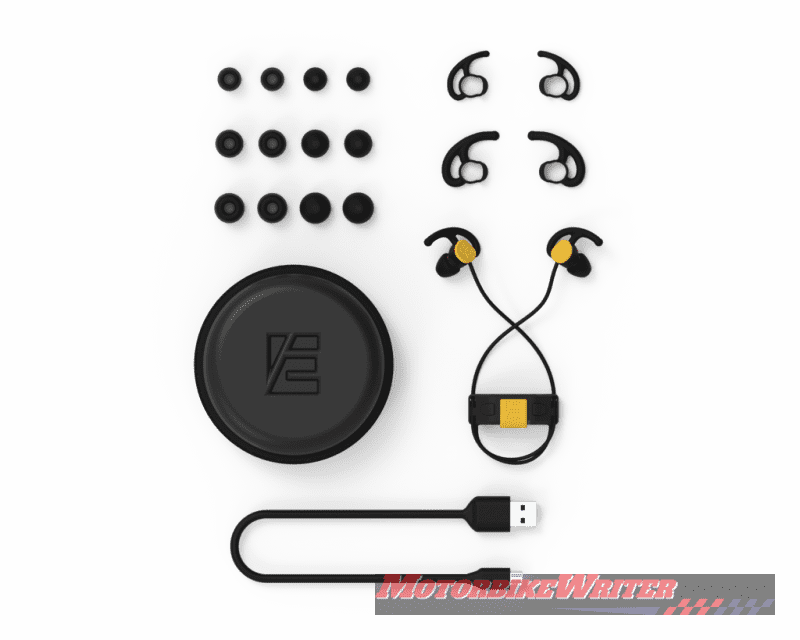 EAOS Intercom app
The associated EAOS Intercom app also allows riders to use the earphones as an intercom with any other Bluetooth intercom unit so long as you all have mobile phone coverage.
Unlike a normal intercom, you can conduct a conversation with someone on the opposite side of the world if they have phone coverage.
You can even start a group conversation with up to 12 people via the app and find friends who are nearby and also have the app installed.
Festflight is currently only available for iOS.
I have yet to use the app as I need other riders to download the software which is not yet available. However this video explains its use.
Price and delivery
The crowd-funding program for SlimBuds earphones was 279% oversubscribed, so there is a lot of interest in the product from riders.
Alperen assures us we will receive a set of production units for further testing with the app.
They are a great solution for people who don't want to attach a bulky Bluetooth unit to the side of their helmet.
You can also wear them with any of your motorcycle helmets, or when walking, hiking or riding a bicycle.
They come in a handy round soft zip-up case that fits in your jacket pocket for safekeeping.
SlimBuds have a limited 12-month replacement warranty that covers manufacturing defects or issues resulting from normal use.
They were originally intended to include EAOS co-pilot software that would filter background noise and playback important sounds such as emergency sirens directly to the earphones.
However, Alperen says those plans have been temporarily shelved "to perfect SlimBuds first".
"We're still passionate about the idea and we have plans to work on the environmental technology in future iterations," he says.
"It was just too early and we realised we weren't ready to build it after 4-5 months of work. I know it sucks but we're a small group of people with limited resources and we're trying our best to deliver on our promise."