Sliders 4.0 Cargo Pants Helmet Review Summary
Sliders 4.0 Cargo Pants Image Gallery
Purpose-built motorcycling pants thinly disguised as regular cargo pants.
I have reviewed several different motorcycle pants and jeans through the years.
But some of them are not specifically designed as motorcycle riding apparel.
For example, see my Cortech and Carhartt jeans review.
Or my Duluth Firehose Logging Pants review.
Those are both pretty popular and are of interest to many riders.
That's because in most cases, they can be worn on the bike and then to work or in an office environment.
They may even comply with the business casual dress codes that are prevalent recently.
The jeans and pants I reviewed are not true motorcycle riding pants, but they do offer extra toughness and durability compared to regular cotton materials used in typical khaki pants.
In fact, some of the pants even have extra material over the knees for added abrasion resistance, although they don't have a provision for armor or other impact-absorbing protection.
So those choices weren't perfect for the motorcycle riding/work category and this demonstrates a need in the market.
That is, a pair of motorcycle pants that can  be worn casually off the bike, that are a step up from jeans to satisfy dress codes for work, and offer good protection in the event of a crash.
So what's out there that can meet these requirements?
Enter the Sliders 4.0 Cargo Motorcycle Riding Pants. On paper, these cargo-style pants read like they should meet all of the criteria. Let's see how they actually perform in the real world…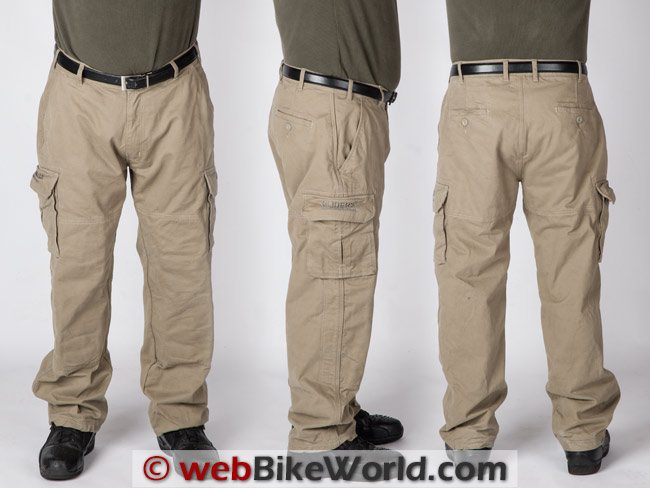 Sliders 4.0 Cargo Pants
The Sliders 4.0 Cargo Motorcycle Riding Pants do look the "Cargo" part; they look like your average pair of khaki pants with a large thigh pocket on each leg.
The only telltale that these pants may have something to hide is the stitching that crosses the front of the legs at mid-thigh and mid-shin. This is where the additional protective materials are sewn into the leg.
The two cargo pockets sit more on the side of the leg than on the front and they offer a good place to store small items, such as a wallet or cell phone.
The location would provide easy access to the pocket contents when seated except for one thing: the cargo pockets are fastened with two large buttons under a flap at the top of each pocket.
These do keep the pocket securely closed but trying to deal with buttons, even large ones, while wearing gloves is awkward at best.
I feel that the pocket closure could have been better served with a hook-and-loop fastener or even just a zipper.
I should point out that one of the buttons actually came right off in my hand the first time I went to fasten the pocket shut.
It appears the thread may have just broken as I ended up with a large button and two lengths of thread in my hand once I finished inspecting what happened.
Sewing the button back on is easy enough and buttons do come loose on all types of clothing eventually, but coming right out of the package this way is not something you want to see.
UPDATE (January 2014): This product is described as having DuPont Kevlar included but DuPont said this is not the case, so we have removed references to that product and substituted the generic "aramid" or "aramid fiber" in its place.
Construction and Protective Features
The Sliders 4.0 Cargo Pants have an outer shell made from 100% cotton and the material has a smooth and soft feel and looks like your typical cargo-style street pants.
But as soon as you heft them, you'll immediately know that these are more than they appear.
They feel much heavier than they look and this is due to the generous amounts of aramid fiber material on the inside.
The entire seat area is lined with yellow aramid fiber material and it is stitched in with the main seams at the sides and rear of the seat. An additional row of double stitching is visible at the rear at the top of thigh where the aramid fiber ends.
Starting about an inch (24 mm) from where the rear aramid fiber lining ends, the knee protection begins on the front portion of the leg.
Like the rear portion, the lining is stitched to into the main seams on the sides of the legs with double-stitched rows at the top and bottom of the protected area.
While on the subject of stitching, the outer stitching looks very consistent and even, without much in the way of any obvious pulls.
But looking inside the pockets and other areas that are not normally visible (button holes for instance), there are thread ends that could be trimmed and looks a bit messy here and there.
Likewise on the interior; the stitching looks strong but seam ends could have been a bit neater.
Back to the protective features… There are two mesh pockets sewn into the knee areas for holding optional knee armor. There are multiple strips of hook-and-loop fastener at the top and bottom of these pockets, so that the armor can be adjusted to suit the height of the wearer.
While I think it is an excellent addition to these pants that there is a provision for adding armor, the loose fitting design of this style of pants might lessen the effectiveness of armor placed in them.
Competition Accessories offers CE-rated knee armor for these pants for $9.99.
While it is certainly better to have armor there than none at all, there is opportunity for the armor to move around and roll out of the impact zone since it is not held firmly against the leg.
Fortunately, the loose-fitting nature of the pants allows for easy use of MX style knee protection of the type we've reviewed previously, such as the Icon Field Armor (review), the Shift Enforcer Knee Guards (review) and others.
The leg opening is roomy 19 inches (48 cm), making it easy to pull the pants leg up to the knee to put on and take off these types of knee and shin protection.
Since this type of armor attaches directly to the legs, it provide excellent impact protection.
The aramid fiber reinforcing the Sliders 4.0 Cargo pants should provide the wearer with very good abrasion resistance. The cotton outer shell would likely disappear quickly in a slide on pavement but the aramid fiber feels thick and is an effective barrier between the asphalt and skin.
I would have liked to see some pockets for hip armor but this isn't common to these types of pants. If it was included though, it would be an excellent addition.
The pants have 8 belt loops, which I consider a more important feature than one might think at first.
The extra loop is in the rear, so there is not one central rear loop but two close together. Since many of my jackets have belt attachment straps that I make use of, the extra loop in back should provide a little more durability in the event that it becomes stressed from a slide on the street.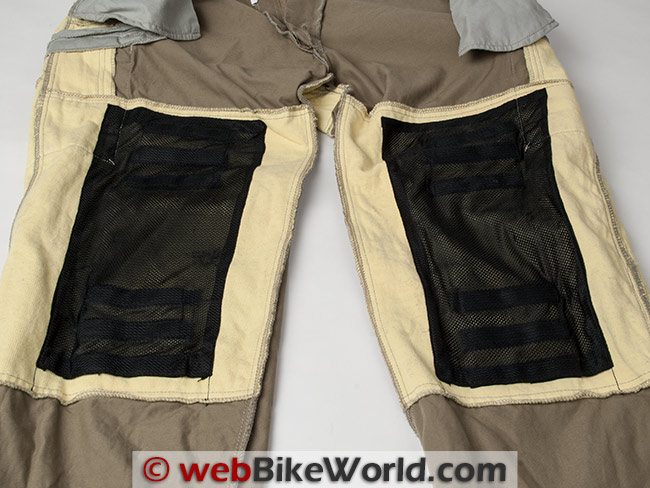 Fit, Sizing and Comfort
Sizing of the Sliders 4.0 Cargo pants is close to true while erring on the generous side.
This particular pair is marked 36×30 and the waist is a measured 37 inches, while the inseam is only slightly long at a little less than 1/2 inch over 30.
Not a large difference, but if you're between sizes it might be advisable to order a little smaller, depending on how you like your pants to fit.
Note: the Competition Accessories website mentions that the waist sizes run larger. In their example, they claim that a size 34 could be anywhere from 35.5 to 36.5 inches.
I re-measured this size 36 after reading this, but I still found them to be only 1 inch oversized so the sizing issue may vary, depending on the particular waist size. [Editor's Note: Cotton usually shrinks about 5% after the first washing or two, so keep that in mind.]
One oddity about the fit is that although the inseam is correct for me, the pants still feel too long and will bunch up when standing in them which can be seen in the photos.
This is not so much an issue with the sizing but rather the way these pants are supposed sit on the waist.
More and more pants these days are designed to ride a bit low on the waist so while my jeans fit perfectly at a measured 30. These pants are designed with more of a "mid" or at least a "higher waist" fit.
Again, that is something to keep in mind when choosing your size.
The absence of zippers or other types of closures on the leg openings means that it is easy enough to have these hemmed to suit your preference, which I intend to do now that the review is complete.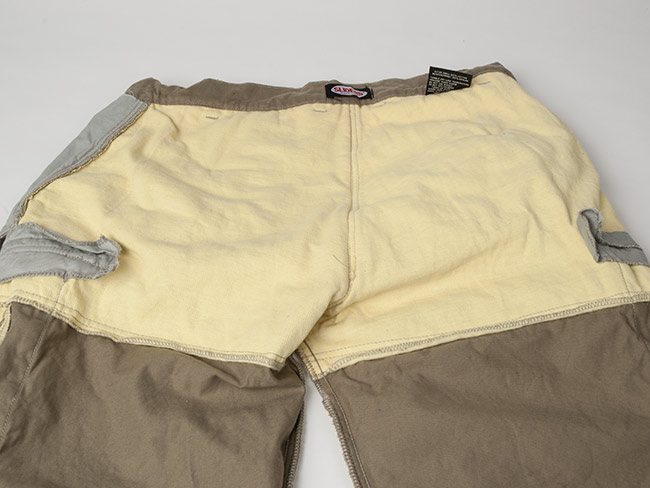 Zippers
Speaking of zippers, the zipper on the Sliders 4.0 Cargo Motorcycle Riding pants is metal and not branded.
The metal appears to be brass (not ferrous, anyway) and work reasonably well, though it's not quite as smooth as one would expect from brands like YKK.
With all the aramid fiber and mesh lining, as well as associated stitching, I was concerned that these pants might have some points of discomfort or at least minor annoyances.
I'm pleased to say that after riding in them, sitting at my desk at work, and just general moving about throughout the day that the Sliders 4.0 Cargo Motorcycle Riding pants feel just as good as any other cotton pants I own, save for one minor issue.
When first putting on the pants, the backing of the hook-and-loop fasteners for the knee armor can be felt and it's a little scratchy.
After a short time (minutes) I didn't notice them anymore and didn't really give them anymore thought. If this were to become an issue it would be easy enough to remove them from the pants if you don't plan on using these pockets for armor.
Conversely, placing armor in the pockets might keep these spots from laying up against the skin. Either way it's a minor issue in my opinion.
With the tight weave of the cotton and the extra panels of Kevlar, these pants don't have a lot of ventilation. Lately this is a good thing where I live, as we are still not out of Winter yet and cooler temperatures are the norm right now.
In combination with some long thermal underwear, the pants are comfortable for commuting in temperatures around 45 degrees F and above. A follow-up later in the season might be in order to verify how they perform when the weather is warmer.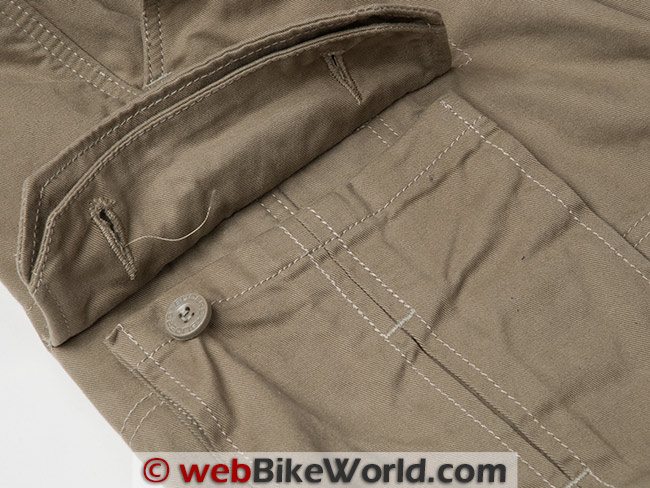 Conclusion
The Sliders 4.0 Cargo Motorcycle Riding pants are a good compromise between protection and subtlety. They offer decent protection while riding and good comfort for activities once your destination is reached.
The protection can be easily and inexpensively upgraded, using either CE-rated knee armor ($9.99) or, even better, using a pair of inexpensive MX style knee/shin guards.
I have ridden to my workplace several times in these pants and continued to wear them throughout the day without be reminded of their protective features sewn inside.
Once at work I can easily remove my Shift Enforcer knee/shin guards (review), thanks to the generous leg opening. Only one sharp-eyed co-worker who knows I ride asked me if those were riding pants of some type.
Are these pants as protective as a pair of dedicated leather and armored riding pants? Probably not. But they will likely stand up to abrasion as well as, if not better than, dedicated textile riding pants thanks to the aramid lining.
Riding safe is all about risk management and the best gear to have is the gear you will actually put on.
If protective gear is not easy to put on and comfortable to wear, you may find it too easy to leave it behind. With pants like these the decision to ride with some protection is a no-brainer.
More wBW Motorcycle Jeans Reviews  |  Motorcycle Clothing Reviews
w

BW

 Review: Sliders 4.0 Cargo Pants

Manufacturer: Sliders
List Price: $89.99
Colors: Brown, Olive, Tan.
Made In: Pakistan
Sizes: 30W 32L to 40W 36L.
Review Date: April 2013
Note:
 For informational use only. All material and photographs are Copyright © webWorld International, LLC since 2000. All rights reserved. See the webBikeWorld® 
Site Info page
. Product specifications, features and details may change or differ from our descriptions. Always check before purchasing. Read the
Terms and Conditions
!
Owner Comments and Feedback
---
From "T.W." (June 2013): "My experience with the Sliders Cargo Pants has mostly been positive.
They're quite comfortable, and I expect the aramid fiber panels will help in a crash. Just looking at the seat from the inside, you can tell there's a generous amount of coverage. I haven't yet had the misfortune of testing this out.
My sole complaint is with the cotton fabric that constitutes the main body of the pants.
It seems to "fuzz" after a few washes, and would look a little unkempt in an office setting. Also, the darker olive drab color that I have seems to fade noticeably in the sun.
I've only had mine a couple months, and the tops and sides of the thighs are a noticeably lighter color than the rest of the pants.
The fading is especially noticeable on the flaps of the cargo pockets on the legs because you can just lift them up to see the unfaded color. It's definitely not from washing, since the back of the thighs seem to be untouched.
Just to lend some perspective, I ride maybe two or three hours a week. Mostly on sunny days.
Anyway, such a cosmetic flaw wouldn't normally matter for riding gear, but for something that's meant to be worn in an office, I'd say it counts against the overall quality of the pants."
---
From "D.W." (April 2013): "I've been using these since v 2.0, and I wanted to add a couple of thoughts… The pockets for the knee armor never break in, but that is the only part that does not get more comfortable after a few washes.
They are invisible at work (especially the non-cargo version), and do work is a slide (Thanks for the verification Ed!).
The darker colors do fade a bit, but all in all they work for business casual until the days get well over 90 degrees. If you ever hear of other quality 'business casual' riding gear, please let us know!"