SIDI Performer Air Sport Boots Review Summary
Review Summary
The SIDI Performer Air sport boots are an economical choice that offers riders plenty of value without compromising in regards to protection, comfort, & fit. At $225, they fall into the bottom end of the mid-range sport boot segment, and they compete pretty well in that playground. I've taken these boots all around the prairies, worn them in hot weather (and cool evenings), and am quite happy with them. I think you will be, too.
Airflow / Heat management
Pros
Excellent ventilation
Affordability
Replacable slider
Understated look
Cons
Can be a PITA to zip up if your leg isn't dead straight
Not waterproof
SIDI Performer Air Sport Boots Image Gallery
Quick Specs
$225 / Technomicro & Teflon mesh / Sizes 36 – 50 (EU), 6 – 16.5 (USA/CAN)
Note: These SIDI Performer Air's were provided at no-charge by their North American distributor, Motonation.
A Solid Entrant in the Mid-Range Sport Boot Segment
SIDI. By now you've surely heard all about them, but if you haven't I'll give you a brief introduction. They opened their doors in 1960 as a footwear manufacturer, focusing on mountain sports, hiking, and so on. They expanded into cycling and motorcycling footwear in the 1970s, and in the 50 years since, they have grown to become one of the largest motorcycle footwear manufacturers in the world. They aren't an upstart: they are the incumbent and one that has spent six decades earning their reputation in the industry as a premium brand.
This review comes just a couple of short weeks after Kathy's recent review of the SIDI Rex racing boots, and approximately a year after my last encounter with the brand via the SIDI Aria Gore-Tex. In fact, wBW has reviewed 39 pairs of SIDI footwear going back as far as 2005. Well, 40 now that we've added the Performer Air to the list.
The universal theme among our coverage has been that SIDI gear is worth wearing. This is a theme that I will reiterate again in this review.
Last year, Kevin reviewed the SIDI Performer Gore-Tex, which I guess we'd call the bigger brother to the Performer and Performer Air's. The primary difference between the three comes down to waterproofing and the materials used. The Performer Air boots are the least expensive of the three, and they come without waterproofing or the use of Gore-Tex.
As long as you don't plan on going swimming, you should find that the Performer Air boots are more than up to the task of daily riding, enthusiastic corner carving, or light track-day use.
Features
From RevZilla.com:
Perforated Technomicro base material
Front calf plate features four small mesh panels for air flow
Rear calf features six mesh panels for maximum movement of heat away from the rider's foot
Replaceable nylon toe scuff pad
Internal inner and outer ankle protective caps
Malleolus external plastic guard with ergonomic closed cell foam padding internally to enhance protection of those tender small foot bones
Nylon inner sole with removable arch support pad
Double stitched in all high stress areas
Zipper and VELCRO® brand closure system
Elastic panel adjacent to the entry zipper allows a bind free zip and improved fit
Nylon shin deflector plate
Fully encapsulated heel cup
Lined with anti-abrasion Cambrelle in the foot area for comfort
Upper is lined with Teflon mesh which prevents complete absorption of water and sweat
Dual compound sole
DuPont® polymer toe shift pad
Aesthetics
Ever since my age began with a 3 instead of a 1 or a 2, my taste in things changed. My two-door sports cars became sports sedans; my motorcycles went from being crotch rockets to sport touring bikes; my clothes started to have tapered cuffs and collars; my apparel eschewed logos and loud graphics in exchange for more subtle appearances.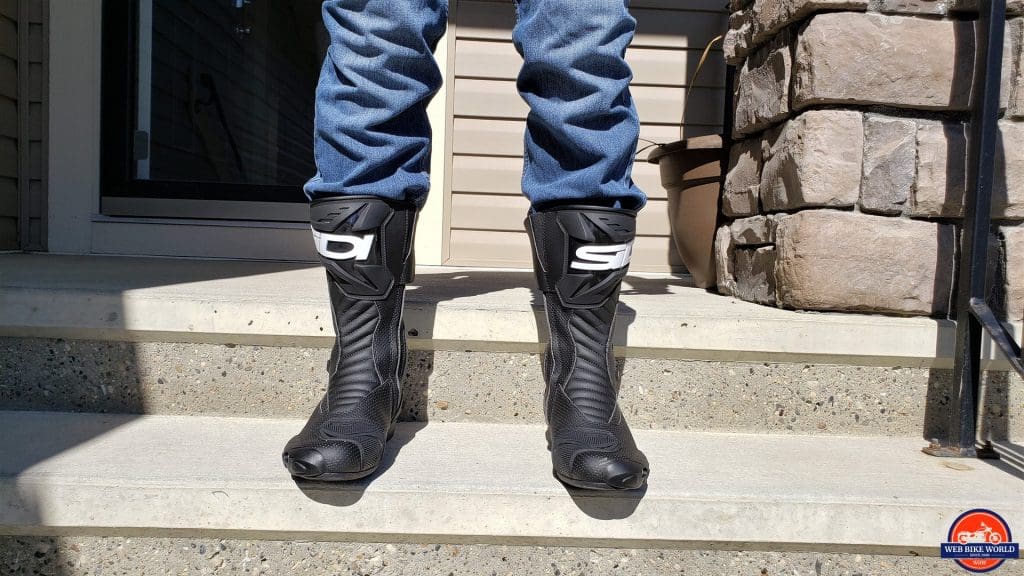 Aside from the SIDI logo that sits at the shin (and a smaller version on the side of the heel), the Performer Air boots are sporty but also understated. There are no bright colors or outlandish designs to catch your eye and, to the untrained eye, these boots would easily fly under the radar. I consider this a good thing, as my days of being boy racer ended when I gave myself an L5/S1 back herniation.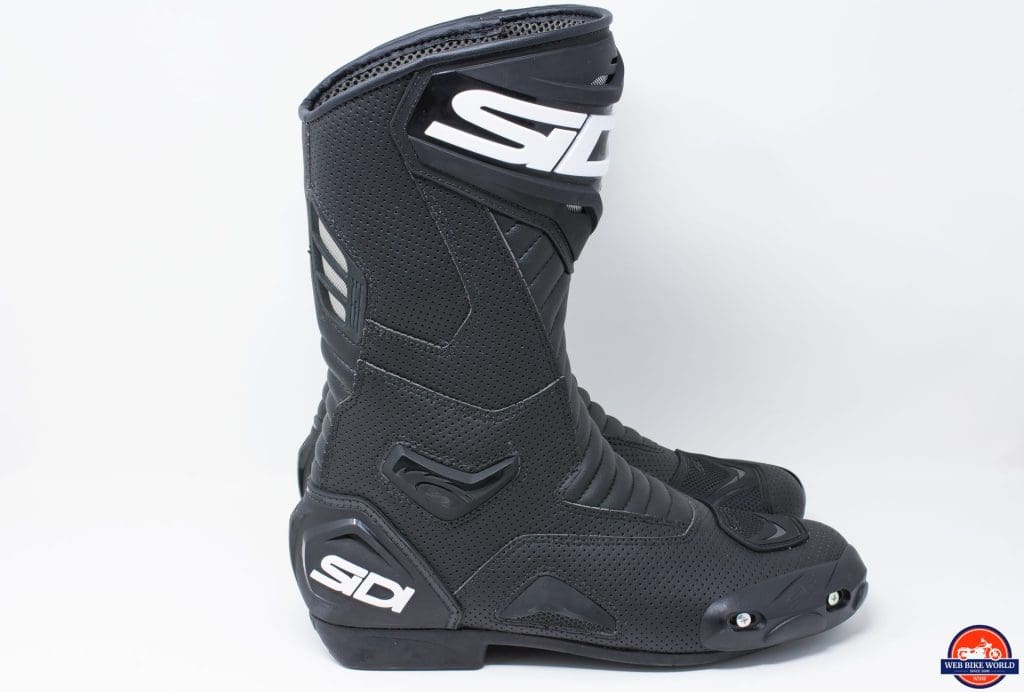 It's true that the Performer Air's don't look like regular footwear, but they also don't advertise their purpose. This scheme is in line with how SIDI tends to style its sport boots, with most looking quite similar… until you enter the upper-mid range and high-end segments. Kathy's rex boots, for example, scream "RACE BOOT". These… not so much.
Comfort
Riders with wide feet will want to steer clear of these ones, as they fit narrow (as is true of many European boots). The soles of these boots, at their widest, are a hair under 10 cm / 3.9″ wide. I happen to have size 10.5 feet, and they're narrow as well, so these boots fit just fine. They feel reassuringly snug against the ankles and a bit loose against my shins.
You may want to consider going one size up if your feet sit on the edge of a larger size (ie: if you normally wear a 10.5 but your feet are almost-but-not-quite a size 11, you'd want to get the 11 vs. the 10.5).
The rubber sole is plenty grippy, certainly enough for street or track riding where they're going to spend most of their time on a peg. Walking on the pavement is fine, but be mindful that these are a sport boot. They're made for riding, not so much for walking (though walking is passable). The boots will flex easily enough side to side, but such is not the case front to back.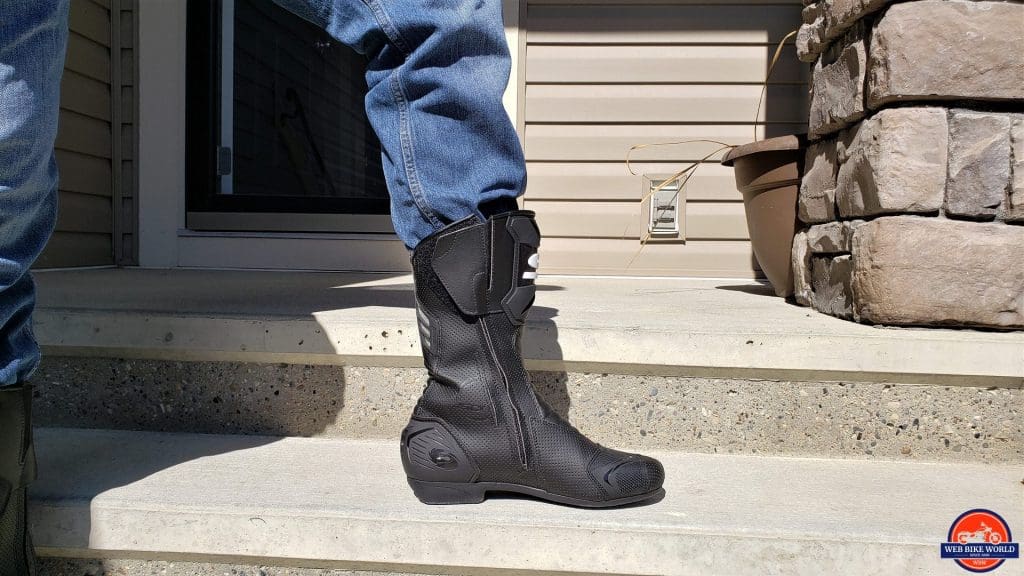 The YKK zipper runs up the inside edge and effectively extends from just above the sole to the top of the boot. You can open the Performer Air's quite wide, making it easy enough to slide your foot in/out. However, they're still tight around the ankle and you'll feel a bit of a pinch putting them on.
Overall, putting them on and taking them off is a no-fuss affair, but I find it's best when I'm standing while doing so.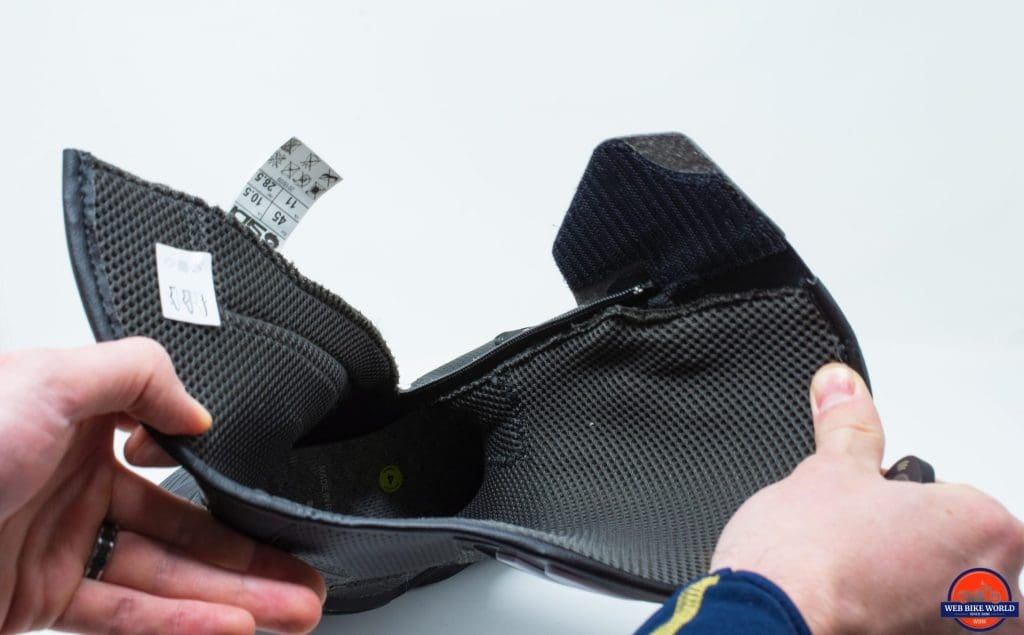 Given that most of the boot is Technomicro, you shouldn't expect the fit to relax much – if any – throughout your ownership. Unlike boots made with leather, Technomicro doesn't relax over time. This has been my experience with the Performer Air's, though I've only put around 1,000 km on them. The same is also true of the Aria's that I wore all season last year (and they've got about 3,500 km on them now). This is a good and a bad thing: if they fit you, you can feel good knowing that the fit won't change much.
If you don't find them comfortable out of the box, I recommend replacing them with a boot that fits your feet better, as the fit is not going to change over time.
Airflow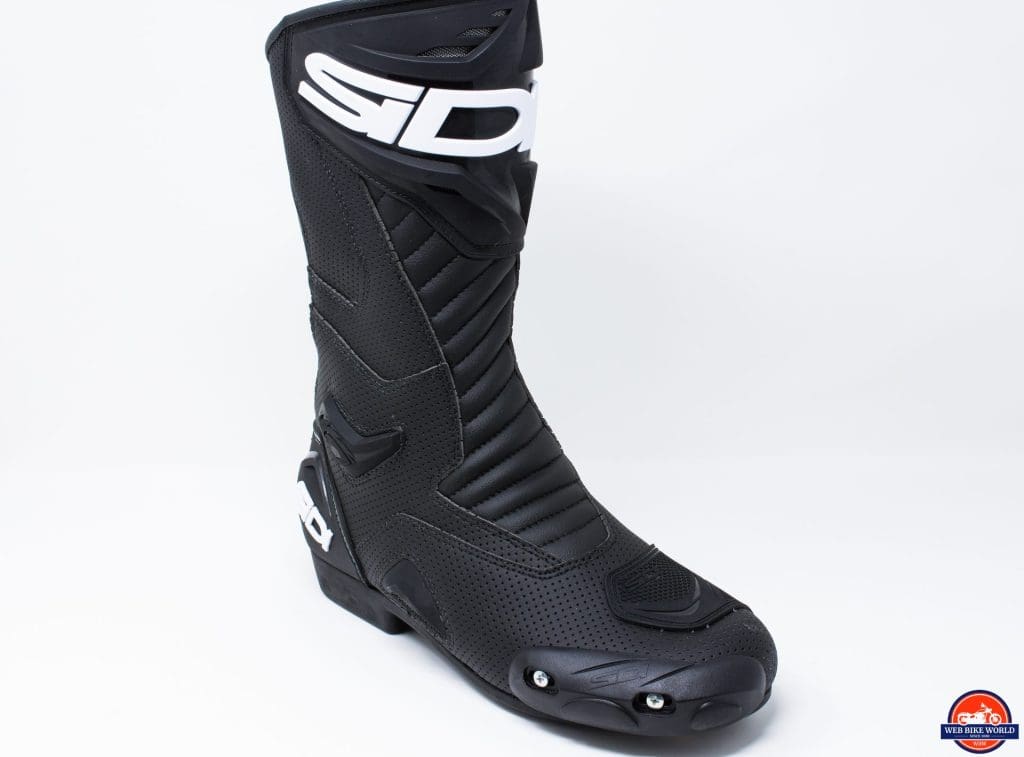 The Performer Air's live up to their name, with plenty of incoming air reaching your shin and the top of your foot. This is a mixed bag when riding in cooler weather. Wearing these when the temperature is in the low-end of things (under 10c / 50 F) is borderline uncomfortable, and increasingly so the closer you get to freezing.
Of course, there's only so much gear can do when the temperature drops, but these move a lot of air and you'll feel it… hot or cold.
The flip side to that is that, if you're riding when the weather isn't akin to the inside of a refrigerator, they're really quite good. My feet don't get very hot while wearing these, with minimal sweat after longer rides at temperatures north of 25c / 75 F.
Build Quality
Build quality is good overall – as is the usual with SIDI. Stitching quality is excellent throughout the entirety of the boot and is effectively flawless. I'll let you review for yourself via the high-res photos below. You won't find much to fault in the workmanship of these boots.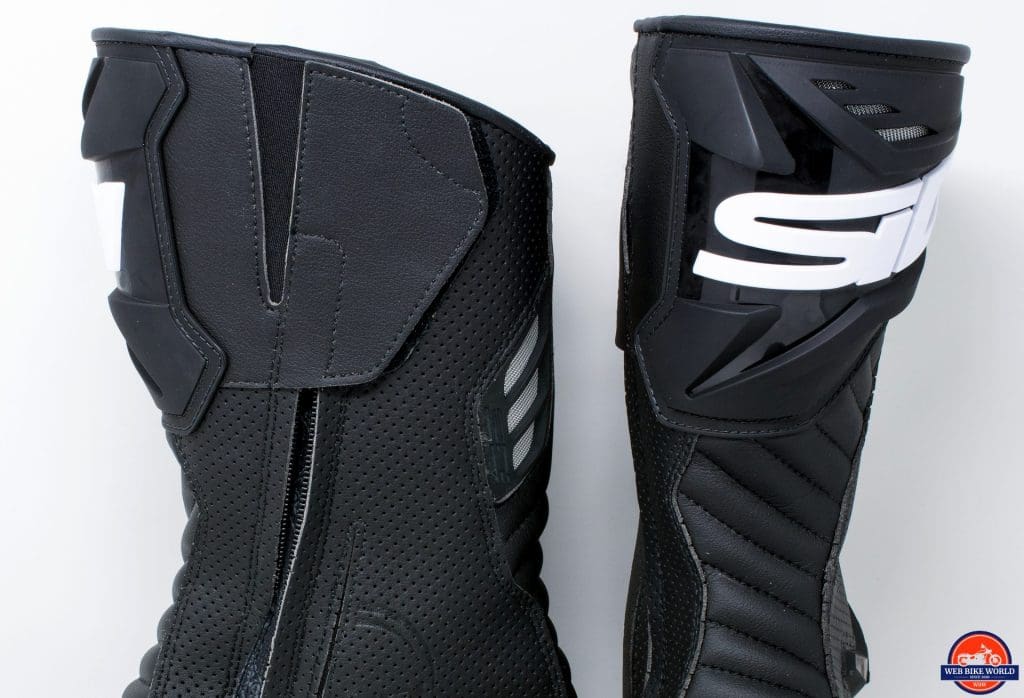 Most sections are double stitched, save for decorative panels where double stitching wouldn't add much in terms of durability. The velcro fold-over panel is also single stitched.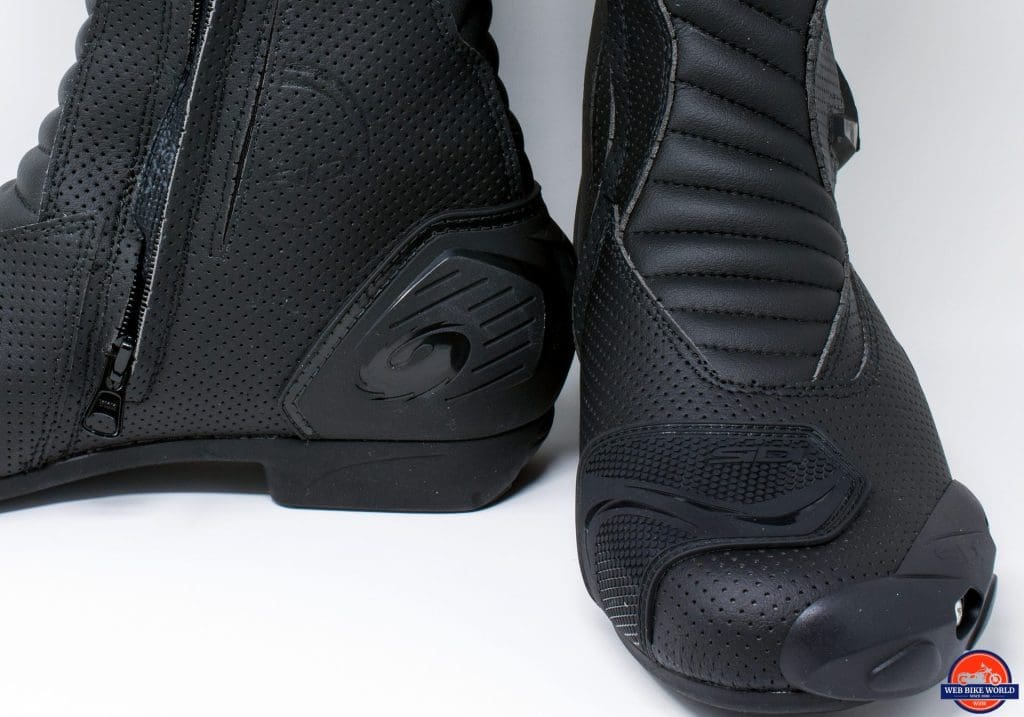 SIDI is using YKK zippers and has placed an elastic section at a key point in the boot that relaxes the fit just enough to facilitate putting them on and taking them off.
These boots are EN 13634:2017 and CE 2-2-2-2 certified. You'll find armor placed at the inner and outer ankles, a replaceable slider on the toes, and a Nylon pad that aligns with where your foot will interact with the shifter. Textured paneling is intermixed throughout, but by and large, the boots are dominated by perforated Technomicro.
The toe sliders are held on via Phillips-head screws, and the sliders themselves are the standard sliders SIDI uses across much of its sport boot range. Replacements will run you about $12 on RevZilla.
Kevin noted in his review of the Gore-Tex version that he'd prefer the screws used were Allen head vs. Phillips, making the case that repeated replacements of the toe sliders will eventually wear the heads of the Phillips screws down. If you're buying these for casual/everyday riding, I don't think you'd replace them enough to actually have that problem. If you're wanting track use, then you may find value in doing so when appropriate.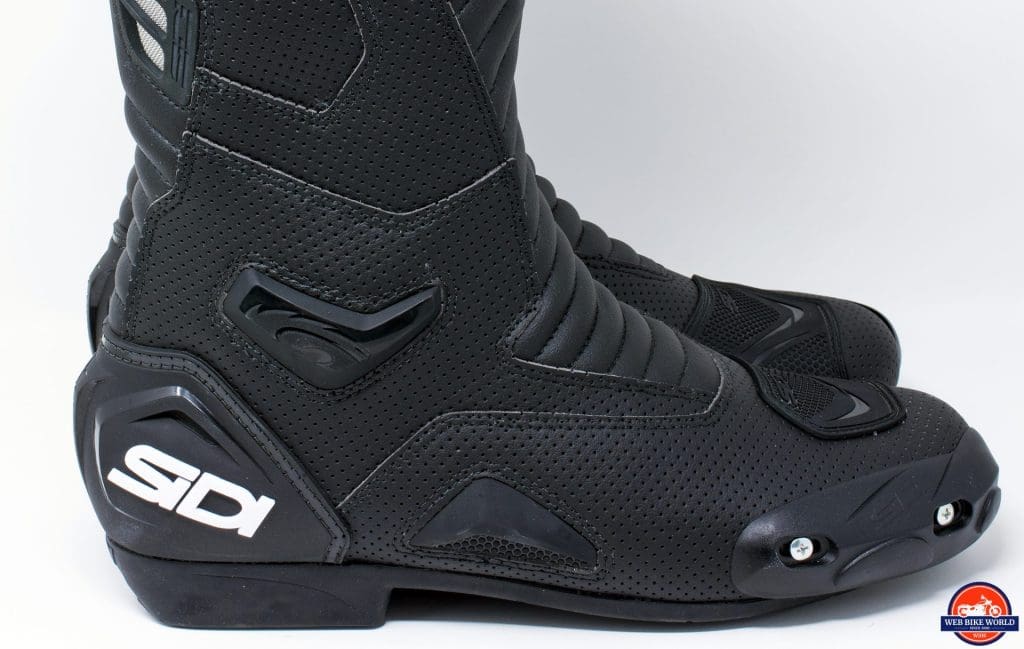 At the end of the day, these boots represent good quality construction throughout and should do well if properly cared for. The Aria's I wore last year still look and feel good after 3,500 km and a full riding season under them, and SIDI is known for a good quality boot, so I'm optimistic with respect to the longevity of these. There's nothing in the construction of the Performer Air's that would cause me to feel otherwise.
Water Resistance
The Performer Air's are largely made of perforated Technomicro- not a choice one makes when needing waterproof boots. Riding in light rain is okay but your feet won't come away without some moisture making its way into the boot. Anything beyond a quick and light splash will result in very wet feet.
The fact is, if waterproofing is important to you, these aren't the right boots for your needs.
A Good Choice for Those That Don't Need Waterproof Boots
My favorite type of gear is gear that mixes a robust feature set and good looks with an affordable price point. The Performer Air boots meet that description perfectly and align with my expectations of what you should get from a $225 pair of sport boots. The value is there.
Like the 39 other pairs of SIDI's wBW has reviewed over the years, the Performer Air boots prove to be a sensible choice that offers fair value for the investment. 
Pros
Excellent ventilation
Good value for money
Understated looks
CE level 2-2-2-2 certification
Cons
Specs
Manufacturer: SIDI

Price (When Tested): $225
Made In: Romania
Colors: Black
Sizes: Sizes 36 – 50 (EU), 6 – 16.5 (USA/CAN)
Review Date: May 2019
[/infobox]