The Breakdown
The SIDI Performer Gore Tex boot strikes an excellent balance between a full race boot, and boots that are not protective enough for aggressive street / track day use. Truly waterproof, subdued in their styling, and built well of quality materials.
Pros
Lined with waterproof, but breathable, Gore Tex; Easy on / off side zip design; Quality materials used throughout; Considerable safety built in, without off the bike walking penalty; Price point is competitive with boots that are not this good
Cons
Plan on replacing toe slider Phillips fasteners with recessed Allen head type
This is a review that I enjoyed getting the opportunity to write because it is for a product that appeals to me directly. I have been in the market for a new pair of sport touring type riding boots and had a list of features I was after that really kind of compete with each other.
First, I wanted a boot that offered real protection in a get off, but at the same time, were comfortable off the bike.
Second, I wanted a boot that was waterproof, and yet still breathable.
Third, I wanted it to be well made of high-quality materials and construction but didn't want it to be expensive.
I am pleased to report that I found all this in the new Sidi Performer Gore-Tex boot.
Shopping Now? We Recommend:
webBikeWorld has worked closely with RevZilla over the years to provide our testers with products to review. In addition to being a great site to shop from, they're also a great partner.
RevZilla

Free shipping on orders over $40
30-day no-nonsense return policy
Excellent selection of all major brands
Awesome pricing
Amazon

Free shipping (with Amazon Prime)
30-day return policy
Excellent selection
Competitive pricing
Introducing The Sidi Performer Gore-Tex Boot
---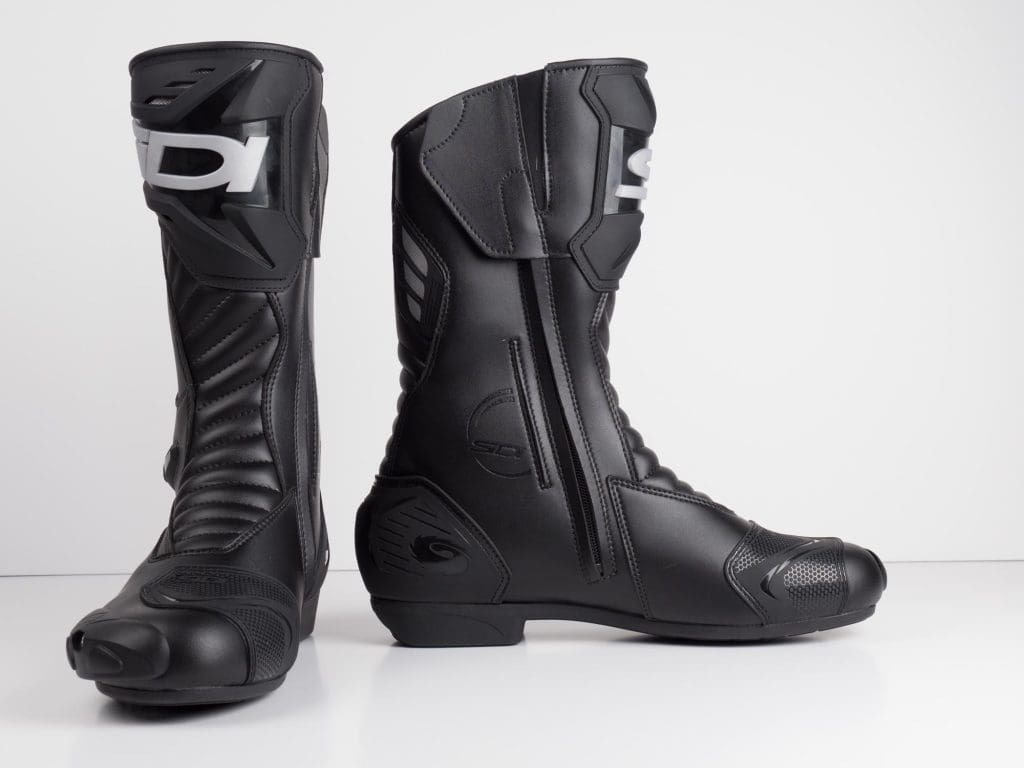 Sidi is one of the largest manufacturers of riding boots in the world, well known for quality in their product. Having had experience with them before, my expectations for these were admittedly high.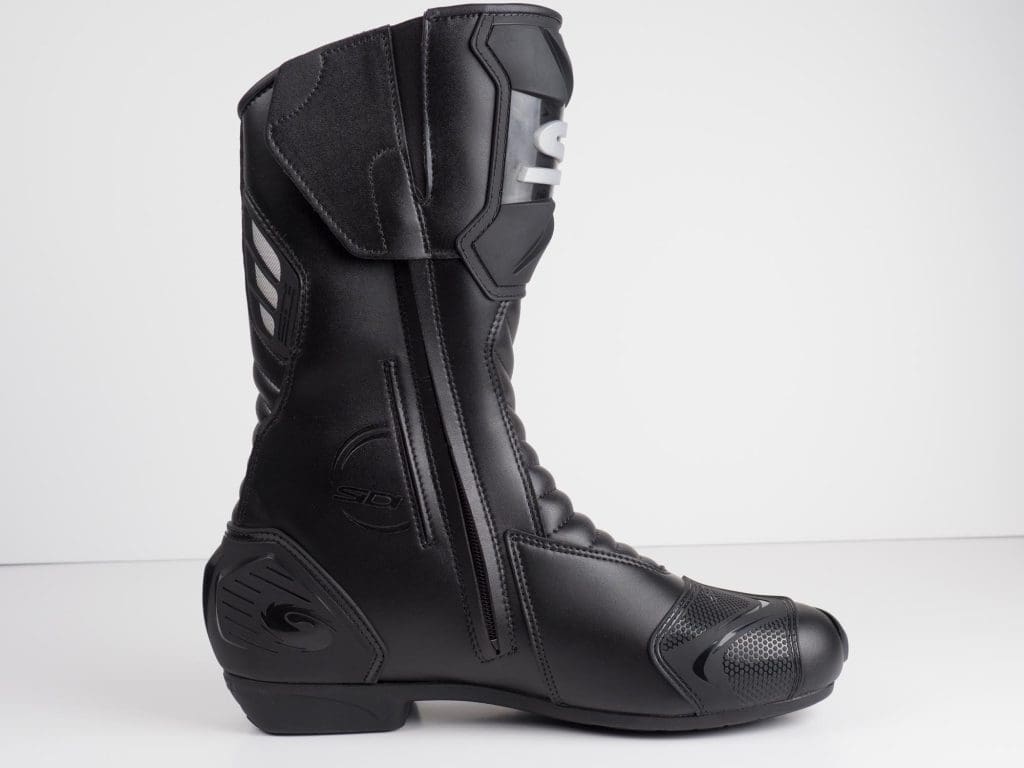 The Performer is the first new design in this class to come from them in a long time, that class is sport or sport touring boot. These types of boots strike the same balance that sport touring motorcycles do. It isn't a full on race boot, that is impossible to walk in, or something that is too lightly constructed to offer the safety that ST riders are looking for when back road scratching, or the even occasional track day.
Let's get a closer look at what they have created.
Construction
---
First, some measurements:.
The boot is 13 inches (33 cm) tall, measured from the floor.
The heel is 4 inches (10 cm) long, and .5 inch (1.2 cm) tall.
Fully unzipped and opened, the aperture in the top of the boot is 9.25 inches (23.5 cm) across, the limit there being the gusseting material that is sewn in behind the zipper.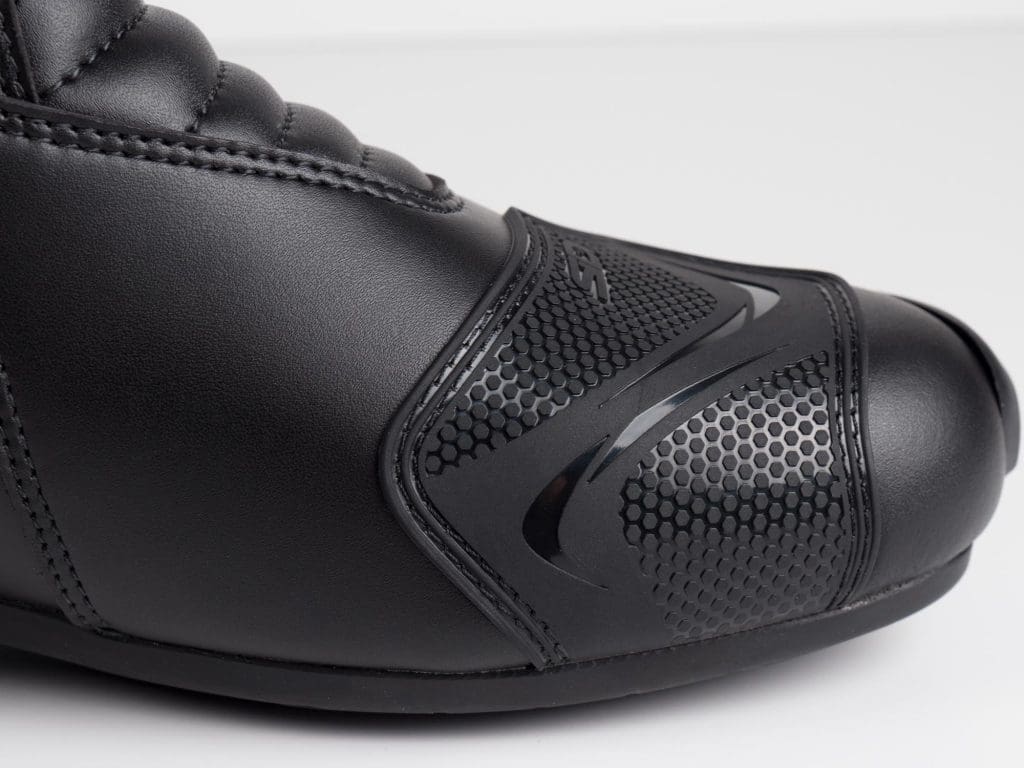 This material is not stretchy – it can't be, as it is attached to the Gore-Tex lining, but it is Teflon coated for water repellency. Zipped up, with the velcro closure tab at the top in its normal position, the aperture for your calf is 6 inches (15.2 cm) across. Pulling the velcro as far back as it can be without distorting the boot, the opening is 5.5 inches (14 cm) across. More about that in Fit and Comfort.
The boots are primarily constructed of a man-made base material called TechnoMicro. It is said to be more durable than leather, waterproof, and offer better breathability. One thing to note with this material is that it will not break in the way leather does. I would rate the stiffness of this material as medium – it has some give, but will never be glove soft. The improved properties it brings outweigh that, in my opinion. The stitching employed in assembling the various pieces of this material is completely flawless.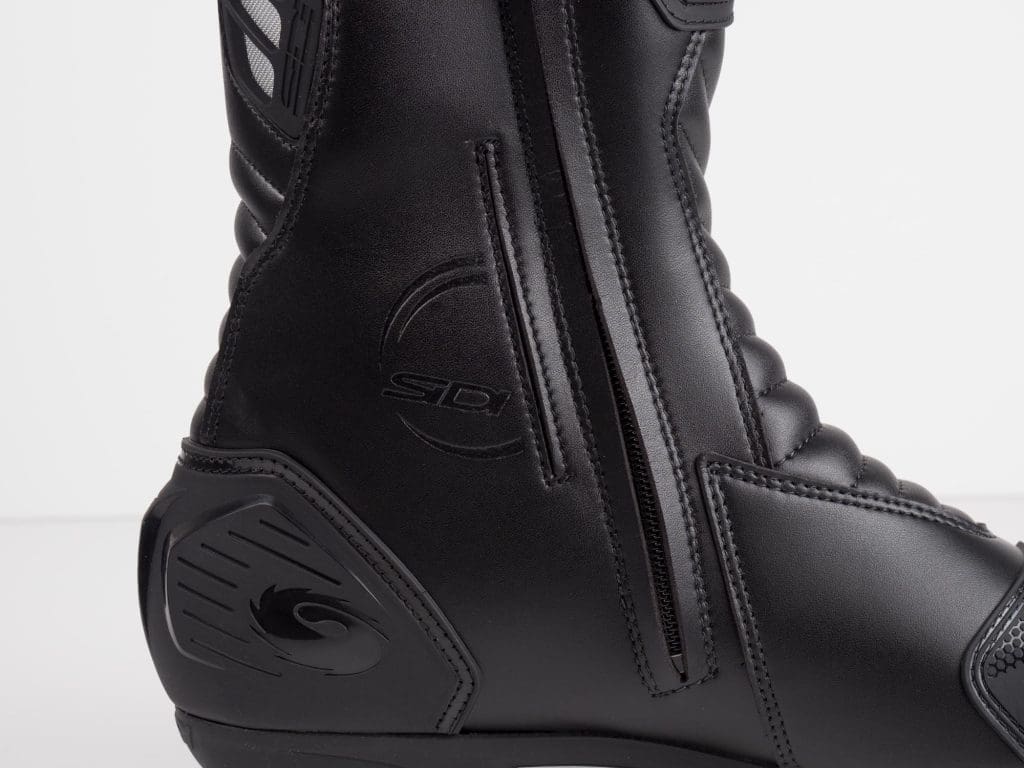 They are built with quality YKK zippers, that operate smoothly and positively, backed by a half inch (13 cm) wide flap of the base material. The outboard side of each boot has a small gusset panel, sewn in parallel to the zipper, which is said to allow them to stretch further when pulling them on.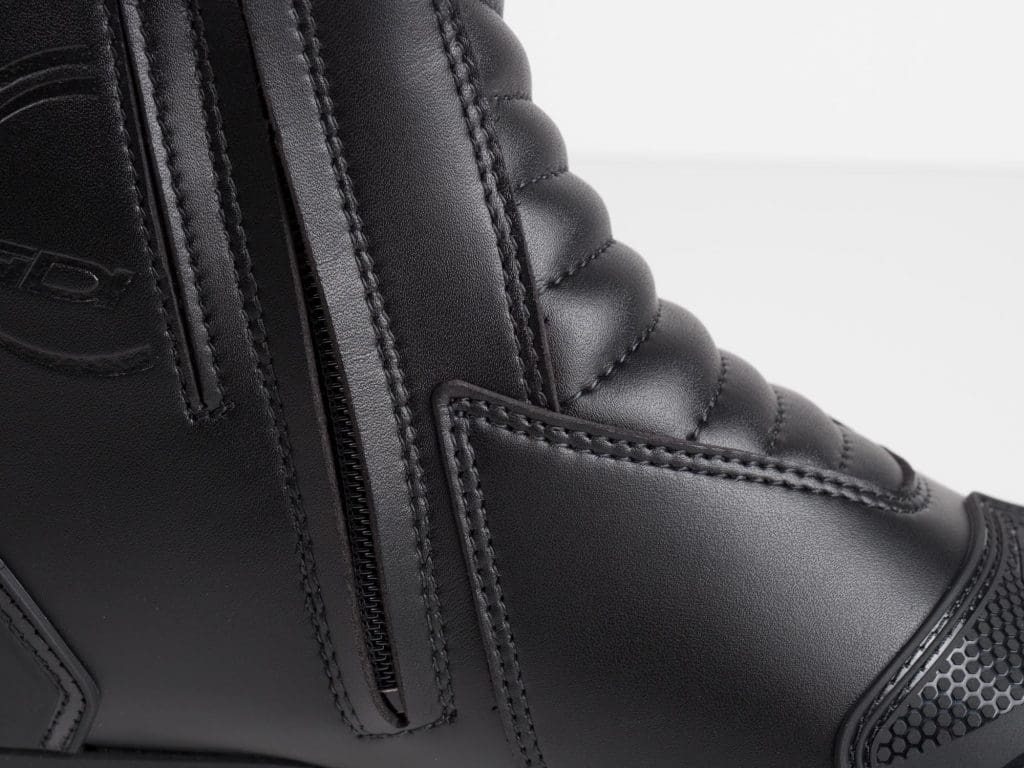 The upper front of the boot has a nylon shin protector, which also features the Sidi logo in silver, as does the heel cup. Both the front and rear of the boot have sewn in "accordion" type stretch comfort panels. The outer rear upper part of the boot has a small bronze-colored "Gore-Tex" label attached. Overall, badging on this boot is not flashy, and I liked its subdued nature. It is something that can be worn once off the bike without looking like Buck Rogers.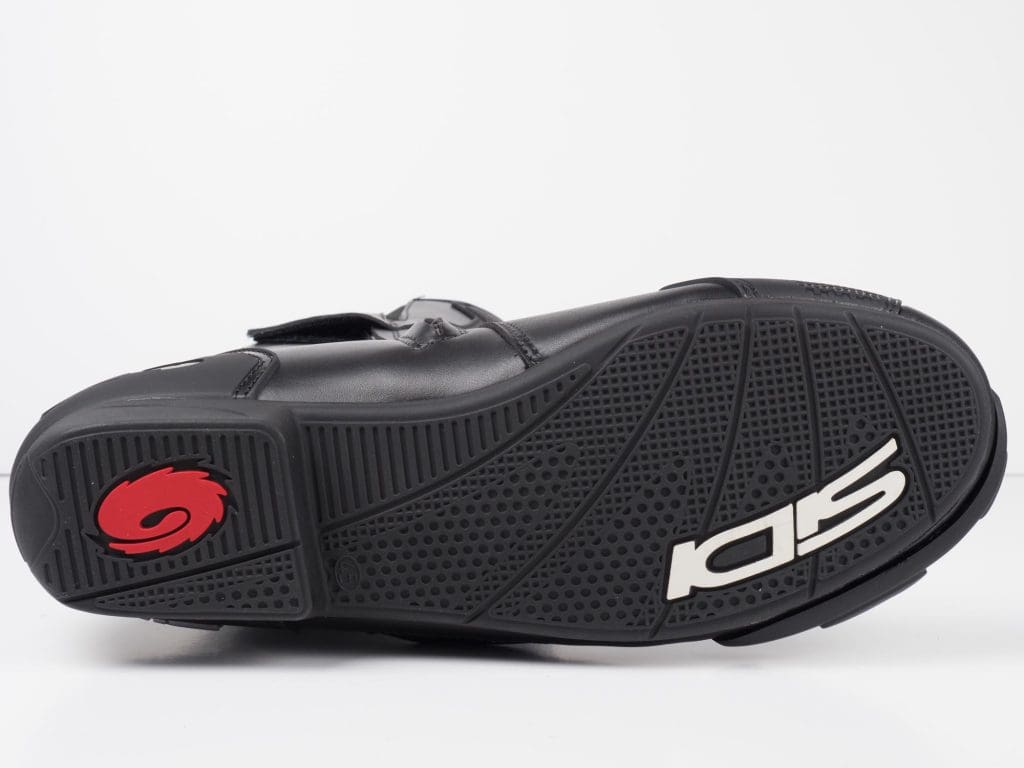 The sole is a quite grippy feeling rubber, that is not deeply grooved. This looks like what you would expect to see on a full race boot, since absent cleats it promotes lots of surface area on the ground, and will move smoothly across foot pegs. The toes of both boots have shifter pads that feel like they are made of the same material as the sole. Presumably, the one on the right boot is there for symmetry's sake.
Moving on to the interior of the boot, the top of the boot's opening was noted to be lined with a Teflon coated cloth cuff, 3 inches (7.5 cm) tall in front and 1.5 inches (3.8 cm) tall rear, for comfort where it comes into contact with your calf. The entire interior of the boot is lined with genuine Gore-Tex, not something similar, but the premium brand name material. It also features the aforementioned gusset panel to facilitate opening.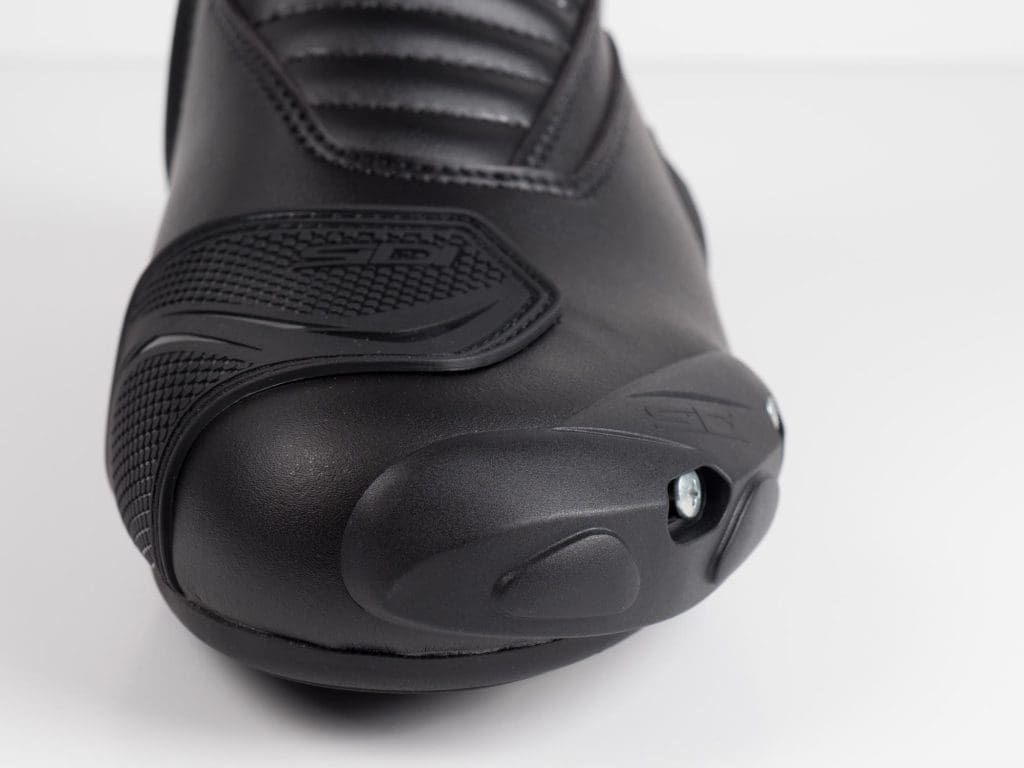 Having real safety built into these boots is something I really appreciated. To start, two nylon lateral side sliders are attached to the outboard side of each, one for the ankle and one for the instep. The toe box has a hard plastic insert in it, protecting the front of your foot, as does the heel cup. Both of these are hard enough that I was not able to compress either with my hands.
Although I was not able to verify it, I suspect there is either a hard plastic or possibly metal shank in the sole ahead of the heel. This part of the boot will not flex. Fortunately, unlike a race boot, that only is true for the instep portion of the sole. The great thing about that, aside from the safety it provides, is the insulation it provides the wearer's foot from vibration on the footpeg. The front part of the sole gives the feel you are after when on the balls of your feet, the area ahead of the heel gives you relief if needed.
Both ankles are covered by hard plastic protective caps placed between the boot's inner liner and the base material outside. The hard plastic on the top front of the shin does the same.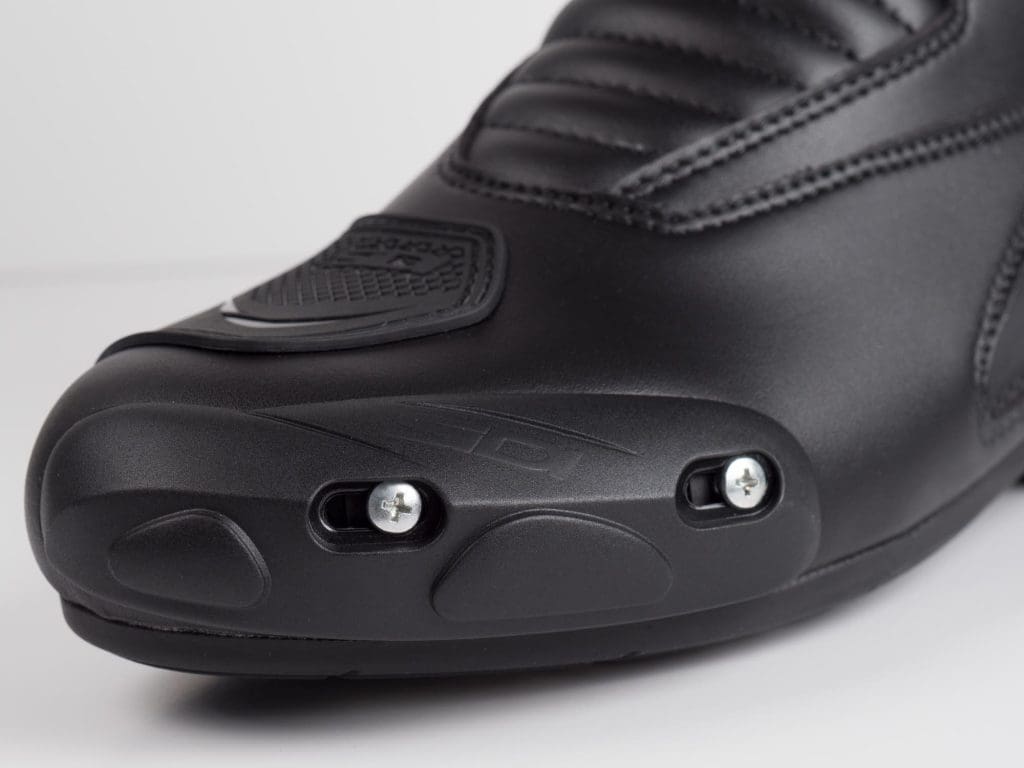 The Performers feature replaceable nylon toe sliders screwed to the front of each boot, a great safety feature if you are prone to touch them down while cornering. My complaint with this setup is the same as noted in other WBW reviews, in that they are attached with Phillips head screws. If the heads of the screws get ground off, removing them is a chore. These really should be Allen head screws, in my opinion, to prevent that.
Last on the safety front is their CE approval – not certified, approved. (There is a difference, learn more here) They carry the EN13634 : 2015 , with all "2"s for abrasion, impact resistance, and transverse rigidity. Outside of a full race boot, this is as good as they get. They are also CE approved "WR", for water resistance.
Fit and Comfort
---
First things first: if a boot is marketed as being waterproof, it should be, period. Many boots have made this claim and subsequently failed when truly put to the test. Maintaining the WBW tradition, these were tested by being submerged in warm water, with me wearing them, for a full 15 minutes. I am glad to report that they are in fact 100% watertight! Although the outer portions of the boots quickly filled with water, mostly through the zipper, not one drop gets through the Gore-Tex lining. It also speaks to the quality of the stitching applied to the liner that no water is able to get through it.
Fit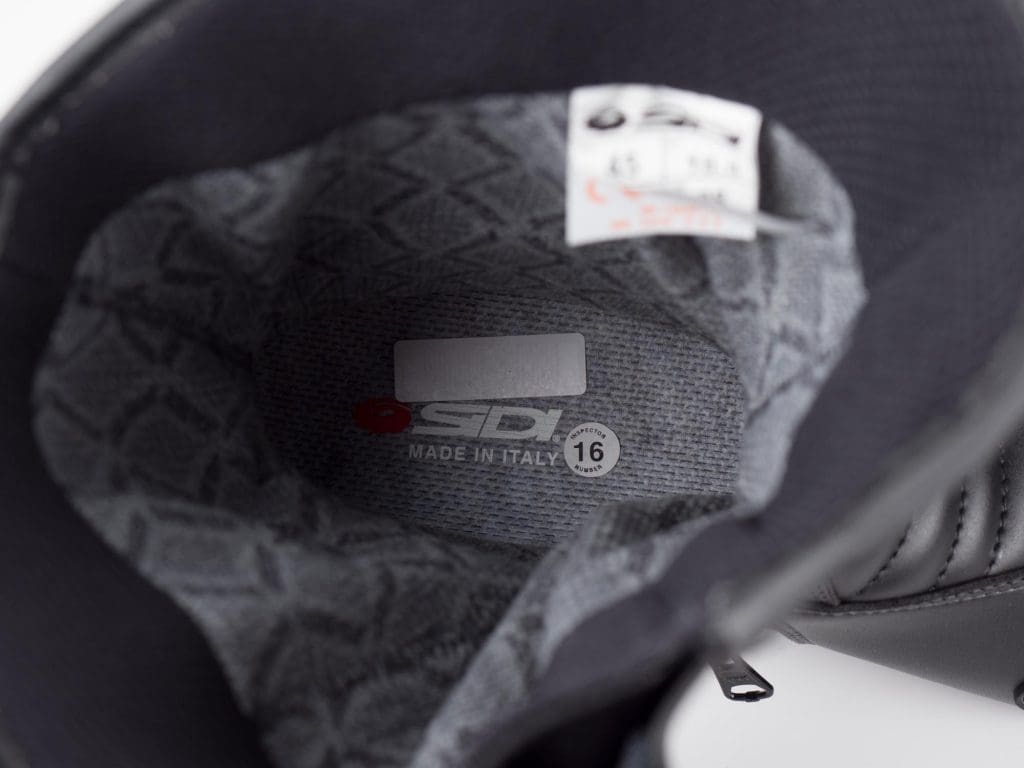 I found the sizing and fit to be typical European snug. My feet are of average width, size 10.5, and the boots are comfortably wide enough, some of that width coming from the size. If you have wider than average feet, consider ordering them in the next half size up from what you normally wear. The same advice holds true if you are on the outer end of your shoe size length-wise. The U.S. size 11 boots tested here really fit me well since my feet are right on the edge of needing an 11.
Full length, side zip boots like these are my favorite style. Boots that feature laces, or complicated buckle or release cams, become a headache for me over time. Not only do I need to get them off once at work and again leaving, I have a motorcycle shop – this means that quite likely, during the day, I will need to get them on and off again to get bikes out for road testing. The quick velcro and zip, and wide step in / step out aperture the Performers offer is much appreciated.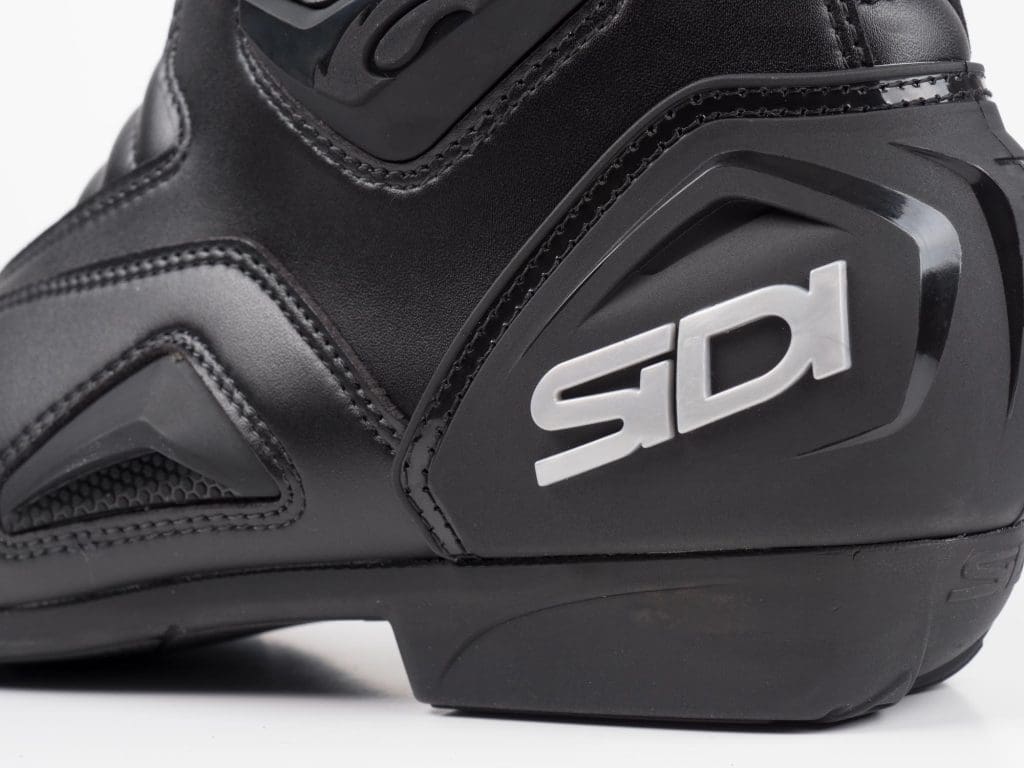 Comfort wise, I found these to be quite good. On the bike, they essentially disappear underneath you, which for me is exactly what I want them to do. If for some reason, you become conscious of the boots (or any other riding gear, for that matter) you are wearing, some issue with them has brought them to your attention, that probably isn't good! Stopping and putting them down, the grippy and flat sole always left me confident in my footing.
Once off the bike, I still felt they were quite comfortable. To test this, I left them on all day for a couple of days in the shop – 12 hours, on my feet. Admittedly, this is a little extreme for a boot that has as many safety features built in as these do. The only thing that stood out over both of those days was the stiffness of the top of the boot, thanks to the large nylon shin protector. I wore the cuff a little looser, problem solved. At no point, even running the heat in the building, did I end up with swamp foot.
Unfortunately for the purposes of testing, I got these boots in late winter here in Nashville. Testing in the high heat of summer would have been better to evaluate how well they are able to keep perspiration at bay. Gore-Tex promises to be very breathable, but that will have to wait a few more months.
Shopping Now? We Recommend:
webBikeWorld has worked closely with RevZilla over the years to provide our testers with products to review. In addition to being a great site to shop from, they're also a great partner.
RevZilla

Free shipping on orders over $40
30-day no-nonsense return policy
Excellent selection of all major brands
Awesome pricing
Amazon

Free shipping (with Amazon Prime)
30-day return policy
Excellent selection
Competitive pricing
Summary
---
The hits with these boots are many, the misses very few. They are truly waterproof, offer great safety, and are remarkably comfortable, on and off the bike.
Sidi offers this boot in two versions, Performer and Performer Gore-Tex, the latter being the ones tested here.
A typical street price as of this writing for the waterproof model is $295.00, with the standard model coming in at about $225.00. For what I would consider to be a relatively small difference in price, the waterproofing and breathing the top line model provides is better value. The boots are very well made, and I expect mine to last for many years. Viewed in that light, the value proposition here is very good.
Specs
Manufacturer: SIDI
Price (When Tested): Estimated $295
Made In: Italy
Alternative models & colors: Performer without Gore-Tex
Sizes: US / EU: 7.5 / 41 through 13 / 50
Review Date: April 2018
Pros
Lined with waterproof, but breathable, Gore Tex
Easy on / off side zip design
Quality materials used throughout
Considerable safety built in, without off the bike walking penalty
Price point is competitive with boots that are not this good
Cons
Plan on replacing toe slider Phillips fasteners with recessed Allen head type
Photo Gallery
---