Sidi Deep Rain Boots Review Summary
Sidi Deep Rain Boots Image Gallery
The new waterproof Sidi Deep Rain Boots are designed to be a lower-priced alternative for adventure-touring or dual-sport use.
The "leather" is the all-synthetic type, or at least 99% synthetic in the construction of the Deep Rain boots.
The Deep Rain boots are part of the Sidi Touring line; one of four sets of footwear branded with the "Rain" logo positioned below their upper tier Gore-Tex boots.
Simply put, the Deep Rain boots are a fusion of features from the Sidi touring and off-road boots and the result is a hybrid adventure-touring boot that won't break the bank.
To keep that bank account solvent, the Deep Rain boots make do without some of the premiere features found in the upper tier Sidi boots (e.g., Gore-Tex).
But they give up little in way of form, fit and function and this provides what should be an agreeable long-lasting compromise.
What you get with the Deep Rain boots is a Trockenfuss (dry foot) technology-based lining that when combined with another membrane layer provides a dry, breathable and comfortable environment for the feet.
And yes, they pass the webBikeWorld "Bucket Test", along with real-world prolonged exposure to driving rain and lots of outdoor use in wet snow, mud and snow.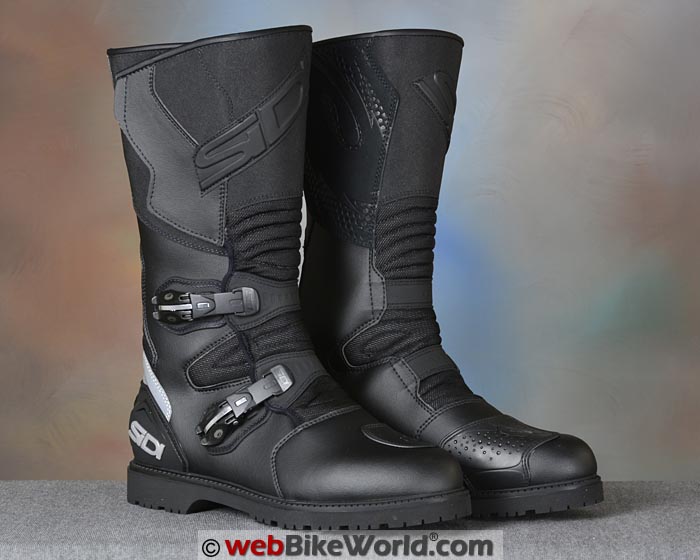 Introduction
To repeat: "What, another Sidi motorcycle boot review?!" and I'll repeat "Yep" and for even more good reasons, because Sidi just keeps churning out winning boot products that cover virtually any function and price point envisioned.
Although still hoping to get my feet into a pair of the Sidi Adventure Gore-Tex boots (review) some day, said feet aren't exactly lacking choice when it comes to picking a pair of protective, comfortable and functional boots to wear for the day, a week or longer.
However, there is still room (somewhere) for another pair and when the Editor asked me to try a set of the new Sidi Deep Rain boots, my response was quick and affirmative in the reply.
So far, the Deep Rain boots have proven to be absolutely waterproof and quite warm.
And whether you appreciate the near exclusive use of man-made materials or not, the Deep Rain boots (like the Sidi All-Road Gore-Tex boots (review)) reveal far less wear-and-tear (aka "character") than typically seen after a few months of use with leather-based boots.
The only adjustment needed so far has been replacement of the thin ventilated insoles with a thicker gel-based pair to eliminate some fatigue I initially experienced with the stock insoles.
This has made the Deep Rain boots truly a day in, day out type riding footwear for me.
I don't yet hold these in the same high esteem as my third pair of BMW Santiago Boots (review).
But in short order, the Sidi Deep Rain boots have built their own positive reputation as my alternative go-to pair, especially when I don't know where the next ride will take me.
"Deep Rain" is an interesting name, but did it come from? We had hoped there might be a story worth telling here, but there isn't.
Sidi says it is just a name they picked over a few beers one night…
But while the Deep Rain moniker might not have been intentional, I was thinking that perhaps there might still be something to it; who knows what their use will bring to light.
Pulling the Deep Rain boots out of their large box and giving them the first critical once-over reveals many things and many of these things are similar to the initial experience with the All Road boots.
For example, most noticeable is their light weight, thanks to the almost total use of man-made materials; in fact, the Deep Rain boots are formed of synthetic or man-made material with just a hint of real leather.
"Technomicro" or synthetic leather is the base outer material used, with the primary inner lining being a lightweight membrane called Trockenfuss(German for "dry foot").
Trockenfuss linings are touted for their comfort and ease of use while providing a waterproof barrier, breathability and outward moisture evaporation for a balanced environment to keep the feet and lower leg dry and comfortable.
Another attribute of this lining is its ability to absorb perspiration and to dry rapidly.
An anti-bacterial treatment prevents formation of fungus and foot odour, both of which are all-important to provide foot comfort under a wide range of conditions.
The standard removable, thin and ventilated arch supports (insoles) are actually not bad during break-in and they do a good job of reducing moisture build-up.
For long term use and extended wear, however, some users (like me) often opt for an insole with more cushioning or even an orthopedic insert.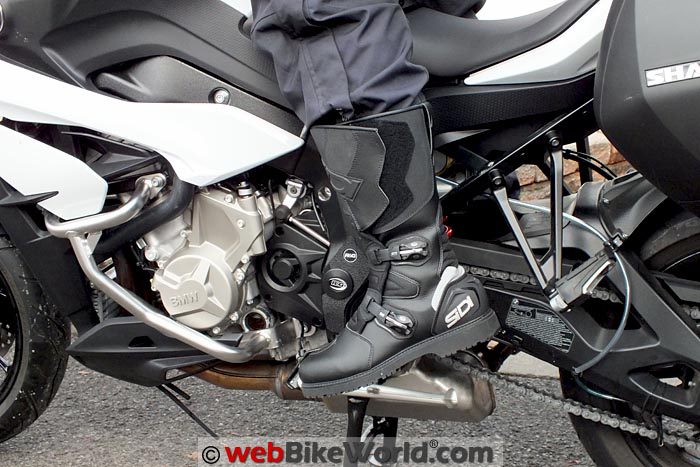 Construction Details
As noted earlier, leather and suede content in the Deep Rain boots is minimal.
It consists of split grain inner and dual purpose anti-wear/heat panels on the inner side of the uppers, where interaction between the boots and motorcycle components (and the exhaust system) is possible.
The Deep Rain boots do not have an internal secondary removable liner and that results in a slimmer, lighter and easier-to-use boot — and it's hard to argue with the results.
I've owned a couple of older pair of off-road boots with lining inserts that took a bit of effort to use, so the integral simplicity and strength of the Deep Rain boots is appreciated.
On the bottom of the Deep Rain boots is found one of my favourite features: a bonded non-slip lug type sole as used on many road/touring Sidi boots.
The Vibram-style non-slip rubber feels soft and cushioning but is extremely durable and supportive whether riding or walking.
Two well-positioned replaceable micro adjustable cam-lock buckles with adjusters along with a broad deep upper gaiter or closure with a large hook-and-loop fastener pad provides lots of adjustment, quick entry or exit of the feet, and encompassing protection.
Arch and instep mobility and protection is provided with three distinct padded flex inserts on the front strategically positioned below, between and above the two cross-strap pieces for conformity and flexibility.
And yes, Sidi continues to put the much-appreciated side cap reinforcements on the inner forward side and top of each boot; it might seem like a dated practice, but these areas are still exposed to lots of wear and possible tear.
The rigid shock-resistant anatomically shaped heel provides optimum grip inside for the back of the foot and maximum protection inside and out, and it looks good to boot (pun intended).
A not-so-large reflective panel inserts sits immediately above the heel section extending down a bit on the outside edge.
Fit, Sizing and Comfort
The Sidi Deep Rain boots have accommodated my feet from day one without any issues, other than the thin insole I replaced.
The boots are actually a better fit for me than the Sidi All Road boots.
Sliding a foot into the slim gripping uppers of the Deep Rain boots and pushing down to the inside is reassuring and my foot nestles securely in the heel cup and sits comfortably inside, which is narrow and supportive.
There are no pressure points or rub areas whatsoever in the boot or the upper.
Yes, these boots are narrower or slimmer in width compared to others, but this is one feature that has kept me using Sidi footwear over the decades.
In using lighter, stronger and somewhat stiffer man-made material, these boots should continue to provide as much if not more stability and support over the long term than a lot of leather boots and that is good for the foot and lower leg.
The thin insole isn't a bad piece really, but it is not my preferred solution for prolonged wear in the long term.
So a new pair of gel-based insoles that I favour has replaced the stock items, without compromising the ability to wear a wide range of socks dictated by the seasons.
Like other Sidi touring and adventure boots, the Deep Rain uppers accommodate light-to-heavy pants inside or out, thanks to the large encompassing gaiter and over-flap with very good adjustability with its broad swath of hook-and-loop fastener material.
This same adjustability — along with the ability to quickly shorten or lengthen the buckle straps — makes it easy to get a comfortable and secure fit of the boot and upper for long-term comfort and continuing protection.
Also, the lightweight fasteners or buckles are similar to those found on many other adventure-touring or full-on off-road boots and they are far (far) easier to use than the pull-through straps used on the Sidi All Road boots.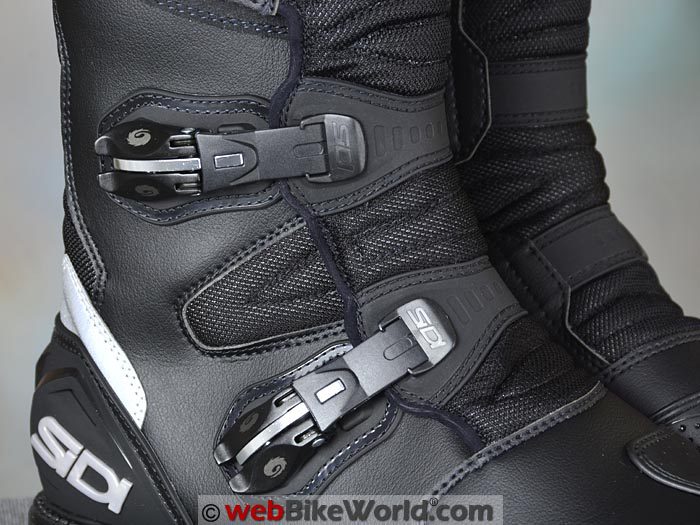 On and Off
Getting into the Deep Rain boots takes far less effort than virtually any others I own.
Make sure the over-flap and buckles are open, slip your feet down into their comfortable secure residences, tuck the gaiter in and pull the overlap tight and snap the buckles closed with a positive click.
And when the body (and mind) is tired from a full day of bashing around somewhere on the bike, the ability to pull the over-flap open and with a firm positive motion open the two fasteners to pull or push the boots off is appreciated.
The small flex panel on the upper back (calf area) with its integrated pull strap is an effective addition that provides extra stretch or accommodation for pant material.
And using the boot pull in the rear reduces effort (and bending) involved when putting the boots on.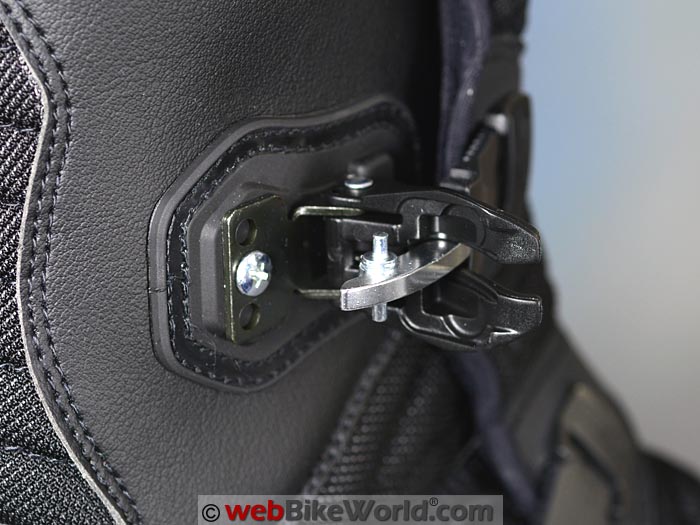 Synthetic Character
My comment about the boots lacking character — which I typically relate to being well broken-in, well-worn and worn-looking — isn't a negative; quite the opposite in fact.
It is still early days for my Deep Rain boots, but the materials used and the construction is probably going to live up to some serious wear and tear.
Outside of a few minor scratches and rock dings, a quick wipe with a damp cloth brings them back to an almost-new-look.
The only problem with this is that they probably won't ever look like they've been through the hard-riding long distance grindstone, which can sometimes be a bragging point.
With the Sidi All Road boots, I was a bit cautious but optimistic about how well the new construction with man-made materials would fare short and long term.
But with continued use of the All Road boots and now the Deep Rain boots, any doubts have been laid to rest.
The Comfort Factor
In swapping the insoles out, which is definitely a personal thing, the Deep Rain boots are indeed day-in, day-out footwear, on and off the motorcycle.
While there is apparently both a summer and winter weight Trockenfuss lining, whichever one they used for the Deep Rain boots is satisfactory.
The combination of inner and outer materials keeps my feet and lower legs comfortable under a wide variety of conditions, including cool to cold rides with wind chill. It may not be the same total comfort as a full Gore-Tex liner, but it's close.
The Bucket Test
Ongoing exposure to the wet stuff while riding, along with prolonged use outside in the wet, mud and snow have revealed excellent resistance to the elements.
And finally it was into, the deep, cold tub for 5 minutes and then beyond that to 10 minutes, with lots of flexing and movement. The result is that it's safe to say the Deep Rain boots get our waterproof rating.
I did notice some cooling along the cushioned front instep points, but absolutely no moisture was evident inside the boot or around the upper.
And for what it's worth, I immersed the Sidi All Road Gore-Tex boots once again for the amount of time and as before, my socks remained completely dry.
Between these two pair, the Deep Rain boots seem better insulated overall as well, keeping my feet more comfortable in cold temperatures than the Gore-Tex lined All Road boots.
The Protection Factor
Keeping my mental fingers crossed, the "crash-test-dummy" scenario hasn't been played out with the Deep Rain boots, but on a day-to-day basis the boots do what they should: house, comfort and protect.
There is a lot of road debris out there, no matter the season, and so far the Deep Rain boots have taken a few hits.
But despite some battle scars, they are none the worse for wear and while my feet have felt some of the impacts, they remained secure inside the boots.
Reflectivity
A final observation regards the discrete and well-shaped reflective insert panels that sit just above the heel in the rear and extend downward on the outside.
They are effective, but only if your pants are tucked inside the boots or if the pant legs are high enough for the panels to light up when flashed by a light source.
Many of us live by the ATGATT rule and that includes lots of reflective/retro-reflective material. So why don't we see more of it used on footwear, especially at the top, mid and lower sections, including the lower outer boot edge?
Pricing
At their $295.00 list price, the Deep Rain boots are designed to provide most of the features and styling expected by adventure-touring or dual-sport (or touring) riders, but at a lower price point.
For example, the top-of-the-line Sidi Adventure Gore-Tex boots (review) have a list price of $550.00. The Sidi Armada Gore-Tex boots (review) and the Sidi Adventure Rain boots list for $395.00.
The Sidi Canyon boots and the Sidi All-Road Gore-Tex boots (review) are slightly more road-oriented, with a list price of $325.00.
Conclusion
As touring and adventure footwear, the Deep Rain boots are a hefty hybrid of sorts, at a lower price point.
They have classic motorcycle boot styling along with adventure or off-road oriented features, resulting in a good looking, heavy-duty but lightweight and protective form.
And because a couple of interested individuals had asked about the weight of some multi-purpose boots, this seemed like a good opportunity to put three representative pairs on the scale:
BMW Santiago Boots: 2.6 kg (5.7 lb.)
Sidi Deep Rain Boots: 2.5 kg (5.5 lb.)
Sidi All Road Boots: 2.1 kg (4.6 lb.)
Another observation that I can now make is this: in having weighed these three and several other sets of motorcycle boots of different construction and functionality, I noticed that the left boot is always 5 to 12 grams heavier than the right.
It's not a lot, but an interesting divergence. Coincidence? Or maybe not…
With the multiple pairs of riding boots I own, I have the luxury of being able to choose the best boot for the riding type of the day. So I suppose it seems puzzling that I usually end up wearing my BMW Santiago boots (review), with the Deep Rain boots now sitting in the number two position.
I also have the heavy-duty Sidi Crossfire boots (review) and the Gaerne SG12 boots (review), which are essential for some real off-road forays.
Bottom line: the new Sidi Deep Rain boots offer styling and superb build quality with the usual Sidi attention to detail and out-of-the-box comfort.
Within only a couple of months, they have attained second ranking on my short list of boots that I use every day for almost any type of riding.
And that "Deep Rain" name? Well, given how impervious these boots seem to be to the elements, including the cold, I'm thinking there really is something behind it.
w
BW
Review: Sidi Deep Rain Boots
List Price (2016): $295.00
Made In: Romania
Colors: Black or White. Custom colors available.
Sizes: 40-47 (7.0-12.5 US)
Review Date: February 2016
Note:
For informational use only. All material and photographs are Copyright © webWorld International, LLC since 2000. All rights reserved. See the webBikeWorld®
Site Info page
. Product specifications, features and details may change or differ from our descriptions. Always check before purchasing. Read the
Terms and Conditions
!
Owner Comments and Feedback
---
From "J.D." (September 2016): "I have been a fan of Sidi boots for years. I have owned the old Lorica /Sympatex On Roads and the Adventure Gore-Tex.
The On Road (boots) did 13 seasons, I am on the third season with the Adventures and they are in far worse condition than the On Road.
All my riding is done on road 25,000 Km/yr. The damage is cosmetic but still.
I have recently purchased the Deep Rain and find they are significantly lighter and much more flexible, ergo comfortable.
They do give up some protection over the Adventures but the trade off is a more comfortable boot and more durable because of the synthetic construction."
---
From "E" (February 2016): "Would the weight differential between right and left boots be accounted for by the extra leather over the left toe area to protect that area when shifting gears?"
Editor's Reply: I don't think so, both the left and right boot have the toe protector, for symmetry and for old school riders. There's a photo in the slide show above showing this.