Sidi Canyon Boots Helmet Review Summary
Sidi Canyon Boots Image Gallery
Summary
The Sidi Canyon boots are light weight with clean, simple styling.
They work well as casual but sturdy footwear and still handle the more demanding job of protecting the feet while riding.
These boots are comfortable, warm and stylish, and fully meet the needs of the on/off-road rider, male or female.
After only one month of use, these boots have become the primary riding boot for the female rider in the household.
While demanding a slight price premium, they are an impressive example of what sound design, technological innovation and craftsmanship can produce.
They are well worth the investment.
The Quest for the Perfect Boot…
Every rider searches for "the" riding boot that will meet all of their needs — comfort, style and function.
Accordingly we are always looking at the latest pair of boots that show up in the accessory section of the local dealer to see if we have finally found "them".
For those of us who partake in a wide variety of riding activities, the Sidi Canyon boot may just be The Boot.
For female riders, many of the available boots are style-oriented and decorative rather than functional.
Although the winds of change are blowing, many manufacturers (still) seem to focus on the female rider as a passenger rather than a driver.
This results in many boots with little or no ankle protection, are only ankle height with tassels or decorative buckles, and which have narrow, high heels.
For female riders seeking something more functional, this has usually meant buying and wearing boots that scream "Men's boots".  The Sidi Canyon boots don't, thank you.
Fit, Form and Function
For 2007, Sidi has replaced the Sympatex membrane in the Canyon boots with a waterproof, breathable Gore-Tex membrane.
The boot is 30.5 cm (12 inches) high at the front and 27 cm (10.5 inches) at the rear. The uppers are top grain leather with alternating suede and smooth panels, mated to a bonded non-slip sole.
Other features of the Sidi Canyon boots include an internal padded shin plate along with internal ankle, toe, and heel protection.
Both boots have leather toe shift/brake pads, removable arch support insoles, full length inner gaiter and double stitching in all high stress areas. The top of the boot features a padded stitched bead for seal and comfort.
For visibility, there is a retro-reflective stripe across the back of the boot, although it is very thin and is hidden when the boots are worn inside any pant or riding gear.
From the front, reflective beading is layered into the front of the strap, the adjuster mechanism and outside over-flaps.
With two adjustable over-flaps above the ankle, secured with Velcro patches, and a wide cut to the upper portion of the boot, the Canyon allows a secure and comfortable fit on the calf, even for women.
Additional security is provided by a micro-adjustable strap below the ankle point.
The adjustable ribbed strap mechanism, similar to that used on many motocross or off-road boots, allows a variety of tension adjustment settings, click by click.
Once the strap is inserted into the adjuster, tension is adjusted by simply pushing the strap in or by lifting the black adjuster lever up toward the boot top, which also tightens the strap.
Although the idea behind using a variable "quick-release" adjuster is clear, in real life it takes a bit of effort to use properly.
The strap is released by pressing the grey prongs on the adjuster in towards the boot body while another hand is needed to actually pull the strap out. The strap must be released fully before the lower over-flap can be pulled apart.
While these procedures are admittedly somewhat cumbersome, the overall objective, to provide multiple measures to keep the boot fully secured and the foot protected, is accomplished.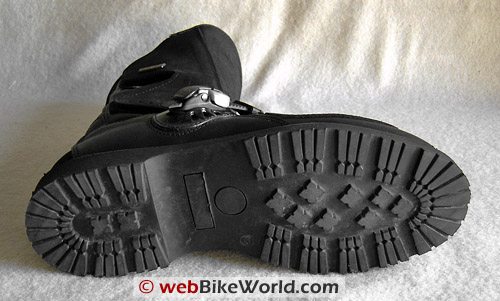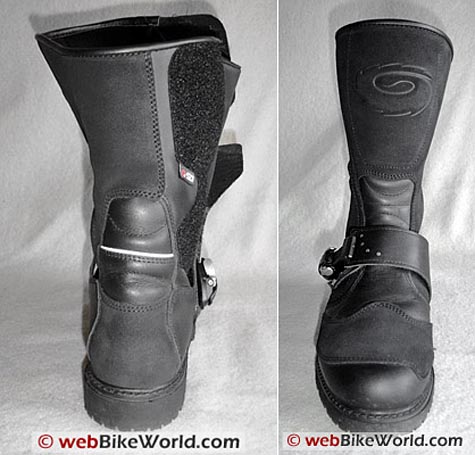 The Sidi Canyon boots have a relatively neutral last (foot shape) and is better suited to those with wider feet.
While this rider normally wears a Euro size 41 boot, the Canyon is a Euro 42 (US 8.5, UK 8, Japanese 26.5) – the slightly larger size was acceptable in light of Sidi's reputation and overall features of the boots themselves.
That the Canyon boots were acquired, new, in the box, for half price was just bonus.
Out of the box, the boots broke in quickly and have proven comfortable for multiple hours of riding, standing and walking with just the stock arch support insole.
This comfort is due in large to their excellent overall support construction and a sturdy but cushioning sole that soaks up and dissipates vibration produced by the motorcycle and road surfaces and contributing greatly to rider comfort.
The slightly larger size Canyon boot has allowed the insertion of a full orthotic insole and the use of heavier socks as our ambient air temperature goes down.
On a related point, an orthopedic technician recently visited gave the boots a high rating for the heel support, the stability aspect and overall support and flex of the sole. He also stated that he uses a Sidi cycling boot himself (Sidi has been crafting cycling footwear since Day 1).
Despite the cooler, wetter weather, the Canyon boots have not (yet) been tested fully for their waterproof abilities.
Feedback from other Sidi Canyon and On Road boot owners indicate that the boots are indeed waterproof.
But given the nice textured leather on the toes and upper boot body, it seems a shame to get the Canyon boots well soiled in order to confirm this, but some sacrifices will have to be made, c'est la vie.
These boots are a welcome addition to the all-weather boot inventory, joining a well worn pair of Frank Thomas Aqua boots and an equally well worn pair of Alpinestars Ridge Boots.
Based on living with all three pair, the following observations can be made about the Canyon boots:
Height – they fall in between the other two pair
Weight – they seem to be the lightest of the three pair (a feature that Sidi proudly points out for virtually all their boots)
Comfort and warmth – the best, although the Alpinestars are very close
Functionality – the best
Overall – the Canyon boots are on top
Bottom Line
The Canyon boots have lived up to their billing, no matter the type of riding undertaken and weather encountered to date.
They are flexible and light enough to handle every day street and road riding, but have substance and durability for our many off-road forays. Highly recommended.
w

BW

 Review: Sidi Canyon Boots
Available From: SIDI
List Price (2007): $369.95 CAD ($260.00 USD)
Colors: Black Sizes: 37-50
Made In: Italy
Review Date: December 2007
Note:
 For informational use only. All material and photographs are Copyright © webWorld International, LLC since 2000. All rights reserved. See the webBikeWorld® 
Site Info page
. Product specifications, features and details may change or differ from our descriptions. Always check before purchasing. Read the
Terms and Conditions
!
Owner Comments and Feedback
---
From "C.B." (March 2016): "This week, as I get ready to get my bike back out onto the road, I looked at my old boots and it spurred me to re-read the review posted here in 2011.
I bought my boots in 2008, which I think was the first year they were produced, but I could be wrong. I am a road driver, mainly medium and short touring.
The Canyons have been my faithful companion these past 50000 km.
In 2015 we spent a week riding in the heaviest rain of my 30 years, and not once did these boots let in a drop or get cold. To add to it, I have never treated or even cleaned these boots. They simply work.
The buckle seems odd, but it is tough plastic and the boots still feel luxurious and comfortable. They handle both hot and cold very well.
In the end, if I ever see it, I will most likely replace them with another pair of the same."
---
From "I.C." (04/11):  "Bought (the Gore-Tex Canyon boots) as replacement boots in March 2010 following a dabble with BMW Motorrad all weather boots. I was struck by the price. These are not cheap boots retailing at £170 but quality comes at a premium.
FFirst a word of warning regarding sizing, I'm a UK size 9 which usually translates in to a European size 43. Having tried on other types of Sidi boots they come up very small and I was advised to order mine as a size 46 which would normally be far to big. So be advised go to a Sidi stockist and try some on before ordering.
The boots are well constructed from hide with a fantastic "combat" sole. The buckle has a quick fasten & release mechanism which works perfectly well. It appears sturdy enough and never gives any trouble.
Reinforced toe / heel and shin protection these boots really do inspire confidence when putting your feet down for purchase in slippery conditions.
Having applied silicone water proof spray religiously they have been through wet conditions and not leaked. Warm in the winter paired with decent wool socks my toes stayed warm over some long distances however they do not breathe so in hot conditions your feet will slowly cook.
But that is perhaps the price for a well made, fit from the box, all round boots. I cannot recommend these boots highly enough but strongly suggest you try before you buy."
---
From "J.S.":  "I bought a pair of the Sidi Canyon's last year, Sympatex liner version. I have driven through every kind of weather condition since purchasing them… They are comfortable, warm, dry and presumably light to walk around with when off the bike. The only negative would be the single point adjustment system, which is a little bit fiddly, other than that I am a very impressed and pleased Sidi customer…Take care, ride safe."