Sidi Apex Lei Boots Review Summary
Sidi Apex Lei Boots Image Gallery
The Sidi Apex Lei boots are the women's version of the Sidi Apex boots and similar to the Sidi Vertigo Lei boots (review).
These are short boots with serious protection.
Both the Apex and Apex Lei boots have similar features but the Apex Lei version is specially designed for the female rider with what Sidi calls a "lady-specific foot mold".
If you are an aggressive street or track day rider and you are looking for a short boot, you should seriously consider looking at these.
I am pleased to see that Sidi knows their demographics and respects the needs of both men and women for protective gear.
The overall design of the Sidi Apex Lei boots reminds of something that would be used for an extreme sport. The boots feel like ski boots, which means seriously protective but seriously stiff.
The protectors or "armor" is obviously in all the right places — ankle, toe, heel and Achilles heel and it is mostly black with some of the protective pieces in a glossy black.
There is a silver inlay on the mid-front of the foot and it has a silver graphic of the Sidi label on the lateral side of each boot. The Italian red, green and white Sidi logo is discreetly posted above the Achilles area of the back of the boot. There are also wisps of decorative sliver wings sprouting from the outside ankles perhaps as a nod to the Hermes god of travel.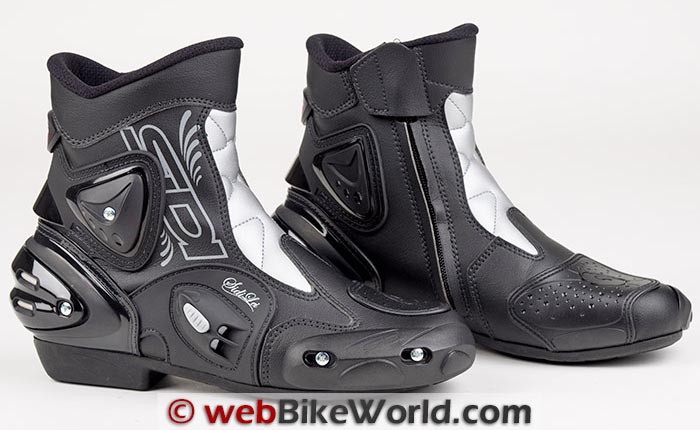 Sizing and Fit
Sizing of the Apex Lei boots seems a bit fuzzy. I ordered a size 41 and according to the footwear conversion table on the RevZilla website, European size 41 translates to 7-7.5 for men and 8.5-9 for women.
The box that the boots came in has the Sidi Lei label size 41 barcode but the "US" size listed on the barcode is 7.5 (men's size). So the boots do fit with a bit of room to spare. It is easy to get in and out of them with the full-length open entry zipper and hook-and-loop fastener for cinching at the top of the boot.
A thick sock fills out the heel and toe box, which helps prevent foot sliding.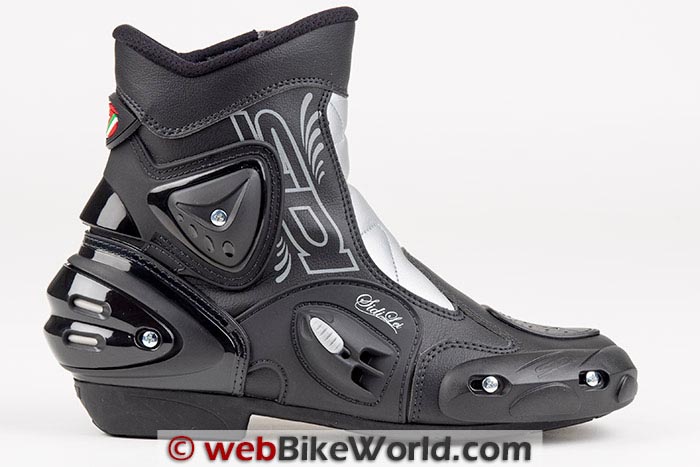 Construction
The outer portion of the boots is made from Lorica, a synthetic material that functions like leather but it's lighter and stronger.
There are bolt-on scuff pads that are all replaceable, including a plastic toe slider. One potential issue I see is that Philips head screws are used to hold the pads in place. This can be a problem if you have a slide or drag your toes on the track (not that I do), because the screw head can be ground down, which would make it difficult to remove. Perhaps using socket screws or a hex head screws would be a better choice.
There is hard plastic armor for the Achilles tendon that Sidi calls the Vertebra System. What I like about it is while there is definitely a solid shield covering the Achilles tendon, it allows for approximately a 1/8 of an inch of compression room for flexion of the foot.
Ankle ball protection cups cover all the ankles. The ankle cups on the lateral side of the boot have an elevated surface of armor while the medial side has a protectors that appears to be flush with the surface of the upper.
There are closable air vents that when I found to be functional. There is also a perforated Teflon-treated breathable lining that provides a cushion around the heel, ankles and top of foot. The toe box, on the other hand, while also lined with perforated Teflon lining does not have the kind of cushion found elsewhere inside the boots.
There is a polymer shift pad on top of each boot and double stitching at all the stress areas, such as the heel, ankle and the top of the foot.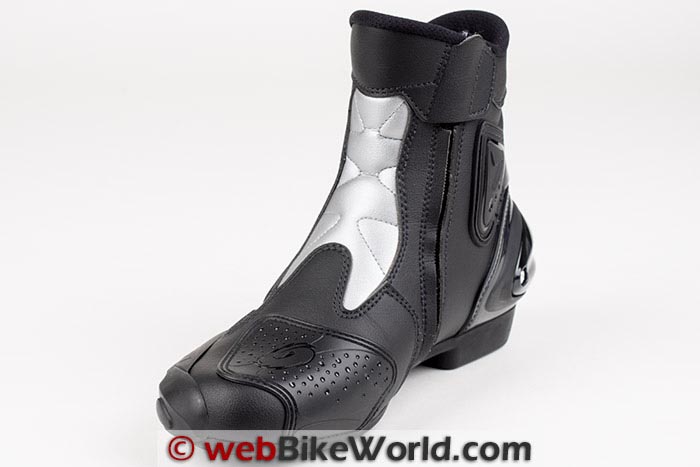 Comfort, Care and Function
Because these are a seriously protective boots, they are also a seriously stiff boot. The fit and feel seems more natural when actually sitting on a bike, but walking around all day would be, I believe, a terrible idea, at least initially, until broken in.
Alternatively, the boots have cushioning on the inside around the heel, ankle and mid foot area. It is only at the toes that you do not find that kind of cushion, except for the surrounding toe box area.
These boots apparently don't scratch easily, either. After wearing them several times there are no scratches — not even on the soles. If the boots are not damp or wet after a ride, you should clean them with just a soft brush. If they're muddy or wet you can clean them with a soft cloth.
Let's talk function: the Sidi Apex Lei boots have a lot of protection and they're cool-looking. These are boots not meant to be used for pedestrian footwear but rather for serious riding.
But my question is, do serious track day riders or aggressive street riders want a short boot? If you are going to spend around $225 for a pair of serious riding boots, are you going to think "short boot" or are you going to go for the mid-calf type that offers more surface protection? A colleague of mine called this an "identity crisis".
The Sidi Apex Lei boots are high quality with lots of armored protection. The question is whether an aggressive street or track day rider would purchase a short boot? Perhaps there a market for this type of boot that I am missing?
w

BW

 Review: Sidi Apex Lei Motorcycle Boots

Manufacturer: Sidi
U.S. Importer/Distributor: Motonation
List Price (2014): $225.00
Colors: Black/Silver
Made In: Romania
Sizes: 5.5 to 10.5 (37-43 Euro)
Review Date: June 2014
Note: Item provided by a retailer, distributor or manufacturer with these Terms and Conditions.
Note:
 For informational use only. All material and photographs are Copyright © webWorld International, LLC since 2000. All rights reserved. See the webBikeWorld® 
Site Info page
. Product specifications, features and details may change or differ from our descriptions. Always check before purchasing. Read the
Terms and Conditions
!
Owner Comments and Feedback
---
From "D.G." (June 2014): "My experience with the men's version was that they don't work well with boots-in leather pants. The Apex (boots) are just short enough to make the cuffs of pants ride up on the top of the boots.
Between that and the lack of shin protection, I gave up on the Apex and bought a pair of perforated Dainese TR-Course In boots, which were a much better solution."
---
From "A.D.B." (June 2014): "The author asks a valid question about the market for a short boot like this. I would offer that this is a great option for riders like myself (men's version, of course).
I have very muscular legs (thighs and calves). Most high quality products appear designed for the European market and are focused on less athletic builds.
I have tried a wide range of full motorcycle boots from most manufactures and I am unable to properly close the tops of any of them due to size of my calves (BMW, Dainese, Alpinestars, Sidi, etc.). Thus, I am forced into lower height boots.
A product like this that offers full protection for the lower portions of the leg/foot while accommodating riders with larger leg dimensions is something that I have definitely been in the market for. The men's version is definitely on my short list for my next boot purchase."