While car headlights are developing in technology, many motorcycles remain in the dark with sub-standard headlights.
BMW seems to be leading the way with headlights that swivel into a corner, or have LED headlights and, pretty soon, lasers.
Most motorcycle manufacturers use Halogen headlights, some use Xenon headlights, a couple use LEDs and Harley-Davidson offers an aftermarket Daymaker LED headlight.
You can also buy better non-factory aftermarket headlights and even an adaptive cornering LED headlight.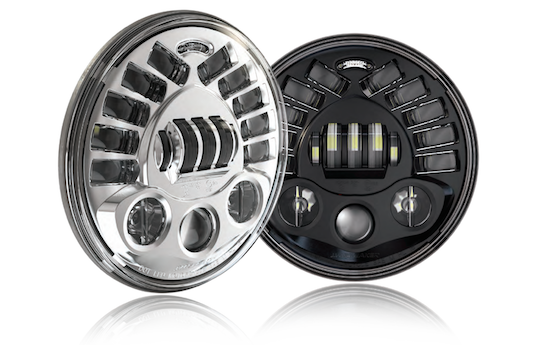 Mostly riders just want brighter headlights that have a smooth, long and wide coverage area.
However, be careful as there are Australian Design Rule limitations on size, shape and maximum glare from your headlight.
The ADR on headlight modifications is a complex and complicated document. It's designed to not only assist motorists with quality light, but also protect other road users from glare.
If you do decide to update your headlight or even your globes, you should also be careful that they do not affect the warranty of your motorcycle or the demands of the electrical circuits.
Xenon bulbs won't fit in a Halogen fitment as they have different bases.
I've known riders who have used a conversion kit to replace Halogen bulbs with Xenon bulbs only to have them frequently blow out.
So be careful that the conversion kit will work with your bike's electrics.
Types of headlights:
Halogen lights are the most common. They have a tungsten filament like a normal household bulb, encased in a bubble of halogen gas for longevity. They have a yellowish light and draw around 55 watts of power which is mainly converted into heat, rather than light. They last about 1000 hours.

Halogen (left) and Xenon bulbs

High intensity discharge (HID) or Xenon lights heat rare metals and gases including Xenon. They produce a three-times brighter and whiter light with a blue tinge around the edges. They are expensive, but draw low power and have double the life of a Halogen bulb. However, the ADRs require these lights to be self-levelling and have washers, which makes them difficult to fit to motorcycles. Manufacturers can get around this with Bi-xenon headlights that have halogen in the high beam and xenon in the low beam.

Ducati Diavel LED headlights

Light emitting diodes (LEDs) are ultra-bright, last an extremely long time (about 15,000 hours) and draw less power. They also burn much cooler than Xenon or Halogen lights. Their small size allows them to be made into thinner and varied shapes so they are often used as daytime running lights, as well as brake and taillights. However, they are now being used as headlights in cars and motorcycles.
Laser lights focus a beams towards a cloud of yellow phosphorous gas. The beam excites the gas which emits a powerful white light. They are being fitted in the BMW i8 high beams and are being considered for other models and future motorcycles. Advantages are smaller headlights, brighter light, more energy efficiency and a beam up to 600m. How the ADRs will deal with these when they become available is not yet determined.

BMW laser headlights
If you just want a whiter and brighter light to replace your Halogen bulb, there are some cheaper options on the market such as Philips WhiteVision, OSRAM Cool Blue Intense and Philips Diamond Vision. However, be aware that some are not road legal.