Shoei X-Fourteen Helmet Preview Review Summary
Shoei X-Fourteen Helmet Preview Image Gallery
Shoei introduced the X-Fourteen at the 2015 AIMExpo show.
The X-Fourteen is the latest in a long line of Shoei X-series helmets.
Triskaidekaphobics are glad Shoei is jumping directly to the X-14 from the Shoei X-12 (review)!
We've said this before and I noticed it yet again when I handled the X-Fourteen at the show. As soon as you pick up a Shoei or Arai helmet, there is something definitely different.
It's a combination of fit, finish, overall quality and…something else. Call it Shoei juju.
The X-Fourteen feels like it was machined from a solid block of titanium — really.
The perfectly executed tight split lines help, as does the paint and graphics.
One thing is for sure: Shoei and Arai couldn't have two more different design philosophies.
The new Arai Corsair-X (preview), which is their top-of-the-line race helmet, is round, round, round. Arai is very much into their R75 (continuous 75 mm shell radius) design aesthetic.
The Shoei X-Fourteen throws R75 out the window. The first thing you notice is the extended rear shape, which looks even more duck-tailish due to the huge (and patented) side spoilers in the rear.
Turn the helmet around and that radical rear shape becomes even more apparent. This may be a love-it-or-hate-it for many, but Shoei swears by the function and claims it shaves lap times, if only by milliseconds.
Another patent was granted to the liner system, which can be rotated to change the eye port positioning to allow better visibility out the top when the racer is in a tucked position.
One more innovation can be seen in the cheek pads, which feature a cooling "tube" to direct fresh air on to the racer's cheeks.
UPDATE: (November 4, 2015) Pricing has been announced for the X-Fourteen:
Solid (Black and White) = $681.99
Metallic or Matte = $692.99
Graphic = $807.99
Replica = $839.99
This is obviously a no-compromises motorcycle racing helmet and it will be very interesting indeed to put it through a webBikeWorld review.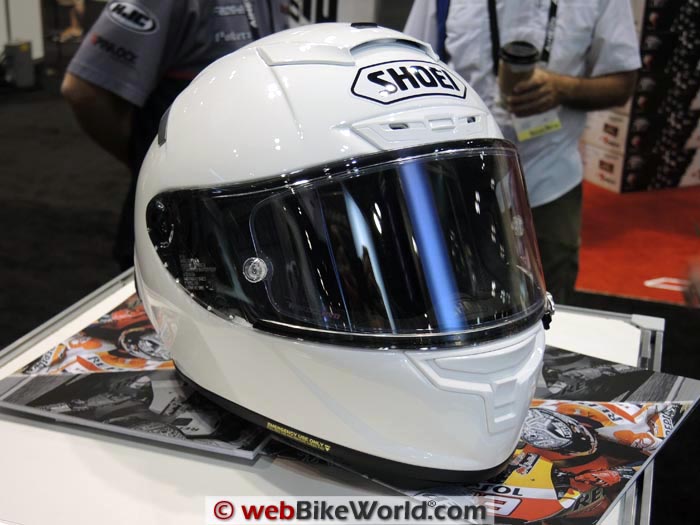 Shoei X-Fourteen Specifications
Here's an edited version of the Shoei X-Fourteen specifications:
"The difference between a race win and second-place finish can be decided by mere milliseconds, which is precisely why World Champions like Marc Marquez choose the all-new SHOEI X-Fourteen to help shave time off of every lap.
Track certified by the fastest rider on the planet, the X-Fourteen is a proven race weapon for those who aren't willing to sacrifice a single detail when it comes to high-end performance.
Like the handcrafted race bikes that dominate MotoGP's premiere racing circuits, every detail of the X-Fourteen was carefully designed, tested and fine-tuned until this final, uncompromised masterpiece was born. The X-Fourteen: When milliseconds count."
Design Concept
The X-Fourteen was developed utilizing rider input from the world's top racers like Marc Marquez and Bradley Smith and tested in the Shoei wind tunnel for next-level aerodynamics and ventilation.
 Enhanced high-speed stability while reducing drag and negative forces
 Ventilation performance features innovative cheek pad cooling system
 Patent-pending adjustable/rotating liner components for customizable fit and greater field of vision
Aerodynamics
The most aerodynamic and stable X-Series helmet yet.
All-new shell shape along with a completely redesigned, patent-pending Rear Stabilizer.
Standard Rear Flaps can be replaced with optional, narrower flaps to customize aerodynamics.
Strategically placed ridges along the top shell and chin bar reduce turbulence and drag.
Maximizes high-speed stability while reducing negative forces to the rider.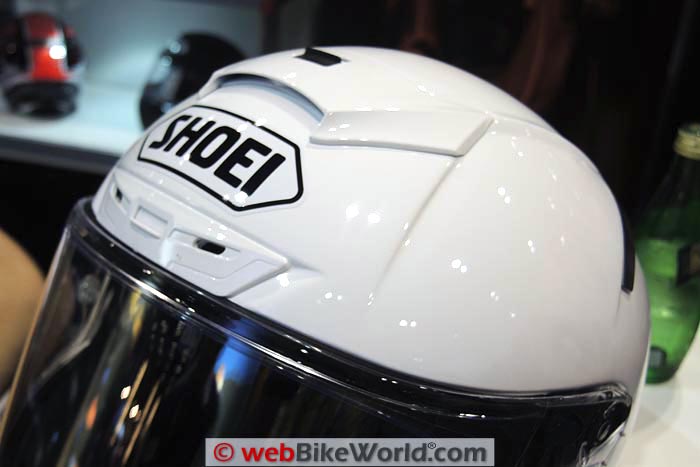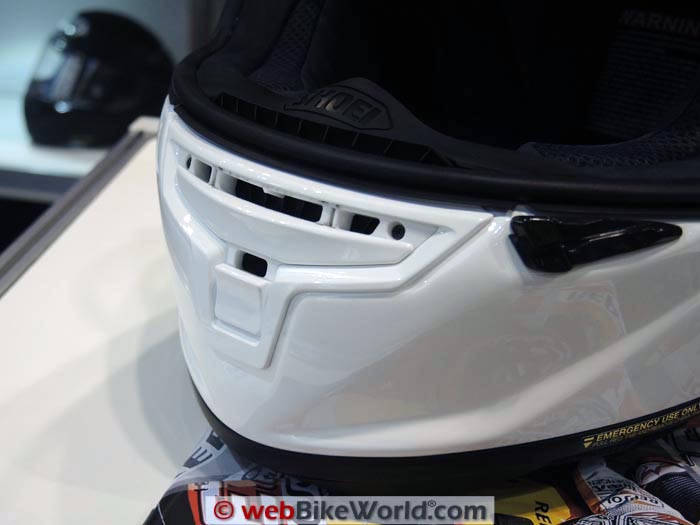 The X-Fourteen boasts six (6) air intakes and six (6) exhaust outlets optimized for maximum air flow.
Includes an all-new cheek pad cooling system.
Newly positioned side air outlets improve hot air expulsion.
Wind tunnel-optimized to excel in the tucked racing position, even behind windscreens.
Rear Stabilizer / Rear Flaps
Redesigned, patent-pending Rear Stabilizer maximizes high-speed stability while reducing negative forces on the rider.
Standard Rear Flaps can be replaced with optional, narrower flaps to customize aerodynamics depending on rider preference and track demands.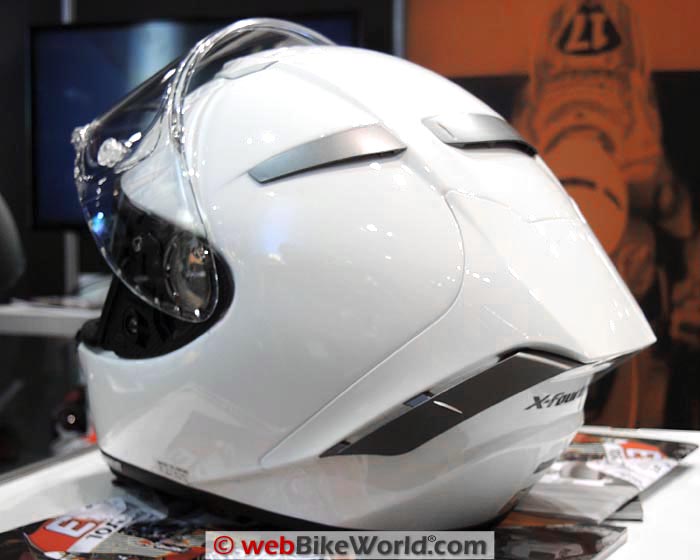 Protects from 99% of the sun's damaging UV rays.
Innovative new ribs on top and bottom edge improve rigidity and eliminate bending.
Exclusive, patent-pending Vortex Generators reduce air friction.
All-new double shield locking mechanism prevents unwanted shield openings.
Provides a flat surface to accommodate racing tear-offs.
Comes equipped with the Pinlock EVO fog-resistant system.
QR-E Base Plate System
Facilitates quick and smooth shield changes.
Shoei's patented spring-loaded technology ensures a wind and waterproof seal.
Strengthened springs for more precise functionality.
Innovative five-stage rotating dial for shield/base plate fine-tuning.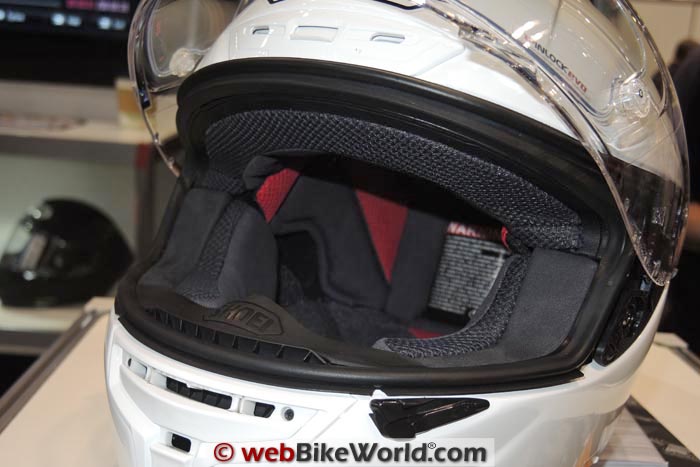 Multi-Ply Matrix AIM+ Shell
Proprietary technology integrates a six-ply matrix.
Hand-laid interwoven layers of fiberglass with organic fibers and resin.
Shoei's strongest, lightest, most elastic shell.
Dual-Layer / Multi-Density EPS Liner
Provides enhanced impact absorption by utilizing varying densities of foam.
Allows cooling air to travel unrestricted through tunnels created in the EPS.
Precise placement of multi-density EPS material yields a more compact, lightweight design.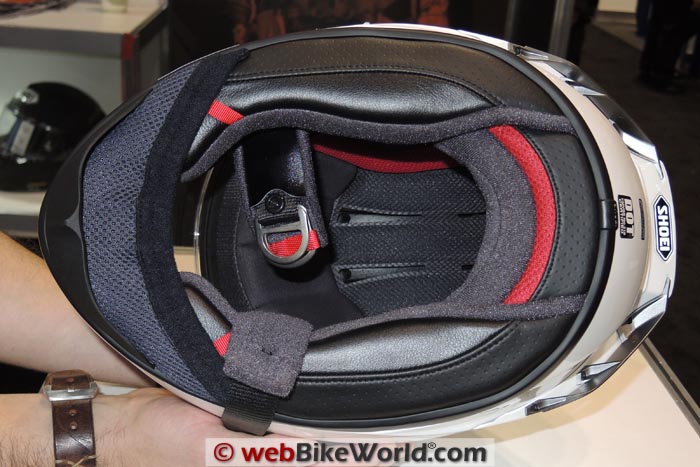 3D Max-Dry Custom Interior
Fully removable, washable, replaceable and adjustable.
Exclusive Max-Dry material absorbs and dissipates sweat twice as fast as traditional nylon.
All-new cheek pad cooling system delivers refreshing air to rider's cheek area.
Patent-pending rotating liner components increase upper field of vision when in tucked racing position.
Optional sizes for each section of the center pad.
Emergency Quick Release System (E.Q.R.S.).
Allows emergency medical personnel to easily and safely remove the cheek pads from an injured rider's helmet.
Helmet can be gently removed from an injured rider's head with minimal load placed on his/her neck for a completely customizable fit.
Three-dimensionally shaped to match the contours of a rider's head.
4 Shell Sizes
While some of our competitors rely on foam padding for fitting a wide range of customers, Shoei offers an industry-leading four shell sizes in the X-Fourteen to ensure a custom fit for heads between the sizes of XS-XXL.
Chin Curtain
The chin curtain can be inserted into the lower edge of the chin bar to reduce wind turbulence and noise.
Breath Guard
The breath guard can be inserted into the upper edge of the chin bar to help reduce fogging by diverted exhausted breath down out the bottom of the helmet.
Conclusion
The new Shoei X-Fourteen is a radical redesign of a popular classic that should prove very interesting! The helmet will be available in early Spring 2016 and we'll have one for a review to be published around March.
Publication Date: October 2015
UPDATE: wBW Shoei X-Fourteen Review
Note:
 For informational use only. All material and photographs are Copyright © webWorld International, LLC since 2000. All rights reserved. See the webBikeWorld® 
Site Info page
. Product specifications, features and details may change or differ from our descriptions. Always check before purchasing. Read the
Terms and Conditions
!
Owner Comments and Feedback
---
From "D.M." (October 2015): "I've been a big fan of Shoei since my mid-'90's RF-700 (yes, Rick, there was an RF-700). I loved the X-Eleven, but then the internal shape changed so that I couldn't wear an X-Twelve.
I thought the X-Twelve was nice looking, but it seems like it was a dog, sales-wise (I've seen salesmen roll their eyes when the X-Twelve is even mentioned).
So now the dog has barn-doors? Good luck with that!
They may as well have called it X-Thirteen, so that if it didn't sell, they would have an excuse. I've switched to Arai."