Shift Viper Jacket Review Summary
Shift Viper Jacket Image Gallery
This is definitely not a cookie-cutter motorcycle jacket!
The Shift Viper stands out from the crowd.
It has vintage-look leather and CE approved protectors.
That provides protection and a modern design lends plenty of style.
I have definitely found my calling in life: a "job" riding motorcycles and reviewing clothing. Does it get any better than this?
My college degree was in Fashion Design and Production and like many graduates, I drifted away from that field as I became involved in other things.
But while I may not be actively designing and producing clothing, I can still spot both the poorly made and well made garments, and I'm picky!
I must admit, I have been impressed with the construction of all the motorcycle gear I have reviewed thus far. Everything has been very well made and the Shift Women's Viper Leather jacket is no exception.
And as for style — well, the Viper jacket looks so different from most motorcycle jackets that I just had to add one to my wardrobe.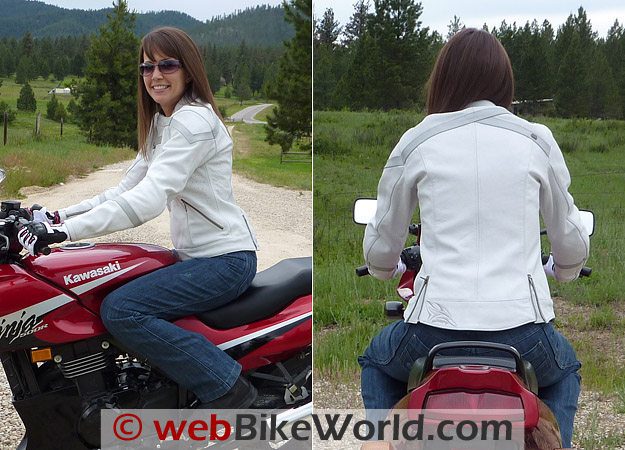 Shift Viper – Sizing and Fit
Based on this example, I feel that the Shift Women's Viper Leather Jacket runs true to size.
I normally wear a size small, and that is what I ordered based on the Shift sizing charts and my measurements and the size small fits beautifully.
To my delight, the sleeves on the Viper jacket are long enough to fit me, which is often an issue. The Shift sizing chart recommended a size large for my height, but then I think the body would have been too big.
Remember that the fit may still vary slightly from one style to the next, even within the same brand, so plan accordingly.
Case in point: I was able to try several size small jackets in the Shift lineup, including the Shift Catalina mesh jacket, the Airborne mesh jacket, the Tempest Storm Series jacket and the Envy textile jacket.
All of them fit, with the exception of the Envy jacket — the sleeves were too short for me.
One of the nice things about Shift women's gear is that it is designed specifically for a woman's shape.
What does this mean?
No boxy jackets or baggy jeans, but jackets and riding jeans that hug a woman's curves and gloves that fit a woman's slender hand.
An example of this design philosophy can be seen in the Shift Viper jacket, which has princess seams which provide a close, curvy fit.
Princess seams are rounded seams, used in a woman's blouse or shirt to add shape and to help tailor the fit. Shift uses princess seams in all of their women's jackets, and this makes a difference in the way they fit.
The waist on the Viper jacket is shorter in the front and longer in the back to more easily accommodate sportbike riders but the shape will still work for riders of standard bikes or cruisers.
The jacket has two 4.75 inch (12 cm) long zippers at the hip to open the gussets, which allow for a fuller figure or for more room when on the bike.
For tips on how a motorcycle jacket should fit, see my Joe Rocket Jet Set Jacket Review.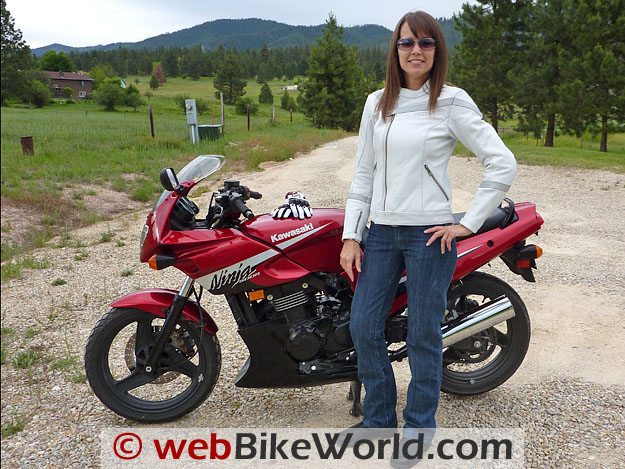 Protection and Visibility
The Shift Viper jacket is made from 100% leather that features a vintage look.
The 1.1 mm to 1.3 mm thick leather feels soft and non-binding.
The removable CE-approved "EVO-Lady" shoulder and elbow protectors are specifically designed for women and it's probably the most comfortable protectors I have felt in any new jacket I've worn.
The armor in a brand new motorcycle jacket usually feels pretty stiff and sometimes it even pulls on my shoulders before it gets broken in (if ever).
The protectors in the Viper jacket is very flexible and hardly noticeable, whether I'm on or off my motorcycle.
There is no back pad or pocket to add back protection later.
Most motorcycle jackets don't come with CE approved back protection but many do come with a thin pad, which can be replaced with a CE approved back pad.
However, all of Shift's other jackets for women come with a back pad and/or a pocket to add back protection.
The Viper jacket doesn't include reflective piping or material. However, the white version of the jacket is obviously more visible at night than the black version, but night-time reflective strips would have been a great addition.
Beauty Is In the Eye of the Beholder
"Sometimes you'll love it, sometimes you'll hate it, but you'll always react to it", according to the 2010 Shift Street Catalog and the Viper may just fit that description.
The asymmetrical design and off-center front zipper are just different enough that there won't be any fence sitters on this one!
Personally, I love the styling; it seems a little futuristic, especially in white. The silver/gray embroidery on the chest, right sleeve, and back hem add flair.
The white jacket is adorned with silver synthetic leather strips for detailing, while the black version has black synthetic strips that look like snakeskin — a subtle reference to the jacket's namesake.
Even the 100% polyester lining is beautifully done — it's a zebra print, trimmed with light-blue piping along the princess seams.
Mesh gussets under the arms and mesh pockets to hold the armor allow more breathability where it is needed most.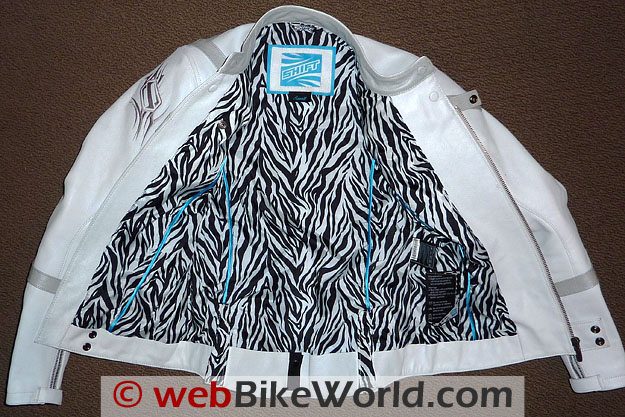 Construction
The leather is perforated on the sides of the jacket for venting. There are no zippered vents on the Viper jacket, so I'm not sure how cool it will keep the rider in hot temperatures.
So far, I've only worn the jacket in 67 degree temperatures (19 Celsius).
With a long sleeve shirt underneath, I was actually a bit cool, but not cold, and I could feel the air flowing down the back of the collar and the length of my back.
That will feel great when the temperatures really start to climb.
Pre-curved sleeves make the Viper jacket comfortable to wear when riding and they prevent bunching or binding. The tapered sleeves close with 4.75 inch (12 cm) long zippers and straps with hook-and-loop tape.
The inside of the cuffs on the size small jacket measure almost 8 inches (20 cm) in circumference. The cuffs are narrow enough that they should fit under most glove gauntlets.
The Viper jacket also has a belt loop attachment for connection to jeans or riding pants. This feature, combined with the longer waist in the back, should help to keep the jacket in place and the lower back covered when riding.
Zippers and Pockets
The Shift Viper jacket features YKK zippers with metal Shift zipper pulls on the front zipper and pockets. The zippers are all exposed which adds to the different look of the jacket.
On the front zipper, the tape is completely exposed on one side but the color matches the synthetic leather strips, so the look works. A tank scratch elimination flap closes with two snaps on the inside.
A snap at the top of the front zipper keeps the jacket securely closed.
Above the zipper, two concealed magnets hold the banded collar closed. The neck feels a little roomier than on my other jackets, so if you find that the neck on other jackets is too snug, the Viper may be a good choice.
Two angled front pockets have 6.5 inch (16.5 cm) zippers and they are 7 inches (18 cm) deep at their deepest point.
These pockets are large and have plenty of room for a cell phone, keys, sunglasses, a small wallet, or even a small digital camera.
Make a note that there are no inside pockets on the Shift Women's Viper Leather Jacket. I didn't even notice this at first because I usually store my extra gear in my Joe Rocket Manta Tank Bag (review).
Shift Women's Motorcycle Clothing Lineup
Like most motorcycle gear manufacturers, Shift has considerably more selections for men than women.
However, Shift does offer a respectable variety of jackets and gloves designed specifically for women.
They currently list seven different women's jackets, which have some of the most interesting prints and patterns I've seen.
The Shift women's lineup includes jackets in leather, mesh and textile. They also have four different styles of women's gloves available in a different color and print options to coordinate with the jackets.
New to the lineup this year is the Shift Women's Silhouette Street Jean (watch for an upcoming review).
The main thing I'd love to see added to the line is a women's riding pant. I saw a male rider wearing the Shift Havoc Hybrid pants, made from leather and textile, and I would LOVE a pair in a women's cut.
Conclusion
Asymmetrical design and a clean, modern look might not be everyone's cup of tea, but if you're tired of cookie-cutter jackets, the Shift Viper might be just the thing.
Leather and CE-approved armor make this fashion-forward jacket a great choice for those who want to change it up!
w

BW

 Review: Shift Viper Women's Motorcycle Jacket
Manufacturer: Shift Racing
List Price: $349.95
Colors: Black or White
Made In: China
Sizes: XS to L
Review Date: July 2010
Note: Item provided by a retailer, distributor or manufacturer with these Terms and Conditions.
Note:
 For informational use only. All material and photographs are Copyright © webWorld International, LLC since 2000. All rights reserved. See the webBikeWorld® 
Site Info page
. Product specifications, features and details may change or differ from our descriptions. Always check before purchasing. Read the
Terms and Conditions
!
Owner Comments and Feedback
---
From "B.L." (August 2011):  "I was on the fence about purchasing the Shift Viper women's jacket, because I hadn't been able to find one in my size locally to try on before buying online.
I tried on a Medium, which felt ok, but had a little room in the body. I tried on another style of Shift jacket in a Small to compare, and the sleeves were much too short.
Upon reading your review, and the details of the size of the reviewer, the size of the jacket she was wearing, the comparison to other Shift styles, and the photos, I decided to order a Small.
IT IS PERFECT!! Just wanted to say thanks for being so detailed in your review. It saved me a ton of work, and money. The jacket is exactly what I wanted."
---
From "S.S." (03/11):  "I must disagree with the reviewer on one note – this jacket is definitely for a passenger unless you are willing to take it to a tailor.
I love the look of it, but the first time out, the zipper scratched my tank, incurring  a couple hundred dollars in damage (to have the scratches filled and the paint job custom done).
Even with the "tank scratch elimination flap" if you ride even moderately aggressively, your tank will get scratched.
This seems to be an issue with a number of Shift jackets, both men's and women's, so I have had to take the jackets to the tailor to have the zipper reworked so that they are completely covered.
As a result, the true cost of the jacket is about $400 (tailoring for non-leather/textile jackets will be much less)".
Editor's Note: See our articles on using 3M Scotchcal to protect painted surfaces. I usually install it on every new bike as soon as it comes in the garage. It protects against scratches and dings.
Even rough clothing or clothing with Kevlar can damage the paint.