SHIFT Streetfighter Jacket Review Summary
SHIFT Streetfighter Jacket Image Gallery
Summary
Comfortable jacket for street or touring is adaptable to a wide variety of weather conditions. Good looks and relatively low price make it a bargain.
Background
Buddha stopped answering the 14 questions, and I long ago stopped answering this one: "What's the best four-season motorcycle jacket?".
That quest is something akin to Pygmalion striving for perfection with his statue of Galatea or Diogenes searching for his honest man. The Ultimate Jacket may be out there, but it will take an intervention by Mount Olympus dwellers to bring it to us mortals.
Am I stretching the analogy too far?  Probably — but note that I studied the Greeks only enough to understand the Romans…
I'll bet every motorcyclist knows the "perfect" jacket will never become a reality, but that doesn't stop us from hoping. Maybe — just maybe — the very next box that the UPS driver delivers will hold The Answer.
Motorcycle clothing manufacturers do nothing to stop us from our eternal wish — after all, that's how they make their money, right?  What they give us instead are many choices, all laying claim to that one, true "all around" label. I'll admit — there are a couple that come close, but we're mostly faced with a market full of compromises.
So what's a motorcyclist to do?
The only thing we can do. We rank order our criteria, with price as numero uno and a bunch of boxes ready for ticking. Windproof? Check. Liner? Check. Cold weather? Check. Warm weather? Check… Scan the wallet to make sure the Card of Credit wasn't lifted by the better half and it's off to the store for drooling and fitting.
OK, so where does that leave the Shift Streetfighter?  Well, not everyone is willing to lay out cinco C's for that Super Deluxe World Tour Edition with the built-in Electrostatic Anti-Tick Prevention Shock Collar 'n' Cuffs. I was in an upscale motorcycle shop last week and found one with a list price of $799.99. Ouch!  And the Electrostatic feature was optional!
Just kidding — about the collar 'n' cuffs anyway — but I'll bet dollars to doughnuts that the vast majority of the unwashed masses see two hundred bucks as a likely target for a jacket that will get them through a few years' worth of springs, summers — and falls (get it?).
Give 'em a modicum of wind protection, a zip-out liner to growl at the chill, cool styling and a comfy fit. Throw in a waterproof liner and they're sold.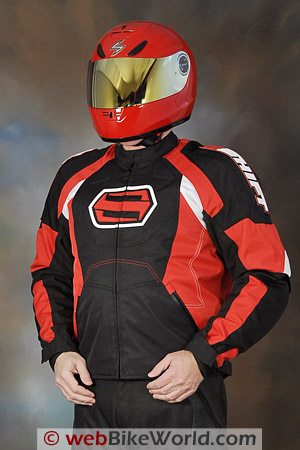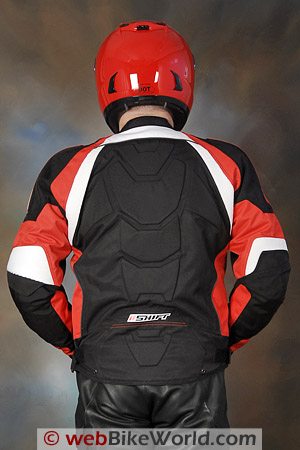 The Shift Streetfighter Jacket
That's the equation that the Shift Streetfighter jacket was meant to solve, and it pretty much hits that demographic right on the money. I'll bet more short textile motorcycle jackets like this are living on the backs of more riders than any other type, hands down.
This Streetfighter has been keeping me cozy at the outer edges of its performance envelope in the damp and chilly Mid-Atlantic last-gasp-of-March winter. The permanently attached waterproof lining actually does its thing, as I discovered with surprise und delight.
I didn't catch the "Waterproof" label at first, and just between friends I'll admit that I haven't ridden through a 6-hour downpour yet, but it did the job when I was foolishly caught unaware in the hefty storm that knocked out power for 2-1/2 days recently.
I wonder if the Streetfighter's outer 600 denier nylon shell has been treated with some type of water repellent, because liquid seems to bead up and roll off as easy as spit on an iron. Maybe this was by design, to help prevent geysers of water from reaching the waterproof liner that's permanently attached under the shell, or maybe it's because the fabric has only recently been liberated from the factory.
But it does seem to work, even though the Streetfighter doesn't actually look like a waterproof jacket (does a waterproof jacket have a certain look?). The water beading puzzled me, so a few days later when me and the jacket both dried out I took the Streetfighter in for a shower to evaluate it under "controlled" conditions and yep, it works!
A couple of drain holes, covered by grommets, are located at the hem on either side of the waist adjusters. Apparently, any water that has the nerve to blast through the shell gets stopped by the liner, drips down and drains out the bottom, but I can't imagine the length and intensity of the storm that would make that happen.
Let's be honest — if you are doing that World Tour, you probably wouldn't be wearing this jacket, but hey — who knows?  Frank Huffman had only a '50's typical leather jacket and pair of jeans when for his totally unplanned adventure around Southeast Asia in "Monks and Motorcycles". And how about Theresa Wallach's 7,500 mile jaunt through Africa in The Rugged Road — in 1934!  Nylon?  Only Flash Gordon had nylon…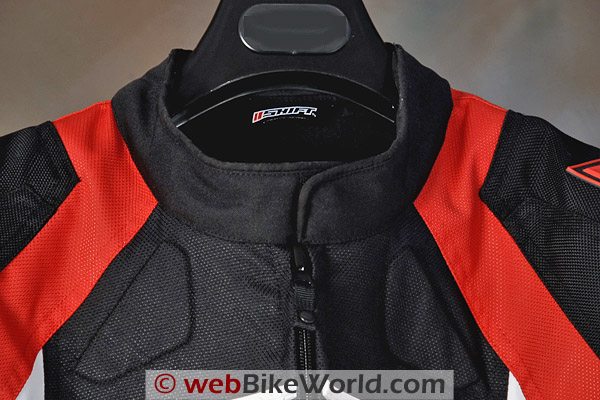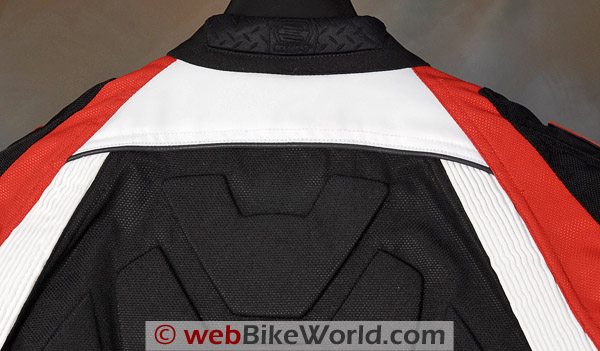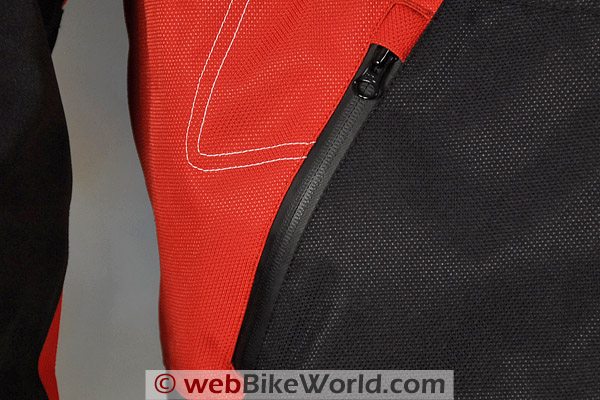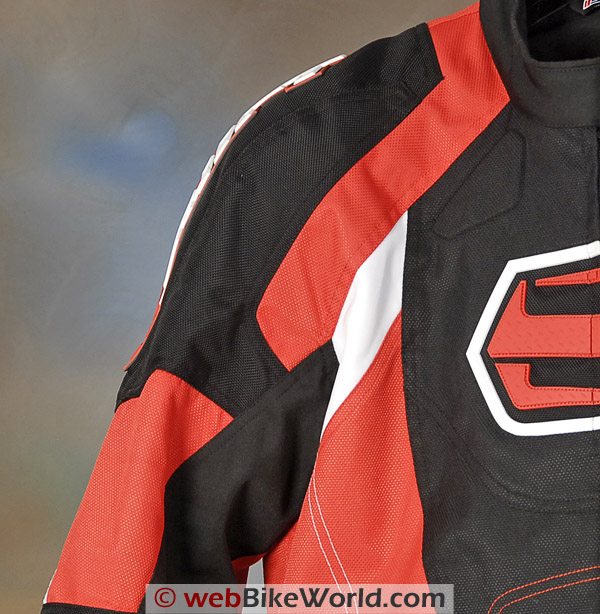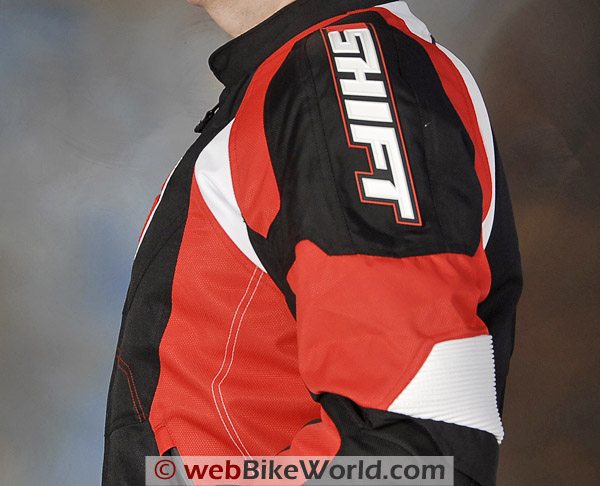 The Streetfighter's styling works, and get a load of the not-so-subtle "S" on the front — like the guy with the cape and X-Ray vision, right?
The jacket is very comfortable; the oversized articulated panels in the back of the shoulders and the elbows take care of that. Comfort is definitely important, and the size large shown here fits with perfect snug-ishness, just like a motorcycle jacket should.
Armor
The elbows and shoulders have CE-approved armor and although the back padding is noodle-wimpy (as it usually is in short textile jackets of any brand), it can be replaced with the nice SAS-Tech Level 2 back protector, same as the Shift Dyer jacket we reviewed last year.
Manufacturers, hear my plea:  join forces and standardize on dimensions for a back armor pocket, so motorcycle riders can buy high-quality armor with a standard shape and then swap it in and out of their jackets for the best protection.
Pockets
Other pockets on the Streetfighter are minimal, but the important ones are there, like the two waterproof slash hand pockets with waterproof zippers and a zippered pocket inside the left placket, perfect for holding a wallet.
Liner
The liner seems warmer than it should be. It's been in the mid-40's F lately and I'm actually surprised that it keeps me relatively cozy. The liner has a vestigial flap that snaps over on itself under the left placket, but there are no corresponding snaps on the right-hand side, so I'm not sure what it's supposed to do — maybe fold over the inside, under the zipper?
The main zipper has a lightweight piece of fabric behind it, serving as a wind block, but it's pretty basic. The liner attaches with a full circumference zipper (up one side, around the back of the neck and down the other side in one continuous loop), which is better, I think, than a two-zipper arrangement, one on each placket.
The liner also uses elastic loops at the waist to hold it with snaps that attach to the shell. This is a nice extra touch not often found on jackets of this type, and this feature serves to keep the liner from bunching up. The cuff at the end of each liner sleeve attaches to the shell with two snap straps instead of one, for added security.
Cuffs, Collars and Comfort
I also like the way the lower part of the sleeves and the cuffs are cut on the Streetfighter's exterior; the sleeves are gauntlet-friendly, with their tapered and thin profile — a definite plus.
Note that I haven't tried the Streetfighter in anything over about 50 degrees F., so I'm not sure how it will fare in the summer. The jacket has no vents in the front and I'm not sure how much air will get through the waterproof liner, but I'm assuming it will work in anything approaching reasonable riding temperatures.
There isn't much to say about the collar on the Streetfighter — it's basic and short with a relatively soft-ish lining to lay against the skin. But the collar closes with a very small piece of hook-and-loop, so there's not much room for adjustment.
I can fit it over my 17″ neck, but this is the second jacket we've seen recently (see our Firstgear Rainier TPG jacket review) that uses a too-small closure on the neck. Have the stylists forgotten about variability in human neck diameters?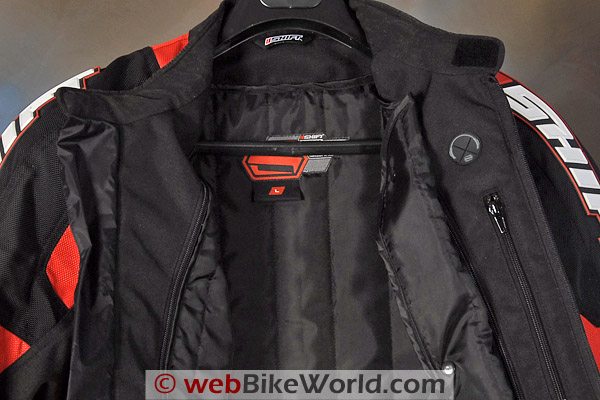 Other features include some reflective piping and a pass-through inside the left placket, just above the wallet pocket zipper. This opening can be seen in the photo above. It has a headphone icon printed on it, so it's obviously designed for an MP3 player, but the hole doesn't lead anywhere in this jacket — it's an opening with a wall behind it composed of solid liner.
It could be that this particular jacket missed a procedure at the factory (likely) or that the owner is supposed to cut a hole and thread the wires up through (unlikely)?  I'm not sure, but this "feature" isn't really a problem because I don't plan on using it anyway.
The Shift Streetfighter SS has a zipper in the back that will allow it to connect to the Shift Dyer pants or other matching Shift pants, but the jacket also looks great with a pair of Shift "Lodown" jeans.
Add in a pair of Shift Fuel Street Shoes we reviewed just a couple of weeks ago and you've got yourself a nice, stylish riding outfit for about $370.00, list price. Can't beat that with a stick, as they say…
Conclusion
The Shift motorcycle clothing we've tried has been through service with three different webBikeWorld evaluators and all have positive impressions. The company provides good value with style and functionality that should satisfy a vast majority of motorcycle owners.
I think the Shift Streetfighter will come pretty close to serving as an all-around solution for many riders looking for a basic short jacket at a very reasonable price.
NOTE:  Note that this review describes the SHIFT Streetfighter SS Waterproof jacket, not the SHIFT Streetfighter Hybrid Motorcycle Jacket, which is similar but includes leather on the front, rear and elbows and lists for $249.99.
wBW Product Review:  SHIFT Streetfighter SS Waterproof Jacket

Available From:  Shift Racing
Suggested Retail Price:  $199.99
Colors: Black or Black/Red. Some White/Black and Blue/Black colors may still be available at retailers.
Sizes:  M-XXL
Made In: Vietnam
Comments:  These products were provided by the manufacturer for this review per our review guidelines. Review Date: March 2008
Note:
 For informational use only. All material and photographs are Copyright © webWorld International, LLC since 2000. All rights reserved. See the webBikeWorld® 
Site Info page
. Product specifications, features and details may change or differ from our descriptions. Always check before purchasing. Read the
Terms and Conditions
!
Owner Comments and Feedback
---
From "W.M.B." (10/08):  "I spoke with Shift Customer Service and they said that the measurements in the back of the Streetfighter SS waterproof jacket were made from the Dainese Wave G1-G2 back pad. I don't understand why Shift doesn't offer a backpad, but at least they're willing to point a buyer in the right direction to get one aftermarket."