SHAD Zulupack Waterproof Bags Image Gallery
The SHAD Zulupack name is well known by those who enjoy the outdoors, particularly in wet environments.
And SHAD has done a good thing in tailoring and marketing the line worldwide.
With twelve bags in the current Zulupack lineup, there is — or should be — something for almost every use and every trip.
Besides motorcycle riding, that also includes walking, driving or travelling by other means — the Zulupack bags are just that versatile.
All of the products, less the SW55 travel bag, are true "dry bags".
Properly packed and closed, they will keep contents absolutely dry under most conditions imaginable and they'll also work as floatation devices in a pinch.
Of simple design with few external features — other than the odd pocket and essential mounting points — the SHAD Zulupack bags are truly basic in every sense.
That means they may not offer some features like the (valued) attachment points found on competitive products.
But the provided harnesses and straps and mounting points do allow any and all of the Zulupack bags to be quickly secured to a wide variety of motorcycles and some of the bags can also transform into extremely capable backpacks or carry-on travel bags.
Some adaptation shortfalls, like the minimalist straps and limited connection or mounting points on a few of the Zulupack bags should be addressed by SHAD to keep the bags competitive and to see their potential better realized.
The one thing that doesn't need much realization however is the simplicity, function, durability and value of the Zulupack waterproof bags in what is now a very crowded market.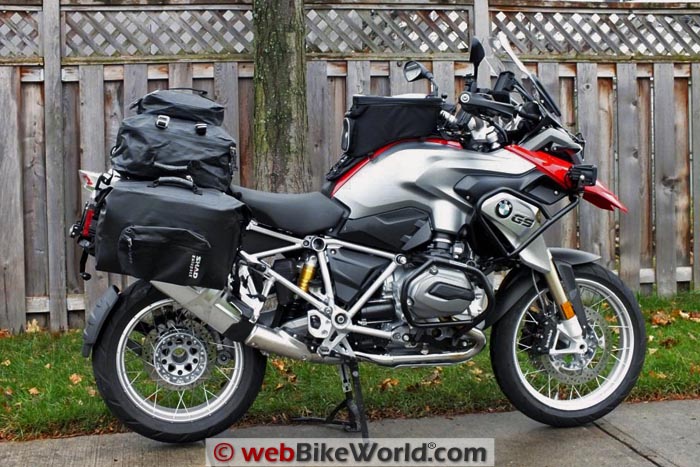 Background
After the Editor sent a set of SHAD Zulupack SW42 saddlebags and the SW22 Zulupack magnetic mount tank bag, I realized that the "review process" mentioned in the Zulupack SW05 small waterproof bag review was overdue.
That's doubly true since I've been using many of these waterproof storage goodies for over two years…oops!
But being fortunate enough to use the Zulupack products, large and small, for a variety of extended trips, day rides, commuting and general purpose carrying tasks over an extended period of time has proven their versatility, durability and value.
With twelve bags in the lineup ranging from very small to very large, there is truly something for everyone and everything.
And that's a good thing, as the motorcycle waterproof luggage or "dry bag" market seems to keep growing to provide products tailor-made for any type of riding: Around the World, cross-country or shorter trips closer to home.
And while each Zulupack waterproof bag has its own features and abilities, a short list was needed as a bacground to review.
Consequently, the SW42 Saddlebags, the SW22 Tank Bag and my favourite, the SW55 Travel Bag became the focus.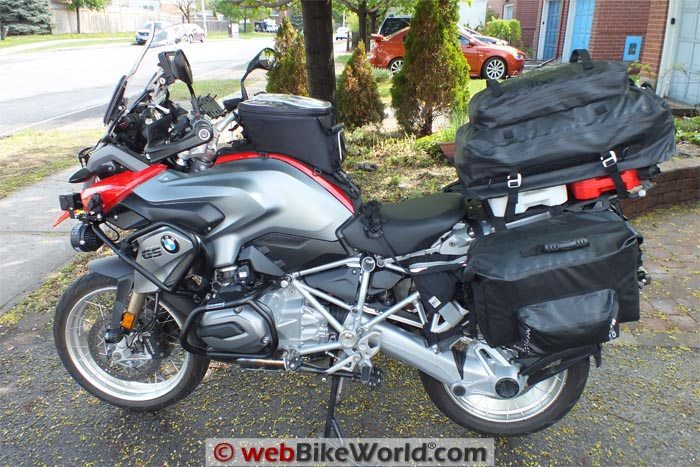 Zulupack Details
The SHAD Zulupack waterproof adventure bags or simply "dry bags" have been availalble for a couple of years as a separate lineup in the SHAD luggage catalog.
They work for motorcyclists, of course, but they are also popular with outdoor enthusiasts of all types — especially those who like to get wet and spend prolonged periods of time on, above or below the waves.
The current SHAD Zulupack product line consists of:
The SW138, SW90 and SW55 large travel bags.
SW42 saddlebags (approximately 18 to 21 liter capacity per side).
The SW40 (flat end) and SW38 (round end) rear duffel bags.
The SW 25, SW28 (with camera bag insert) and SW35 backpack/tail bags.
The SW22 tank bag with magnetic pads and back pack straps.
The SW18 laptop/courier bag with removable padded inner sleeve and shoulder strap.
The Zulupack SW05 small waterproof bag review (fits on the waist or as an accessory attachment to other bags).
Ranging from 2.5 liters to 140 liters capacity, each Zulupack bag is constructed of a three layer PVC/Nylon/PVC "sandwich" combination that is extremely tough.
Seamless welded technology construction is used with additional pieces or layers added for straps, D-rings and stress points to minimize weak points and maintain overall seal integrity.
When properly packed and with the tops correctly sealed, the Zulupack bags provide an absolute waterproof environment.
The only exception is the SW55 Travel Bag, which uses a large and smaller zippered compartments. The zippers, rather than a roll-top, give the bag a slightly less secure sealing environment, although it still passes the SHAD water tests and my more extensive test and use activites.
All of the Zulupack bags described in this review have seen four-season use on both motorcycles and snowmobiles and even at minus 23 C (minus 9 F) temperatures (been there and tested them), the bags remain pliable and fully functional.
This proves to me that they are suitable for year-round outdoor activities.
The larger Zulupack travel bags have multiple sets of adjustable side straps with alloy hooks, good for load compression, quick-release mounting options or interconnectivity to other luggage.
Many of the Zulupack bags offer integrated and very comfortable backpack harnesses.
The harnesses are ergonomically designed with angled padded shoulder straps and cross straps with lots of adjustment range and they include EVA foam back pads, which provide shape, strength and support for multi-day hiking comfort.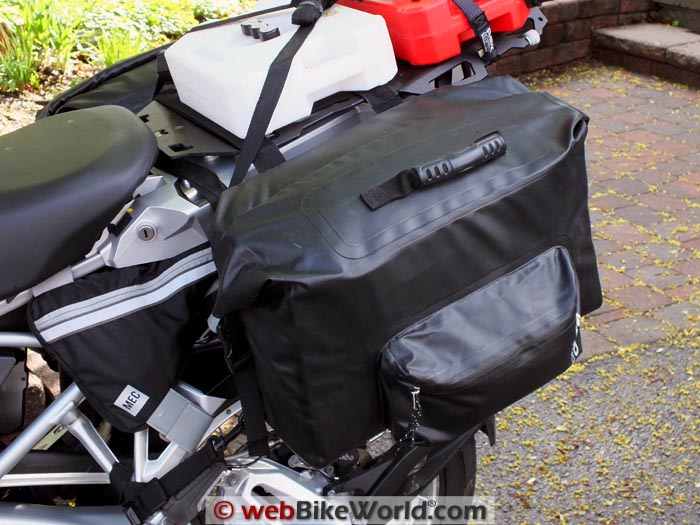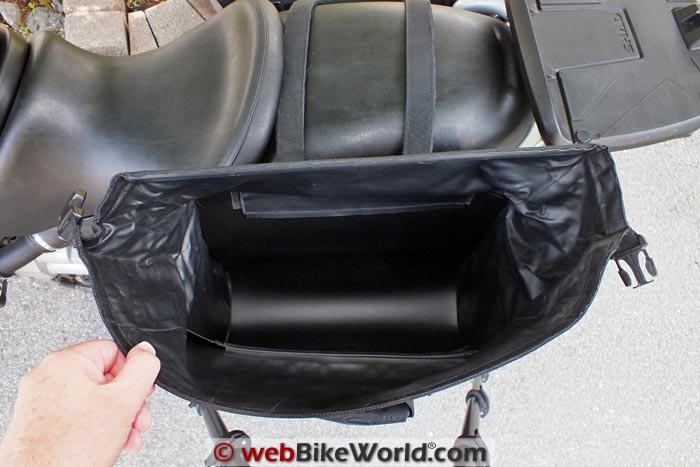 Zulupack SW42 Saddlebags
With their wide-mouth roll-top design and measuring 40 x 35 x 15 cm (15.75 x 13.75 x 5.9 inches) each, a SW42 saddlebag looks far larger than the rated 18 liters of capacity.
In fact, with the internal stiffener panels removed, the useable capacity is actually closer to 20-21 liters overall.
This isn't huge by any stretch of the imagination when compared to some other competitive motorcycle dry bags or waterproof side bags — some of which can provide capacities rivalling hard bags or aluminum panniers.
But no matter their size, the SW42 bags work very well, thanks in large part to their simple roll-top design, wide mouth top loading, strong durable construction and easy to use mounting components.
Most soft bags, even those with some form of internal frame, show some sag when mounted especially when empty.
To their credit, with or without the large plastic insert stiffener panels held in place with Velcro strips on the interior walls the SW42 bags hold their form quite well.
Removing the panels causes minimal loss of shape when empty but more flexibility in accommodating bulkier items or harder pieces with more shape is provided. For day-to-day use, the stiffeners are kept in place, providing shape and resiliency whether loaded or not.
I had some reservations about the bags given their simplicity of design, minimalist mounting approach and use of light-weight straps.
But for the most part, these concerns haven't become major issues, although a few enhancements, identified below, would be an improvement.
While add-on heat shields were considered by SHAD before bringing the products to market, the Zulupack SW42 saddlebags don't currently have integrated or removable heat shielding — a fact that needs to be considered when fitting them, given their PVC construction.
And this is where clearances and proper mounting comes in.
Mounting soft or hybrid bags on a motorcycle is best done when some form of original equipment brackets or accessory side frame kit is fitted, to serve as an external frame or backing for mounting the bags and providing correct clearances over things like the exhaust.
And with soft or hybrid luggage a large and vibrant part of the accessory market, mounting solutions abound, with OEM or accessory kits available in almost every form and price range for almost every motorcycle made.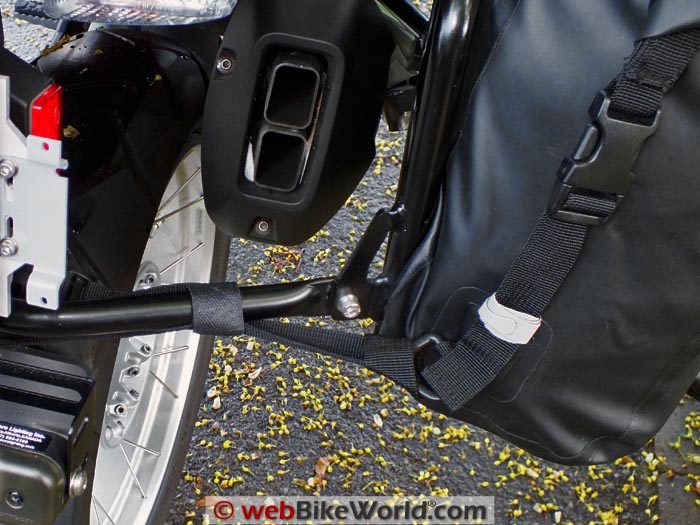 Mounting the Zulupack SW42 Bags
The two crossover straps included with the SW42 bags are easily adjusted to position the bags on either side of the motorcycle at the desired height and orientation.
To secure the bags to the motorcycle using the lower front and back D-rings, four adjustable straps (45 cm full length) with frame loops and pivot mounts are provided.
Typically the passenger peg bracket or co-located frame section provides the lower front anchor with the back strap usually run to the lower fender/license plate frame area.
Where a cross frame piece exists, the two back straps can be wrapped around this piece and interconnected to form a common anchor point. Taking the time to do it right always pays off…
But for some installations — especially on smaller motorcycles — and including two sportbikes that have hosted the SW42 bags, using third-party flat straps or making some custom straps with buckles and sliders works equally well or better.
Most of the Zulupack bags, including the SW42 bags, come with four long but narrow (110 x 2.0 cm or 43.3 x 0.75 inch) flat straps, which work for some motorcycle installations or interconnection applications.
I typically run these straps through the upper large D-rings on the SW42 bags, using them as supplemental cross straps front and back for added support and pull once the lower straps are in place.
What is missing on the SW42 Zulupack bags are additional attachment points. A couple of D-rings on the bottom or even better, a continuous run of flat strap with pass-through loops extending from the mid-front along the bottom to the mid-back point would be useful.
This type of loop strapping is used heavily on most competitive products. It adds little weight at minimal cost while allowing far more mounting flexibility and, security.
Two sports-oriented motorcycles have also hosted the SW42 bags using a "high and tight" approach to maximize the support provided by seat edges and side panels so the exhaust systems were cleared, which is critical with no heat shielding on the bags.
So with a bit of creative strapping the installations worked quite well on these two machines. The Zulupack SW42 bags aren't quite as stylish as smaller, shaped side bags, but they are very functional in accommodating larger loads.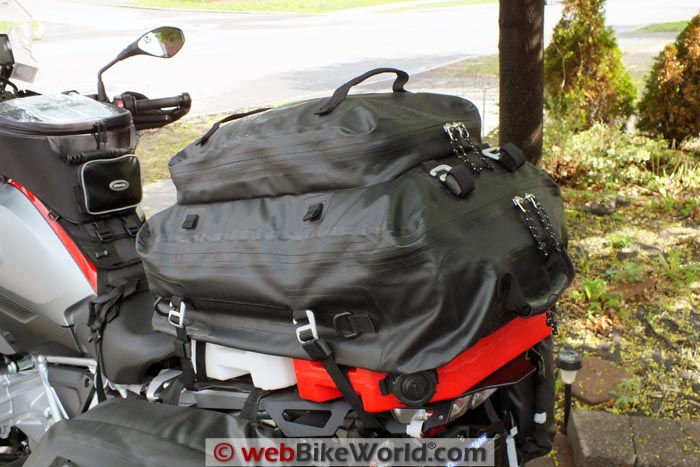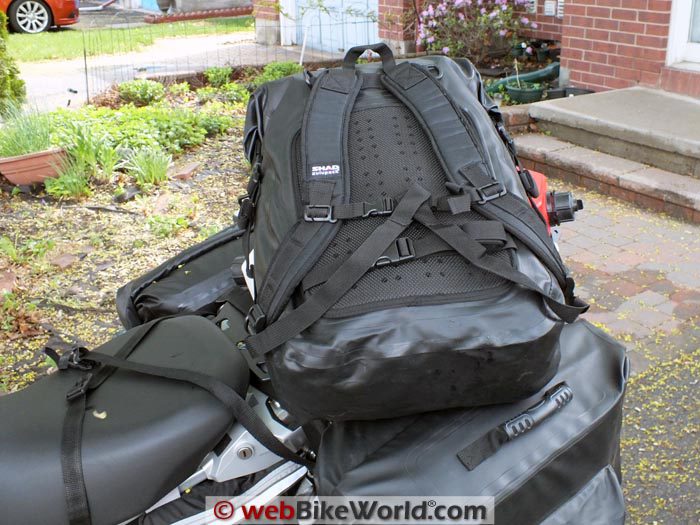 Zulupack SW55 Travel Bag
Although out-sized by the SW90 and absolutely dwarfed by the SW138 bag, the SHAD Zulupack SW55 travel bag is one of the most versatile luggage pieces in the collection.
The SW55 has a main 45 liter capacity compartment and an additional 10 liter top pouch with its own top straps (that will accommodate gear as large as a folding travel chair or tripod).
Measuring 60 x 40 x 26 cm (23.6 x 15.7 x 10.2 inches), the SW55 has a rectangular shape with a relatively low profile, even with the top pouch stuffed.
Like many of its Zulupack siblings, the bag is useable as a pack bag, a shoulder-carried travel bag or as a back pack, using its hidden shoulder harness.
A two-way self-sealing zipper, running almost completely around three sides, provides full access to the interior of the cavernous main compartment.
This bag also includes a set of internal adjustable straps like those found in other travel luggage to secure heavier packed items or keep a suit bag in place.
Four adjustable compression straps with G-shaped buckles (two per side) and three sets of compression (connection) loop tabs make quick work of compressing the SW55 Zulupack.
These same straps are also effective for mounting or interconnecting other Zulupack bags.
And like other good-quality luggage, large rubberized carry handles are stitched into the top and on one side of the SW55 for easy handling and carrying. This bag has seen lots of travel, carried by me on two wheels, other modes and on foot.
Bringing the SW55 into play as a backpack is quick and simple.
Pull the shoulder strap harness pieces from under the large mesh covered EVA foam pad, connect their G-shaped buckles to their small loop receivers found on the lower sides, adjust the straps and away you go.
When travelling solo, the SW55 often sits flat across the rear portion of the seat on my BMW F 800 GS or on the Alt Rider luggage system deck on my BMW R 1200 GSW. As situated and packed with some forethought in mind, the bag makes a great back support for those long days in the saddle.
Alternatively, the SW55 sits upright on its side with the back pad resting against something on the back rack, which can be the aluminium top box I have installed or the SHAD SH48 top case (review) when some lockable luggage is desired.
But just as often, one or two Zulupack duffels occupy the rear rack space on the bike, secured with their own straps or some of the long narrow adjustable straps found in all of the Zulupack bags. I keep these handy, stored in the bags, because you never know when they might be needed.
I sometimes add one or two sets of hi-viz ROK straps to the soft luggage configurations as well, for additional security and bit of conspicuity — something the SHAD Zulupack pieces in general are lacking (more on this later).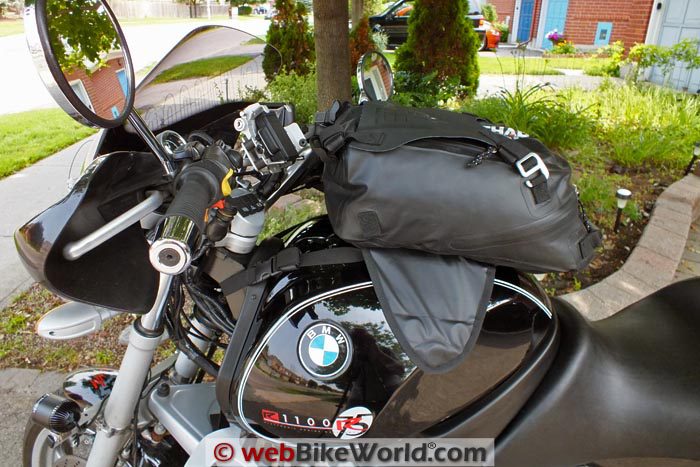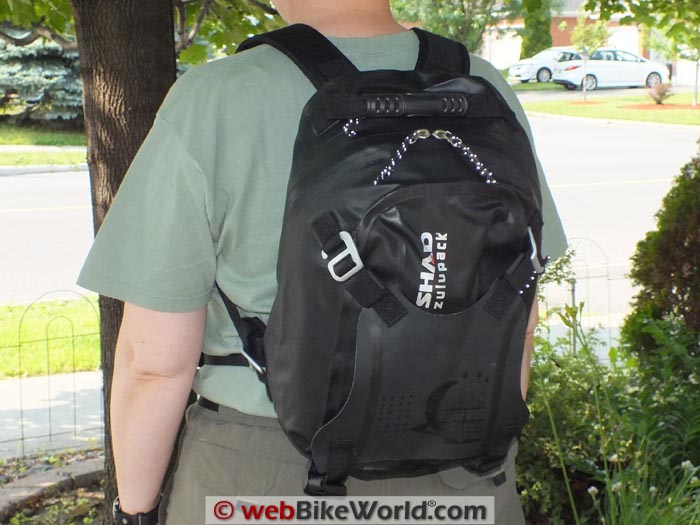 Zulupack SW22 Tank Bag
The only tank bag entry in the Zulupack lineup, the SW22 magnetic mount bag measures 42 x 26 x 17 cm (16.5 x 10 x 7 inches) and its single large compartment, accessed by a sturdy self-sealing two-way zipper is rated at 18 liters.
A small flat or hanging pocket — good for keys or small electronic devices — is accessed externally via another short sealing zipper located between the stitched mounting points for the comfortable rubberized tote handle.
When the SW22 tank bag converts to become a backpack, a removable holder pad secured to the top of the tank bag with four flat adjustable straps (two with G-shaped buckles) can be drawn into play to carry a helmet or other gear.
The base of the bag is the Zulupack standard mesh covered EVA foam pad that also serves as the storage spot for the removable shoulder straps pieces and/or the magnetic side flaps when they are not in use.
And like all the Zulupack back pack bags, this one is also a comfortable fit.
Inside the main compartment is a removable watertight pouch, good for carrying sensitive electronics or papers perhaps when removed from the main compartment. Only one of the two SW22 bags has had this "bonus" bag, although it is listed as part of the kit.
The 116 cm (45.6 inch) long neck strap does double-duty as a waist strap for back pack mode.
The strap typically loops through the forward edge of the tank base (pad) and secures around the lower steering column or upper handlebar mounts, with the sliding buckle providing adjustment.
As a tank bag, the two side flaps each with three small magnets stitched in along the lower edges are deployed on the sides of the fuel tank.
The magnets are quite strong (be warned) and with the side flaps pulled down for maximum force, the bag sits solidly on the EVA foam pad base.
I still use a small rectangular section of non-skid material on the tank surface to essentially eliminate movement of the base pad and provide additional cushioning and protection.
This is especially important for the original black with white pinstriped paint on my spouse's 1998 BMW R 1100 R 75th Anniversary motorcycle.
Undoing the neck strap and lifting the magnetic flaps off the sides of the fuel tank takes only seconds.
And with the backpack straps pulled out from between the EVA foam pad and the bottom of the bag, the magnetic flaps can be tucked away under the pad to disappear from view.
Like other Zulupack bags that convert to backpack use, the shoulder harness assembly is simple and very comfortable.
Each padded shoulder strap has a long adjustable flat strap, with a G-shaped alloy buckle that slips into small stitched loop holders on the lower edges of the bag.
The upper chest cross strap is width and height adjustable and the removable neck strap can be slide down to the bottom edge of the EVA pad providing a waist strap if desired.
The hook-and-loop "tidy-wraps", used on most of the Zulupack straps, leave no excuse for dangling flapping straps.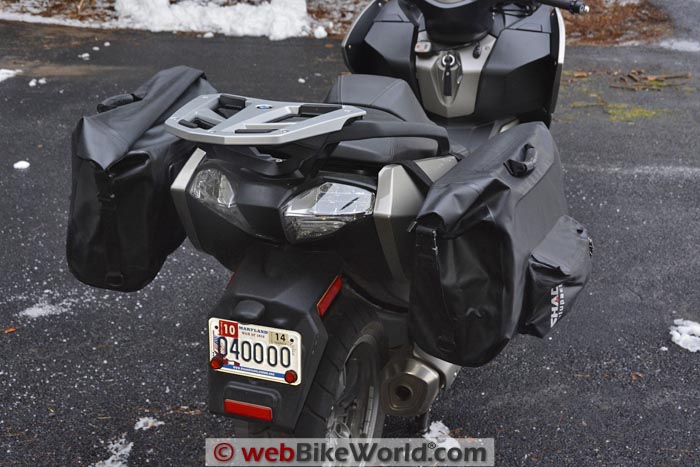 Zulupack Waterproof Bags Function and Performance
SW42 Saddlebags
I have used more than a few sets of soft saddlebags over more than a few years.
These run the gamut from an original set of Skookum Paks (large capacity military-spec luggage designed and hand-made by a British Columbia enthusiast decades ago), to some of the newer dry bag solutions that sport more features but also cost more.
And pitted against the competition, in any price range, the SHAD Zulupack SW42 saddelbags come off very well.
Simple design, ease of use and continued functionality based on over two years on multiple motorcycles are good qualifiers for me.
The SW42 bags aren't perfect, but a few simple enhancements — a couple of which are ongoing to my set here — would/will make these dry bag saddlebags even more functional and an even better investment.
SW55 Travel Bag
This is my favorite Zulupack bag. It doesn't have the same absolute pressurized seal provided by the roll-top bags, but its large zippered main compartment makes for easy packing and retrieval of items without sorting through multiple layers.
After two years of heavy use on lots of motorcycles and a couple of snow sleds, in all sorts of inclement weather along with other travel use, the SW55 doesn't show any deterioration in its ability to keep things inside absolutely dry.
As a "travel bag", it carries all of my essential riding gear or almost every piece of camping gear needed, in one easily removable, easily carried or comfortably worn waterproof bag. This bag never gets left behind when I'm travelling.
SW22 Tank Bag
For some reason, I was not prepared to like the SW22 tank bag. But as with other products, once I put them to extended use and some objective observations are formed, things change.
"The proof is in the pudding", goes the expression.
In only owning one motorcycle with a metal gas tank, other tank bags have typically resided on the R 1100 R fuel tank.
These include, by the way, the very competent SHAD SB23 tank bag (not covered in this review).
But it must be said that the magnetic mount Zulupack SW22 M tank bag is functional in every regard. Thus, my subjective first impressions have turned into objective admiration.
It certainly isn't a very stylish piece; but then again, it is as much a backpack as anything else and like a couple of other transformative tank bags on the market, it works extremely well in both roles.
The strong magnetic sections in the outer edges of the side flaps do a great job of holding the bag in place without scratching the previously mentioned softening paint on the "R".
The neck strap provides further security at the front, although a back strap of some sort might be useful as well.
Lifting the bag up and forward for fueling is easy — always lift the flaps away from the tank, don't slide them (remember the paint).
Once removed, with the magnetic flaps tucked away and the shoulder straps brought out, the SW22 becomes a shoulder bag or backpack day bag.
Securing both shoulder straps and magnetic pads under the base or back pad turns the SW22 into an excellent tote bag using its comfortable rubberized top handle. And you won't need to worry about anything inside getting wet.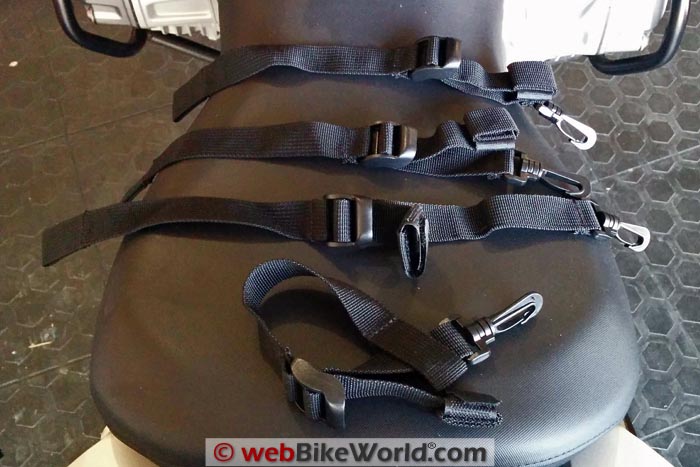 SHAD Zulupack Observations
Straps: The SHAD Zulupack straps are long enough and strong enough, but thin and very difficult to adjust. And as the Editor observed in the SW05 review, the straps are minimalist in most ways.
The strapping and plastic pieces fit together too tightly and even after prolonged use, they can be an exercise in frustration. The spiffy short ROK pack straps or home-made straps actually work better overall.
D-rings: As found on the SW42 saddlebags, the upper D-rings are 5 cm wide with a 4 cm internal diameter to accommodate one inch plus straps and buckles.
But the lower D-rings are only 3.5 cm wide with a 2.5 cm internal diameter. These will accommodate the thin standard SHAD Zulupack straps but nothing much larger.
Recommendation to SHAD: Standardize on the larger D-rings and add more
Most of the other Zulupack bags have a mix of D-rings as well, and some bags have them evenly placed on the surface, whereas other bags don't. This tends to complicate mounting the bags or interconnection other bags. Consistency and uniformity are good things!
Flat Strap Loops: Most of the Zulupack bags would benefit from short or long loop sections mounted across or around the bags as applicable, along with pass-through loop sections.
Yes, they will detract a bit from the appreciated clean lines of the bags, but for me it is function over form.
Visibility: Other than the distinctive logos on the Zulupack bags, there are no other high-visibility or reflective panels or striping to be found.
Like many motorcycle luggage pieces made today, the typicaly mounting location is on the rear of the seat, on a rear rack or as side bags on the motorcycle.
Many manufacturers have realized or acknowledged the issues associated with conspicuity and have subsequently added bright colors, high-visibility color options and/or reflective panels or striping to their products.
I sure hope SHAD does the same for the Zulupack products — and soon.
Conclusion
These three Zulupack bags are a motorcycle-specific representation of the 12 products in the current SHAD Zulupack lineup.
None of the Zulupack bags — including the three used here — have failed in any way, although some of them have very visible scratches and rub points. A wash now and (mostly) then suffices to keep them presentable.
Aas good as the Zulupack bags are, they could individually and collectively be made much better with a few small changes and enhancements.
We have a lot of choices available to us regarding all types of motorcycle luggage: hard, hybrid or soft. Thus, it really does pay to invest some time and energy into research and shopping around — both physically and literally.
And while each motorcyclist will find pros and cons with the SHAD Zulupack waterproof bags, there is no denying they represent excellent value and are likely to provide years of service, no matter how they get used.
w

BW

 Review: SHAD Zulupack SW05
List Price (2015): SW42: $165.00. SW55: $169.00. SW22 M: $110.00.
Made In: Unknown
Colors: Black (some bags have colour options)
Sizes: Varied
Review Date: July 2015
Note:
 For informational use only. All material and photographs are Copyright © webWorld International, LLC since 2000. All rights reserved. See the webBikeWorld® 
Site Info page
. Product specifications, features and details may change or differ from our descriptions. Always check before purchasing. Read the
Terms and Conditions
!
Owner Comments and Feedback