SHAD Motorcycle Luggage Image Gallery
Quality motorcycle luggage with attractive styling and real storage efficiencies no matter the size.
Mounting kits are lightweight and modular, extremely easy to use and provide a stylish look to any motorcycle.
Cases are easily mounted and dismounted, locks and latches work very well – everything is a one-hand operation.
I have to admit that until the Editor sent a few links to check out, SHAD products were largely unknown to me, although I had seen some of the SHAD top cases featured in postings made on a couple of adventure rider forums.
Established in 2006, the Miami, Florida based company also distributes in the U.S.A. through SHAD U.S.A.
SHAD motorcycle luggage is made in Europe. The company, located near Barcelona, Spain, was apparently established in 1992 by a Spanish company, NAD S.A., claimed to be the largest manufacturer of motorcycle seats in Europe.
The SHAD manufacturing quality system is also ISO 9001 certified, according to the company.
SHAD makes top cases and panniers for motorcycles; cases for ATVs; soft luggage and helmets, along with hardware for mounting the products.
Based on SHAD product information, there appear to be three major motorcycle top case model lines. With a very extensive fitment list, there is an option for most applications.
The Top Master line is for the top case rack kits, Full Master designates the fitting kits for both a top case and two side cases, while Side Master kits are for fitting side cases only.
Speaking of fittings, through the years I have learned that as co-caretaker of a fleet of motorcycles, a modicum of farkling is needed to keep them happy (that's my story and I'm sticking to it…).
So when the opportunity came along to evaluate the SHAD products, I couldn't resist.
After some email coordination with the SHAD representative and a short wait of two weeks, a five piece shipment arrived on my chilly snowy doorstep and all it took was my "X" on the paperwork to get them released into my possession.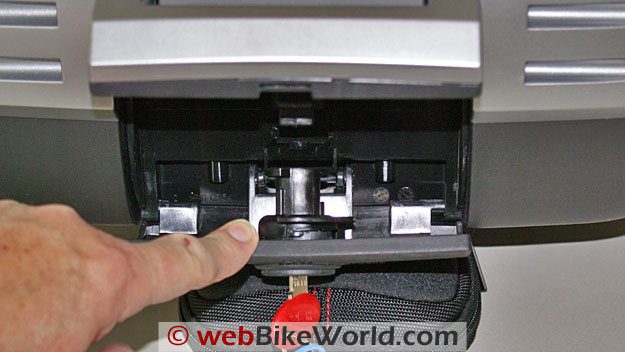 Casing the Cases
In opening up the individual cardboard boxes to do an inventory, check for any possible shipping damage (none) and do a preliminary inspection, the first thing that came to mind was that quality is not a limitation of the SHAD products; all of the top cases made a great first impression.
The delivery included four complete top case kits and an accessory rack kit – all this before Christmas!
According to the SHAD website, which identifies twelve (12) different SHAD top cases, a third of their product offering was taking up real estate space in the living room. This is the way to start an in-depth evaluation!
SHAD luggage designations all begin with "SH" followed by a number that identifies the volume in litres of the particular piece.
The first three boxes held an SH-40 CA kit with the optional cargo rack for the lid, a stylishly-shaped SH-45 and one SH-46 with a gloss black cover insert and optional light kit.
The biggest box was reserved for protecting the large SH-50 top case and its kit, complete with backrest (installed) and an optional brake-light kit (not installed).
Finally, there was a long box that held the Top Master rack kit for the Kawasaki Versys.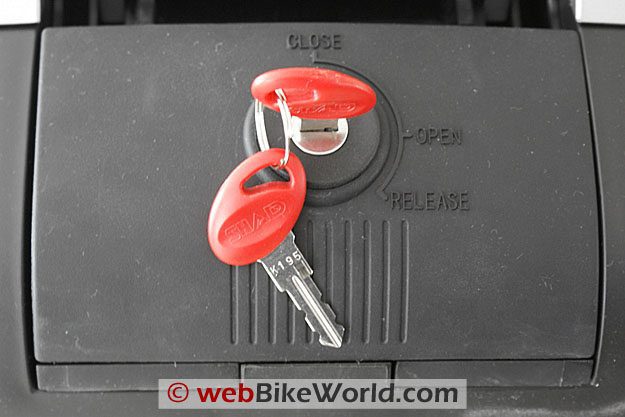 Principle Features
While somewhat similar to the system used for Givi Monolock components, the SHAD mounting system is unique. SHAD racks and cases are not compatible with any other brands (at least not without some form of adapter).
Unlike some Givi products, SHAD top cases and side cases are not typically interchangeable, although the 2009 marketing brochure identifies one component as suitable for use as either a top case or side case duties.
Precision moulded and extremely well finished, each top case is attractively styled while still providing optimum storage efficiency.
All components are top notch; everything fits together precisely and everything works smoothly. The colours of the various pieces complement each other and form an attractive whole.
Each kit comes with three components. The steel bottom plate (universal adapter) for mounting to the motorcycle, a stylish plastic cover plate that is gets secured to the bottom plate and, the top case itself.
When the bottom and cover plates are mated together the mounting assembly is very strong and quite thin, with a "finished" look to it.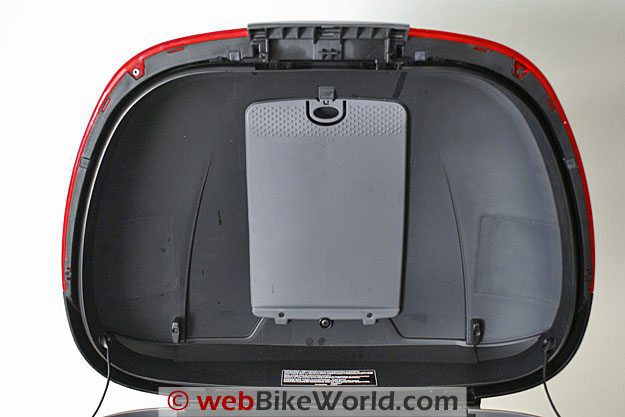 Every manufacturer, SHAD included, seems to have their own unique lock and latch system. Some are easy to use and some are less so.
The SHAD Press Lock system is both unique and easy to use.
The top case assemblies are very sturdy and everything can be done with one hand. The standard cases have a two position lock while the SH-50 has a three position lock assembly.
One appreciated feature of the patented Press Lock system allows the top case to be locked on and the lid closed but still unlocked.
If something needs to be added or retrieved it can be done by pressing the latch with one hand and lifting the lid – no key required and no need to operate the full latch mechanism.
The flush fitting handle can be left unlocked and popped out at any time much like a suitcase handle.
This is very useful, especially if the trunk is being taken on and off frequently and it provides a very secure means of holding the case, mounted, dismounted or in-between.
The SH-50 latch mechanism is slightly more complicated, but no more difficult to use than the others. The lock is actually pushed in to release the handle which flips out slowly and quietly like a pneumatic device.
With the handle raised, one reaches in behind the outer latch cover and presses a second recessed latch to release the lid – very elegant and very sturdy.
SH-40 Cargo (CA) Medium Capacity Top Case
Identified as a medium capacity top case, the SHAD SH-40 measures 42.5 x 49.2 x 29.6 cm or 16.7 x 19.3 x 11.6 in (L x W x H) and weighs five pounds.
Finished in matte black and with the external top rack installed the case looks mighty small. Appearances are deceiving however – it holds a large full face helmet and a smaller Jet-style helmet.
This is the smallest case I have used for quite some time and mentally I was envisioning it best employed on a scooter (not added to the fleet, yet).
My usual hard case of choice for daily commutes and road travel is usually a 46 litre trunk or something larger and for off-road flings a soft bag is usually mounted up.
I must admit that the SH-40 is proving to be very functional on the F800GS, particularly for the rougher off-road forays.
As a day trunk it holds the emergency kit that is carried on all outings and secures other valuables as needed. For picking up groceries after returning from the dusty trail the case will be just about perfect — the baguette can always be strapped to the top rack!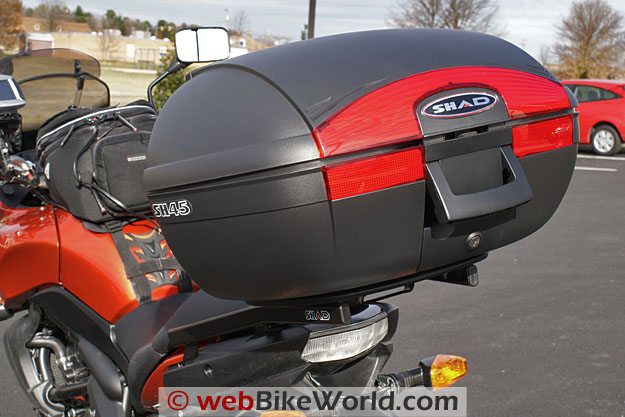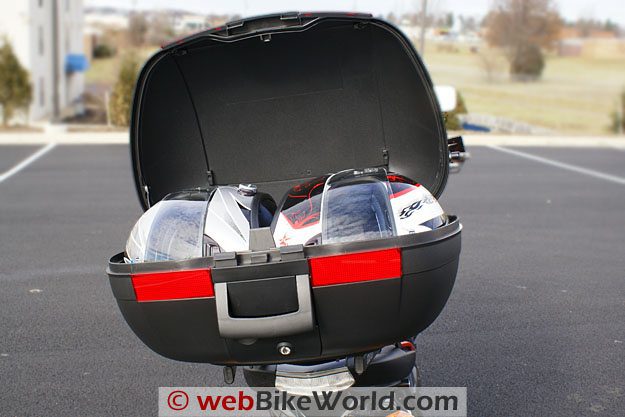 SH-45 Large Capacity Top Case (Photos Above)
A new release in the large capacity category, the SH-45 has a distinctive sloped lid that sets it apart from its SHAD relatives and other brand counterparts.
Measuring 16.1 x 22.2 x 12.3 or 6.33 x 8.74 x 4.84 (L x W x H) inches, it tips the scales at just over five pounds. This case uses the Press Lock system and can be equipped with an optional back-rest.
Finished in matte black, its distinctive lid curvature makes this case stand out, especially when mounted on the Burnt Orange Versys or the F800GS.
While somewhat skeptical initially of its storage capabilities due to the lid curvature, I was proven wrong as it holds both Blutek helmets (a Large and a Small) quite easily.
Based on its trim size and storage abilities I suspect this case, along with the SH-46, will be heavily used for commuting and travel duties on all three of the motorcycles now fitted with the standard bottom plates.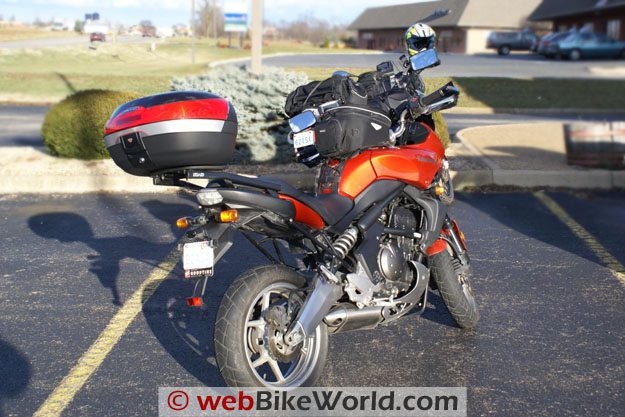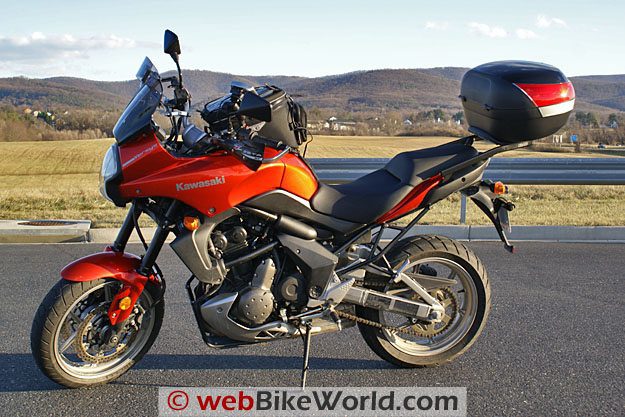 SH-46 Large Capacity Top Case
Another large capacity top case the SH46 has a classic shape with the flattened lid profile that I like so much. Measuring 42 x 58 x 31 cm or 16.5 x 22.8 x 12.2 in (L x W x H) it weighs just under six pounds.
Options for the case include the SHAD Change Colour System embellishments or lid inserts in various colours (which are available for most of the top and side cases), an optional backrest and, an integrated brake light kit.
While it won't quite hold both Arai XD helmets, it does hold one of them, along with all related riding gear.It will hold two standard full face helmets, like the two Blutek helmets, with some stuff space left over.
There is an obvious storage advantage with this trunk over the SH-45 – that one litre differential is more evident than one would imagine.
While all the SHAD top cases reflect quality and sophistication, the SH-46 with its Black Metal panel on the lid really catches the eye and it really makes the Burnt Orange Versys look more special, even when the motorcycle is less than clean.
The visuals are even better with the '98 75th Anniversary R1100R.The trunk blends perfectly with the Beemer's gloss black and white pin-striped livery and matching sports fairing.
The top case really makes this a stylish combination.
Included with the SH-46 was the optional light kit. The four light component mounts inside the rear reflector space of the lid. With its two-wire harness it can be used as either a brake light or a tail light.
The idea of a light kit for the trunk is a good one, but the power connection design, while very simple, leaves me wondering if there isn't a better way.
Once installed the power terminals become part of the latch mechanism with the circuit made when the trunk is mounted and the two latch pieces come together.
But, when the trunk is not mounted, the connection would be open to the elements per se. Accordingly, until a workaround is identified, the light bar won't get used.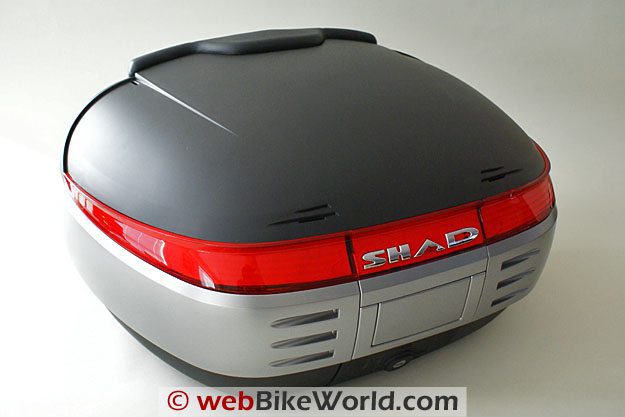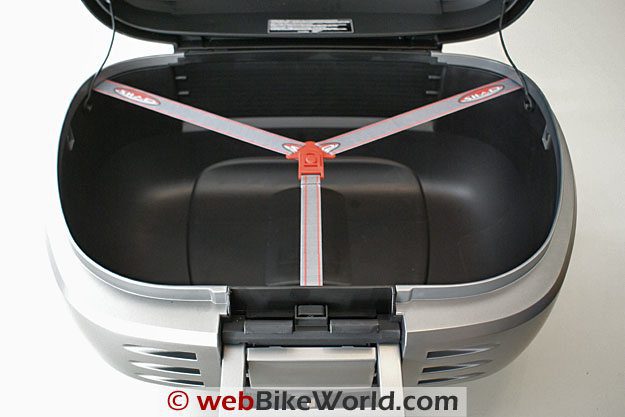 SH-50 (Very) Large Capacity Top Case
This is my favourite case and not just because it is the biggest one of the bunch either. A relatively new offering, the SH50 kit is in a league of its own, much like the GIVI Maxima 52 litre case.
Top cases over 50 litres tend to be treated as "kitchen-sink" (they hold everything but) carriers and for this reason they need to be (extra) strong.
The SH50 is obviously built to an even higher standard than the other three cases. It has its own unique and heavier bottom plate and the cover plate is thicker as well.
Considerably larger than any of the other three cases this unit measures 46 x 60 x 32 cm or 18.1 x 23.6 x 12.5 in (L x W x H).
Although claimed to weigh just five pounds, it comes in at six and a half pounds on my trusty digital scales, but some of this differential is due to the optional backrest.
Having owned other 50+ litre cases, I can attest that this case is the equal or better of them all. What it might give up in overall calculated capacity, it more than recovers in actual storage efficiency, due in large to its shape and profile.
With a healthy appetite the case swallows both of my Arai XD helmets with the somewhat chunky Camos BTS 300 BT units mounted and still has room for gloves and other small items.
Another feature of this trunk is its hermetic sealing system. This quality fitting really works and the pressure seal is very evident during use.
As installed on a 2008 BMW R1200GS Adventure, the SH-50 kit replaces an original GIVI adapter that was used with a much-shared V46 top case.
The big Adventure can easily handle the larger trunk and this new addition to its luggage profile will be great for the adventures being planned for this riding season.
The optional light kit is an externally mounted housing shaped to fit on the back of the SH-50 bottom plate. With a three-wire harness, it can be used for both tail and brake light augmentation if desired.
When mounted up with the bottom and cover plate components, the light bar blends into the whole mounting assembly very well.
Conclusion
With a largesse of top cases, mounting kits and motorcycles at hand, installing the kits and evaluating them on multiple motorcycles served to quickly prove just how simple and versatile the SHAD system really is.
The SHAD components are attractively designed quality products that fit together well and even though the SH-50 kit is a system unto itself, the "universality" of the other kits is a big plus.
A big plus and worthy of mention is the fact that SHAD offers up a complete listing of replacement parts for almost every top case, and other components, offered under their product line.
This is an important aspect of customer service often forgotten, marginalized or trivialized.
The R1200GS Adventure has the unique mounting and is thus restricted to just having the SH-50 used on it…and you won't hear it or its riders complaining either.
The little SH-40 case is proving to be just about perfect on the F800GS. My concerns about its usefulness have proven unfounded and in this regard the SHAD representative was absolutely right.
The SH-45 and SH-46 cases will be the main-stay cases for the Versys and the R1100R, with the F800GS "borrowing" the SH-45 for travel purposes or when more space is needed.
The light kits are worthwhile, for obvious reasons. While I have concerns about the power connection on the internally mounted kit, I regret not getting either one of them mounted up yet and put to use.
In looking at workarounds, I think both kits could benefit from some constructive user feedback.
Outside of the light kits and nit-picking about a couple of very small ripples in some of the soft trim, I don't have anything else to complain about – quite the opposite in fact.
I really (really) appreciate the design, quality, appearance and functionality of all the SHAD products evaluated. I expect they will provide long and faithful service.
What more could one ask for?
Product Listing of the SHAD Motorcycle Luggage in This Review
SHAD Top Master Fitting Kit (no PN provided) for Kawasaki KLE650 Versys, in Black Epoxy finish.

SHAD SH-40 (CA) Top Case in Standard Black (D0B4600) with D1B40PA Standard Bottom Plate and optional D0B4099 Cargo Rack (CA designation).

SHAD SH-45 Top Case in Standard Black (D0B4500) with D1B8PA Standard Bottom.

SHAD SH-46 Top Case in Standard Black (D0B4600) with D1B8PA Standard Bottom Plate, optional D0B4621 Black Metal Embellishment Cover Insert and optional NAD06 Light Kit.

SHAD SH-50 Top Case in Standard Black (D0B5000) with D1B50PA Standard Bottom Plate, optional D0RI70 Lumbar Back Support (Backrest) and optional D0B50KL Brake light/Tail light Kit (NAD05).
► Part 2: SHAD Top Case Installation  |  Also: SHAD SH37 and SH48 Top Case Review
w

BW

 Review: SHAD SH40, SH45, SH46 and SH50
Manufacturer:
SHAD
 (Spain)
List Price (2009): $185.00 to $369.00, colour options extra.
Made In: EC
Colors: Matte black and optional colours.
Sizes: N/A
Review Date: February 2009
Note:
 For informational use only. All material and photographs are Copyright © webWorld International, LLC since 2000. All rights reserved. See the webBikeWorld® 
Site Info page
. Product specifications, features and details may change or differ from our descriptions. Always check before purchasing. Read the
Terms and Conditions
!
Owner Comments and Feedback
---
From "C" (March 2015): "Just a heads up to anyone looking to have a passenger on with the SH45 and a backrest: the backrest isn't thick enough. It means that the passenger is up against the hinge of the carrier and not the pad.
My wife and I found this out on the first trip since we installed it. 40 miles later and she has a bruise on her back from it. I am contacting Shad about the issue to see what they say."
---
From "D.B." (January 2012):  "Thank you for the SHAD luggage review! I used Kappa luggage for the past 5 years and this is a step up in every way!
The review only reinforced what I already figured out, that the SHAD made quality products at a far more reasonable price then competition, and they're competing with the best!
I just bought an SH50 for my maxi-scoot, thanks in part to your fine work. Keep it up!"
---
From "T.B." (5/10):  "Does the Shad SH50 top case require the use of a key every time you open or close the top case?
The article covers several models of the Shad top cases and leads me to think the SH50 does require the use of a key for every opening or closing but then the picture shows the "close, open, release, positions with a key in it so I am not sure.
I do not want to have to use a key every time I need to open or close the top case. So, does the SH50 require the use of a key for every opening or closing?"
HBC's Reply:  No, once the top cases are latched on with the key/lock in the 'release' position, putting the lock back to the 'open' position will allow the lid to be opened/closed as desired.
And putting the lock to 'close' will lock the lid as well, fully securing the top case. The key is therefore only needed to mount and remove the top case and to lock the lid.
---
From "A.N." (6/09):  "Thanks so much for this review. Based on what I read here, I recently purchase and installed a SHAD SH40CA on my 2002 Suzuki GS500.The top case and the top master kit was a great bargain at $226 total.
I did have one question. Where do the gaskets go when you assemble the cargo rack to the top case?  I placed mine on the outside of the case, but I'm not sure that's where it's supposed to go.
Anyway, photos and some comments of my assembly can be found here.   Keep up the good work!  Thanks again!"
HBC's Reply:  in response to the question posed, the small rubber O-ring or gasket is seated next to the underside of the lid, so that when the mounting screws are installed, the gasket is compressed and provides a weather seal.
The small picture (below) should illustrate the issue.
If a even better seal is desired, although I don't think its needed, a small flat washer fitted between the O-ring and the screw, will provide even better (even) compression and seating of the assembly at each mounting point.
I just checked my original instruction material and this small component is not mentioned at all…going to follow up with distributor."
---
From "C.D." (5/09):  "All I have to say is WOW!  Givi, you better look out!  I just purchased a SHAD SH-50 top case for my 2006 BMW K1200GT.
The fit and finish is very much top quality and it is well put together.
It just happened that my bike is gray and matte silver and this matches the matte black SHAD SH-50 case perfectly!  I don't think it could have been color matched by a professional any better.
If you're in the market for a top case or luggage, stop looking and buy a SHAD!  With a little on-line browsing I found my SHAD SH-50 case for pennies less than $279.00 with free shipping.
There's a deal that's hard to beat!  For a comparable Givi it would have been closer to $400.
Thanks again for such top quality reports!"
---
From "G.M." (2/09):  "I can't believe the author mentioned the Shad rack, without saying anything about Meshach and Abednego (Shadrach, Meshach, and Abednego – Look it up…The Editor).
I'm sorry, it was the first thing that popped into my mind when I read "Shad rack". It's a blessing, and a curse."
---
From "B" (2/09):  "Funny you should post this today – just yesterday I was looking at my OEM hard cases on the BMW F800ST and what do I see?  A "SHAD" logo on the bottom. I thought to myself, "who the heck is SHAD?"
I guess they are the manufacturer for the luggage on the F and K bikes, at least!"