Setup Motorcycle Boots Review Summary
In the interest of full disclosure, I'll have to admit right up front that when it comes to vented motorcycle boots, I'm biased.
The truth is, I love my Oxtar TCS Sport boots.  They're comfy and they flow lots of cooling air over my tired ol' dogs.
OK, so they squeak like a rusty hinge and maybe the racer styling isn't everyone's cup of tea, but they're the only pair of vented boots I've tried that really do.  Vent, that is.
I read once that each human foot releases about 1/2 pint of water per day.  Think about it — if that's true, it's a heck of a lot of water to be sloshing around inside a boot.  But even if it's half true, it's still a lot of water that needs an escape route.
Which is why I'm amazed that there aren't more vented motorcycle boots for sale.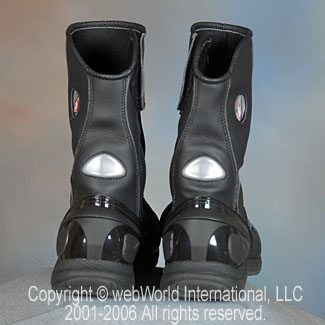 As far as I know, Oxtar never promoted the venting capability of the TCS.  And finding a motorcycle boot that's even advertised as "vented" is like searching for an honest politician.
That's why I just had to grab a pair of these Setup Pegaso Vented motorcycle boots as soon as I saw them.
Setup is a relatively new name in motorcycle apparel.  The Pegaso Vented boots shown here are labeled "Made in Romania" (of all places), but Setup's President, Giuliano Gazzola, is proud of the Italian styling in his line of boots.
But there's a secret.  Apparently, Setup boots are made by Sidi, probably the best-known (and most respected) motorcycle boot manufacturer in the world.  According to Motonation, the U.S. distributor for Sidi and Setup, Sidi decided to manufacture a "mid-level and economy" line of boots using the Setup brand.
"With the Set Up brand consumers can now obtain a high quality Italian engineered line of motorcycle boots at prices that were, until now, only available when purchasing a less feature laden and quality product", according to Motonation.
I think the price is definitely the hook; in fact, when I first read the ads for Setup boots I thought there was something wrong because the prices seemed almost too low.
Setup offers a comprehensive selection of motorcycle boots, from a race-like replica called the Vision to a combination street/walking boot called the Urban.  They feature modern styling at a very reasonable price point.  Based on our experience with the Pegaso Vented boots, we'll probably be checking out more of the Setup line soon.
The Pegaso Vented boots are so-called because of the vented panels sewn in to the outer sections of the ankle area and a narrow vented section across the toe.  The panels are actually made from a see-through mesh and the boots are lined with a separate open-type mesh that looks similar to the lining used in many leather motorcycle jackets.
Setup Pegaso boots are available in two different styles.  In addition to the Pegaso Vented boots shown here, Setup offers the Pegaso H20, which has synthetic leather panels in place of the mesh.  Although they're called "H20", Setup doesn't claim that the boots are waterproof, at least as far as I can tell.
Whether you choose the Pegaso Vented or the Pegaso H20, the boots have a slightly different styling than the other motorcycle boots in the Setup line.  They look like they're about 7/8 scale when compared to a "normal" height boot, like the Oxtar TCS Sport boots shown in this comparison photo: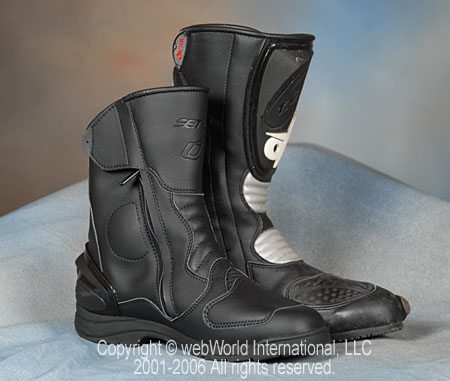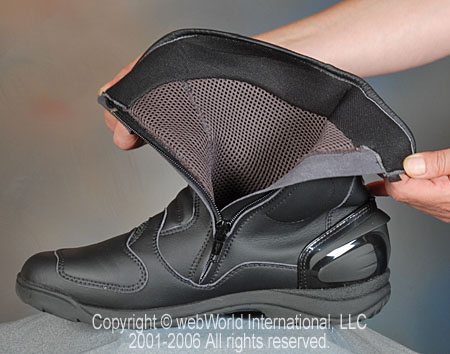 This may turn some people off, because I'll admit that the Setup Pegaso boots don't quite look correct when worn over a pair of leather riding pants.  But for touring use, worn under a pair of jeans or underneath a pair of hot weather mesh pants like the Alpinestars Air-Flo pants, they look just fine.
The leather (a synthetic variety?) used in the Pegaso boots is very soft and pliable but it also seems thinner than the leather used in, for example, the Oxtar Matrix, Oxtar TCS or other boots we've tried.  It almost feels a bit too thin, but all I ask is that it does a one-time job of protecting my foot if I fall.
The boots have a small circle of hard armor sewn in to the leather on the inside of the ankle, a curious location.  There is no hard armor protection at all on the outside of the ankle because that's just where the vented mesh panel is located.  This begs the question of how much protection the mesh fabric will provide and, well, I'm not sure I want to know the answer.
I don't know why the boots couldn't have been designed with the mesh panels in the front or another location, but there you have it.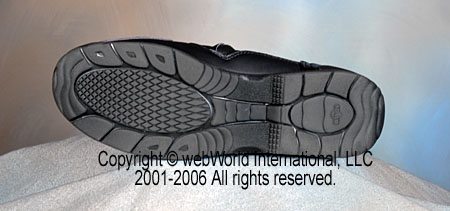 The "Davos" soles of the Setup Pegaso Vented boots are nice and sticky, which, as we've noted in the past, is very important because it provides traction when stopped at a light or on a hill or when backing the bike into a parking spot.  This is especially true for novice riders who may not have their motorcycle "sea legs" yet.
But the soles are also flexible, so although they're comfortable for walking, they don't offer the added protection of the "Torsion Control System", the "TCS" in the Oxtar TCS Sport boots.
The Pegasos have a hard heel cup in back of the ankle and hopefully that offers enough protection to the lower part of the ankle and foot.  The boots also have the obligatory extra section of leather over the toe for wear resistance for braking and shifting.  And the front of the boots have an articulated section of leather that allows them to flex.
The zipper is on the inside ankle section of the boots and it's relatively exposed.  There's a small patch of "hook and loop" fastener up top to secure the boot to the rider's foot, but the Pegasos do not have the full-length leather flap that is normally used to cover the zipper.
With the open mesh and unprotected zipper, the Pegaso Vented boots are not really designed for any wet-weather riding.  Although we haven't tried them, the Pegaso H20 boots would probably be the better choice if you like this styling but need a modicum of water resistance.
Our Pegaso Vented boots seem to be very well made and double stitching is used nearly throughout.  The size 44 fit me perfectly, just as it should, which indicates that the boots run true to size.
Conclusion
I have mixed feelings about the Setup Pegaso Vented boots.  Their soft leather makes them very comfortable and the vents do a good job of allowing air to flow through the boots, but I'm concerned about the minimum levels of protection they offer.
But as we've also previously noted, sometimes there are compromises that have to be faced when the weather gets really, really hot.  So I'll leave you with two corny sayings:  "You pays your money and you takes your chances", as the saying goes.  And don't forget: "any boot is 100% better than nothing".
wBW Product Review:  Setup Pegaso Vented Motorcycle Boots

Available From:  Setup  (As of June 2010, company is apparently no longer in business).
2006 List Price:  $129.99
Colors:  Black
Made in:  Romania
Review Date:  August 2006
Note:
  For informational use only.  All material and photographs are Copyright © webWorld International, LLC – 2000-2011.  All rights reserved.  See the webBikeWorld® 
Site Info page
.  NOTE:  Product specifications, features and details may change or differ from our descriptions.  Always check before purchasing.  Read the 
Terms and Conditions
!