Part 2: SR10 Features
The SR10 impresses. It is the solution for connecting and managing multiple devices and leverage the advantages provided by a common radio while still maintaining a wireless connection with the helmet, with portability and multi-system compatibility.
Does it do everything I expected? Not completely.
But considering Bluetooth features and limitations, along with technology and cost concerns, I can understand its current form and function.
But it is likely many consumers will think that the SR10 falls short, particularly after such a protracted development period.
Bottom line: after an extended evaluation and continued use, and in balancing the pros and cons, the Sena SR10 Adapter is an outstanding addition to Bluetooth-based motorcycle communications technology solutions.
I for one am looking forward to the continuing evolution of the SR10. The demand for these devices is what helps keeps industry working to expand the functional envelope.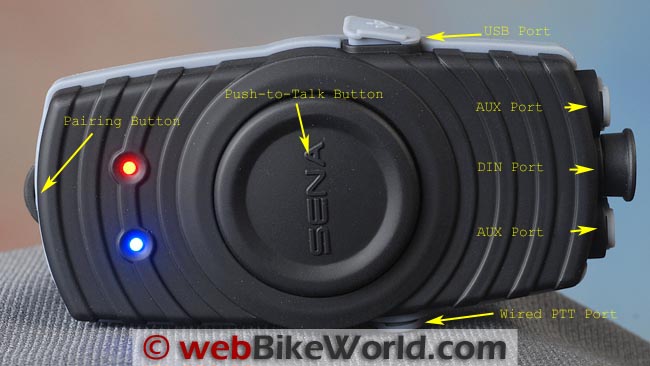 Introduction
I'm one of those motorcyclists who want — nay, demand — a good rider-to-rider communications capability, Bluetooth or otherwise.
To a large degree, the current generation of Bluetooth helmet communications systems satisfy that demand. Communication distances are phenomenal compared to just three years ago and for many users, Bluetooth helmet headset communications more than satisfy their ongoing requirements.
But while current stand-alone Bluetooth systems are very capable, by themselves they can't or don't address other factors and requirements relative to motorcyclists and other outdoor enthusiasts.
Some of these factors and requirements include higher power output using other types of radios to overcome distance; terrain and electromagnetic spectrum issues (interference and urban clutter); providing a reliable common two-way radio channel for groups of riders, including casual contacts with other two-way radio users; and, of course, addressing safety concerns.
Other forms of radio communications including "walkie-talkie" links using mobile phones, inexpensive FRS/GMRS two-way radios, Citizen Band (CB) systems and Amateur Radio transceivers, to name some of the most popular, enjoy widespread use by many motorcyclists for all the reasons listed above and more.
Hub-based wired systems, such as the AKE Powercom (review) series of communications devices, the Autocom (review) and StarCom1 (review) systems and the original BikerCom BK-01 (review) all provide multiple connectivity options, including two-way radio support and all of them are very functional and very viable options for motorcyclists.
While these larger systems typically offer a Bluetooth interface adapter, which allows a wireless link to a compatible headset, the systems themselves tend to be more permanent from an installation perspective and are not inherently portable in their ability to be used on and off the motorcycle and with other than the dedicated (proprietary) headset — wired or wireless.
One only needs to look at all of the wireless offerings available to consumers for indoor or outdoor use by powered and non-powered enthusiasts alike.
Small portable multi-media and multi-functional devices allowing user mobility under a wide variety of conditions is the name of the game today in our fast moving, mass-marketed consumer environment and the "enthusiast" industry segment is trying to respond accordingly.
Motorcycle headsets have been used by other powersports enthusiasts, such as snowmobile and ATV users, to name just two.
New systems, like the UClear HBC120 and HuRob systems, which are currently being evaluated for an upcoming webBikeWorld review, were designed from the ground up to facilitate installation in virtually any type of protective headgear for use as a personal headset that also provides a Bluetooth communications capability.
And with ever-growing use of Bluetooth systems comes the demand for connectivity with multiple devices — a demand that does indeed strain current Bluetooth capabilities.
One way to overcome this in the here-and-now is to add a time-proven component: an adapter or hub. And while doing so, leverage technology and production costs to provide enhancements.
So this brings us to new hub-based systems like the original BikerCom (now BikeComm) BK-01 and most recently, the Sena SR10 Adapter system. As the successor to the original BK-01, the new BK-02 functions much like the original but is far more integrated with a much reduced footprint, almost waterproof and provides true portability.
The Sena SR10 is a completely new offering from the same company that sprung the award-winning SMH10 on us, which is now used as the basis for several other Sena headset systems that are marketed as solutions for a diverse consumer base.
Technology integration, convergence and demand brings us to this (fleeting) moment in time where multi-connection devices are viable offerings and not just marketing hype. We are still in "early days", but if the Sena SR10 is any indication, the way ahead looks promising.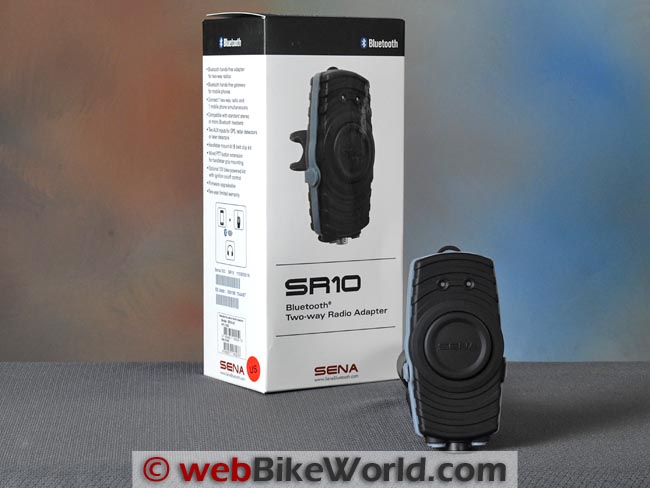 Sena SR10: What is It?
The Sena SR10 is a portable Class 1 power (100mW) Bluetooth (2.1 +EDR) hub or adapter for two-way radio PTT (Push to Talk) and hands-free mobile phone communications with auxiliary audio support.
Devices are connected to the SR10 by cable or wirelessly using Bluetooth with a dedicated wired interface provided for two-way radio use.
In addition to its dedicated two-way radio interface, the SR10 has two auxiliary or AUX ports for non-Bluetooth devices such as mobile phones, navigation devices, radar/laser detectors and other audio devices. As a hands-free gateway, the SR10 provides mobile phone access to users via the wired AUX 2 port or by Bluetooth using the Hands-Free Profile.
A fully configured SR10 supports simultaneous connections with a two-way radio, a Bluetooth-enabled mobile phone or navigation device and audio from other devices connected via the two AUX ports.
The SR10 uses the headset and hands-free profiles for the link with the paired headset and to manage the audio sources connected to the SR10, with all audio mixed into a single mono (single channel) stream for communications between the paired Bluetooth headset like the Sena SMH10, and other compatible headsets.
Sena SR10 Connectivity Features
Connectivity features of the Sena SR10 include:
Mini-DIN: Six-pin port for two-way radios, connected via accessory interface cables.
AUX 1: 3.5 mm three-pole port for navigation, radar/laser and other devices.
AUX 2: 3.5 mm three-pole port for navigation, radar/laser and mobile phone*.
PTT: 2.5 mm, two-pole port for wired push-to-talk (PTT) component.
Bluetooth.*NOTE: A wired mobile phone connection can only be made using AUX 2.
Connecting a stereo output device to either of the AUX ports or wirelessly via Bluetooth to the SR10 is possible but output to the headset will be in mono given the stated profile limitation identified above.
The basic Sena SR10 kit includes the SR10 module; a DC power charger with USB-A port; a USB power cable (USB-A to USB-Micro); 3.5mm (stereo) audio jack cable; wired PTT button extension cable; handlebar mounting and belt clip kits; and an instruction manual.
For this evaluation, two SR10 kits were used along with the following interface cables, available as optional accessories:
Standard phone cable (Gray), 3.5 mm four-pole, for iPhone, Blackberry, Samsung and HTC.
Nokia phone cable, 3.5 mm four-pole.
PN SC-A0111, two-way radio cable for Motorola twin-pin connector (D-type).
PN SC-A0112, two-way radio cable, for Motorola single-pin three-pole connector (G-type).
PN SC-A0115, two-way radio cable for Midland twin-pin connector (C-type).
Something I really appreciate are the interface code-type markings on the accessory two-way radio connection cables available from Sena. I have added these markings to the list above for information purposes.
Additional cables are available and I am sure more will be qualified and added to the accessory list particularly as requirements are identified.
Sena offers an optional kit, allowing the SR10 to be powered from a 12V DC source, battery or distributed power system of some sort. While I haven't been able to try this kit (yet), it offers another power option, hopefully without impacting system portability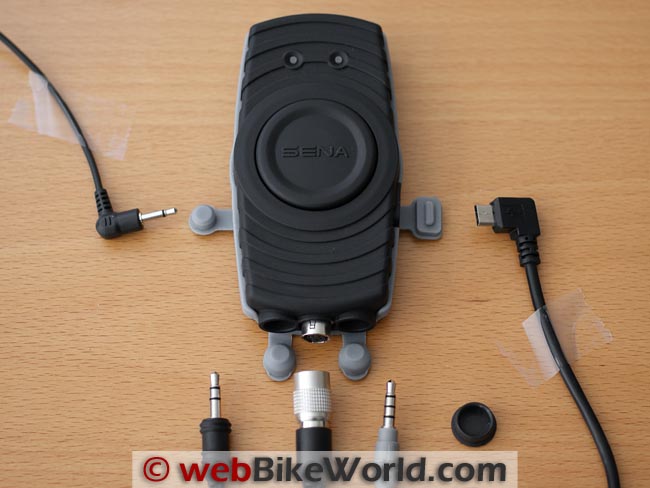 Sena SR10 Review Series
---
▪ 
SR10 Owner Comments (in Part 1)
---
---
Note:
 For informational use only. All material and photographs are Copyright © webWorld International, LLC since 2000. All rights reserved. See the webBikeWorld® 
Site Info page
. Product specifications, features and details may change or differ from our descriptions. Always check before purchasing. Read the
Terms and Conditions
!
Owner Comments and Feedback