Summary
Audio quality and volume were first class. Battery life is impressive.
But the delay in the VOX is a problem.
Editor's Note
I lent Chris a pair of the "Version 1" Sena SMH10 intercoms for his Trans-Labrador trip.
Sena now has an updated version of the SMH10 available; the SMH10 intercoms currently for sale at the various retailers are the updated version.
There is also an upgrade available for Version 1 owners as noted below.
We're currently in the process of evaluating the latest SMH10 intercom and we'll report back to determine if VOX performance has improved.
A Long-Distance Trip
When my friend Glen and I began planning our (now completed) 5,000 mile, two-week motorcycle trip from Maryland to Labrador and Nova Scotia, we never thought about intercoms.
The plan was to ride from Maryland up the East Coast of the U.S., through Vermont and into Quebec.
The goal was to riding through Labrador on the Trans-Labrador Highway. Then Newfoundland, Nova Scotia and home again.
But, when Rick offered me the use of a Sena SMH10 Dual Bluetooth Headset and Intercom system (Version 1). How could I say no?
What's that saying? "You don't look a gift horse in the mouth!"
Upon returning the loaned equipment and discussing how it performed, Rick asked me to report on our findings.
I won't go over the installation in each helmet other than to say we used the base mounting plates with the double-sided tape on both helmets because the "clamping" style bracket wouldn't fit our flip-ups.
Also, I can't comment on the various MP3, GPS or other Bluetooth capabilities since we used the SMH10 solely for bike-to-bike communication.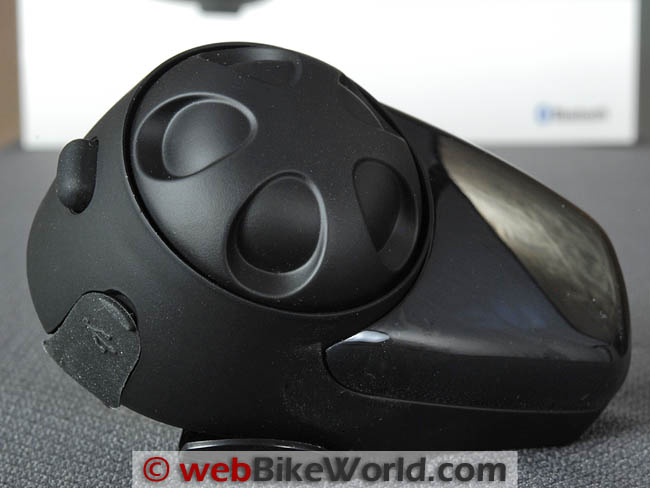 What Are They?
I had not used the Sena SMH10 intercoms before and wasn't very familiar with them. But following the instructions, pairing up the two units and activating the VOX was a breeze.
I also ensured both batteries were fully charged before our departure. I owned a battery-powered intercom system some time ago, so I was curious to see if battery technology had advanced since then.
Since we would be camping quite often during the trip, we would not have access to an electrical outlet for recharging every night, so each bike was equipped with either a cigar lighter style outlet and we installed the Burns Moto USB powered outlet (review) from the webBikeWorld review.
This ensured we could keep the batteries charged, regardless of where we stayed in the evenings. Having two choices for charging also worked to our advantage during the trip.
I must say, having bike-to-bike communications made the trip far more enjoyable and was a tremendous help throughout our entire journey, whether we were trying to find our way into or out of Old Quebec City or warning one another of the constantly changing hazards while navigating the Trans-Labrador Highway.
We also had many hilarious moments which were made possible solely because of the ability to communicate while traveling.
Being able to converse while riding made it easy to coordinate stops to eat, camp, use the bathroom, etc., as this could be discussed prior to approaching a town or refueling stop. It was also helpful in providing moral support when one of us was having a "moment" on the unpaved Trans-Labrador Highway.
Temperatures on our trip ranged from a low of 41º F (5º C) to a high of 90º F (32º C). The only real rain we encountered was on the way back to the States, through New Brunswick, Canada; otherwise the conditions were dry.
There was a LOT of dust on the Trans-Labrador Highway to the point of a total "dust out" at times whenever a truck would pass us. With few exceptions a "day's ride" usually lasted from 6 or 7 in the morning until anywhere from 6 to 8 in the evening. We never rode after dark because of the even higher risk of a moose or animal strike at night.
With those operating conditions in mind there are four topics I would like to comment on regarding the Sena SMH10: Battery life; VOX operation; operating range; and other limitations.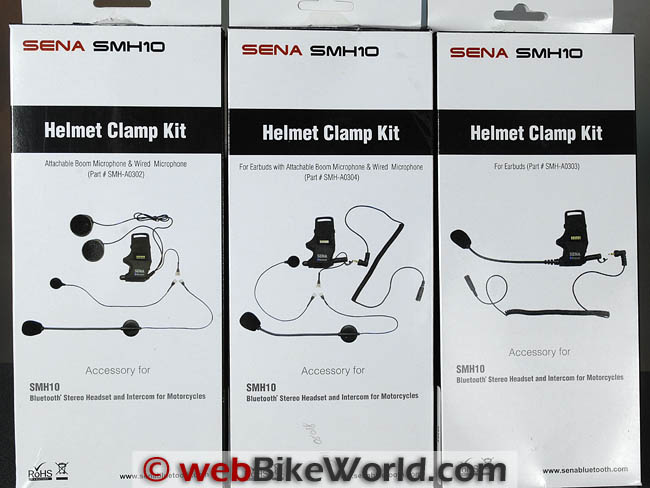 Sena SMH10 Battery Life
As I mentioned, the intercom units were fully charged prior to our departure and no power cords were used on day one. It took approximately 2 ½ hours to completely charge one intercom module.
I expected the intercom to begin alerting us of a low charge about 2/3 through the first day, but low and behold, the charge held, despite a pretty constant flow of chatter between us, due to the excitement of day one of our big adventure ride.
I should also mention that one of us was more diligent about turning off their headset during a stop than the other throughout the entire trip! The intercoms received a full charge that night (free lodging at a relative's house!) and the following night because of the availability of an outlet. After that we were camping most of the time.
The plans were to camp on the third night, so I was charging my SMH10 (or so I thought) via the USB port on the motorcycle, only to discover the port wasn't working due to a broken ground wire in my auxiliary fuse box, probably due to vibrations.
Even without the charge, the intercom unit held a charge for far longer than I would have imagined — nearly two days of steady use. Until I solved the USB issue we simply swapped control units since Glen's outlet was working.
These units saw a LOT of use since Glen and I discussed about every subject under the sun throughout the entire trip. Because of this I was really impressed with the battery life of the Sena SHM10 Bluetooth Intercoms. As with most rechargeable batteries, they seemed to gain in run time with each recharging.
VOX Operation
To briefly review: there are only two ways to initiate or end an intercom conversation with the Sena SMH10 intercoms (read the full webBikeWorld.com Sena SMH10 review for more details).
Either the "Jog Dial" has to be tapped once or the communication can start by using the VOX function.
The VOX default from the factory is "disabled", but I chose to enable it on both units, because I did not want to have to take my left hand off of the handlebars to start or end a conversation which, in my opinion, is nonsensical.
After about 150,000 miles of experience riding two-up, a vital element to me in having a communication system is the ability to give warnings quickly to another rider or to the other person on your bike.
But in actual use, I found the VOX operation on the SENA SMH-10 system to be unacceptable.
The time between the moment I spoke that first loud word (or blew on the microphone as they suggest in the operator's manual) until Glen heard me was incredibly long — too long for practical use.
For example, I spoke the following verse with the first word spoken loudly and asked Glen to tell me what the first word he heard:
"Mary had a little lamb, Its fleece was white as snow. And everywhere that Mary went, the lamb was sure to go".
The first word that Glen heard was "snow". Now, had we seen a moose or other hazard and needed to instantly inform each other, neither of us would have heard the warning in time.
Another problem we encountered was that the VOX frequently ended a conversation in mid-sentence.
This I found extremely annoying, since it's designed to wait 20 seconds after detecting no noise/speech before muting.
I found that at speeds over 55 MPH, the system seldom muted on its own, but that didn't surprise me much.
I was riding my BMW R1150GS and Glen was on his Suzuki DL-650 V-Strom, both with stock windscreens. It was probably the amount of wind noise on the microphone.
In these instances I would simply reach up and end the conversation by depressing the "Jog Dial" or otherwise listen to the wind and Glen's breathing in my speakers!
Sena SMH10 Operating Range
The claimed bike-to-bike range for the Sena SMH10 is 900 meters (0.559 miles) and I believe this is an accurate estimate. We didn't measure it other than by eyeball, but we found the range, for a Bluetooth system, to be more than adequate, seldom riding beyond its limits.
We did find that the range is pretty much line of sight though. When one of us would drop over a rise in the road or around a hill the sound would get very scratchy and then the connection would be lost, but they would reconnect shortly after we were back in range or in sight.
Other Limitations
Despite cleaning both helmets thoroughly, the adhesive tape on the optional mounting brackets failed on both helmets. After 4 days, Glen's fell off and mine was barely attached when I went to remove it upon completion of our trip.
[UPDATE: Both helmets mating surfaces were cleaned thoroughly with rubbing alcohol prior to assembly. Temperatures were between 70-80 degrees. My helmet was allowed to sit over 24 hours and Glen's approximately 12 hours before use. I wasn't aware of the use of the 3M Adhesion Promoter and the system was on loan only for the two week trip. The adhesive failure was a minor concern.]
Tape from my First Aid kit was used along with some silver tape later on the way home to keep his from falling completely off. We simply told curious bystanders that that was where a bear took a swipe at him after running off the road to avoid a giant moose!
We also noticed on one headset that the flex joint on the mike boom where it is attached to the bracket had split and pulled away.
Conclusion
I have to say that the Sena SMH10 audio quality and volume were first class. No matter what speed we were running at, I could always hear what was being said — even with my Hearos Extreme earplugs in place.
The battery life was impressive too, but the VOX operation is a deal-killer for me. I had hopes that this would be the answer for the wired intercom system I currently have on my BMW K1200LTC, but until Sena can work the bugs out of the VOX operation, I'll stick with what I have.
Editor's Note: Sena has announced an upgrade path for Version 1 owners. The SMH10 Upgrade Kit includes an updated SMH10 module, a Micro-USB power cable and a cigarette-style charger. For more information, visit this page on the Sena website.
Also: Part 2: Sena SMH10 on the Trans-America Trail
Note:
 For informational use only. All material and photographs are Copyright © webWorld International, LLC since 2000. All rights reserved. See the webBikeWorld® 
Site Info page
. Product specifications, features and details may change or differ from our descriptions. Always check before purchasing. Read the
Terms and Conditions
!
Owner Comments and Feedback
---
Follow-up From "P.S." (April 2015): "You have already posted my comments on the Sena SMH10 (I am the P.S. below) This is a follow-up after 2 years of use:
I bought my SMH10 twin kit in 2013, 2 years ago. Here is my summary of its use during this time. If it works, it is great, but beware of firmware updates. Twice I had bricked my intercoms, just attempting to perform a firmware update! So, especially if you are out of warranty, think twice (no, x4 instead) before embarking on this seemingly simple procedure. For the process might be simple, the results however are a gamble!
My SMH10 units started out well, pairing with my iPhone and Garmin Zumo. When I changed over to a Samsung Galaxy Note 3, then a Note 4, things were still ok. The Zumo was receiving s/w updates and at some point I thought I would install the firmware update into my SMH10. This was v3.x – I think.
The first unit worked, but the 2nd got bricked. I had to send it back for a replacement. Thankfully it was still under warranty. Took 3 weeks for the replacement to arrive.
However since that firmware the pairing with the Garmin had become a hit and miss affair, working only about 1 in 5 times! Then firmware 5.01 came along, which installed ok, but no more pairing with the Zumo. I tried factory reset – no help! Ditto with firmware 5.1.0.
So yesterday, I noticed that there was another firmware; 5.1.1 and as I just got a new helmet, I thought, maybe this will be a good time to try restore the GPS connection. So I attempted the update, using my iMac. Oh the updating s/w had also got a new release (v2.2, so of course I used that.
At first the Updater correctly identified my SMH firmware and started the update process. Then came the point of 'Press the Phone button until this message disappears'. 10 minutes later, my finger was getting a cramp, but no progress, so I disconnected. The SMH10 would not power OFF, however a pin inserted into the Reset hole fixed that. So try again.
This time we got past the previous message and got to 9% progress, before the update got totally stuck. After 20 minutes, I disconnected. The SMH10 is now totally bricked!!!
Well, it did respond to charging, but will not switch on. Tried everything, but really you don't have that many options with two push buttons and one reset button.
Of course the device is now out of warranty, however all I tried to do is follow the manufacturer's process. I have opened a Support Ticket with Sena, but it is too early to know what will happen.
So now I am faced with a choice. Do I buy a replacement SMH10 for Aus$160 Do I buy a 20S in the hope that it is better, for Aus$360 Do I forget the whole thing, and go to wired phone hands free and no intercom?
My recommendations: If at all possible, buy the Sena from a local shop, where you can take the unit back if necessary. I still believe that the Sena devices offer the best features, when they work! Beware of firmware update process, and if possible stick to using Windows, which I believe is more reliable. Happy riding, folks."
---
From "B.G." (January 2014): "I have owned a pair of these for three years now, initially receiving them as a gift. I love the feature set, and the user interfaces. I do not like at all the "snap in" mounting interface between the SMH-10 dongle and its mount.
Over the three year ownership, I have now traded thru warranty 5 ea. of these SMH-10 dongle devices. Two were electronics failures. Three were broken pins at the interface. I now have another broken pin on a SMH-10 dongle. These things are seriously fragile.
Mounting must be exactly done at the "snap-in" moment, or the pins break. Sometimes, they just do, no matter how cautious. I tend to leave mine mounted for this reason, removing the dongle from the mount only when absolutely necessary. I do not know what caused the electronics failures. They just quit emitting sound, and one was almost a year old when failed (i.e.: not an "infant")."
UPDATE From "B.G." (February 2014): "Sena must recognize that their connection interface is fragile. My latest request for warranty replacement has been granted by them at no cost to me (except for returning the broken dongle to them). They sent me a new one in replacement. This replacement was for one they previously replaced less than a year ago, and the original purchase is now three years old. I am very pleased with their continued support, and I will continue to buy their product as it gets updated (and needs replacement)."
---
From "S.R." (April 2013): "Just wanted to provide additional info on the Sena headsets. I have used wBW for many things over the past years and made very insightful purchases based on some of your thorough evaluations.
I purchased the Sena SMH10d -11 kit to outfit two helmets one being a Nolan N43 Air (review) (not Trilogy, and a purchase based on your evals couple years back) and a Scorpion EXO-900. These helmets were previously outfitted with Nolan N-com wired only systems.
The Scorpion helmet had a basic2 Kit and the Nolan N43 helmet had a basic2 kit and intercom kit (battery and control unit). The outfitting of the Scorpion helmet with an N-com basic2 kit is a different discussion entirely but possible with some modifications (absolutely nothing structural modified). This system has worked well for several years but with wires only and sometimes a pain when the wife was riding (my intercom partner).
The system was mainly used for music and intercom with passenger only. Phone calls were only possible when parked (noise cancellation did not work very well). I have been watching and reading about motorcycle comms for the past several years and think they have finally evolved to the point of usefulness at a cost effective price point.
The Sena systems were installed and tested prior to riding where a number of quirks were discovered and/or worked around. Today I was able to spend 6 hours out riding with another rider who has also purchased the Sena system and put it though many tests.
First I would like to say your evaluations are very well done but as with anything electronic, it is impossible to test every scenario or truly explain on paper actual hands-on experience.
The Sena was chosen for the following reasons: 1. Loud volume (as comparative to other units per your evaluations) 2. Rotary dial for volume control. (Years of experience with push button volume controls and fumbling with gloves made this a very welcome feature) 3. Ability to charge while riding (if you have the ability, i.e. cigarette lighter to do so) 4. Simplistic control functions, basically only 2 buttons.
Those features were all accomplished quite well except for the volume.
While wearing ear plugs, I will have to agree that a slight volume boost would be welcome. However, when tested prior to riding and without earplugs the volume can reach levels that would be damaging to hearing. For the riding test it was conducted using a VTX1300 with open Vance & Hines pipes (read LOUD) behind a windshield with the N43 in a 3/4 config (no chin bar but with faceshield) and a V-Strom with stock windshield and pipes. I do not know the make of the other rider's helmet other than it was a flip up and not a Nolan, Shoei, Scorpion or Schuberth.
The intercoms paired easily (after reading the directions correctly) and were crystal clear. My loud pipes were not audible via the intercom (excellent noise cancellation) however wind noise will transmit over the intercom. The included microphone cap (to help reduce wind) and foam boom cover were installed on both units.
When I flipped the visor up and the mic was exposed the the open wind, intercom communication was not very effective. The same happened when we caught some serious cross winds that went into the flip up helmet and transmitted all the wind noise into my headset.
During these times, we terminated intercom and went back to listening to music. Intercom was used throughout all speed ranges and we spent most of the 5 1/2 hour ride on intercom and speaking. For city riding the volume is more than adequate even with very high NRR foam ear plugs. While we were able to hear each other at highway speeds, it was a bit more strained to hear at speeds above 65.
As a caveat, both of us have some hearing loss due to job related issues, however neither of us require or use hearing aids (at 41 and mid 30's neither of us is there yet). We were able to communicate the entire time without repeating anything even at speeds in the 80's.
One small quirk appeared every so often that may have been interference from other sources, the voice broke down into "transformer" sounding voices but was still understandable. This happened on only a few spots and when it happened we were within 30 feet of each other so distance was not the factor.
As far as distance is concerned we purposefully separated on open road until the intercom dropped. Since the roads we were on did not have mile markers it is hard to get an accurate distance, however at the point of loss we were separated almost 3/4 mile on straight LOS road. I could barely see him ahead of me on the road! Until the point of loss, the intercom remained crystal clear with occasional dropout at the extreme range of distance. The intercom recovered instantly as soon as range was decreased.
There were several times that we separated in turns no longer in LOS and the intercom performed beautifully without any dropout. Being in Texas and with a lack of mountains and switchbacks, we could not test how far out of LOS before intercom dropout.
Conference call from cell phone and one intercom also worked beautifully with one caveat. Once the phone call was established and when trying to conference in an intercom, there is about a 5 sec delay where everything is quiet. After it was established, the call / conference worked fine in full duplex.
A compatibility quirk was also identified during initial testing at the house before riding that took a couple of hours messing with to resolve. This is specific to a Garmin 765t and iPhone 5. It is an older model Garmin but has many features no longer available – phone bridging, MP3 player, audio book player, photo display. I believe the Garmin Zumo series has most of these features but at $150 for the 765t and Zumos starting at $699 this was a no-brainer.
The 765 is mounted in a GPS useable waterproof case on a ram mount to the bars and has worked well this way for years. First the 765 is useless for phone bridging, it simply does not work especially with the iPhone. If you can get it to connect, the audio drops out and is always "digitized" mostly unrecognizable. Most music is stored on the 765 however and it is used for directions.
To get the Sena to work with both the Garmin 765t and iPhone 5 you cannot pair these items in the "normal" way. To use the 765t for music and directions and the iPhone for calls, they must be paired with the Sena selectively. The Garmin 765t must be paired using "Media selective pairing" and the iPhone 5 must be paired using "Phone selective pairing". The drawback to this is any music on the iPhone cannot be played to the Sena.
If you use "phone pairing" for the iPhone, you will not be able to hear anything from the Garmin nor will you be able to connect it to the Sena. If you try to "phone pair" the Garmin to the Sena it will stick waiting for you to enter a "passcode" into the Sena, the same goes for "Multipoint pairing."
Since it is not possible to enter a code into the Sena, the Garmin will hang there and required to be powered off to function again.
A second quirk was found while riding. Since the intercom was used for most of the ride, when terminating intercom after long sessions the Sena would announce media device paired but the Garmin 765t would not show any connection on its Bluetooth screen.
If you tried to re-establish connection using the Garmin screen it would hang for a couple of minutes trying establish connection then just fail. It became necessary to make the Garmin forget the Sena and re-pair using the "Media selective pairing" then everything worked fine. The iPhone always established connection and never had any issues.
Again if I paired the iPhone as a regular "phone pairing" it will capture the HFP and A2DP ports allowing calls and music to play to the Sena but will keep the Garmin 765t from making any connection leaving you without turn-by-turn directions or a majority of my MP3 files.
The two things I miss greatly from my "wire-only" system: 1. Ability to boost the volume using an external (very small) op amp that was rechargeable via USB 2. Having background music while using intercom.
This is slightly unfair because I "forced" audio mixing by simply using a y-cable on the input so the Garmin 765t was hardwired into the intercom wire giving "background" music while still being able to talk to passenger. Passenger could also hear the music. Drawback here is if the phone was used, anyone on the phone call could also hear the music unless I paused it on the Garmin."
---
From "P.S." (March 2013): "Disclaimer: I have no commercial interest in Sena or any other motorcycling or intercom systems. Had to start with this as I my assessment of this system is so positive that the reader could be forgiven for thinking that I am selling the product! I am not – I am a simple IT consultant who has been motorcycling for 4 decades!
Summary: This is my 3rd intercom systems, over the years, but is absolutely the best. If you can find better I will eat my crash hat! (Well, figuratively, anyway).
Until recently, I had been reluctant to go wireless for my motorcycle intercom, because I was worried about running out of battery on long rides, or not having enough volume or having only mono or worse still, single ear speakers. Consequently, my first system was an Autocom system, then I became dissatisfied with that and bought a Starcom1. Eventually that also disappointed.
But for now I want to talk about the Sena, which arrived this morning and has already shot to 99% rating in my opinion! I won't waste time repeating what you can read on the webBikeWorld excellent review (which is what got me to buy this kit!). Instead let me tell you my personal highlights of why I think this system is so great:
As soon as I opened the package I could see it was a quality product. All components, were high quality, including the plastic, the control rotary knob, and the connectors First thing I did was to put the devices on charge, while I grabbed my helmets. The universal kit includes two mics per helmet: a boom one for open face and a wired for full face helmets. If you have only full-face helmets you can safe a few bucks by buying the regular Dual kit (or single for one helmet).
Installation is pretty standard, but worth noting that the ear speakers were about 25% larger diameter than my Starcom1, and that Sena includes spacer in case you wish to have the speaker closer to your head (because the ear cavity is too deep in the helmet). Very thoughtful.
I love the (wife friendly) simple volume control. Who would have thought of a rotating knob with detents! Really! And it adjusts and remembers different volumes for different input. So you can turn the sound UP when on the phone, but down for background music. Is the pillion shouting? No probs, just turn down the volume while the intercom is operating. Try doing this with either Autocom or Starcom.
For me, everything worked straight out of the box. I have Garmin Zumo 660 GPS and an HTC ON XL phone, and the wife has an Apple iPod Touch 3rd Gen. All worked via Bluetooth. Not only can I adjust my volume independently for each device, but the passenger can set their desired volumes on their set. And my wife can listen to Bach Cantata while I have AC-DC keeping me on the boil.
VOX versus push for conversation (not PTT, but better because you get full duplex). So if I don't want wind noise activating VOX, then just tap the Volume (aka Jog-Dial), and it turns off VOX. Now if either me or the pillion wants a conversation, then tap the volume and have an easy two way conversation, and when finished do the same to turn back to music. Either party can start or terminate this.
Volume and sound quality are both very high. By far the best I have ever heard in a helmet. And that user friendly volume control is just so convenient – I might have mentioned this before. I also have a full-face helmet and a visitor's helmet. Sena fortunately sells a helmet kit part number SMH-A0302, for just over 50% of the full kit's price, You just clip your Bluetooth detachable part to whichever helmet you want to use. Oh, and the manual is written in native English, it is clear and comprehensive!
Tips: Check the line of the mic lead length to the control unit before making fixtures permanent. Don't mount anything so close to any helmet press studs, that would prevent connecting of the mating stud, e.g. the helmet lining. Place the controller as far back as the leads allow, so that it doesn't interfere with the helmet's chin strap.
Conclusion: I my humble opinion, wireless bike intercoms have come of age. For me, the SENA SMH10, had met and exceeded all of my expectations and consider this purchase one of the best accessories, that I have ever bought for my biking life."
---
From "D.Y." (October 2011):  "4 of us purchased the Sena (intercoms) about a year ago, shortly after the Sena reviews appeared on your site. The overriding factor was the ability to talk among a group of 4 riders, even though it is only 1-to-1, and not 1-to-many.
After several multi-day trips with 3 and 4 riders, we are rather frustrated with the interface (that is the closest way to describe it). On your 5,000 mi ride report there were only 2 riders, and even other comments posted are with 2 or sometimes 3 riders. As you know, the pairing sequence for every person assigns each of the other devices a number from 1-3. So every rider can reach the other 3, but it is done with a series of button pushes (1, 2, or 3 rapid presses).
With only 2 riders, only 1 button press is ever required. This pairing works well – 1 is not a problem. However, with 3 or 4 riders, then one often needs to press twice or three times to reach another rider. Reaching rider 2 sometimes is tricky to get the cadence just right (too slow and you end up getting rider 1, and too fast can also summon up rider 1 if one of the presses was missed).
Reaching rider 3 is more than tricky… it is a crap shoot! It is probably about a 50% hit rate, if you're good.
Unfortunately, (the Cardo Wireless) Scala Rider offering does not even support 4 bikes… they support 4 riders only when 2 of them are passengers. So Sena is sort of the only game in town.
It is unfortunate because Sena is close to being an excellent product, and one would think that the timing could be tweaked… why can't it allow the button press interval to be longer? It seems to time out quite quickly.
I recently learned about the USB upgrade, but only found out after the deadline. That may be something the manufacturer could modify on a future software release. Or even allow the user to adjust it to suit?"
---
From "K.G." (September 2011):  "About 12 months ago I purchased a pair of Sena SMH-10's based largely on the recommendation of this site. They worked flawlessly, and like you I loved their VOX functionality.
Last month I accepted Sena's offer to upgrade to their new micro port units at a reasonable price. They advertised small firmware improvements and the ability to upload future firmware updates through a home PC.
Unfortunately, one of the "improvements" was to remove the ability to temporarily disable VOX by tapping the jog dial. At the same time they appear to have increased the sensitivity of VOX so that wind noise now connects the units at about 50 mph – full face helmets and a sports screen.
Tapping the jog dial only turns the unit off for a few seconds after which the wind noise reconnects the intercoms. This has made the VOX function worse than useless — unless you always ride below 50 mph or perhaps behind a barn door touring screen.
If others are having the same issue I suggest we all email Sena accordingly as it appears the change was made in response to "overwhelming" feedback."
Editor's Note: As Chris discussed in his "5,000 Miles With the Sena SMH-10" article (above), he had problems with the VOX on the old units also.
To be honest, VOX is very, very difficult to implement on any motorcycle intercom, due to the background noise inherent when riding a motorcycle. It's nearly impossible for the intercom to distinguish a human voice over the wind and engine noise that is typical when riding a motorcycle. For this reason (and the delay issues), I never use VOX actually; I just turn the units on full duplex.
Also, microphone placement is critical. If the mic is placed near a helmet air intake vent, the wind noise can overwhelm the system.
This is also greatly affected by the type of motorcycle. If the windscreen is directing air on to the helmet or the base of the helmet and increasing the background noise level, it can overwhelm the VOX or the intercom system. On the other hand, an intercom system or VOX may work perfectly when riding a touring bike with a big fairing and windscreen that blocks all the air.
UPDATE: Sena said they will work on this issue in the next release; see the "Sena SMH10 VOX Implementation" sidebar above.
---
From "T.A." (September 2011):  "I have a couple of observations for the Sena, which I've owned for almost 1.5 years and recently received the upgrade package.
I am very happy with the units, and Sena replaced my boom setup free of charge when one of the speakers started intermittently dying.
The Sena bracket/headset unit tends to cause a lot more helmet noise at all speeds on my half-faired FZ1 and HJC helmet. At first I thought it was the seals on my HJC breaking down, but I realized one day after putting my hand over the unit, it's the thing attached to the outside of the helmet making all the noise! I use the clamp, so I don't know if the adhesive would make a difference.
Can one of the editors comment if the Cardo unit is any quieter from this perspective, or is this just an issue with all helmet-mounted comm systems?
It would be great if the priorities could be changed. The stock priority is intercom, phone, stereo BT, wired stereo. I'd much rather be able to make the intercom the lowest priority so I could get alerts for radar or GPS turns coming up while gabbing to another rider about something.
Or at least get alerts when in intercom mode that something else wants attention. Several times when 3 of us had the units, 2 of us would be talking and the third rider could not initiate a conversation until we were done."
Editor's Note: Anything added to the outside of a helmet can potentially cause turbulence and noise. The Scala Rider G4 is larger and more irregularly shaped than the Sena SMH10, so it has the potential for creating turbulence and/or noise. The volume and pitch will depend on the motorcycle type, helmet type, windscreen, etc.
---
From "T.G." (August 2011):  "The issue with the boom cracking and coming apart is common of all helmet units like this. My Scala Rider did the same thing within 2500 miles and the Chatterbox before it did the exact same thing. Just wait for the next 5000 miles for the boom to get loose and flop around.
Luckily the Scala has dirt cheap replacement audio shoes with the boom unlike the Chatterbox unit I had. it looks like the Sena also has a cheap replacement that can fix the issue as well to make the life of the unit far longer than the older units that were all in one."
---
From "L.E." (August 2011):  "Sena uses 3M VHB (Very High Bond) on their mounting plate. My company utilizes a lot of 3M VHB adhesive tapes in our products as well, and there are some tricks to get good performance.
I am not certain which grade Sena is using, but there are come important keys to maximize the adhesive strength for any of these grades:
Adhesive selection – let's assume that Sena has selected the proper grade for ABS, PC and/or painted surfaces. There is quite a broad range.
Cleanliness – alcohol prep pads, such as they use at the doctor's office are generally good to use. Try the prep pad on a hidden spot to make sure the plastic and paint don't adversely react with the alcohol.
Surface Prep – Most plastics and many painted surfaces are "low surface energy". It can be hard to get strong bonds. This includes Polypropylene, ABS, Polycarbonate, and smooth painted surfaces like our helmets. If so, the 3M Scotch Adhesion Promoter mentioned by another reader can be a good idea. Use it after the surface has been cleaned. As with the alcohol prep pad, check first in a hidden spot to make sure it doesn't attack the surface to which you will mount the Sena baseplate.
Curing Temperature – room temp 50-75 degrees F is typically good for most grades. Very hot and very cold are to be avoided.
Curing Pressure – clamp the part if you can while it cures for 1-3 days. If you cannot easily clamp it, position and secure the helmet with the baseplate facing up and apply books, sandbags, etc to the mounting plate to apply the pressure.
Curing Time – The most frequent mistake that I see – VHB (and many other pressure sensitive adhesives) do not reach their ultimate strength for a long time. Even though VHB is initially very tacky, it's actually not very strong just yet.

Time 20 min – Bond Strength 50%
Time 60 min – Bond Strength 75%
Time 24 hrs – Bond Strength 90%
Time 3 days – Bond Strength 100%
Moral of the story: Apply the adhesive correctly to a cleaned surface. Then clamp it and let it sit for at least 24 hrs or longer (if you can wait), before using it. Some 3M VHB info can be obtained in the VHB Tapes Design Guide .pdf from 3M.
---
From "M.P." (August 2011):  "I just read Chris' trip report and would like to offer a few comments of my own. We've had our set for a year (~5,000 miles of 2 up riding). My wife & I have this model installed on our Bell Mag8 helmets via the clamp. No problems. They work great on these lids. Sound is crystal clear.
However, we had problems with the VOX feature also. Returned them to Sena after a few back and forth emails with their Customer Service Representative and a NIB replacement set was promptly shipped to me.
The tech cautioned that using them in VOX mode with out a full face helmet and a wind screen could pose problems. He's right. Good and responsive customer service I must say.
We disabled the VOX feature on the replacement units and now run them in the "on" mode, where the mics are always live and active. For us, this works perfectly and we get a full 8+ hours talk time between charges. No lags, delays, or talking over one another.
If you're not camping where there's no juice, it makes it a non-issue. Plug 'em in overnight and you're good to go the next morning. We really like these and would recommend them. I think they're the best ones on the market right now… Keep up the great work."
---
From "D.Y." (August 2011):  "You mention in your review the failure of the double-sided adhesive on the backing plate. I found in the Sena website that they recommend using 3M Adhesive Promoter
first before adhering the plate to the helmet. After doing so I've had no problems with the Sena unit on my SCHUBERTH C3 helmet. I found single-use packets of the 3M product at a local auto paint supply shop."