Review Summary
The SENA +Mesh Bluetooth to MESH Intercom Adapter is a technology-enabled solution that just seems right. It's timely and indicative of how the company supports their user base. You want something to bring the SENA user community (closer) together, literally, and figuratively - this is it.
Pros
First available Bluetooth to Mesh adapter
Simple to use
Very portable
Easy to mount almost anywhere
Good battery life, 7+ hrs
Quiet stable intercom
Range 600 to 750m
Can add new life to older headsets
Value priced for capability provided
Cons
Mesh Intercom (could) be a little better
Can lose its pairing or time out – but recovery is quick
Paired headset settings need considering for optimal +Mesh performance
SENA +Mesh Adapter Image Gallery
SENA is a long-term major player in the Bluetooth industry and particularly within the Powersports community. Their involvement and support for the motorcycling segment, not to mention a very long and diverse product line, is a major reason why we all have the current connectivity and communication capabilities mounted on or in our helmets.
+Mesh is Ready to Mingle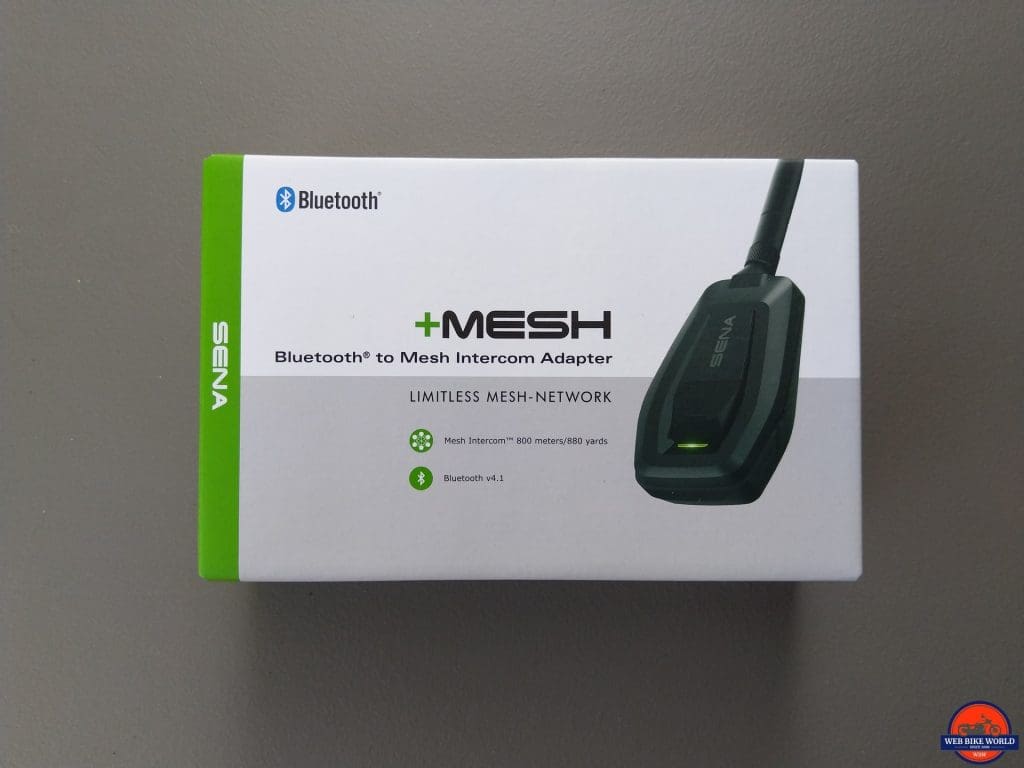 With the release of the +Mesh, a Bluetooth to Mesh Intercom Adapter, SENA moves the involvement and support yardsticks forward – again.
This simple adapter gives new life and a range boost to SENA non-mesh systems (old or new) so they can function as part of the 'mesh' collective provided by the SENA 30K system and soon, the SENA Momentum EVO with Mesh.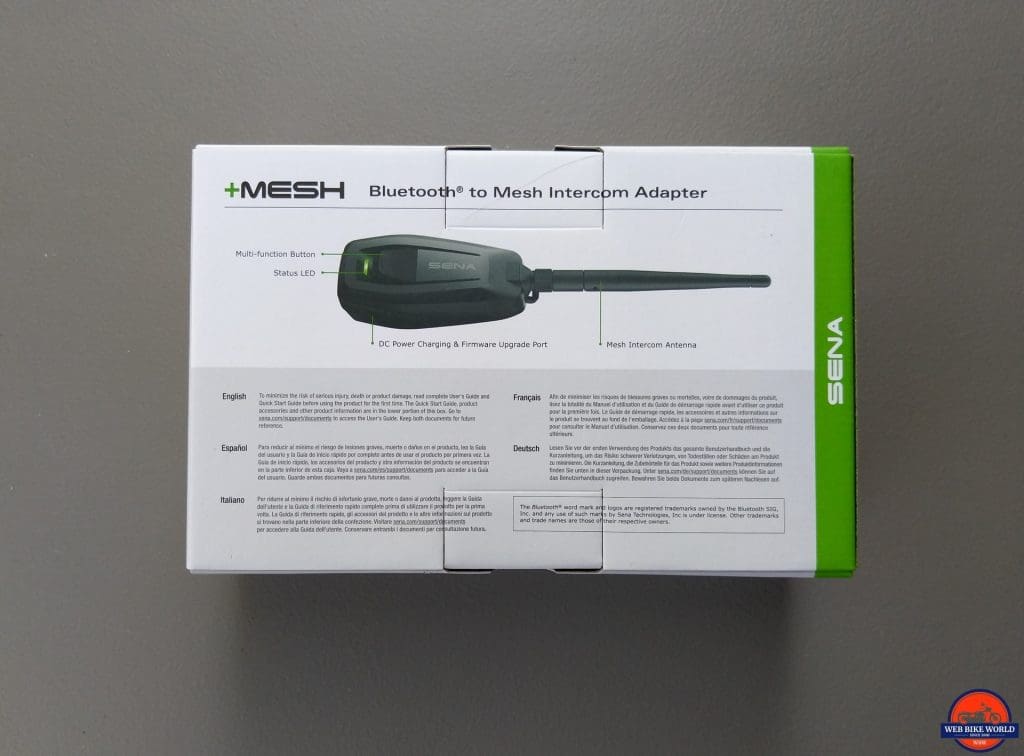 With a simple headset to adapter pairing, the +Mesh provides the means to move from a point to point (or point to multipoint Bluetooth-based intercom environment) to the much larger self-configuring adaptive multi-user environment offered by Mesh. Assimilation is easy.
With Mesh being self-configuring and adaptive, it takes care of 'lost' intercom mesh connections that come about through distance or topography, with automatic reconnection once back within range, or if another user activates their system – a feature that current mesh users find to be one of the biggest positives gained.
SENA +Mesh Overview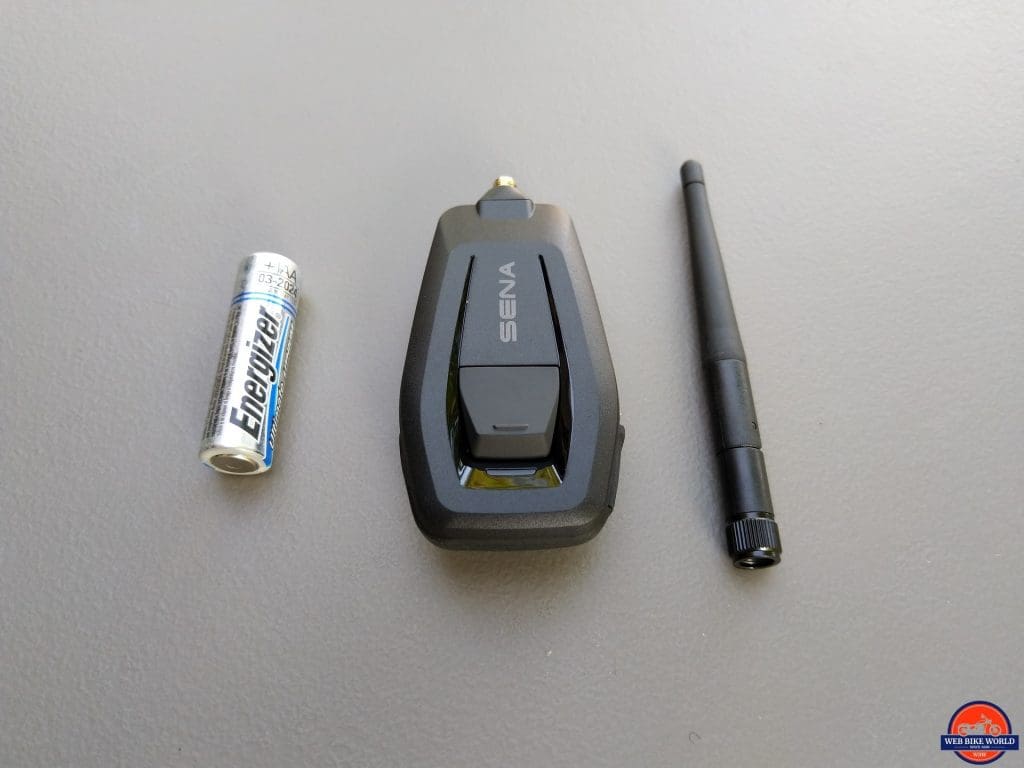 +Mesh shown next to AA battery module for scale
OK, where to start… this could be complicated – not.
With the +Mesh held so the SENA logo faces you, the Multi-Function Button, hereafter identified as the MFB resides below the logo with the Status LED immediately below the MFB.
The micro-USB port for DC charging and data connectivity is found on the lower right edge under the shaped silicone flap… which, of course, is oriented awkwardly and gets in the way of the connecting cable, again… still.
And outside of the Reset Button, accessed through a small hole on the back of the device, this is it for the tour…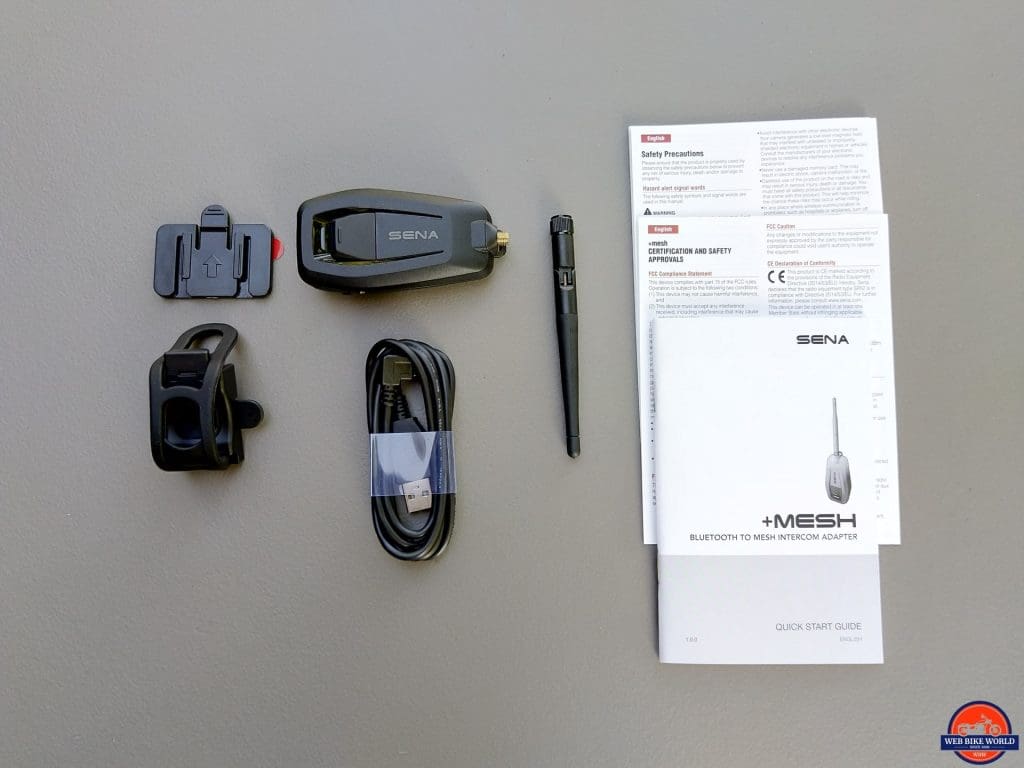 The +Mesh kit comprises:
Main unit or module
MESH intercom antenna (type xxx threaded)
Handlebar mounting kit (bracket and loop)
Mounting cradle (hard plastic/flat back, adhesive mounting)
Micro-USB power and data cable, and
Fold-out Quick Start Guide (pocket tuck-away sized)
Spec-wise, the +Mesh Adapter runs Bluetooth 4.1 and has a (stated) maximum range of 800m or half a mile.
+Mesh Initial Use & Installation
+Mesh micro-USB charging port on side with protective cover
Initial charging involved connecting the micro-USB cable to +Mesh and then to a fast-charge capable USB3.0 charging hub (AC/DC). Twenty minutes later the LED went from Red (charging) to Blue (charged).
Mounting
Temporary mountings that allow portability and removal for safekeeping are likely to be the norm with the +Mesh and this is reflected in the two provided mounting options.
One is a rounded plate with a silicone/rubber strap like the pieces used in the original SR10 and SM10 adapters. They are good for handlebars, lower mirror stalks or something related in size and shape – just make sure it is secure.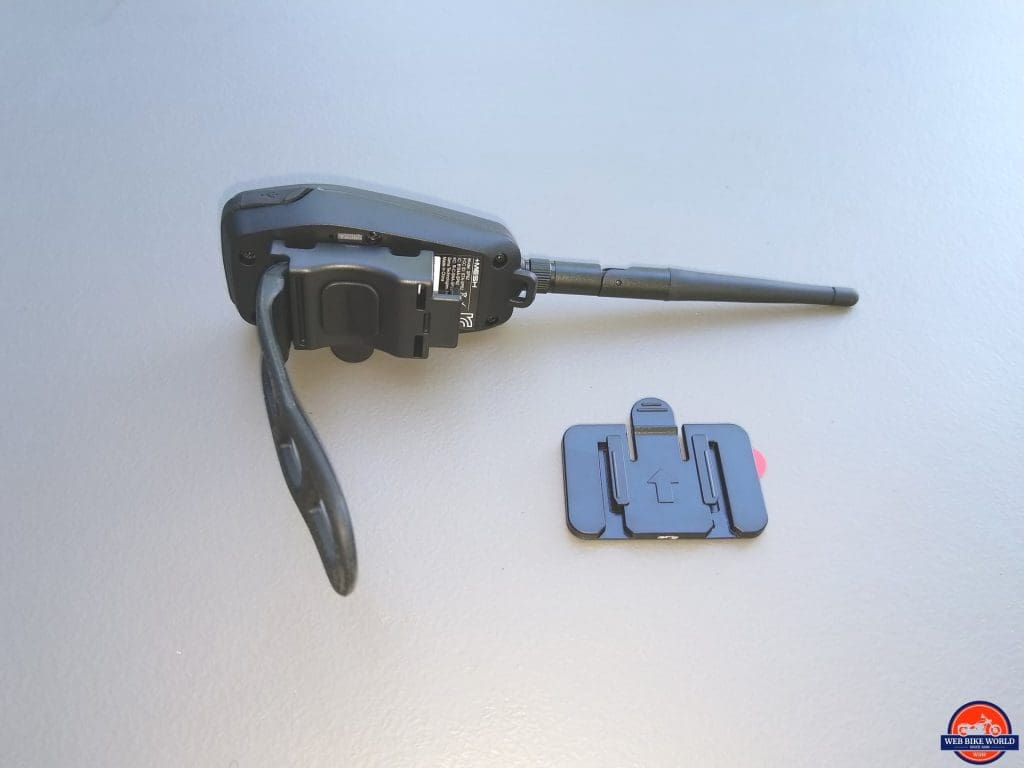 The second option could be more permanent in nature – at least for the bracket. This piece is a flat molding with an adhesive backing. The +Mesh module slides onto the front slide-n-click rail and is quite secure.

Optimum Positioning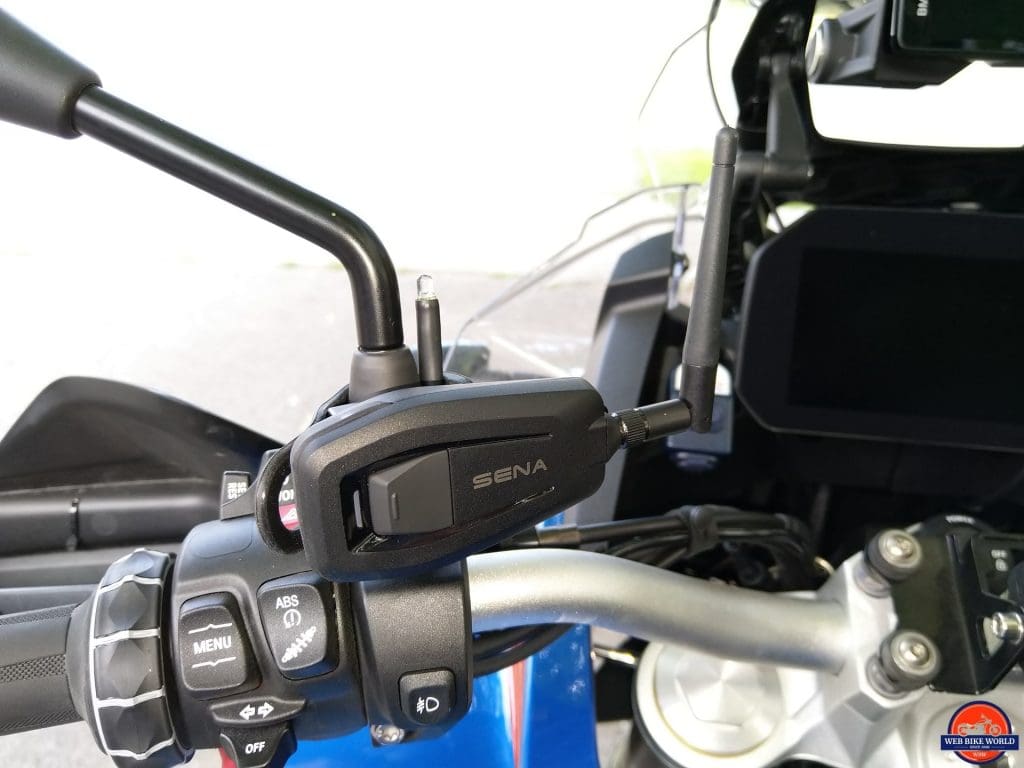 What needs remembering here is that for optimal use, the +Mesh antenna needs positioning for a clear or best line of sight use. Left or right mirror placement works, but may not be optimal.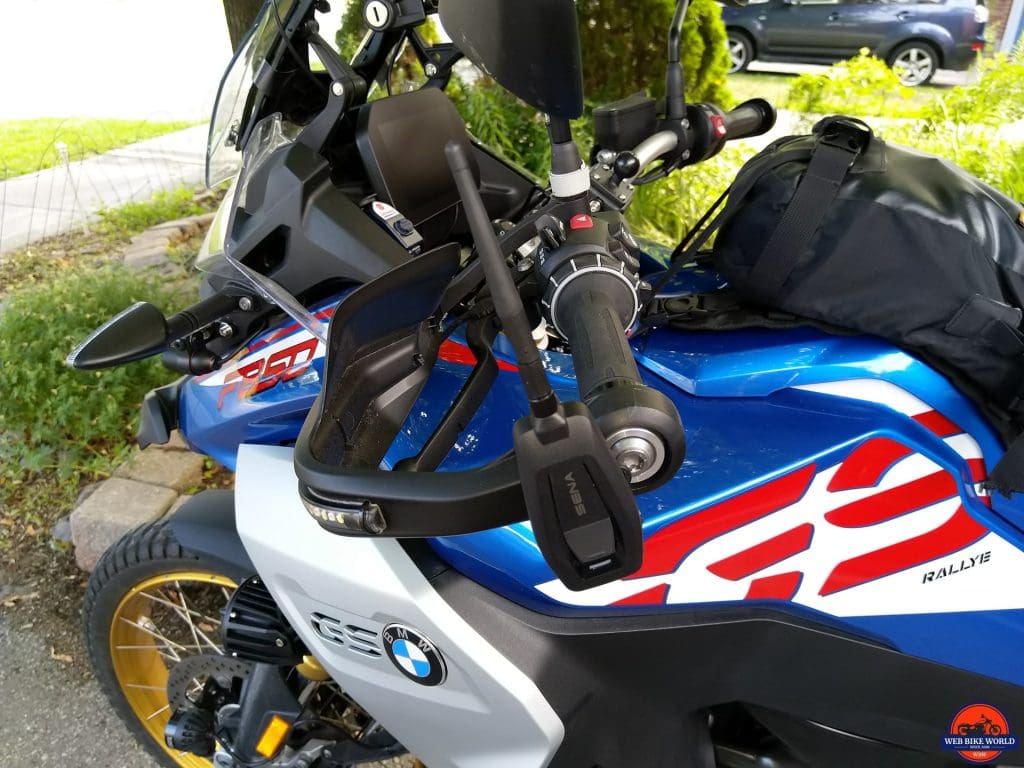 +Mesh in an accessible spot that is also vulnerable to impacts
Although the +Mesh is pretty much a turn on, pair and use system, it isn't totally set-n-forget, especially if direct access is needed to the MFB to start/stop participation in a mesh group or whatever. Safe access is always a key factor here.
One rider suggested that the +Mesh could be stuck to the left side of the aluminum top box using the adhesive plate with the rider reaching back as needed to access the control… uh, not for me.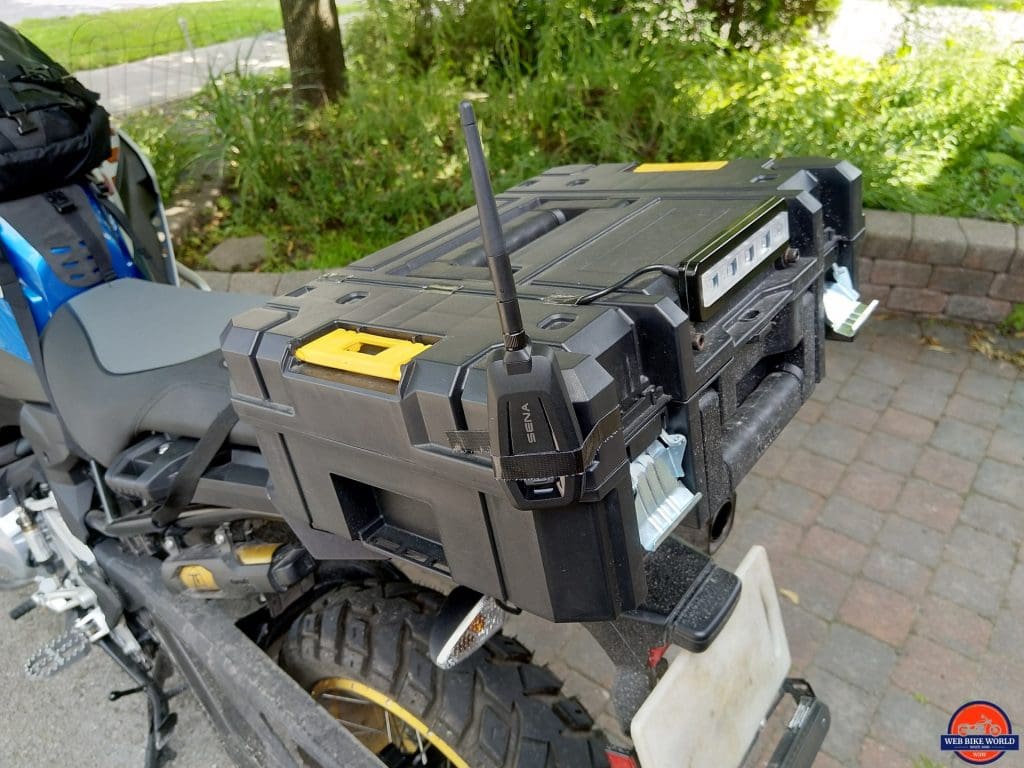 +Mesh shown mounted on top box on corner (top) and side (bottom)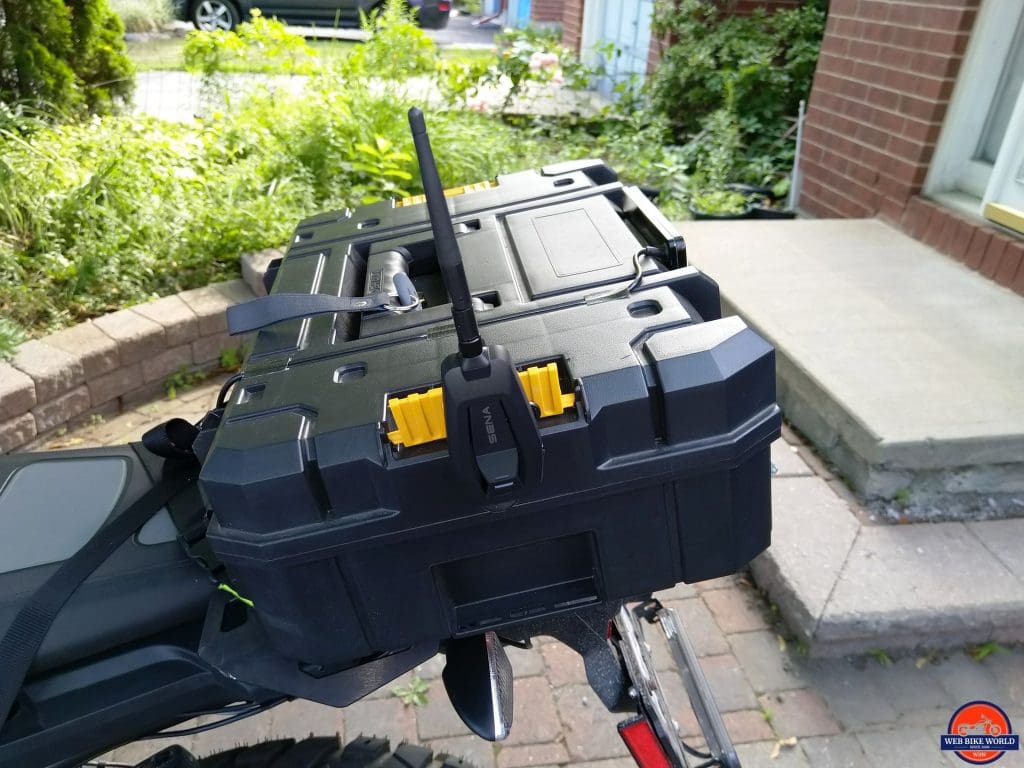 But, the +Mesh is very light and could (considering weight, profile, and perhaps in the absence of a passenger) be affixed to the side or back of the helmet without too much risk. The module is removed from the flat bracket in a second or two.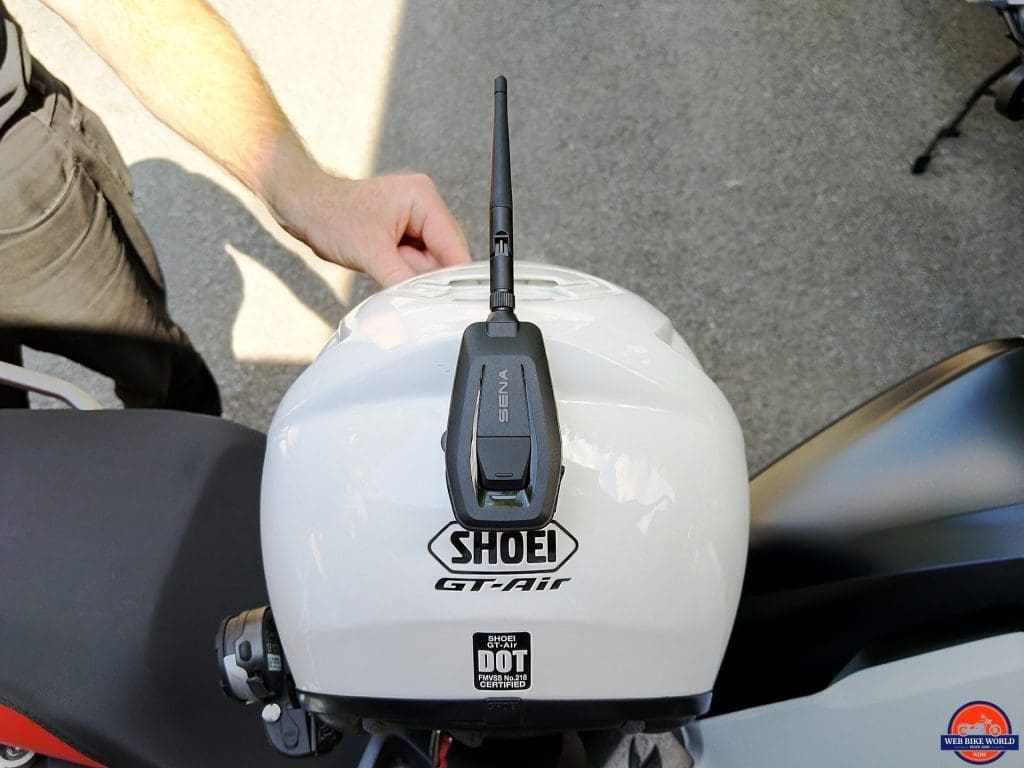 +Mesh Pairing & Connectivity
Not that there was any doubt over just how (well) the SENA +Mesh would interact with any of its family members, no matter how old, or young, but everything on hand is now bench-tested and out riding, generating the results listed in the table below.
Establishing an initial headset/helmet to +Mesh relationship is easy and (typically), needs only be done once for each SENA headset, with the pairing and connectivity relationship remaining with (typical) automatic reconnection when in range of each other.
Start Pairing
Step 1: To get started, turn on the +Mesh and the headset.
Step 2: Press and hold the MFB of the +Mesh for five seconds until its LED flashes Red rapidly, then initiate BT intercom pairing mode of the headset (typically by pushing the Jog Dial or using the Configuration Menu).
Step 3: Wait a few seconds for the devices to pair and connect, there is no need to touch anything else, unlike the standard SENA Bluetooth intercom pairing process.
Step 4: When the +Mesh LED blinks a double-Green sequence and the headset LED goes into its familiar double-Blue pulsing and "Intercom On' is heard in the connected headset, you are ready to go meshing with a live Public Mode mesh session… if a 30K is within range and in Mesh mode that is.
Mesh Mode
For subsequent activities, with the +Mesh paired to the target headset, activating mesh mode is initiated by tapping the MFB once. The LED flashes Green then settles into its double-Green pulsing with the 'Mesh Intercom On' announcement heard in the connected headset.
To end mesh participation simply tap the MFB again, the "Mesh Intercom Off' announcement is heard in the connected headset.
Alternatively, the headset with +Mesh communication link can be started or stopped by using the headset Intercom control, although no audio prompts will be heard.
+Mesh & SENA System Connectivity and Intercom Range Table
SENA System
Firmware Version
BT Intercom Range

(Average with Use)

+Mesh Intercom Range

(Tested Average)

30K
v2.1
800 to 1500m
20S
v.2.0
750 to 1200m
600 to 750m
10C
v.3.0.1
500 to 750m
600 to 750m
SMH10B
v5.1.2
300 to 500m
600 to 750m
SMH10R
V5.1.2
300 to 500m
600 to 750m
SMH-5-FM
v2.2.2
250 to 400m
600 to 750m
SPH10H-FM
v5.1.2
250 to 400m
600 to 750m
SPH10
v.5.2.1
300 to 500m
600 to 750m
+Mesh Functional Observations & Notes
As identified above, once the user headset and +Mesh are connected, indicated by the double Green or Blue LED pulsing (+Mesh and Headset respectively) and the voice announcement is heard in the headset, the user is able to participate in Public Mode Mesh communications with other compatible Mesh users within range.
SENA Notes to Note:
Only one headset/helmet system is supported at a time
If headset HD Intercom feature is active, the headset provides HD quality sound
If Audio Multitasking is enabled the headset communicates using Normal intercom mode
If headset/helmet Audio Multitasking is enabled or HD Intercom disabled, then Mesh intercom quality is reduced (see Note 3 and 4)
If headset/helmet is connected to +Mesh, then connects to another headset/helmet using Bluetooth intercom, voice prompts from the +Mesh are heard by all connected headsets
+Mesh Firmware Updates & Maintenance
Like all SENA Bluetooth devices, the +Mesh has Fault Reset and Factory Reset steps to use as needed along with firmware updates (when posted) via the SENA Device Manager software.
Fault Reset: I talk to a lot of users who don't know how to restart or reset their systems when it 'hangs' or goes off on a tangent of sorts (it happens). Resolution for the +Mesh is to use the end of a small paper clip or pin to gently push the Reset Button recessed in the small hole on the back of the unit.
Factory Reset: If wanting to go back to factory default state, press and hold the MFB for 11-12 seconds until the LED flashes White; the +Mesh automatically restores the default settings and shuts down.
Firmware Updating: The +Mesh is now seen under the SENA Bluetooth Device Manager application as an updatable device, but the initial firmware release v1.0.1 is still valid (as of 18 July 2019).
Battery: When powering up the +Mesh, the LED flashes Red rapidly: 2 flashes = Low, 0 ~ 30%, 3 flashes = Med, 30 ~ 70% and 4 flashes = High, 70 ~ 100%
SENA +Mesh on the Road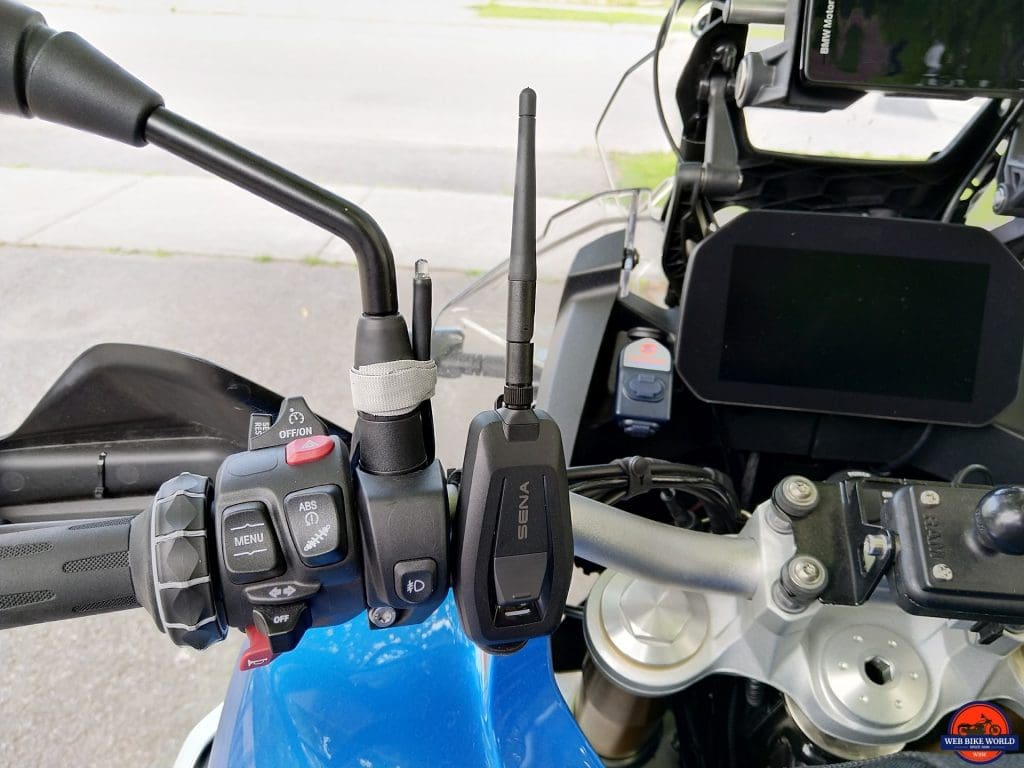 The first ride with a SENA 20S equipped helmet and the +Mesh mounted onto the left side of the handlebar provides a revelation in how well this simple configuration works.
With the 20S and +Mesh paired on the spot, the Mesh Public Mode session was active. Cranking up the two accompanying 30K systems and putting them into Mesh Mode via their MIBs had a three-way party-line going in less than a minute – away we go.
First timer users of mesh via this configuration were most impressed with how easy the whole configuration was to put in place, and even more impressed with the quality and clarity of the mesh session between all parties.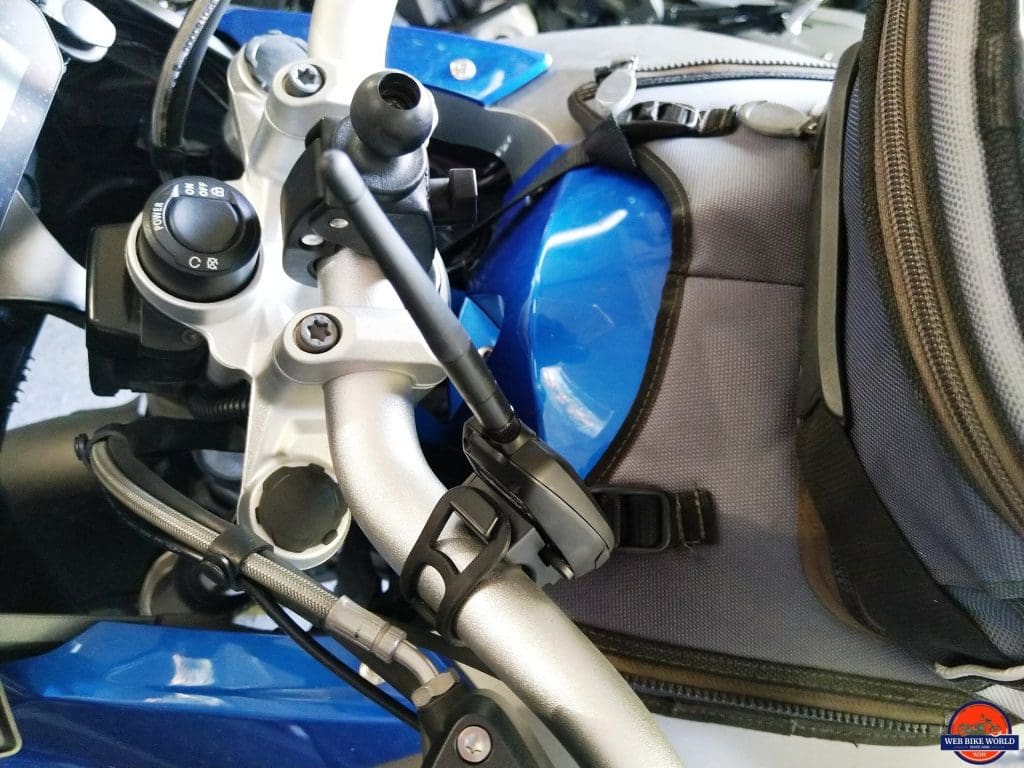 Testing Configurations
One of the 30K riders purposefully strayed out of range twice and on another occasion switched to Bluetooth then back to Mesh. On all three occasions, recovery and reconfiguration of the mesh group, including the 20S/+Mesh combination, was done in less than two seconds – no muss, no fuss, the way it should be.
Subsequent rides with other SENA non-mesh and 30K users, with different numbers of and with users coming and going, including the 20S and +Mesh configured rider, didn't result in any problems either.
Starting or stopping the mesh connection via the +Mesh or the 20S Intercom control didn't cause any hiccups either, although sometimes it can take a few seconds to restore.
Running the +Mesh with the older SENA systems, all updated to the latest firmware for baseline purpose also resulted in positive experiences, although again, some switching delays were noticed but, overall, the mesh connection was always restored…
Intercom Capability
The most common statements made about the mesh intercom capability reflect what 30K users already know – mesh provides a typically quiet, stable, and adaptive medium for users, leaving behind most of the issues encountered with Bluetooth intercom use. The benefits of mesh are obvious.
Some susceptibility to distance, terrain, electrical environment, temperature, humidity, and time of day factors is a reality, but again, some of these factors are mitigated with a larger number of active users and the adaptive nature of the mesh environment.
All to say that the performance of the +Mesh is pretty much reflective of the experience with the 30K in Mesh Mode. Mesh intercom range with two or three participants is typically in the 600 to 750m (1968 to 2460ft) range. It can be longer – it can be shorter.
This is somewhat less than the maximum claimed by SENA, but still acceptable, especially with more users in the group as the dynamic optimization of communications between users introduces another variable when contemplating the 'distance' factor.
And the usual disclaimer applies here… your experience may vary, it's what keeps life interesting.
Battery Life
Using Mesh Mode does result in shorter battery life for 30K units, typically around seven to eight hours, including some media streaming. In the longest session so far, the +Mesh was active for five hours and its battery status showed three flashes – somewhere between 30 to 70% remaining. (Note: this is a single data set, and more is needed to get a realistic view).
Planning wise if multi-hour use is the norm, then a portable battery pack (one is always present when out riding), or using one of the installed USB outlets, or a DIN plug to USB adapter does the trick in maintaining an optimal power configuration for the devices. SENA was the first to enable charging while in use…
Conclusion
What stands out after a couple of months with the +Mesh is just how easy it is to use and how well it performs with all things considered.
It has, on two occasions, lost its pairing with the target headset and every now and then it powers down when the MFB is held down to initiate pairing mode or it seems to get confused and just sits there blinking.
But only once was a fault reset needed to clear things and a factory reset was done just for the heck of it. It is now added to the diverse product listing supported under the SENA Bluetooth Device Manager, but no firmware updates have been noted yet.
And for SENA users who do not have or have not moved to the 30K, +Mesh provides an expedient and reliable option to get on board the mesh train. Considering the cost of a single or dual pack 30K kit, the +Mesh investment is modest, particularly if your favorite SENA is still your favorite.
Bottom Line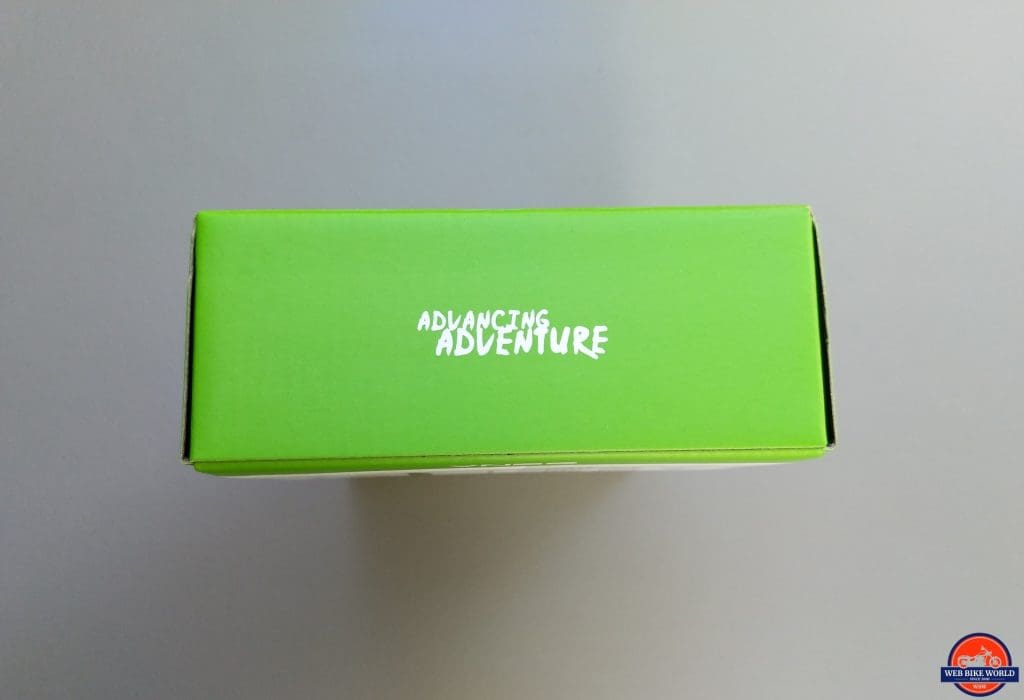 It is still early days, but so far the +Mesh experience is a great one. A couple of capability questions have been posed to SENA and if the requested information is forthcoming, this review will be updated accordingly.
A timely product that literally brings any non-Mesh SENA system into the mesh realm. It's so impressively simple to use, one may not have to read the manual. A highly recommended product.
Pros
First available Bluetooth to Mesh adapter
Simple to use
Very portable
Easy to mount almost anywhere
Good battery life, 7+ hrs
Quiet stable intercom
Range 600 to 750m
Can add new life to older headsets
Value priced for capability provided
Cons
Mesh Intercom (could) be a little better
Can lose its pairing or time out – but recovery is quick
Paired headset settings need considering for optimal +Mesh performance
Specs
Manufacturer: SENA
Price: $179.00 USD or $220.00 to $234.00 CAD
Made In: China
Fitment: Universal – round clamp and flat locking mounts
Warranty: Two (2) years
Original Review Date: May to July 2019