The much-anticipated Sena SR10 Bluetooth "hub" has arrived!
I viewed a prototype of the SR10 at the 2011 Dealer Powersports Expo (report) in Indianapolis back in February of this year.
Sena has been working on the SR10 ever since and they sent a pair for this review.
We're taking a slightly different approach with this review. I'd usually wait until we have all the data, reports, photos and feedback from the webBikeWorld evaluators before I published the full review.
But since the Sena SR10 is such a new and important device, with huge potential, I decided to publish this initial "First Look" to describe the product and some background first.
Then H.B.C. will take over for a detailed "on the road" evaluation, which will be published as Part 2. Also, be sure to read H.B.C.'s companion piece to this article, "The Future of Motorcycle Bluetooth".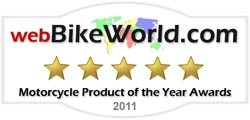 The Sena SR10: What Is It?
The Sena SR10 Bluetooth "hub" is an advanced Bluetooth adapter that expands the capabilities of a motorcycle intercom.
It will work with any Bluetooth motorcycle intercom system, although of course, Sena would prefer that it was used with the Sena SMH10 (review)!
Sena calls the SR10 a "two-way radio adapter", but that seems to limit the capabilities of this device, which does more than connect two-way radios (typically an FRS/GMRS type, such as the Motorola Talkabout MC220R recommended by Sena; here's the Wikipedia FRS/GMRS page).
Someday, perhaps (and perhaps soon), all of these features will be built right into a tiny motorcycle intercom unit, but until then, the SR10 provides a greatly enhanced capability set for what was once a basic motorcycle rider-to-passenger intercom.
The Sena SMH10 has been substantially improved in the short time it has been available. It's now in version 3.2 and the firmware in the new mini-USB SMH10 intercom can be upgraded, something owners have been asking for since version 1 of the SMH10 was released.
It's interesting to note that in the last 5 years or so, the capabilities of motorcycle intercom systems have increased and improved enormously. It wasn't that long ago when just having a good wired rider-to-passenger intercom was "the thing".
Then came the first attempts at applying Bluetooth technology to motorcycle intercoms and although the promise was there, the reality was, well, let's just say we were underwhelmed.
Obscure button-pushing sequences and a range of only a couple of meters was the norm.
Like all electronic gear though, performance and capabilities rapidly improved — motivated also by competition as more motorcycle intercom manufacturers appeared seemingly by the week.
But motorcyclists are a demanding lot and with the fantastic capabilities of smart phones, tablet computers and other highly portable devices, they know there could be more and they wanted it now.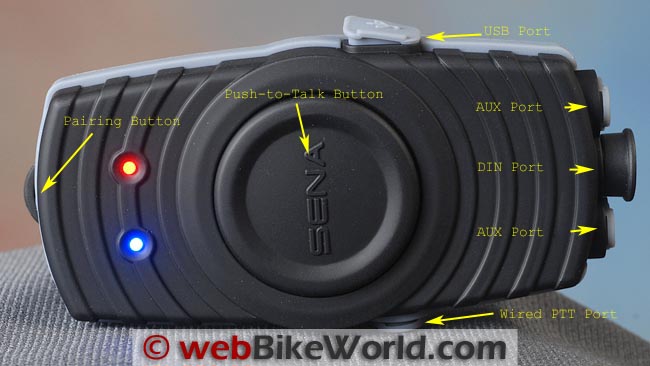 Sena SR10 Enhanced Bluetooth Capabilities
One of the most important features requested by webBikeWorld visitors is an improved bike-to-bike capability.
I don't know where all these groups of riders are who want to talk with multiple partners while they're on the road, but apparently they do.
We get more emails asking about multiple intercom bike-to-bike connections than anything else with regards to motorcycle intercoms.
About the only way to get multiple connections on a Bluetooth wireless motorcycle intercom at this point in time is to connect it to an FRS/GMRS radio.
Some day, this capability or similar may be included right in the intercom unit itself, along with the ability to connect to all the other mobile devices motorcyclists want, such as GPS, cell phones, MP3 players, radios and more.
Bluetooth was never designed for this type of bandwidth, but electronics engineers have been pushing the envelope to make it happen.
The Sena SR10 is an interesting and unique approach to solving the multiple-connection issue; offload the work to a Bluetooth-enabled hub or two-way radio adapter to do the work.
The Sena SR10 is a small device that weighs 84 grams and measures by 51 mm wide by 23 mm thick and 107 mm long from one end to the tip of the connector on the other end.
It can be mounted on the handlebars, mounted on a belt clip (included) or placed in a tank bag or even a coat pocket.
It has two auxiliary (AUX) ports on one end (see photos) that provide a connection to non-Bluetooth enabled devices like a GPS, MP3 player or radar detector.
It also has a larger central mini-DIN port to connect an FRS/GMRS or two-way radio, such as those available from Motorola, Kenwood, Icom, Yaesu or Midland.
H.B.C. will be evaluating all these connections and Sena said that the higher quality radios provide better connectivity and sound quality.
But since most riders probably will not want to spend $250.00 each on a two-way radio, the sub-$100-per-pair Midland or Motorola radios will be used as a more realistic solution.
By connecting to a two-way radio, the intercom-to-intercom communications range can be greatly increased, while allowing multiple riders to talk on the same channel.
Also, we will be evaluating other connectivity of the SR10, including how it interfaces with a GPS while listening to music, connecting with a cell phone and more.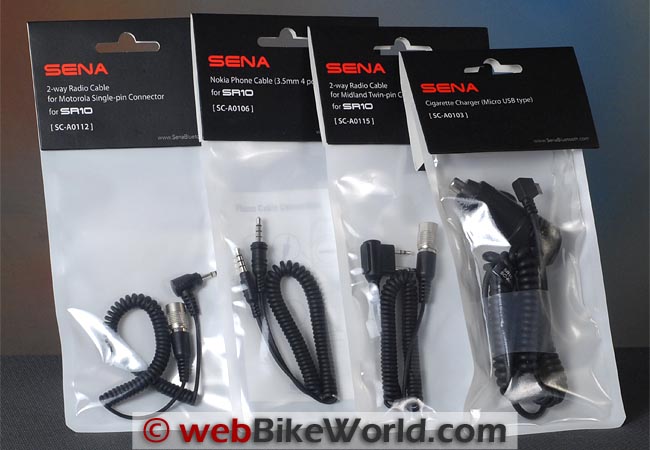 Sena SR10 Specifications
The SR10 has a built-in, non-removable battery that can be charged via the USB port. Sena claims a battery life of 12 hours with up to 10 days standby time.
The SR10 can connect one two-way radio and one mobile phone simultaneously. It is compatible with standard stereo or mono Bluetooth headsets. It has an AUX input for GPS or a radar detector.
Sena also offers an optional 12V kit to power the SR10 by the motorcycle's electrical system. The SR10 is firmware upgradeable and it has a two-year limited warranty. The list price is $199.00.
Here is the Sena SR10 Owner's Manual in .pdf format. Here is the Sena SR10 Datasheet in .pdf format.
Sena has a variety of cables that will connect various FRS/GMRS and two-way radios to the SR10. Don't forget, you'll need an SR10 for each rider who wants to talk in a group.
The SR10 includes a wall charger, a handlebar mounting kit and a mounting clip, along with a selection of cables to connect various electronic devices to the auxiliary ports. The SR10 is covered in a soft-touch, rubber-like material that is water resistant.
Sena is also releasing cables for CB radios and for the Honda Gold Wing, Harley Ultra Classic and BMW K1200 LT, along with a do-it-yourself wiring kit.
Specifications of the Sena SR10 include:
Connects to any Bluetooth-enabled motorcycle intercom.
General Talk time: 12 hours
Standby time: 10 days
Bluetooth Profiles: Headset Profile, Hand-Free Profile (HFP) Bluetooth v2.1+EDR.
Two 3.5 mm Ports: To connect GPS, Radar detector, Cellular phone (AUX2 only).
One mini-DIN Port: Can connect one two-way radio (Kenwood, Midland, Motorola, Icom, Yaesu).
One 2.5 mm Port: For a wired PTT button.
Battery Charging Time: 3.5 hours.
Battery Type: Lithium polymer battery.
Certificates: CE, FCC, TELEC, IC
Sena Recommended Two-Way Radios for the SR10:



Limitations
Note that the SR10 supports the common Bluetooth HFP (Hands-Free Profile), used to connect a cell phone with an external speaker.
The Bluetooth HFP profile wasn't designed to relay stereo music from an MP3 player, so the audio quality will most likely be equivalent to a mono-quality cell phone. We will evaluate this capability and report back in Part 2 of this review.
Conclusion: Part 1
The Sena SR10 has a lot of potential to change the way motorcyclists communicate. Over the next several weeks, in Part 2 of this review, H.B.C. will be evaluating the SR10 in the "real world" to uncover all its secrets, so stay tuned!
▪ 
SR10 Owner Comments (in Part 1)
Note:
 For informational use only. All material and photographs are Copyright © webWorld International, LLC since 2000. All rights reserved. See the webBikeWorld® 
Site Info page
. Product specifications, features and details may change or differ from our descriptions. Always check before purchasing. Read the
Terms and Conditions
!
Owner Comments and Feedback
---
From "R.F." (April 2015): "I have had mine for at last 3 years now, I had to buy it from America since it was not in the UK at that time. I bought it because I wanted a good bike to bike solution and we use Mitex General 5Watt radios.
I also hook up my Samsung Galaxy phone and my Garmin Zumo 660.
I am not interested in listening to music while riding (my life is too precious to me), so I care not about true stereo. I have early Cardo Scala rider team set blue tooth headsets and at first it all worked quite well, but did drop the connection to my headset on odd occasions.
The most frustrating thing is that if I walk away from the bike out of blue tooth range, then nine times out of ten I have to turn the units off and on before they will pair again.
After a while, my biker buddy started complaining that my radio was always transmitting. I carry the SR10 in the side pocket of my tank bag and found that if I undid the zip, it would stop transmitting.
I thought that maybe it was the interface connector, but it turned out to be much simpler than that. I tracked it down to the fact that the large push to talk (PTT) button was being pressed when zipped into the side pocket of my tank bag.
I cured that by fixing a plastic shield over the button.
This is a very silly design since most people will use a remote PTT button. I tried to get some support for a software update to allow switching off the PTT function, but Sena support is either non existent, or at best condescending on the rare occasions when they do respond.
However, the problem persisted with my biker buddy complaining that I was still transmitting from time to time and every so often I will get a screaming in my headset which is presumably the radio telling me that I have left it in transmit mode.
My buddy uses an Autocom system and has never had any problems, so frustrated with the lack of help from Sena on this one I was about to throw the lot away and invest in an Autocom, even though I hate the thought of trailing wires.
So today I decided to have one last go at tracking down the problem and I isolated it to the interface plug, but more specifically the interface cable. I can make the radio transmit by simply wiggling the wires with the plug unplugged from the SR10.
The wire has four cores (I think), and it is so small in diameter hence flimsy, that I am not at all surprised that it has failed. I am not sure what the solution is since buying another cable will just result in the same problem a few months down the line.
So for any one who is interested, it could be a great solution, but it needs a software update to allow the PTT button to be disabled, also to improve the robustness of the blue tooth pairing when they drop out.
Also the cables, although very pretty, are no where near robust enough for bike use. I don't think Sena will do anything about it because they seem to have lost interest in the product only ever issuing one software update. Their support is really really poor quality, so I guess that the problems don't get fed back to the engineers.
Attached are two photographs showing the make shift PTT shield, and the red transmit light on when the interface cable is bent."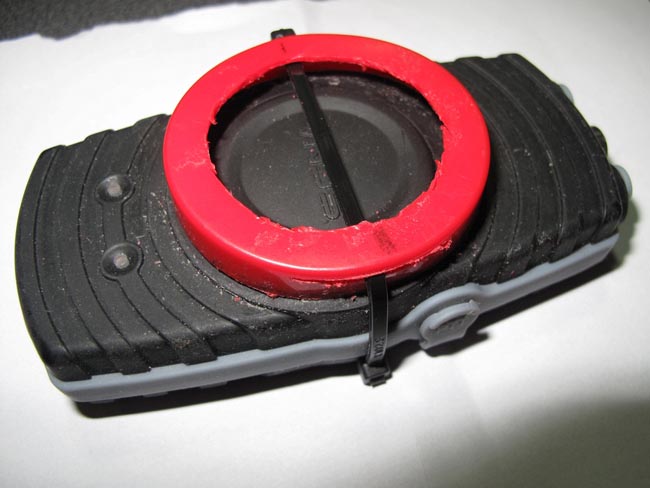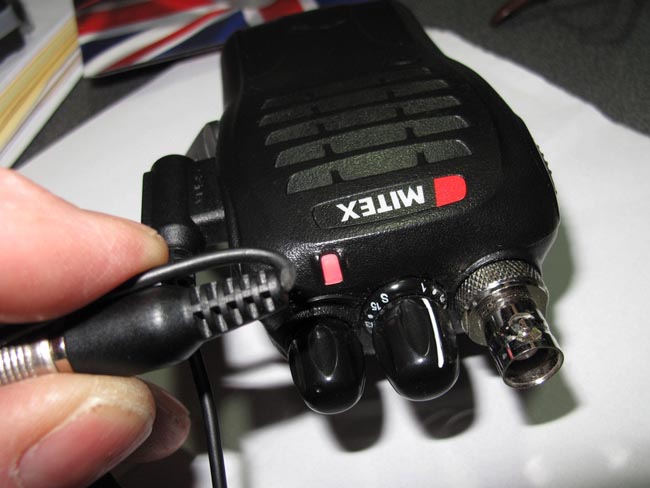 ---
From "P.M." (October 2012): "Interphone F5, Sena SR10, Garmin 660, Uniden UH078SX and Apple iphone 4S. Any suggestions would be really appreciated.
Seriously considering selling all the gadgets as I am that pissed off with the whole setup. I have spent a fortune on this setup and it totally sucks.
The Interphone F5 is connected to both the GPS and SR10 via Bluetooth. The GPS is connected to the iPhone so you can see who is calling and call specific people in the iPhone phone book. The GPS has MP3 files loaded and plays music. The SR10 is connected to the top of the line Uniden.
We can't use CTCSS (tone base unique channel …..) as all communication stops at normal road speeds then we end up with chatter the whole ride. Works great stopped at the lights.
Tried Uniden, no answer (and) noticed lots of web chatter on this subject nothing helpful. So the radio sucks and the 6 to 10 guys I ride with all have either a 76sx or the 78sx.
Most have hard wired speakers in the helmet some have 2 sets of speakers which i reckon sucks. I regularly get some type of out of sync noise and I need to either stop and start the GPS or headset. No vendor will help resolve issues.
The worst is intermittent noise when listening to music usually caused when the radio cuts in then out. The volume is fine at city speeds but once in the country at speed its not loud enough for music most of the time you can not wear ear plugs as you would hear nothing.
I have a Shoei Hornet DS that fits well if not snug. The sound quality also varies. It seems better sometimes if I turn on the GPS/phone and Headset then the radio / Sena. Maybe I need to sync things differently or something. I have the latest available firmware for all items. Any ideas no matter how stupid will be tried."
Editor's Reply: Sounds like you have just run right into the "bleeding edge" of the technology. There are a near-infinite number of connections, devices and the rapid evolution of intercoms and firmware.
And everything is pushing the absolute limit of Bluetooth and wireless technology, probably way past its original intent.
So it's not surprising that you're experiencing difficulties, to be honest. The best thing at this point would be to start from scratch, add only one feature and one device at a time, test it to make sure everything works as expected, then add another until you find the weak link in the chain.
There is just no way that Uniden, Sena, Interphone, Apple and Garmin are going to get together one day to make sure all their devices work smoothly together.
Perhaps someday the technologies will have evolved to a point where they will seamlessly and easily synchronize with, merge with, talk with, etc. each other. That day is a long time in the future, I'm afraid…
---
From "M.T." (August 2012): "When you're using the SR10 with other brands of intercoms, like a Cardo G4 (review), and a cell phone is paired, how do you answer calls? Also, I'm not sure if the cell phone pairs with the SR10, or with the intercom, which is then paired with the SR10?"
H.B.C.'s Reply: The Sena SR10 provides a hands-free gateway for Bluetooth mobile phones by using the Hands-Free profile or HFP. Depending on specific features or capabilities of the mobile or smart phone when connected to the SR10 via the wired AUX 2 port or the HFP Bluetooth connection, with some limitations.
Generally speaking, if all capabilities of the mobile/smart phone (or other devices) are needed then a direct pairing to the headset is still the most efficient configuration, with other audio sources connected via the SR10.
Since the original SR10 "discovery" and subsequent evaluation, a few miles and a few firmware changes have ensued, so the question posed was a good excuse to revisit everything in a more formal setting.
I use the SR10 devices, along with multiple Bluetooth helmet systems and lots of peripherals regularly, but even so, I was surprised by the results compared to the original baseline tests. And for this effort, the baseline consisted of two Sena SR10 (firmware v4.2) modules, both reset to factory default settings for each phone setup.
Regarding the configuration, Radio Transmit Gain was set to Medium and Audio Channel Timeout to five (5) seconds.
Four phones, including an Apple iPhone 4S, two Samsung Android units and an older generic mobile device, were used, connected to the SR10 via the AUX 2 port (see note below regarding Bluetooth connectivity, or the lack thereof). All instructions are as per the SR10 Users Guide version 1.2.
Cardo G4 (firmware v3.0): The SR10 detects incoming audio, like a phone call and activates the HFP audio link to the headset.
As an HFP link, it has audio priority, so other lower priority audio is interrupted, allowing the incoming SR10 audio to be heard in the headset speakers.
With the original and v1.1 firmware builds, an incoming phone call, or any audio within the SR10 would activate the HFP link to the headset with the audio heard in the headset speakers and a quick push on the G4 Phone button did the rest.
But no more, since upgrading to version 1.2, a double-tap of the PTT button on the SR10 is needed to activate the HFP audio link first and, the Phone button on the G4 does not answer the call, a manual push on the applicable "Answer" control on each phone is needed — most annoying.
Cardo G9 (firmware v1.1): With the Phone VOX setting OFF or ON. My results with the newer G9 were essentially the same although an incoming phone call would open the SR10 to headset HFP link, but again, the only way to answer the call was by using the phone controls, and the VOX answering capability was not available.
Cardo configuration recommendation — keep the primary mobile/smart phone paired directly to the headset if all features (stereo and mono audio) are needed.
If only phone services are needed (for monitoring) then it can be paired to the SR10 along with any other devices for audio monitoring purposes, but keep the phone handy in case a control does need to be pushed.
Sena SMH10B (firmware v4.1.1): Initial pairing was done using the standard HFP device process. The VOX Phone Setting was both ENABLED and DISABLED.
As with the Cardo G4 and G9 efforts, I had less success this time than during the original SR10 evaluation, something I attribute partially to firmware updates.
A call initiated to the paired/wired phone couldn't typically be heard in the headset until a double-tap on the SR10 button took place to make the SR10 to headset connection and even then the call typically had to be answered manually by pressing the appropriate control on the phone.
Pairing the SR10 to the headset using the specific processes detailed in the SMH10B manual for the SR10 or using the Selective Profile (HFP) process didn't change anything.
Mobile/Smart Phone with Headsets: Reverting phones back to a direct pairing with the headset restored all features, including the Sena VOX Phone capability, which is very handy as I seldom use VOX in general (except with the Midland BTNext (review)).
With the G4 and G9, a simple (loud) "Hello" or a push on the Phone button answers the call, with another push terminating or rejecting the call, with other headset audio resuming almost immediately.
Some Related Observations
Sena SR10 Firmware: When using the original firmware and subsequent v4.1 release, pairing a Bluetooth phone with the SR10 was possible, but since upgrading both SR10 devices to v1.2 this capability has disappeared.
And the restore step available with the latest version of the SR10 Manager won't let me roll-back, as could be done before. Needless to say this issue has been submitted to Sena Support and we are trying to get some answers…
Sena SMH10B Firmware: Overall the continuing updates from Sena have been positive and well-received by most users. Firmware v4.1 released July 11 was a bit flaky however; the iPhone wouldn't pair up and when it did, it was tenuous, as were some other connections.
But v4.1.1 released on August 1st seems to have cured the problems, at least the ones I had…and A2DP streaming service is much improved.
And finally, if the devices are updated to the latest firmware release, in this case version 1.2 for the SR10, the latest manual should also be downloaded and followed as minor "tweaks" and updates to the firmware can result in procedural changes that will be documented in the latest manual and/or posted under an FAQ.
And although I hate to say it, your results, given firmware and configuration settings, and devices used, may/will be different than mine. Keep your feedback coming in — we all benefit.
UPDATE from H.B.C. (August 2012): Latest news of a positive sort — I finally forced (age and treachery overcomes some technology) one SR10 to take firmware v1.1 and guess what — everything works as advertised when it is paired with headsets, including the G9 units.
Now testing the rest of the headsets on hand to make sure all is totally well with v1.1. Going to roll back the other one to 1.1 as well, then update it "manually" to v1.2 and see if anything changes.
Bottom line: regression worked on SR10 back to v1.1 and the G9 now pairs and works just fine with that SR10.
---
From "J.W." (June 2012): "Wow! A very detailed review of the Sena SR10. Just what I was looking for. In fact, I need to re-read it several times to understand it all. 🙂
I've been using the SMH10 for a while now. It works great with my Garmin zumo 665 and iPhone. However, I do find that I need to either reboot the SMH10 or zumo initially until I get a proper (audio) connection.
I've tried different sequences but haven't found a consistent pattern that works. Perhaps I need to document it to make sure I've covered all my bases.
To better understand how the SR10 might work with my current configuration I created this chart.
My current setup is in blue, and my desired additions (using the SR10) are in red.
My question is: Will this work?
Can I add the additional inputs to my "network" understanding the "one-at-a-time" limitations of Bluetooth technology?
Specifically, I would like a radar detector input to have priority over everything, followed by comms with pillion and other riders via Bluetooth or radio, followed by GPS and media inputs.
Again, thanks for the great information and ALL the other articles! They have really helped with my purchase decisions.
H.B.C.'s Reply: A. Regarding your diagram, it can be done/supported by the devices listed.
Your diagram is basically one of the configurations detailed in the SR10 posting.
You need to remember however that the SR10 only supports the headset/hands-free profile, so all audio via the SR10 is mixed into a single channel (mono) output stream to the paired headset; there is no (current) audio priority within the SR10 itself.
The iPod will therefore be heard in mono only.
As the SMH10 pairs with and sees the SR10 as a headset/hands-free device, it will be the priority, so the desire to have the Radar Detector audio as priority will work.
But any other active audio input via the SR10 will be mixed on the same stream to the headset, which can be confusing for some users, especially if there is a lot of concurrent audio from different sources.
As hosted by the zumo 665, the iPhone will just work with the headset/hands-free profile.
Whereas if the iPhone is paired separately or first to the SMH10, it can take, reserve, and lock out all of the supported profiles, making it harder for other devices to activate an audio link, even if previously paired.
Your current configuration should work, and there are some issues with the Garmin Bluetooth and audio output, which are perhaps becoming factors in your issues.
With or without the SR10 in the mix, I have found that using the Selective Pairing feature of the SMH10 really helps keep the iPhone and zumo pairings sorted out, with minimal interference and typically fast switching — something to try.
---
From "J.F." (April 2012):  "The latest SMH10 4.0 firmware upgrade (report) supports Bluetooth 3.0 and multipoint, albeit still limited at this point. As a result it's now possible to pair with two "headsets"; the SR10 and my smartphone, for instance.
When a transmission comes in over the SR10/radio the music, intercom, etc. on my SMH is somewhat muted, but the connection is retained. Another nice side benefit is that I can get stereo tunes from the smartphone and add the radio connectivity.
This is a great example of the value of firmware upgrades. I haven't had a chance to test fully — I'll get that on a trip with a bunch of friends w/o SMH's (but with radio's) this coming week. My initial tests around town worked flawlessly.
By the way, in your initial review you said 'Don't forget, you'll need an SR10 for each rider who wants to talk in a group.' That could be misleading, I think. Anyone who already has wired radio connectivity won't need an SR10.
This allows folks with Bluetooth headsets to join groups that are already radio enabled."
---
From "D.H." (April 2012):  "For the guy who wants to use multiple Sena SMH10s with one SR10 for endurance kart racing, save your money!
The solution is much simpler than dealing with multiple pairings or profiles. Just unclip the SMH10 from the first driver's helmet and snap it into the second driver's helmet mount when they switch places at the wheel.
Done in mere seconds, and for only a little more than half the cost of having two SMH10s (you do have to buy an extra helmet mount setup)."
---
From "T.G." (February 2012):  "Is it possible to pair two SMH-10 headsets to the single SR10 so the passenger could hear the conversation that is being had via the two-way radio connected to the SR10?"
Reply From HBC: The SR10 can be paired discretely with more than one Bluetooth headset, but it is only "active" with one (in the usual Bluetooth one-to-one relationship), so no "sharing" or broadcast ability to a second headset is available.
Having said that, the newly announced SM10 Bluetooth Adapter (report), that does work on a "broadcast" principle to one or two paired headsets will support this type of audio sharing.
But in the information released so far it isn't clear if the SM10 will have the ability to support a PTT feature for a two-way radio.
We will know more, hopefully once one of the new devices are in hand. There may be the potential for incoming audio, say from a two-way radio, to be shared via the SM10, but I suspect only one user, typically the rider, might be able to transmit.
This is an (albeit) limited capability that one or two other headsets have tried to provide but not without issues. I believe the only other device that approaches this ability is made by AKE, one of which we haven't managed to evaluate, yet.
Also from "T.G.": "We also go kart racing and are looking at using this system for our pit to kart comms. So my question is, if we have the SR10 connected to a two-way in the kart and the driver has a paired SMH10 in his helmet he should be able to talk no problems to a guy in the pits with a two-way radio?
Here is the tricky part: we endurance race so we do driver changes throughout a race.
Is it possible to pair a second SMH10 (in the second driver's helmet) to the same SR10, so when the second driver jumps in the kart the SR10 will automatically recognize the new SMH10 and the new driver will be able to communicate straight away?
The plan would be to have an FRS/GMRS radio in the kart connected to the SR10 and the SR10 connected to the SMH10 in the first driver's helmet. We would have a person in the pit with the second FRS/GMRS radio to communicate with the driver.
When that first driver gets out and the second driver gets in with the second SMH10 in his helmet, we are wondering if the SR10 could just automatically recognize the second SMH10. So he could the use the radio in the kart to communicate to the pit radio.
Pretty unusual request! Thanks again for your help"
Reply From HBC: Having driven as a team member in this type of racing, this is a familiar requirement and in reality using one SR10 with two headsets will work as long as the basic rules are observed, and appreciated from a timing perspective.
As the SR10 can only be "active" or linked with audio with one headset at a time, attempting to use multiple headsets can mess up the one to one profile relationship and put the SR10 into a loop of sorts (been there, experienced it, rebooted).
But again, with the basic rules observed, there are a couple of possible configuration options:
a. Configuration One: Kart-mounted SR10 with two-way radio for comms to pits or wherever.
If the two individual driver headsets are paired in individual sessions to the single SR10 in the kart before the race (Driver 2 and then Driver 1 — last-in, first out rule), then Driver 1 would activate his headset with SR10 and two-radio link initially.
When coming in for the driver swap, Driver 1 would turn off his headset and Driver 2 turns his on and after five to ten seconds a single beep in the headset will let him know that the two devices have found each other, so Driver 2 is now empowered.
(I tried this configuration during the original SR10 and Sena SMH Version 2 evaluation and it worked, as it did again this evening — you just need to turn one headset off and turn the second one on — the SR10 will find the "live" one and it never failed to work.
Although it sometimes can take ten to fifteen seconds.
If the SR10 seems confused, manually activating the link by a quick double push on the PTT should clear its head and activate the link).
b. Scenario Two: A bit more complex and involving two SR10 units. Two drivers, each with a Bluetooth headset and an SR10, paired respectively, with one two-way radio mounted on the kart.
It only takes five seconds or less to switch the radio cable from one SR10 to the second, much like other endurance race teams do in just unplugging their harness or their harness and radio for a fully charged one.
In the good "old" days (or even today), team members or drivers typically carried a complete system — radio, harness and headset. But Bluetooth headsets, hubs and adapters have added a whole new dimension, even though the Bluetooth one to one relationship provides some limitations.
For what it's worth, another option that may be viable involves the use of multiple compatible paired Bluetooth headsets, in which case switching between or to Driver, 1, Driver 2 and Pits would just take a single, or multiple push of the appropriate intercom button.
But this common system environment depends on Bluetooth being able to work within the race environment, e.g. noise, electrical interference and distances. If the distances involved are within a typical link range for the systems being used (many smaller tracks would be), it can work.
Race teams have and are using this type of setup, with two-way radios as the alternative or for back-up.
(I have used three paired Bluetooth headsets at our local track on the odd occasion and it works well, although at the extreme outer edge (close to one km and with a rock mound or two between), the link might be lost or go scratchy for a few seconds, but otherwise it was overall useable.)
Newer systems that use multi-connectivity and multi-point capabilities will bring multi-party conferencing to the fore, better for team efforts, and greatly extend overall link ranges serially by using other paired systems for relay purposes.
So the Driver on a long or large track could be linked all the way back to the Pits via one or two other compatible headsets worn and deployed by other members of the team at strategic locations; a bit more complex, but an approach.
Once more of the new systems are in hand, these capabilities can be evaluated as they promise to bring another dimension to headset use.
Hope this helps, let us know what you use and how it all works – feedback and your own solutions are always great to get."
---
From "J.O." (January 2012):  "My friend and I have the Sena SMH10 headsets and they work great when we ride together. Will they work normally when the SR10 is connected?
I am interested in the SR10 for bike to car communication with my Kenwood UHF radios. Often when we go on camping trips, my wife drives our truck pulling a camper and I follow along on my bike to our destination.
I would like to be able to communicate with her and this unit seems like the answer. However, I would still like the headset to work as always with my phone, iPod and intercom.
I was wondering if I have to run my iPod and phone through the hub or if the headset will just recognize the hub as another BT device. Another good solution for me would be a non helmet BT device that will connect to the car hands free system.
Then I could talk to the car as if it was another Sena headset."
HBC Replies:
Q1: "My friend and I have the Sena SMH10 headsets and they work great when we ride together. Will they work normally when the SR10 is connected?"
First off, it bears repeating that Bluetooth headset systems see the SR10 adapter or hub as a "headset" and treat it as a paired phone and typically a paired phone has the highest priority — this in itself is both a plus and minus.
As such, the Sena SMH10 systems will work normally and the intercom will provide excellent rider to rider support, until an SR10 link is activated.
Once this happens, the intercom feature, along with other audio, will not be available until such time as the SR10 link is dropped or closed.
At that point, audio should resume, although as I continue to find out, it's not always seamless and typically the intercom link must be manually restarted.
This is probably the weakest point regarding the SR10 and SMH10 configuration; something I didn't expect, but it occurs. The current 1.1 firmware for the SR10 and 1.3 firmware for the Sena SMH10 didn't fix this issue either (its actually worse), but I am sure Sena will be looking at it.
For what its worth, and as I noted in the SR10 evaluation, most other Bluetooth headsets actually work better with the SR10 than the SMH10 does — go figure — and the Midland NeXt system actually lets the user pair the SR10 as a primary or secondary device, with very acceptable results – stay tuned for that evaluation.
Q2: "I am interested in the SR10 for bike to car communication with my Kenwood UHF radios. Often when we go on camping trips, my wife drives our truck pulling a camper and I follow along on my bike to our destination.
I would like to be able to communicate with her and this unit seems like the answer. However, I would still like the headset to work as always with my phone, iPod and intercom."
This scenario is just about perfect for the SR10. As long as your Kenwood works well with the SR10 (my VHF/UHF radios do), then you shouldn't have any issues and if you are riding alone and probably not using the intercom often or at all, then the SR10 and headset link would only impact other headset audio.
Q3: "I was wondering if I have to run my iPod and phone through the hub or if the headset will just recognize the hub as another BT device. Another good solution for me would be a non helmet BT device that will connect to the car hands free system.
Then I could talk to the car as if it was another Sena headset."
Appreciating the mono audio stream from the SR10 and the audio switching priorities within the headset, one configuration is to pair the phone to the SR10 via its hands-free Bluetooth link or the AUX 2 port to handle that service.
Then connect the iPod to the headset using the wired connection (or via Bluetooth using the A2DP profile) so you have full stereo. The intercom will be available when the SR10 link is not active.
I recommend wiring the stereo music device for the reason that it helps to minimize Bluetooth profile conflicts.
Looking ahead towards Spring, it is likely that firmware enhancements for the SR10 may provide stereo streaming and multi-device/multi-point connectivity, but until then, the current connection limitations must be understood.
And on a final point regarding non-helmet Bluetooth headsets — so far the SR10 has paired and worked with an older wiRevo Headset (review) and I'm just waiting to get one or two newer Bluetooth stereo headsets that support the HSP/HFP, A2DP and AVRCP profiles.
These products should work well with the SR10 for non-helmet applications and connect to Bluetooth systems in the four-wheelers.
Don't forget that many manufacturers of motorcycle Bluetooth systems now offer ergonomically designed options for other types of helmets and personal use.
Let us know how it all works out and don't hesitate to pose your questions, and provide feedback to the Editor.
---
From "M.H." (November 2011):  "I've been a Sena SMH10 fan shortly after the Bluetooth headset was introduced. But the new SR10 Bluetooth hub, isn't ready for prime-time in my opinion.
As soon as the SR10 was paired with my Droid X and to the SMH10, two major problems arose. Let me begin with a run down of what was (wired) connected to the SR10: Beltronics Radar Detector (audio out) to Aux port 1. Garmin GPS to Aux Port 2.
A Kenwood FRS transceiver to the radio port. The SR10 was then paired to the SMH10 Bluetooth headeset.
All 3 devices do operate properly with the SR10. The SMH10 was paired to the SR10, and to the Droid X Smartphone.
Problem 1. Loss of Voice Commands to the Smartphone. I have spoken with Dan at Sena about this, and he informed me that a new version of firmware to be released shortly will address this oversight. How could Sena not have caught this flaw before releasing the SR10?
Problem 2. The SR10 takes priority over many functions of the SMH10. For example, if one is using the SMH10 in the intercom mode, and a audio signal is detected by the SR10 from my radar detector, GPS, or FRS radio, the active intercom is connection is dropped. As long as that audio signal is present, I can not use the SMH10 intercom.
A better solution (if possible) would be if the SR10 and SMH10 could "mix" the audio, instead of dropping the intercom connection.
A prime example is when my Beltronics radar detector goes active, I have no way of passing that info alone to other riders, due to the intercom feature of the SMH10 being dropped and locked out. Maybe this can't be done with current technology, but in my scenario, this is another major flaw.
For the time being, I'm removing the SR10 from my bike, and going back to the way I was using the SHM10 (which worked flawlessly).
Maybe if Sena would have put a few of these devices into the hands of people such as myself who are going to test these things to the limit in the real world, instead of a lab, these issues could have been addressed prior to the SR10 hitting the retail market."
Follow-up from "M.H." (December 2011):  "I've been a longtime user of the SMH10. The units work perfect paired to my Motorola Droid X. Phone, MP3, Navigation, all streamed wirelessly to my helmet. Excellent device. The SR10 though is another story.
I connected one of my amateur radios to the radio port, a Garmin GPS and a Beltronics RADAR detector to Aux ports 1 & 2. 1st problem, when the SR10 was introduced into the mix, loss of voice command control of my Android phone.
Not good. Sena acknowledged the issue, and said they would produce a fix.
After waiting and waiting for Sena to fix the voice command issues with an update, the problems continue.
After updating my SMH10 to v 3.3 and the SR10 to v 1.1 (the fix), the voice commands from my Android phone "somewhat" work, but now I have lost the MP3 function from my phone. Sena's solution? Buy a separate Bluetooth MP3 player!" (Remainder edited).
Editor's Reply: Thanks for the info. I'd have to say, you're probably connecting more devices than I ever imagined possible and way more than we'd ever be able to use for evaluation purposes.
So you're way beyond anything we have any knowledge of — you're basically a pioneer in this thing! I guess you can say that you're on the "bleeding edge" of this new technology!
In its defense, I'd have to say it's a very new type of device and I would expect that there would be many bugs, especially trying to connect this many devices. Frankly, I'm surprised any of it works, knowing how rapidly electronics technology evolves and how difficult it is to get it all to connect! In fact, it sounds like the problem you are having is the fault of Bluetooth 2.1.
It's my understanding that Sena will be upgrading the device through firmware, and that's one of the upsides — only a couple of years ago, once you bought one of these devices, that was it — if you wanted an upgrade, you'd have to buy another.
At least we can hope for firmware upgrades now. So I'd suggest waiting for the next firmware upgrade, which I understand is supposed to fix the issues.
In fact, I contacted Sena about this and here's what they said:
"Since the current Bluetooth 2.1 software supports only one connection for profile, the SMH10 can accept only one HFP connection. It means the users should connect their smartphone first to SR10 by HFP (or wired) and then connect SR10 to SMH10 in serial.
[Smartphone] — HFP (wired) — [SR10] — HFP — [SMH10]
In order to listen to music, smartphone should make separate connection to SMH10 by A2DP (currently, smartphone is connected by HFP with SR10, not with SMH10). In this case, smartphone connection is unstable, i.e. A2DP with SMH10, HFP with SR10.
Usually, the smart phones pair all profiles together with the devices. Users need to use wired connection between smartphone and SR10 to resolve this issues.
We have a solution though. We are supposed to release firmware update for the SMH10 in early Feb. It supports Bluetooth v3.0 and multi-point connection which enables SMH10 to connect a couple of HFP devices at the same time, i.e.:
[Smartphone] — HFP/A2DP — [SMH10] — HFP — [SR10].
I believe it would resolve this issues eventually. It is not that easy, but we may have to catch up the technology changes accordingly since the smartphone is still in evolution rapidly."
---
From "T.G." (October 2011):  "I had (an SR10) for 3 hours and was unable to get the iPhone voice control to work through it. Headset to phone without the SR10 worked flawlessly. It seems that the SR10 was not sending the 3 second answer button push to the phone.
The problem I am running into is companies not completely flushing out a product first. The Sena SR10 is a awesome device except it removes a critical part of functionality from my cellphone: the voice dialing and control.
It eliminates the 3 second answer press on the helmet that brings up the iPhone's voice control that lets me dial a number, change what music I am playing, etc.
Problem is the SR10, while from the outside looks like the perfect tool to fix the problems with Bluetooth, it only goes half way and misses a feature that is so important, that I returned the product.
Not only the iPhone does voice control, My Motorola Razr from 10 years ago did it. Most Nokias and Android phones do as well. This is a critical safety feature that any device for motorcycles must support flawlessly.
It's not Sena's fault, a lot of headset makers screw this feature up. Some headsets power off for a 3 second press, thus making voice control broken. It's mostly because the engineers do not test all features, or beta test their hardware completely.
The industry is too fragmented with Bluetooth, and helmet Bluetooth systems are always about 3-4 years behind everyone else.
For the past 3 years you can buy the "executive" headsets that will pair with several phones and let you easily manage what device is what, they have voice feedback telling you what phone you are using, the connection and even battery condition feedback.
My wife's $39.00 one even lets you load different voices to it. Yet the $399.99 top of the line helmet Bluetooth device out there barely matches the features of a $39.00 special, but throws in useless things like a FM radio that does not keep its stations or pull in anything with any clarity.
Bluetooth can be not only the future of motorcycle communications, but the complete leader in it. The headset makers need to up their game and make sure their devices support all the features on phones that people will rely on for safety and function.
A2DP is essential; sending button press commands to the phone for using the phones voice control is essential. Multiple headsets for intercom from pillion to driver is essential. Yes — even (for) three — I know people that ride two-up plus a sidecar. All three of them need to communicate.
Plus other features, BMW will probably be the first, but letting the bike warn me in my helmet is the future.
Even if it says "Attention: Turn signal is still on" will be helpful, but I would love to hear a audible warning if I lose front tire pressure, fuel low, speed warning, etc…and this will require Bluetooth headsets to connect to a large number of devices at one time.
Hopefully one of the companies out there are listening and will work on giving Motorcyclists the Bluetooth helmet headset that we need. I also hope that the SR10 can be fixed in software to add the ability for cellphone voice controls.
I will certainly re-purchase the unit if they fix this issue."
Editor's Reply: I asked Sena about this and they said they are aware of the problem with the iPhone and are working on a solution that will be released in a SR10 firmware update with other enhancements.