Bluetooth company Sena has moved into the helmet business with the release of its Momentum full-face helmet range with integrated Bluetooth intercom units.
The Momentum with integrated 20S technology costs $A599 and the Momentum Lite with 10Series tech costs $A529. Click here to find out where to buy.
The first-generation Momentum INC, Momentum Pro and Momentum INC Pro with electronic noise-cancelling technology and QHD video camera (Pro models) will not be available in Australia.
However, we will get the second-generation models which will also have Mesh group intercom technology. There is no release date yet, nor pricing.
Meanwhile, Sena Australia sent me the basic model to review and it has instantly become my go-to helmet.
Excellent Momentum value
At $529 for the helmet including an integrated intercom based on the trusty 10S intercom (about $349), it represents excellent value.
An integrated unit means you can't swap it from helmet to helmet, but there are many advantages to an integrated system, apart from being much cheaper than buying the helmet and intercom separately.
One of those advantages is that it is quieter than an external unit that affects the aerodynamics of the helmet, adds turbulence and therefore wind noise.
(As for concerns about an external unit causing neck injuries in a crash, the BBC and UK Transport Research Laboratory (TRL) have performed impact tests on climbing helmets with cameras attached and found they didn't increase the risk in a crash.)
An integrated unit is also neater as it doesn't have messy wires that constantly need to be tucked away nor speakers that move out of place or rub annoyingly against your ears.
Loud and clear
I've tried helmets with integrated intercoms before and found that the speakers are never in the right position. They are usually too far back and the sound is too quiet and weak.
As anyone who has used an intercom in a helmet will know, you have to place the speakers in just the right position to get the maximum sound quality and volume.
The speakers in this Sena Momentum Lite helmet are much larger than normal to disperse the sound over a bigger area so they don't have to sit right against your ear canal.
In fact, your ears don't touch the speakers at all just a nice soft material, so it is very comfortable for all-day riding and listening to music.
I always wear Alpine Motosafe earplugs when I'm riding to filter out wind noise and the volume from these speakers is loud enough to clearly hear music and voices.
The top-of-the-range Momentum INC with noise-cancelling is not yet available here, but when it does, it should mean I won't have to wear earplugs.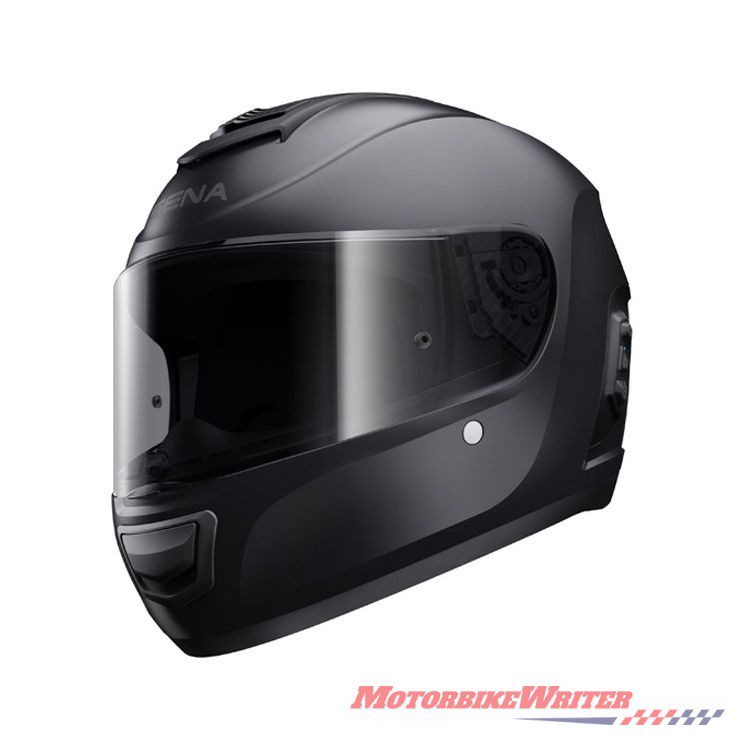 While the sound from these speakers is loud and clear, there is not a lot of bass. Perhaps their more expensive models have better speakers.
Anyway, I just pumped up the bass on my iPhone's EQ. You can also get apps that boost the bass.
As for microphone quality, people who have spoken to me on the phone said they couldn't tell I was riding a motorcycle at the time!
Reliable Bluetooth
I've used a lot of different Bluetooth intercoms over the years but keep going back to Sena as the most reliable.
The 10s on which this is based uses Bluetooth 4.0+. It simply works and does everything it is claimed to do. Pairing is easy, faultless and works every time.
It features four-way Bluetooth Intercom, line-of-sight range up to 1.6km, FM radio, universal pairing and is firmware upgradeable. There is also a Sena phone app to easily change settings on the fly.
The Momentum has 20S technology which adds eight-way Bluetooth Intercom, voice commands and audio multi-tasking (background music while taking on the intercom).
Controls are via three big raised buttons on the left side of the helmet.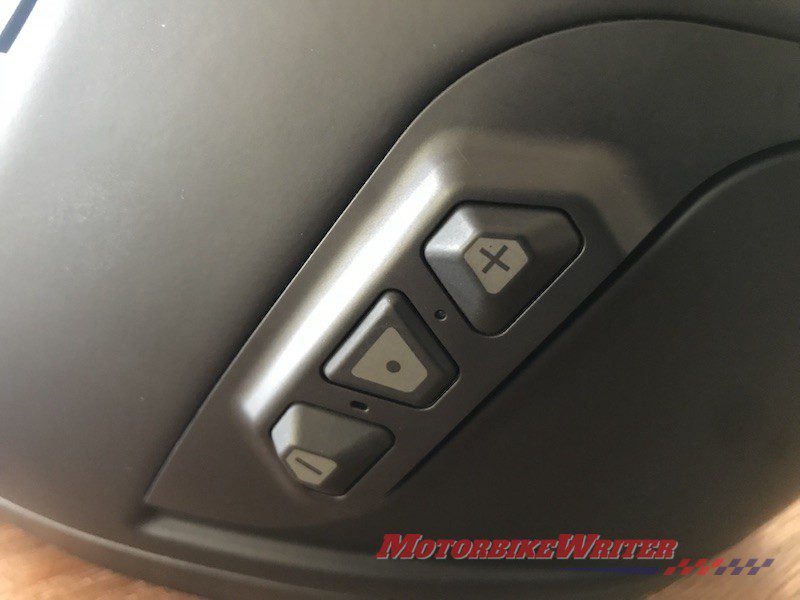 I miss the SMH10 and 20S jog buttons which are really easy to use, but these buttons are also easy to find and use, even when wearing thick winter gloves.
They allow you to access every function provided. Otherwise, you can access your phone's voice activation for hands-free operation. It is also compatible with Sena's optional handlebar and wristband remote controls.
The right side of the helmet has a very discreet weatherproof plug to charge the unit.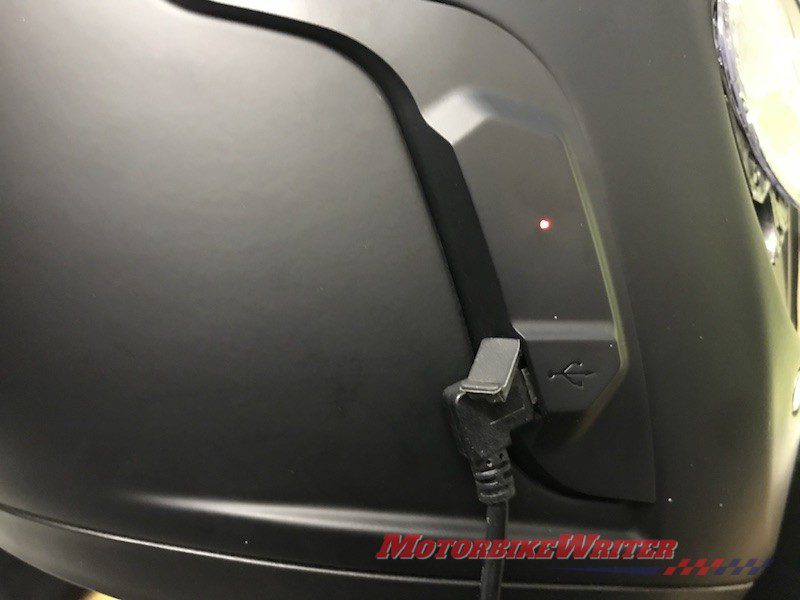 Charging is quick and it lasts longer than a full days' riding. Sena claims 27 hours of standby operation and 20 hours of talk/music time. That's a lot of talk!
The full User Guide for all Sena models can be downloaded here.
Helmet
This isn't just a review of the intercom, but also the helmet.
It has a composite fibreglass sell and is on the heavy side at 1680g, but remember it has an intercom pre-installed.
The helmet looks and feels solid with a slick visor mechanism that doesn't feel clunky or cheap.
It has a tight neck roll and chin spoiler that makes it a little difficult to pull on, but once on it creates a comfortable seal.
Together with a plush, removable and washable lining, it makes the interior fairly quiet, although there is a bit of wind noise leaking around the visor hinge area.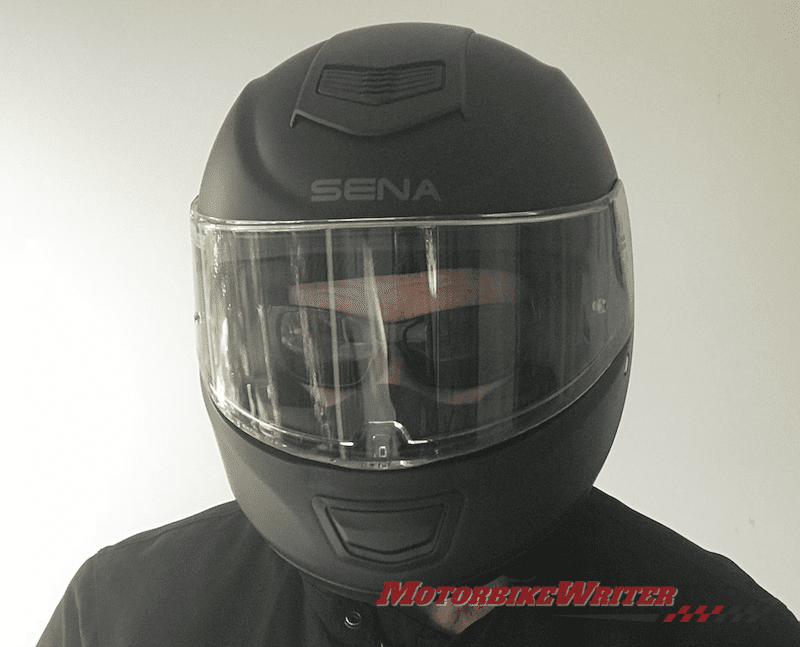 Although it's a snug fit, it shouldn't be too hot in summer as ventilation in the brow and chin area is ample.
The chin vent doesn't prevent the visor from fogging on a cold day, despite the big breath deflector. However, the visor is Pinlock-ready so I added one.
The visor is claimed to be anti-scratch and is still in good condition despite hitting some bugs and small gravel.
If you do need to take off the visor to clean or replace it, the quick-release hinge mechanism is simple to use and takes just a couple of seconds to release or install.
There is no drop-down tinted visor, so you will have to wear sunglasses or buy a tinted visor.
It also doesn't have cutouts for glasses and I found some of my motorcycle sunglasses with straight arms get stuck on the lining.
You have to wiggle them around a bit to get them in, but they don't feel uncomfortable once in place.
It comes with a helmet bag and a little blow-up donut that you can stand your helmet on to prevent it getting dirty.
The only colours available are glossy white or matt black.
Conclusion
If, like me, you love listening to music while riding and you need to be contactable by phone or to talk to your riding companions by intercom, this helmet is ideal.
It's great value, neat, comfortable and will do everything you need a Bluetooth intercom to do without fuss.