We looked at preparations necessary to sell your motorcycle in the first article in a two-part series and now we look at the various methods of selling your bike.
We have gone to the experts for advice, including RACQ technical officer Steve Spalding, Glass's Guide and several retailers.
Private sale:
We all think private sale is the best because we can get the most for our motorcycle. However, because of the low prices for new bikes, the second-hand market is flooded and prices are not so great.
Also, with so many bikes out there for sale, it is difficult to excite any interest. And while you sit around waiting to sell your bike, you may miss out on a bargain for your next motorcycle.
Another problem with private sales which are mainly done over the internet is that there are many scammers out there. There has recently been a rash of stolen bikes in Victoria from thieves who contact sellers and get their address on the pretence of coming to inspect the motorcycle. Then thieves roll up and steal it.
You also have the problem of someone riding off on your bike for a test ride and never coming back. There are precautions you can take such as meeting buyers at a neutral place and holding their licence or passport while they test ride.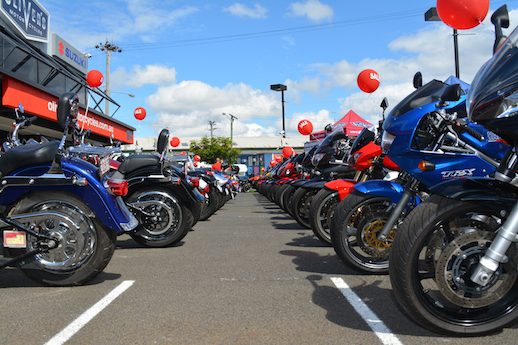 You will also have to agree on a transfer of money that is foolproof. On my last sale, the buyer used my home computer to transfer money into our account, but it was still possible to have been ripped off.
Another option is to use an escrow account service who hold the money securely until both parties are happy. (Google search for escrow services.)
As you can see, it can be quite a chore to sell privately. There are other quicker and safer options available.
Consignment:
Selling on consignment means you leave your motorcycle at a dealership and they sell it for you and charge you a commission on the price. However, very few dealers sell on consignment any more. And since dealers make more money buying and selling bikes, they are less likely to promote your bike to a buyer. Their only motivation may be your promise to buy off them when it is sold. In which case, why not just do a trade-in?
Trade-in:
This is one of the simplest ways to sell your bike. All the financial and legal documents are handled by the dealers and they are often keen to do business and shift new stock off their floor.
However, one of the problems is you never really know how much you get for your bike and what is the real price for the bike you are buying.
You should consider buying an industry-approved valuation from Glass's Guide. Dealers can't argue with that as they use Glass's Guide, themselves.
If your dealer talks only in changeover prices rather than trade-in price, insist on getting a breakdown of the trade-in price from the dealer. If you say you are going to obtain another trade-in price elsewhere, they will often try heavy-handed sales tactics or tell you the deal won't be there when/if you return.
In that case, just walk away. You probably will get a better deal elsewhere.
Sell for cash:
This is another simple method of selling your motorcycle.
Because new prices are so low, it can be difficult to get people to trade-in their bikes, so dealers end up with few bikes out the front to attract customers.
You've probably seen the signs saying they will buy your bike for cash. You probably won't be surprised to find that they won't offer great prices, either.
There really is little incentive since they won't necessarily get the money back from you in a sale. However, what you lose in the sale, you may gain when you buy a bike because you have the bargaining power of cash.