I can't resist ad copy for new hand tools, especially when it announces a capability not currently resident in my toolbox.  The wilder the claim, the deeper I fall.
Tools and chocolate cake have the same effect on me.  A glance at either immediately places my mind into some type of altered state, where all resistance is futile, and the next thing I know, I'm standing before the cash register, wallet in hand.
Thus it was when I first laid eyes upon these new Sears Craftsman "Extreme Grip" wrenches.  Available in both inch and metric versions, I immediately grabbed the metric 3-pack, which includes a 12×13 mm, a 14×15 mm and a 17×19 mm "open end" wrench.
My initial understanding of the purpose for the Extreme Grip wrenches was that they had a type of ratcheting capability, similar to the unique Alden wrench set we reviewed a while back.  The word "ratchet" is usually associated with a socket set or the very useful Gearwrench ratcheting box end wrenches, or even something like the Nebo ratcheting screwdriver set.
But it is possible to design an open-end type of wrench that can be used to apply torque in one direction only.  The wrench can then be "ratcheted" back by the user, because the grip only works in one direction.
An example of this type of wrench is the unique Alden design, which work as a ratchet on a fastener that cannot be accessed with either a box end or socket due to space restrictions.  But Alden warns against the use of too much torque, probably due to the spring-loaded mechanism that keeps one half of the jaw on the fastener.  My first impression of the Extreme Grip wrenches led me to believe that they are a variation of the Alden design that would allow this type of ratcheting action, but would also allow the application of greater levels of torque.
It wasn't until I got home that I realized that the Extreme Grip is really designed for loosening hard-to-remove fasteners that can't be budged with a standard 6 or 12 point box wrench.  They are not designed to have a ratcheting capability.  This was good and bad news for me: they provide a new and different type of functionality, but without the ratcheting capability I desired.
Sears claims that the patented design of the Extreme Grip "grabs and removes stuck fasteners".  I originally thought of a "stuck fastener" as a nut or bolt with a head that was so stripped that a normal hand tool could not be used to remove it.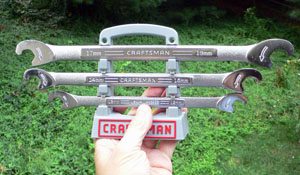 But after thinking about it for a while, I realized that a "stuck fastener" could also be one that has been installed using too much torque to break free without exorbitant amounts of leverage, and it might be located in a spot that doesn't allow access with a long breaker bar on a socket.
Or maybe the previous owner used some type of thread locking solution that makes it impossible to loosen the fastener with normal hand tools.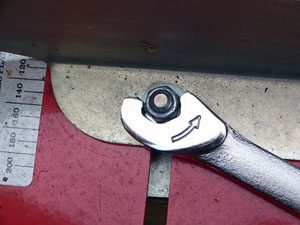 Both of these situations are foreign to me.  I'm a very careful and obsessive mechanic, and I honestly don't recall ever having abused a fastener to such a state that it couldn't be removed by a common hand tool.
Sure, I've run into fasteners that needed some persuasion here and there, and others where the previous owner may have gotten overzealous with an application of torque, but I've found that a good set of 6 point wrenches or sockets will do the job most of the time.
So my initial joy at finding a new type of tool was slightly diminished after realizing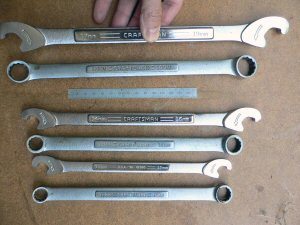 that I probably wouldn't be using the Extreme Grip wrenches very often.  Nevertheless, a true tool fanatic does not regret having an obscure tool stashed away, for those "just in case" situations.
I tried the Extreme Grip wrenches on some fasteners, just to see how they worked.  The tools have a clever design, with an aggressive "bite" that grips harder as more pressure is applied.
They are designed to place the torque load on the sides of the fastener only, rather than the corners, for maximum grip.
Normal box-end or open-end wrenches grab the corners of the fastener, so there's always the possibility that the corners will get rounded under severe pressure.
The wrenches are very slightly longer than their box-end counterparts, for added leverage.  Sears claims that the Extreme Grip wrenches offer 35% more leverage, but this would be hard to measure.  The lengths are so close to the equivalent box-end wrenches that it's difficult to understand how the Extreme Grip versions provide more leverage.
They do seem to make it much easier to remove any type of fastener, besides those that have been applied with high torque levels.  The wrenches might also be useful for someone with arthritis or other wrist or hand problems; the extra length and their strong bite on the fastener make you feel like you have some extra muscle power.
The Extreme Grip wrenches are also available in a three-wrench SAE set (Sizes 7/16×1/2, 9/16×5/8 and 11/16×3/4 in.) and a combination set including the three metric and three inch sizes.  Craftsman branded tools come with a lifetime warranty.  Our set is robustly made, but the quality doesn't seem as good as other Craftsman brand wrenches in our toolbox.  There are machining marks and some flaws in the plating on our set that we hope won't affect the performance of the tools.
---
Where to Buy Sears Craftsman Extreme Grip Wrenches
Check Reviews & Prices on Amazon
See More: Motorcycle Accessories, Motorcycle Tire, Motorcycle Helmets
---
Conclusion
The Sears Craftsman Extreme Grip wrenches provide a good grip on a variety of fasteners.  However, they might not be as generally useful as, for example, a set of Gearwrench ratcheting box-end wrenches for motorcycle use.  Plumbers or other mechanics may find more applications for this type of wrench, but the nature of motorcycle metallurgy generally precludes the need for a wrench that can remove a fastener that is not removable with common hand tools.
Note:  For informational use only.  All material and photographs are Copyright © webWorld International, LLC – 2000-2011.  All rights reserved.  See the webBikeWorld® Site Info page.  NOTE:  Product specifications, features and details may change or differ from our descriptions.  Always check before purchasing.  Read the Terms and Conditions!
Product Review:  Sears Craftsman Extreme Grip Wrenches

Available From:  Sears
Suggested Retail Price:  $29.99
Colors:  Polished and plated steel.
Made in:  U.S.A.
Product Comments:  Provide extra grip on hard to remove fasteners, but don't have a ratcheting capability.  Useful in certain situations, but probably won't be needed that often by motorcyclists.
Other WebBikeWorld Grips Posts